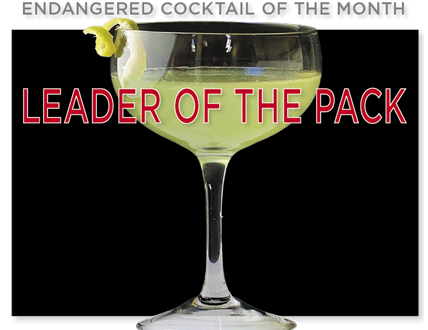 ENDANGERED COCKTAIL OF THE MONTH-LEADER OF THE PACK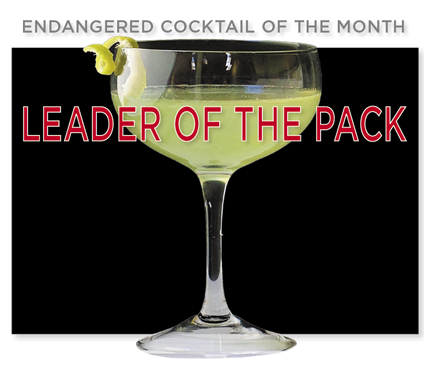 By Pink Lady
This month, we're taking a break from Endangered Cocktails to feature a modern classic that honors an endangered animal, the majestic wolf. Created by The Liquid Muse, Natalie Bovis, the Leader of the Pack cocktail appears in her new book, Drinking with My Dog, and bears all the hallmarks of a vintage recipe. Bovis has been writing about cocktails since the mid-aughts as part of the 21st century cocktail renaissance, so it's no surprise that this drink, as well as the recipes in all her books, model the things that made pre-Prohibition cocktails so great: fresh ingredients and balance.
Featuring vodka, yellow Chartreuse, and dry vermouth, the drink mimics the structure of the vintage Bijou cocktail, made with gin, green Chartreuse, and sweet vermouth. Harry Johnson included this recipe in his New and Improved Bartender Manual published in 1900, but it was popular from the 1880s on. Yellow Chartreuse is a sweeter, lower proof, and honeyed version of its famous green counterpart, and vodka didn't gain popularity in the American cocktails until the 1940s, making this a modern take on a classic formula. So is the fact that Bovis is a female cocktail book author: when the Bijou was first created women, for the most part, were not allowed to drink alongside men in bars.
Yellow Chartreuse is also a nod to the Yellowstone Wolf Project, "a detailed study spanning the 25 years since wolves were reintroduced to the national park," writes Bovis. By 1920 wolves had been eradicated in this iconic national park throwing off the balance of wildlife and vegetation in the region. 1995 saw wolves from Canada and Mexico reintroduced there in an effort to "reclaim their crucial role in the parks ecological processes as documented in the study," writes Bovis. Since then, great strides have been made for some wolf breeds, such as the Alaskan gray wolf, who is no longer on the endangered species list in the United States.
Well-balanced cocktails made with fresh ingredients are also no longer endangered, and thankfully so: things were rough for a while there. Cheers to the great work of the conservationists at Yellowstone, and to The Liquid Muse Natalie Bovis, for raising awareness about the majestic creatures while raising a glass!
LEADER OF THE PACK
2 ounces of vodka
3/4 ounce of yellow Chartreuse
1/2 ounce of dry vermouth
DASH of bitters
GARNISH lemon twist
Still all ingredients with ice and strain into a chilled cocktail glass. Lay the lemon twist on the rim of the glass or drop it in.
Cin-cin!