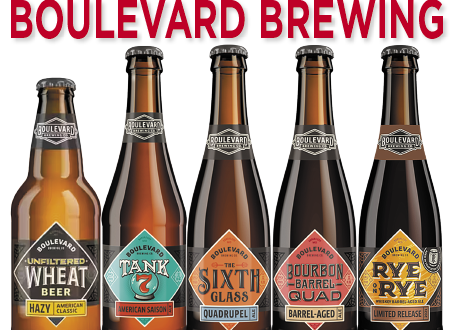 A STROLL THROUGH THE PORTFOLIO OF BOULEVARD BREWING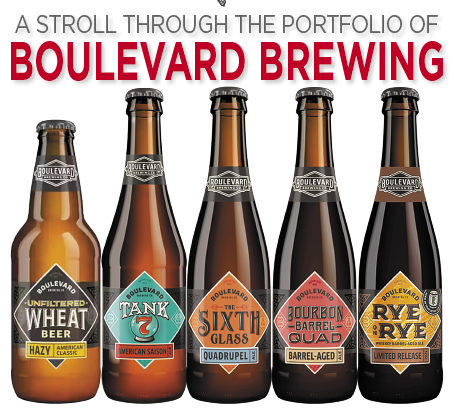 By Andy Crouch
Boulevard Brewing is one of the longest operating American craft breweries, long a powerhouse in the Midwest. Founded by John McDonald, Boulevard tapped its first keg, a pale ale, in late 1989. The brewery would grow to become one of the largest in the country, mostly on the back of its flagship Unfiltered Wheat, which was first released in 199O.
The brewery was never meant to be a tiny operation, starting with a 35-barrel Bavarian brewhouse at a time when many breweries cobbled together much smaller systems. Within three years, Boulevard was brewing more than 7,OOO barrels a year. Within 15 years, the brewery produced more than 1OO,OOO barrels a year, a rare feat then or now for craft brewers. In 2OO6, the brewery expanded to a 15O-barrel system and revamped its entire operation. With this expansion, Boulevard was able to expand its production beyond its top sellers. It introduced the Smokestack Series, a rotating series of specialty beers named in honor of the brick smoke tower that hovers over the brewery campus. In 2O13, McDonald faced another set of decisions as the craft beer industry continued to evolve. He decided to sell Boulevard to Belgian brewer Duvel Moortgat, through its United States subsidiary. The brewery has continued to produce a wide portfolio of respected beers, including its famed Smokestack Series.
UNFILTERED WHEAT
alcohol by volume 4.4%
One of the earliest large production wheat beers, and unfiltered at that, Boulevard's flagship brand starts with a pale, hazy yellow lemon color and a respectable boost of off-white foam. The aroma encapsulates a grainy wheat malt aroma that mixes in acidic citrus touches and clean notes of lemon. Clean is a word that repeats itself in the flavor profile, and Unfiltered Wheat accrues additional points for complexity due to impressive balance of grainy wheat malts and a mild, tangy fruit tartness that leaves a crisp and clean impression throughout the highly drinkable and quenching beer.
TANK 7 FARMHOUSE ALE
alcohol by volume 8.5%
Long one of Boulevard's best regarded beers, Tank 7 Farmhouse Ale is an over-the-top American version of a Belgian Saison. With its deep golden-yellow color, nice and sizable, pillowy off-tan head, Boulevard's aggressive version of the style starts with a nose of sweet esters, spicy phenols, and apricot, lemon, and other fruit notes. The flavor continues with a substantial spicy bite upfront followed by waves of bready dough, coriander, lots of fruit, mixed with an earthier finish and low bitterness. Despite its alcohol levels, Tank 7 drinks smooth with a lovely marriage of flavors, all while containing the big spicy notes.
THE SIXTH GLASS
alcohol by volume 1O.2%
Quadrupel is a curious style inspired and influenced by Belgium's Trappist monk brewers. A potent, herbal, and bready style that boasts substantial alcoholic warmth and fruit complexity, the style is perfect for when the weather turns cold. Often assisted by the addition of Belgian candi sugar, which ferments quickly, Quadrupels reach soaring alcohol heights of 8 to 12-percent. Despite their elevated alcohol levels, the Quad style remains surprisingly dry, as is common among other Belgian beer styles and a bustling carbonation level keeps everything in check. Cutely named after a Hans Christian Anderson literary reference, Boulevard's big Quad pours with a deep burgundy hue with underlying ruby tones with a tall cream head. The aroma jumps with deep, dark, sweet fruits, including fat, juicy plums, and a lingering black pepper spiciness that adds character on top of the considerable Belgian yeast notes. A touch phenolic at the beginning, you enjoy waves of dense, juicy fruit washing forward in a full-bodied mouthfeel that reveals hints of spice and deep, dark alcohol. Creamy and bready sweet at times, the nuanced phenolics and fruit flavors result in a particularly challenging slow sipper.
BOURBON BARREL QUAD
alcohol by volume 12.2%
For those drinkers who have The Sixth Glass and think to themselves, "I need more from this beer," Boulevard has you covered. Based loosely on The Sixth Glass, Boulevard's Bourbon Barrel Quad takes the original and ages it in oak bourbon barrels for lengths up to three years. Brewers then add cherries to the barrels and select barrels are eventually blended to create the final product. Pouring with a deep amber-brown color and a substantial off-white head, the resulting foam laces and lines the glass throughout. The aroma boasts toasted and bready hints, mixed with caramel, plums, dark fruits, and slight bits of spice and pepper and a substantial presence of bourbon barrel character. In terms of flavor, Bourbon Barrel Quad's nose tells you what to expect. The beer teems with dark fruits, including fig and plum, waves of sweet caramel and toasted malts, all penned in by a bit of spice and bourbon barrel character. Boulevard does a nice job of hiding the beer's potency, which at more than 12 percent alcohol by volume, can sneak up on you quickly.
RYE ON RYE WHISKEY BARREL-AGED ALE
alcohol by volume 12.2%
Again, for Boulevard fans that still need even more, I present to you Rye on Rye. This is a big, booming beer, a throwback to the age of Extreme Beers. Brewed with a combination of spicy rye malt and aged for long periods on freshly emptied rye barrels, Rye on Rye is a pleasant assault on the senses. The beer was first designed after the brewery received barrels from Templeton Rye. Early versions changed in alcohol levels, with some as low as 12 percent and others exploding past 14 percent. Rye on Rye pours with a slightly muddy brown color and a solid dollop of off-tan foam that laces throughout. The aroma is a big mélange of strong and sweet caramel and bread notes, mixed with dark fruits, including fig, prune, and plums. The lightly spicy rye barrel notes mix in as well. The aroma is a blast of malt sweetness mixed with some fruit notes, fading into light rye spiciness, and a touch of barrel character and even some notes of smoke. As it warms, the big grows sweeter and the bread notes more prominent.
BOULEVARD BREWING COMPANY
Kansas City, Missouri
www.boulevard.com
Boulevard beers are available from Atlas Brewing, Burke Distributing, Colonial Wholesale Beverage and Commercial Distributing Company.