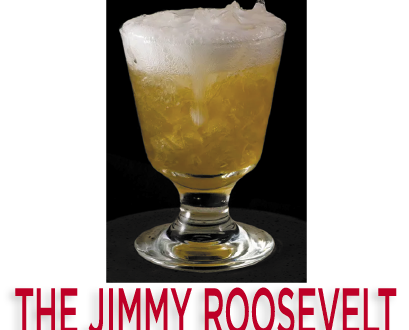 ENDANGERED COCKTAIL OF THE MONTH-THE JIMMY ROOSEVELT COCKTAIL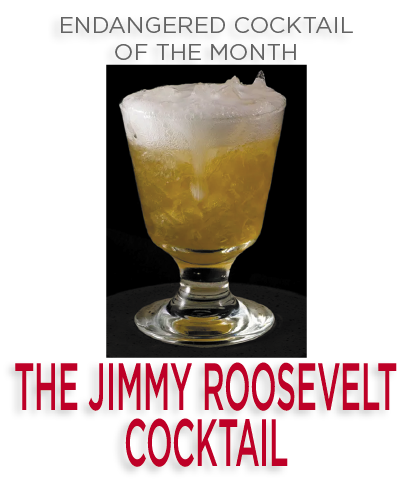 by PINK LADY
Despite being the shortest month in the Gregorian calendar, February can feel quite long. We have a three-day weekend on the agenda and even the most Hallmark-y of holidays, Valentine's Day, ahead, yet still, the month can drag. For this reason, we suggest being as festive and extra as you can this February, at every chance you get. Why not keep on sipping Champagne, for example, not just for Valentine's Day, but on days that end in the letter Y? And when the feast of St. Valentine is finally here, try a fancy Champagne cocktail like the Jimmie Roosevelt, a twist on the classic Champagne Cocktail enriched with both cognac and green Chartreuse.
The Jimmie Roosevelt Cocktail is a Charles H. Baker, Jr. creation, published in his 1939 book, The Gentleman's Companion, and created while Baker and his wife Pauline Elizabeth Paulsen were entertaining Colonel Jimmie Roosevelt and Grant Mason, then of the Civil Aeronautics Commission. Yes, Jimmie Roosevelt is that Roosevelt, the son of Franklin D. and Eleanor, whose life was a blend of political influence, occasionally shady business entanglements, and war heroism that would have made him right at home among the Nepo Babies making headlines today.
As for Charles H. Baker and Pauline, they are what we modern cocktail writers would call "couple goals", having spent a good 25 years traveling the world in search of adventures and cocktails. Baker chronicled their adventures through the glass for iconic glossy magazines of the day, including ESQUIRE, TOWN & COUNTRY, and GOURMET (RIP), which would later become two editions of The Gentleman's Companion. Repackaged for modern audiences as Jigger, Beaker, Glass: Drinking Around the World, Charles H. Baker, Jr.'s work is a perfect means of armchair travel, an antidote to this chilly, dark month that will have you feeling whisked away and inexplicably wealthier with each turn of the page. We can't all jet to the Maldives in February to sample what the locals drink, but Charles could, and he's a great chronicler of his adventures. At the very least his book will put you in the mood for a cocktail.
THE JIMMY ROOSEVELT
1 whole sugar cube
Angostura bitters
2 ounces of cognac
2 ounces of Champagne
1/4 ounce of Green Chartreuse
Place the sugar cube in a coupe glass and soak it with Angostura bitters. Add a handful of cracked ice cubes and Cognac; top with Champagne. Drizzle with Chartreuse.
Add ice until almost brimming.
Cin-cin!