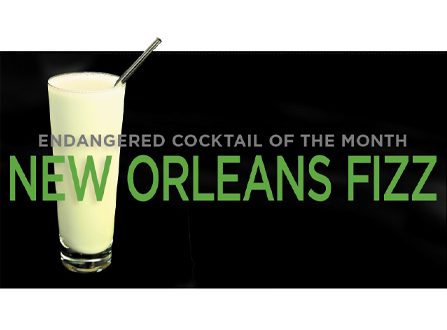 ENDANGERED COCKTAIL OF THE MONTH=NEW ORLEANS FIZZ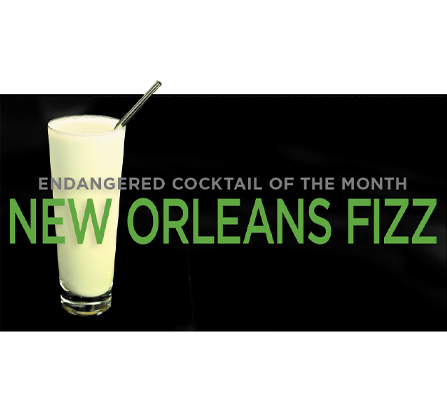 by PINK LADY
Tales of the Cocktail makes its in-person return this month, will you be there? Three years have passed since cocktail enthusiasts and beverage alcohol industry professionals have been able to convene IRL for this annual cocktail festival. Now in its 2Oth year and arguably the festival that started them all, TOTC is an event I haven't missed since my first visit in 2OO8, and you'd better believe I'll be back in 2O22. Let's just say that, for me, the roaring '2Os starts now, and I plan to enjoy as many of the city's iconic classic drinks in their native environment as I can.
At the top of that list is the famous (infamous?) New Orleans Fizz, better known today as the Ramos Gin Fizz. The drink was created by Henry Charles Ramos, known to folks as Carl, at his Imperial Cabinet Saloon in the 189Os just as the Crescent City was taking off as an American tourist destination. "In 19OO, the Kansas City Star anointed the Imperial Cabinet 'the most famous gin fizz saloon in the world,' and went on to add, 'Ramos serves a gin fizz which is not equaled anywhere," writes David Wondrich in Imbibe!
As for the 'infamy' piece: this drink is a pain to make, quite literally. It involves combining both cream and egg white, which are challenging enough to emulsify into a drink on their own, let alone together. The system at the Imperial Cabinet involved at least two people: the bartender who mixed the ingredients, and the 'shaker boy', described by Wondrich as "a young black man whose sole job was to receive the fully charged shaker from the bartender and shake the bejeezus out of it" for anywhere from 2-12 minutes. There were typically six bartenders per shift, plus their shaking assistant, which is a lot of people to have behind one bar at a time – business must have been booming.
By Mardi Gras 1915, Ramos had relocated his operation to the Stag Saloon where the operation during that iconic New Orleans festival featured 35 bartenders. Each shook a drink until their arms were tired, then passed the cocktail to the next, like a game of Gin Fizz telephone. Imagine 35 pairs of arms working in tandem to produce a cocktail just for you: I'd love to see it.
I plan to sample several Ramos Gin Fizzes around town while I'm in New Orleans this month, but my first will be at the International House Hotel, where beloved bartender Abigail Gullo is holding forth. Here's her recipe, which has the frothiest meringue in the land, according to PUNCH magazine!
ABIGAIL GULLO'S RAMOS GIN FIZZ
from PUNCH
2 OUNCES of Hayman's Old Tom gin
2 OUNCES of heavy cream
1 OUNCE of simple syrup, (1:1, sugar to water)
1/2 OUNCE of lime juice
1/2 OUNCE of lemon juice
1 egg white
3 DASHES of orange flower water
1 DASH of pure vanilla extract
2 OUNCES of club soda
PLACE a Collins glass in the freezer. ADD all ingredients except club soda to a mixing tin and dry SHAKE. ADD three Kold-Draft cubes to the tin, then SHAKE until the cubes are dissolved. (NOTE for home bartenders, dense 1-inch ice cubes will be best. Do what you can.) REMOVE the Collins glass from the freezer and ADD two fingers (approximately 2 ounces) of fresh club soda to the glass. POUR the cocktail high and slow in a thin, solid stream into the glass. Let the meringue settle, then slowly ADD more mixture until the head pops over the lip of the glass without spilling. A final rinse of the tin with a splash of soda water to top is allowed if there is room and the structure is stable. Gently EXPRESS express an orange peel over the glass and DISCARD the peel. SERVE with a straw.
Cin-cin!