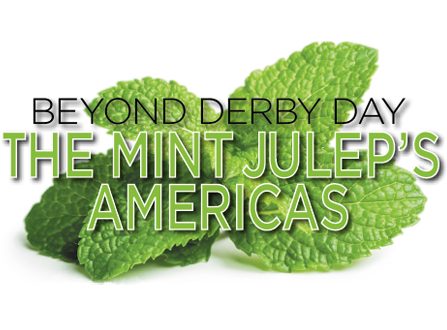 BEYOND DERBY DAY-THE MINT JULEP'S AMERICAS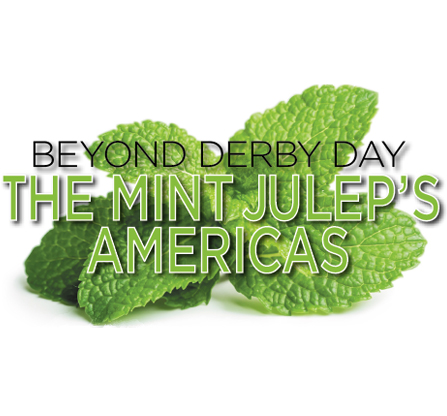 By Kirsten Amann
Much proverbial ink is spilled in cocktail publications about the Mint Julep each May. We drinks aficionados get very excited about the Kentucky Derby: it's a great excuse to don a fun hat or a seersucker suit, it's fun to pretend to know about horse racing for exactly one day, and above all, Derby Day means you get to sip Mint Juleps in the lengthening daylight of a May afternoon. With luck, the weather might cooperate and bring warm temperatures and the promise of spring in New England as you kick back, julep in hand.
The Mint Julep has been the official cocktail of the Kentucky Derby since 1938, and the event is a staggering day for the drink by the numbers: over 12O,OOO are served in the two day period that spans the Kentucky Derby and the Kentucky Oaks, deploying 1OOO pounds of mint, 6O,OOO pounds of ice, and over 1O,OOO bottles of bourbon, which this year will actually be a pre-made ready-to-serve Mint Julep made by Old Forester. For history buffs and the epicureans alike, there is much more to the Mint Julep than its Derby Day trappings, and a great case can be made for sipping this drink anytime you can get one, rather than just once a year in the springtime. These three fun facts about the Mint Julep will break up any conversation lulls at your Derby Day party this year.
IT'S MEDICINAL
Well, kind of. Maybe not exactly. Maybe not really at all? The word julep derives from the Persian term gulab, meaning rosewater, and was historically "a medicinal mixture of water and an infused syrup," according to the Oxford Companion to Spirits and Cocktails. For many centuries in Europe, juleps were well-documented as potations made with plants, sometimes mint but often featuring less tasty ingredients like camphor and administered for their curative properties.
Across the pond, jokesters in the southern United States attached the term to their favorite morning tipple in the 18th century. Yes, not only was the American julep an alcoholic drink of "rum and water, well-sweetened, with a slip of mint in it" as noted by Reverend Harry Toulmin while traveling through Norfolk in 1793, writes David Wondrich in IMBIBE!, it was a breakfast drink sipped much as we might sip coffee today. In time the joke was lost: "[I]n America, by the beginning of the nineteenth century, the consciousness that julep was being used as a joke, metaphor, or evasion, and indeed its whole former meaning, was pounded into oblivion by a thousand thousand mutational muddlings of mint."
IT TAUGHT AMERICANS — AND THE WORLD —
THE JOYS OF ICE COLD BEVERAGES
Imagine your favorite drink, soft or hard, expertly prepared to slake your thirst on a 98 degree day. Now imagine it minus the ice: none from your freezer, none at the package store or 7-Eleven, no ice to cool your beverage down. Pretty dismal, right? Those days are far behind us and ice overfloweth in America today, thanks to Boston-based businessman Frederic Tudor who "saw dollar signs in frozen ponds," writes Linda Rodriguez McRobbie for MENTAL FLOSS: "Frederic Tudor not only introduced the world to cold glasses of water on hot summer days, he created a thirst people never realized they had." We'll cover Tudor's rise to prominence as the Ice King of Boston in a future article of its own, but the Massachusetts-based origin story of the ice trade is its own great cocktail party ice breaker. Tudor built an industry that revolutionized how people drink by harvesting ice from our Massachusetts ponds and shipping it around the world, galvanizing the young nation's drinking culture in the process as "Tudor Ice Company's product went from a rare novelty to a barroom staple," writes Jim Meehan in Meehan's Bar Manual. It took some time for the concept of frozen water to catch on, but once it did, we did not look back.
"The Mint Julep was the first true American drink," writes Wondrich in IMBIBE!, and "with the development of the American ice industry, iced Julep became not only possible, but expected." At this time, the Mint Julep was a brandy drink, though over the course of the nineteenth century that would change too: "whether it was due to improvements in American whiskey making, the decline of French brandy making due to phylloxera, or the forced reliance on domestic spirits due to the blockade-driven privations of the Civil War," the mint julep would eventually become synonymous with our native spirit, bourbon.
WE HAVE BLACK BARTENDERS
TO THANK FOR THE MINT JULEP'S GLOW-UP
The Mint Julep was born in the south in the eighteenth century, a hangover helper made with kill-devil rum, but in the nineteenth century it received a glow-up in the hands of prominent black bartenders, a few of which we'll highlight here. In New York, Cato Alexander and his roadhouse north of Manhattan were famous. Cato opened his fashionable spot in 1811 (Manhattan was settled around the southern tip of the island) in an area which is today near 54th St and 2nd Avenue, and it was beloved by men of the "sporting Fraternity" (bachelors with a lust for life who loved gambling, boxing, cocktails, and spending money) for 3O years. "They would race their carriages up there, drink his famous gin cocktails, brandy juleps and punches, eat his famous game and curried oysters, and then race on back (sometimes with disastrous results)," writes Wondrich in a 2O15 EATER article. Irish actor Tyrone Powers described Cato as "a great man, foremost among cullers of mint, whether for Julep or Hail-Storm", the latter being a term sometimes used for iced julep before the frosty version caught on and eclipsed its room-temperature cousin.
In Richmond, VA, bartenders John Dabney and Jim Cook were known for legendary juleps that delighted high-class drinkers at the Ballard House hotel. Both were enslaved while working there in 186O, but in an arrangement where they could keep some of their wages (which Dabney would later use to purchase freedom for himself and his wife.) Cook was the head bartender and chef, Dabney his assistant, and both were kings of julep craftsmanship. Hearing of their skill, the Prince of Wales paid a visit in 186O, and the julep that was whipped up for the royal entourage made such a strong impression, it scored a 3OO-word description in the record of his trip. "One account of a [Dabney] julep described a giant silver cup topped with a one-foot-tall pyramid of ice, and its sides were crusted in ice, too, molded into shapes and figures," writes Robert Moss in Southern Spirits: Four Hundred Years of Drinking in the American South. It was a large format multi-serving drink, embellished with fresh and dried fruits, roses, carnations and violets, and imbibed by a silver straw stuck into the mountain of ice that encased it.
THIRSTY? ME TOO!
The great thing about the Mint Julep, like so many fantastic classics, is that for all the pageantry and pomp a bartender can employ while creating it, the drink is foundationally simple. It's a sort of "proto" cocktail, according to Boston-based writer Brian D. Hoefling, one that is "fundamental in its construction, being simply a spirit that has been iced, sweetened, and aromatized" — characteristics that are common to the vast majority of mixed alcoholic beverages. In fact, it is cocktail number 1.1 in his book The Cocktail Seminars, the first drink in the first "course" on cocktail making. Start with Hoefling's recipe, as it showcases the basics. Whether you graduate to a large bore mixture served in a silver vessel encrusted with a mountain of finely pounded ice entirely up to you.
MINT JULEP
From The Cocktail Seminars by Brian Hoefling
2 OUNCES of bourbon
2 TEASPOONS of sugar
2 TEASPOONS of water
3-4 SPRIGS of mint
COMBINE sugar and water in a rocks glass, and STIR or CRUSH until they form a syrup (alternatively, replace both with 1/2 ounce 1:1 simple syrup). DROP bourbon and STIR to combine. FILL to the brim with ice. INSERT a straw and surround it with the sprigs of mint, so that they must be smelled while drinking. If available, use crushed rather than cubed ice and a silver cup rather than a rocks glass; however, neither is required.
NOTES ON RECIPE There are as many methods for adding mint to this recipe as there are cocktail writers, books, bloggers and TikTokers. Here, Hoefling is adding mint for aroma only, but many recipes will suggest pressing mint into the sugar-water mixture with a muddler before you add ice, bourbon, or do anything else. If this is a method you choose, in the words of Charles H. Baker in The Gentleman's Companion: An Exotic Drinking Book: "Don't bruise that first installment of tender mint leaves more than very slightly. The inner leaf juices are bitter and cannot have profitable flavour. Bruise one beneath the teeth then really chew it up — to find out."