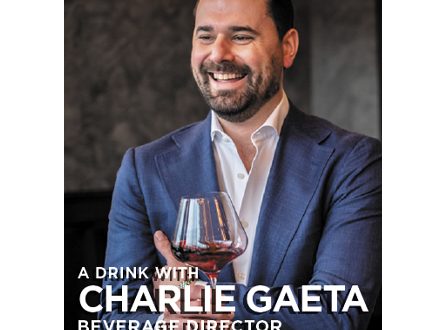 A DRINK WITH CHARLIE GAETA – BEVERAGE DIRECTOR • BIG HEART HOSPITALITY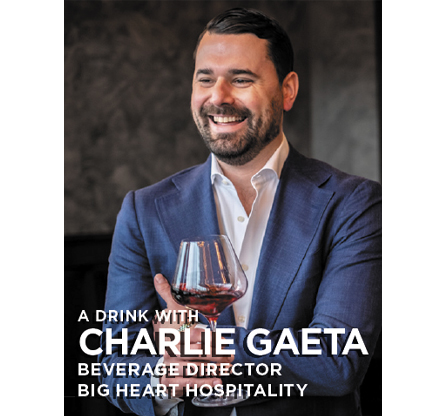 By Maia Merrill Gosselin
Charlie Gaeta has come a long way from his days bussing tables. At just 36-years-old, he is the beverage director for Tiffani Faison's Big Heart Hospitality group whose restaurants include Orfano, Sweet Cheeks Q and Fool's Errand on Boylston Street along with Tenderoni's, Dive Bar and sparkling wine bar Bubble Bath which are in the newly-opened High Street Place in downtown Boston. In addition to overseeing the wine, cocktail and beer programs for the entire group, he is the sommelier at Orfano and generally jumps in wherever he is needed from running food to seating patrons. This might seem daunting for, well anyone, but for Charlie it's all in a day's work. And when you love what you do, it can hardly be called "work", right?
Charlie's path in the hospitality industry has been anything but straightforward. Like many, he didn't start off with a vision of making his career in the restaurant business. Unlike many, he has managed to parlay what began as a part-time restaurant job into a remarkably successful profession in the world of food and beverage. As Massachusetts emerges from yet another go-round with the pandemic, there is a feeling of optimism in the air. I caught up with Charlie to find out what he's been up to lately and get his take on the current state of the industry. Keep your eyes on Charlie Gaeta, he's one to watch.
MAIA GOSSELIN The "Call of the Restaurant Industry" is strong. You didn't start off in the business. How did you come to land here?
CHARLIE GAETA After college I took an entry level position at an investment bank. At the time, I was traveling between Boston and New York frequently. I found myself seeking out bars and restaurants more and more. Not just for the food and beverage (at this point, I was beer and cocktails only) but this energy and feeling some of these places gave you . . . I was enamored by the way they could curate this through food and beverage. I wanted to pull the curtain back and explore how they did it. I began bussing tables in my hometown (Lynn) while living and working in Boston. Needless to say, it was pretty exhausting. Eventually, I had to make a choice: bus tables and roll the dice or continue on a steady, yet uneventful, path. I think I made the right choice . . . and I still bus tables every night!
MG What prompted you to further your studies in wine? What was your experience with the Elizabeth Bishop program (at Boston University) and what have you achieved for wine credentials?
CG I was studying a lot of wine on my own in the beginning of my career in hospitality. To be honest, I was pretty green, and I didn't even know there were things like the Elizabeth Bishop program at BU or the Court of Master Sommeliers. So, once I learned there was a way to formalize and organize this subject I became obsessed with it and I was all in. I came through the program at BU under the late and great Sandy Block and went straight into certifications through the Court of Master Sommeliers. I am no longer actively seeking advanced certifications in wine. However, I am always learning, always studying, and always open ears to any and all things new in the world of beverage.
MG What path took you to your current role with Big Heart Hospitality? In a nutshell, what's an overview of your day-to-day responsibilities?
CG Simply put, Chef Tiffani Faison is the greatest boss I have ever had — and I have had a lot of great mentors throughout my career. She took a chance on me when she was opening Orfano to run the wine program, with the eventual goal to run the wine lists at each of the four Fenway locations. Currently, I am running all wine and beverage for all our Big Heart Hospitality restaurants including Orfano, Sweet Cheeks Q and Fool's Errand on Boylston and our three new concepts at High Street Place downtown: Dive Bar, Tenderoni's and our exciting new Champagne-focused wine bar, Bubble Bath.
With so many projects right now, my morning and afternoons are pretty full of meetings and the administrative aspect of running a beverage program. I try to always "be on campus." I live across the street from the restaurants in the Fenway, which allows me to be versatile each day. The fun part is at night when the restaurants are open. You can always find me on the floor, selling wine of course, but also working side by side with my colleagues to make sure our guests are getting the best possible Big Heart experience. And, I'm not just saying this, I still LOVE bussing tables.
MG No one wants to relive those dark days of the pandemic but talk a little about the experience and impact it had on you. How quickly did you adapt?
CG It's been a challenging few years for so many people in so many different industries and communities. I am exceptionally grateful that Chef Tiffani stuck with me during the darkest of the pandemic days. I find pride in adapting as frequently as we all had to. I washed dishes at Tiger Mama, I ran food to cars parked outside Sweet Cheeks when we went contactless, I was the interim GM at Orfano when we were patio-only and Fool's Errand was our hub of wine for an entire fall and winter season, where we essentially turned it into a pop-up wine shop. As far as the impact, candidly, it was tough. I am a pretty positive person but there were days when I didn't see much light at the end of the tunnel. However, I knew I would never give up because I love restaurants so much. So, overall, I actually think I grew from this. It makes the small (and big) things taste that much sweeter when they return. And they do. It was basically an emotional double down on the spirit of hospitality.
MG I think it's safe to say we are all feeling cautiously optimistic. What's happening these days for you and the BHH group?
CG At Big Heart, we are so excited about 2O22. Sweet Cheeks and Orfano are open right now. Ofrano's "Little Red" menu is super fun in that it still has a bit of the glitz and glam from the Orfano as we know, but also some of our favorite dishes from red sauce joints we love, elevated. The wine program has never been bigger. We have carafes of rosso to birth year Barolo. Sweet Cheeks continues to put out the best BBQ in town and we've bumped up the beer and bourbon program there to focus on local breweries on draft, a rotating featured brewery, a big stash of bourbon and a sneaky California-only wine list. Fool's Errand will be reopening as we approach opening day in Fenway as a wine bar with small snacks. And Big Heart Hospitality's new restaurant in the Tiger Mama space will open later this year. The biggest news right now is High Street Place with our three new concepts. Bubble Bath will be the heart of wine for all three. It will focus on Champagne and sparkling wine but also have beautiful whites and reds that represent the food at Dive Bar and Tenderoni's. I worked a sneak peek event the other night and it's a sommelier's dream job!
MG From supply chain issues to bottle shortages to allocations, there are quite a few new challenges in the bev alcohol industry. What do you suggest to others in terms of managing these issues and planning ahead?
CG Everyone is going through it, right? So, I don't want to be the person to complain about not getting Krug allocated with everything going on in the world right now. I think the current supply chain issue forces you to streamline your process, plan smarter, and be willing to be more fluid with your beverage programs. Patience is definitely a virtue but comparatively, I would rather take open and busy restaurants over the perfect beer or wine list. It's almost forced us to get more creative and think outside the box right, which in a lot of ways is a silver lining.
MG And finally . . . what's your favorite thing to do on a day off, when you get one!
CG Running the Charles and enjoying an ice cold beer!
FOUR TRENDS TO WATCH
Inquiring minds always want to know: What's the Next Big Thing? We asked Charlie for his insights into what's currently catching his fancy.
CG Some of the things I am really excited about right now, and have already or plan to incorporate into the Big Heart beverage programs, are:
SPARKLING WINE AS MORE THAN A CELEBRATORY BEVERAGE
Franciacorta! We have been pushing it as a pairing at Orfano. Italy's answer to Champagne and oysters, we ran it for a weekend. Very successful!
RED BUBBLES We are making Lambrusco great again at Tenderoni's by offering a Metodo Classico (Champagne Method) version that is vintage dated. It's the "Tenderoni's Official Pizza Wine!"
BUBBLES A DEUX A really cool collaboration we are doing with Krug at Bubble Bath is called "Krug for Two" which highlights one of the great Champagne's with a specific food item.
A LITTLE LUXE We just got back from the South Beach Food & Wine Festival and we rocked a Caviar Cannoli that is legit perfect for sparkling wine and/or Champagne. A little luxe never hurts! Even at Sweet Cheeks, where our wine list in exclusively California vignerons, we push the bubbles and fried chicken pairing all the time.
SANGIOVESE
We sell a ton of Chianti Classico and it's extended across the entire Tuscany region. It's such a famous wine-growing region but I don't think there has ever been a more exciting time to drink it than now. At Orfano, with a really deep Italian list, we have pushed the conversation to our guests about the differences between the different villages. For example, why Sangiovese from Radda can taste so different than Panzano. We're taking it very seriously (but not ourselves too seriously, of course). We also love selling bottle-aged Sangiovese. We have seen some remarkable old bottles since we reopened and compared to other famous winegrowing regions, pennies on the dollar to drink some of the region's great producers 1O, 15, 2O years in.
COLLABORATIONS
This isn't brand new but after 2+ years of the beverage and hospitality industry going through a really challenging time, I think it's more important than ever to support our neighbors. At Sweet Cheeks, we have done a "Big Heart Brew" IPA where the team and I get our hands dirty with Lamplighter brewing down the road in Cambridge. It's a small 3-barrel brew but we make it to pair with the food of the specific restaurant. It's so nice to work with likeminded and passionate people in the community we love so much.
ROTATING HOT DOG WINES
I'm serious! At Bubble Bath, we will have a glass pour that reads: (Hot dog emoji) Rotation Red – and it's meant to pair with the gourmet hot dogs we are serving. Ha!
EDITOR'S NOTE This month we are re-introducing A Drink With . . . an on-going series featuring notables in the Massachusetts beverage alcohol industry from retailers to beverage directors to distillers. If you would like to nominate someone for consideration, please email Maia Merrill Gosselin at mmerrill@beveragebusiness.com.