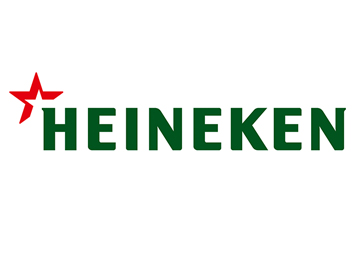 HEINEKEN SPREADS REFRESHING HOLIDAY CHEER WITH A LIFETIME SUPPLY OF BEER
This holiday season, Heineken is spreading cheer over holiday beers by offering consumers a chance to win a lifetime supply of Heineken beer. Beginning Oct 1, the on- and off-premise Scan-to-Win consumer engagement promotion featured on eye-catching POS, encourages consumers to purchase a Heineken Original and register for their chance to win Heineken for life.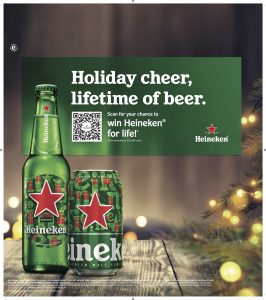 "Our generous holiday promotion encourages consumers to purchase Heineken Original for their own holiday hosting, and continue hosting for a lifetime," says TJ Keighley, Heineken Brand Director. "Heineken 12-pack bottles grew +5.4%, and Heineken 5L Draught Keg grew +102.3% last holiday" continues Keighley. "Retailers who support this promotion with displays and merchandising, should be confident they will engage shoppers, drive consideration, and increase sales and profits."
The Heineken Holiday program offers on- and off-premise POS incorporated with a Scan-to-Win engagement to encourage shoppers to purchase Heineken Original, bottles, cans, and 5L mini keg. With a simple QR code scan, consumers can register to win the grand prize of Heineken for life. The lucky grand prize winner will receive a lump sum cash payout of $62,400, which is equivalent to one 12-pack per week for 60 years.
Using a suite of execution tools for large and small store formats, Heineken and its retail partners will dominate the holiday with thematic display and festive POS highlighting the "Win Heineken for Life" opportunity. Compelling POS and merchandise include a Christmas Tree Display, large bow displays, large 5L keg case stackers, 5L keg wire racks, dress up bows, floor decals, shelf wobblers, holiday bottle koozies, and tuck cards.
Comprehensive brand communications will showcase Heineken as the go-to choice for holiday gatherings with family and friends. The Heineken® Holiday program is amplified through TV, digital, social, and influencer marketing driving shopper traffic and in store purchase.