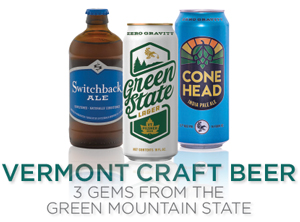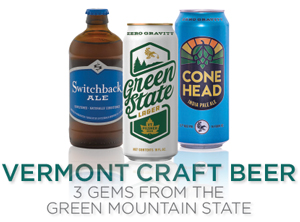 by ANDY CROUCH
Vermonters are notoriously supportive of their locally made products, be it cheese, maple syrup, or beer.  Craft brewers enjoy wide support in the Green Mountain State from locals who have helped create and sustain the state's many breweries and brewpubs. For many decades, if you went into almost any bar in Vermont, you would probably find a half dozen locally made beers, a situation that was not likely to be repeated in any other state in the country. Dedication to regional products and love of craft beer is so well-integrated into the defining character of Vermonters that every bar is a good beer bar. Package and convenience stores are the same way. From Burlington to Brattleboro, the Vermont beer scene vibrantly teems with excellent opportunities to sample great beers and meet a cast of colorful characters.  Vermont also boasts some of the best beer culture in America, with craft flowing through the veins of well-cultured and informed local beer lovers.
The state's spirit of promoting its own products causes outside breweries to have difficulty competing here. While Vermonter's love craft beer, they are more likely to buy Switchback than Smuttynose. Many major breweries have entered the market only to later retreat in the face of Vermont's determined parochialism. Vermonters figure that they have enough good beer at home, so why bother buying beer from some pesky Californian? Even Harpoon, which bought the Windsor-based Catamount  brewery out of bankruptcy decades ago, is treated as a bit of a carpetbagger. It is a pleasure to drive around this beautiful state, with its wonderfully diverse topography.  From the mountains in the Northern Kingdom to the flatlands of the south, Vermont is home to some of the most colorful characters in New England brewing industry.  From the bedazzled Alan Newman to the opinionated Ray McNeill, the enigmatic Shaun Hill and the slyly cool Paul Sayler, the passionate owners define the breweries and pubs profiled here.
SWITCHBACK ALE
Switchback Brewing Company
Burlington, Vermont
alcohol by volume 5%
switchbackvt.com
Founded in 2OO2 by the affable microbiologist Bill Cherry, Switchback Brewing Company has long been a fixture on the Vermont brewing scene. After graduating with his brewing degree, Cherry found that there were no brewing jobs available. So Cherry took a job making baloney in a food processing plant housed in the very building where he would later found his brewery. Instead of mixing malts and hops, he processed hot dogs, pickles, and other various products. After time with Anheuser-Busch in Fort Collins, Colorado, and at Boulevard Brewing Company in Kansas City, Cherry opened his own place. His style-bending Switchback Ale, which he has described simply as "eclectic," generally defies description. This unclassifiable character gives the beer a certain cachet with local beer lovers who appreciate that it's not just another IPA. Cherry also adamantly refuses to filter his beer or artificially carbonate his kegs. He stepped back from the brewery in 2O17 when he sold the brewery to its employees. Switchback is now 1OO percent employee owned via an Employee Stock Ownership Plan (ESOP).
Switchback Ale was initially developed as a flavor concept, without concern for a particular style guideline. The flagship ale offers a hazy, reddish-gold hue with a decent dollop of white foam. The aroma is of solid and rich malt, with some caramel and light bready notes and a touch of honey. The beer simultaneously offers a light wheat body while possessing some sizable underlying malt strength. The malt presence is clean, smooth, and lightly fruity and gives way to a light bitterness towards the finish. AVAILABLE from Girardi Distributors, Horizon Beverage Company and Merrimack Valley Distributing.
GREEN STATE LAGER
Zero Gravity Brewing Company
Burlington, Vermont
alcohol by volume 4.9%
zerogravitybeer.com
Zero Gravity is quietly making some of my favorite beers in New England. The brewery was founded by Paul Sayler, who also opened the American Flatbread outlet and brewery in downtown Burlington. Sayler is one of the most well-regarded brewers in New England. An OG from way back, Sayler brewed at the long defunct Catamount Brewing Company before working at a plethora of now closed spots, including Back Bay Brewing Company, the Commonwealth Brewing Company in Rockefeller Center, and the Colorado Brewing Company in Connecticut. These closures definitely were not due to the quality of his beer. Sayler went on to brew beer at Bobcat Café in nearby Bristol, Vermont, before setting down permanent roots at Flatbread.
While brewing at Flatbread, Sayler also envisioned a side project called Zero Gravity. Originally conceived as a farmhouse brewery concept and a sister operation to the Burlington Hearth pub, the brewery grew to become a fully sustained and growing business focusing on a wider range of styles. Their Green State Lager is a classic stunner of a German-style pilsner. Brewed with pilsner malt, Hallertau Mittelfruh and Saaz hops, there is no American turn here. It pours with a light straw color and a light top of lacing. The aroma is strongly of sweeter malts, bread and dough, and a slight zesty and grassy hop. The flavor is straightforward and engaging, with a light bready and grainy quality to the sizable malt base over an addition of solid herbal bitterness. Balanced throughout and always requiring a second glass, the Green State lager is often found in my fridge. AVAILABLE from Atlantic Beverage Distributors.
CONE HEAD IPA
Zero Gravity Brewing Company
Burlington, Vermont
alcohol by volume 5.7%
zerogravitybeer.com
Sayler has always respected malt and recognized its place, even as the ingredient appears to play less and less of a role in American style IPAs. But he also recognizes that for too long, IPA in New England meant an absence of hops and an overabundance of cloying formless messes. This single hop wheat IPA is brewed exclusively with Citra hops. It pours with a lightly cloudy and deep golden to orange hue under a stack of bright white foam. The aroma is brightly citrus, focusing on orange, grapefruit, and some more tropical notes, including mango, all while respecting a light malt sweetness in the background. The flavor follows with a nice balance of lightly juicy fruits over a long, lingering bitterness that finishes on the drier side. A delightful balance between sweeter malts and tropical and fruity hops, Cone Head is a beer that drinks quick and calls for another round. AVAILABLE from Atlantic Beverage Distributors.