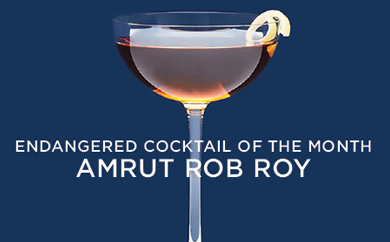 ENDANGERED COCKTAIL OF THE MONTH: AMRUT ROB ROY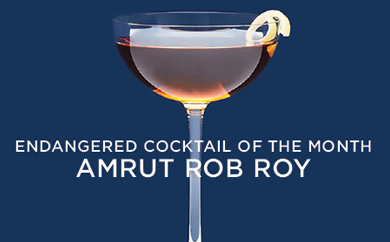 by PINK LADY
As the decadence of the holiday season subsides, many turn to austerity in this first month of the New Year. While we aren't about that binge-purge lifestyle, there is certainly something to be said for going back to basics and recalibrating in January. For many, this includes more time spent turning the gaze inward, more time hunkering down by the fire after endless parties in December, perhaps taking a stab at doing your taxes, and watching those December credit card bills roll in. And for this, you will most definitely want to mix up a cocktail.
The Rob Roy is the gold standard of classic cocktails, and a simple formula that we've covered in this column before. To dress this up for January, making it something familiar but just the right amount different, we suggest reaching for a Single Malt from the Eastern hemisphere, like Amrut Indian Single malt.
We write often about endangered cocktails, but we LUPEC ladies also have an affinity for trailblazers. Amrut was the first distillery in India to produce single malts according to the Scotch Whisky Association regulations, which we think is pretty cool. The distillery itself was founded in Bangalore, India in 1948 and debuted its world-class single malt whisky in 2OO4. Today, Amrut is distributed in 42 countries world-wide. The 2O12 Ultimate Cocktail Challenge even named Amrut Fusion the best-tasting Rob Roy – take that, blended scotch!
Mix one up as you contemplate your resolutions in 2O19!
AMRUT ROB ROY
2 ounces of Amrut Fusion
1 ounce of La Madre sweet vermouth
1 dash of Angostura bitters
STIR with ice and STRAIN into chilled coupe. GARNISH with
orange twist.
Cin-cin!