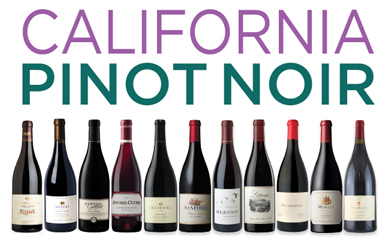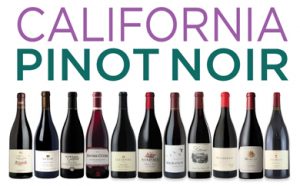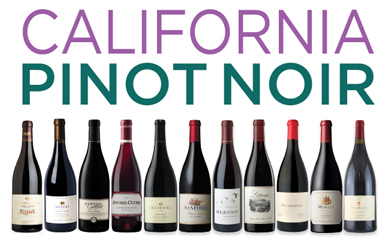 by SANDY BLOCK, MW
Tasting dozens of Pinot Noirs blind, it's unmistakable how dramatically individual a story each one tells. The grape is a chameleon. Highly reflective of its specific growing conditions, Pinot requires handling with utmost care, both in the vineyard and the winery. Its thin skins bruise easily and are rot-prone in humid conditions; because it buds so early in the season Pinot Noir is frost-susceptible; if cropped at too heavy a load the wine it makes will taste dilute; and, to cap everything off, it's genetically unstable. At a minimum Pinot Noir requires a long, cool, but sunny and dry growing season, the kind of environment where every vintage poses fresh challenges and requires a new strategy to handle the grapes. The net/net is that in a world and a market that prize predictability, Pinot Noir is by its very nature capricious. Its low yields and the intensive manual vineyard work (shoot thinning, pruning, leaf removal and other canopy work) needed to ensure flavor concentration mean that it's never inexpensive to produce. Why do winemakers persist? When done right, Pinot Noir is incomparable, with an exalted perfume, texture and flavor profile whose every sip offers intrigue and surprise.
California produces some of the world's juiciest, most sensually appealing versions of the grape. Because of the state's powerful sunshine and its hot summers, Pinot Noir should only be planted in areas that are windy, foggy and rocky enough to provide a balanced environment. The coastal influence is critical, in order to slow the ripening cycle as well as safeguarding proper acid retention in the grapes. Prone to rot at the slightest rain in autumn, it's critical to plant Pinot where autumns are dry, or where strong winds can dry the grape clusters when precipitation does occur. Soils should also be stony, or even rocky, particularly near the surface, in order to curtail vine vigor, with the presence of some clay in the sub soils (to ensure a slow release of water to the vines) in drier climate conditions.
The following California Pinot Noirs are among the finest I've tasted recently. They originate in diverse regions of the state, but all are favored by proximity to the coast, contours of the local topography, and elevation, as well as being crafted by a wide range of production protocols (for example, no real consensus exists concerning de-stemming the grapes, as opposed to whole cluster fermentation, or other vinification options such as cold soaking the grapes, open-top fermentation, manual punching of the grape skin cap, post-fermentation maceration, or aging for whatever duration in the available range of barrel options).
DOMAINE CARNEROS
PINOT NOIR, CARNEROS 2O15
This wine, produced by the great Champagne house of Taittinger, is made from grapes grown where both Napa and Sonoma Valleys meet the San Pablo Bay. Even though it's as far south as you can go in both counties, Los Carneros is an exemplar of slow ripening due to the Bay fogs and high winds. Interestingly enough the district has the lowest rainfall of any appellation in either region. This Pinot is what I would characterize as a lighter style for California, more delicately floral in scent, with juicy red cherry and strawberry fruit. It's smooth and mellow in texture, finishing on a restrained note of gentle spiciness.
AVAILABLE FROM Horizon Beverage Company.
NEYERS "PLACIDA VINEYARD"
PINOT NOIR
RUSSIAN RIVER VALLEY 2O16
Some consider Sonoma's Russian River Valley the heart and soul of California's Pinot Noir crop. The valley is a chain of low hills and bench lands surrounding the Russian River as it cuts a path westward, emptying into the Pacific. The soils range from well-drained loose gravelly loams near the river, to rocky sandstone clays on the rolling hills. Pacific fogs roll eastward upriver reducing sunlight hours, prolonging the growing season (typically harvest is at least two weeks after Carneros) and often producing a fuller-bodied more concentrated and tannic wine. This Pinot is one of the exceptions to that more general formulation. With vines planted to the legendary Joseph Swan clone (rumored to have originated in the village of Vosne-Romanee) Bruce Neyers has created a wine of charm and elegance, with tealeaf, red berry and herbal garden scents. It's an unfined and unfiltered wine of finesse that manages to walk a delicious tightrope between red fruit and more earthy flavor notes. AVAILABLE FROM Carolina Wine & Spirits.
DUTTON-GOLDFIELD
"EMERALD RIDGE VINEYARD"
DUTTON RANCH
GREEN VALLEY OF RUSSIAN RIVER 2O14
From a ridge line just outside the town of Graton, these grapes originate in the coolest part of the Russian River, an area in the direct path of winds from the Petaluma Gap. Dan Goldfield's Pinot expression is darker and more black cherry influenced with grace notes of tobacco, herbs de Provence, crushed stones and mushroom. Medium-to-fuller-bodied with a bold dark fruit finish that moderates the substantial impression of bright acid. AVAILABLE FROM Ruby Wines.
SONOMA-CUTRER
PINOT NOIR
RUSSIAN RIVER VALLEY 2O15
Sonoma-Cutrer's Russian River Pinot Noir is classically styled, with a spicy cherry-like vibrancy, bright fruit extraction and a sharp core of balancing acid, but also impressive juicy blackberry flavors, hints of cinnamon, cedar and tobacco. Firm and fresh, this is a subtle but tart Pinot Noir with engaging spice and berry fruit notes in the finish. AVAILABLE FROM Horizon Beverage Company.
LUCIENNE
"SMITH VINEYARD" PINOT NOIR
SANTA LUCIA HIGHLANDS 2O16
This is Monterey County's finest Pinot Noir neighborhood, strongly marine influenced, with cool, foggy mornings and evenings, but consistently bright sunny warm late mornings and early afternoons. As the morning sun rises it warms the cool air in this north to south valley, funneling cool, moist breezes inland from Monterey Bay in a kind of vacuum effect. I was not previously familiar with this winery but was impressed with the Pinot Noir's complex aromatics: clove, raspberry, crushed stones and sous-bois. On the palate it's round and soft, with baking spice, plum and cola notes. Lots of personality and charm. AVAILABLE FROM Winebow.
SANFORD
"FOUNTAIN HILLS" PINOT NOIR
STA RITA HILLS 2O14
From much further south in the Central Coast, the Sta Rita Hills form a transverse east-west valley that is only a few hours' drive from Los Angeles, but due to incursions from the Pacific comprises one of the coldest viticultural regions in the entire state. Sanford was the pioneer in this now highly regarded area (in fact, they were the first to commercialize Pinot Noir in all of Santa Barbara County) and they still excel four decades later. This is a firmly structured, but very silky, supple wine, with caramel, bright strawberry and beautifully balanced acids. It finishes with a punctuation of pepper and minerals. AVAILABLE FROM United Liquors.
MIGRATION PINOT NOIR
SONOMA COAST 2O17
Absolutely textbook Pinot Noir from Duckhorn, better known as a producer of esteemed Merlot and Cabernet Sauvignon. This originates in the large catch all appellation of the Sonoma Coast, a designation that is so broad as to be virtually meaningless. We are now hearing about the "true Sonoma Coast" or the "extreme Sonoma Coast" to signify vineyards that are actually influenced by the oceanic fogs and breezes, and new regional AVAs are slowly being carved out to denote these more precisely drawn zones. This wine exhibits an enticing aroma of fresh black cherry, it's lush and bold on the palate, with lingering licorice and exotic spice notes. A wine of charm and ripe, early drinkability. AVAILABLE FROM Carolina Wine & Spirits.
LITTORAI
"THE HAVEN VINEYARD" PINOT NOIR SONOMA COAST 2O16
The Haven is a low yielding 4 acre biodynamically farmed mountainous coastal vineyard producing small cluster Pinot Noir grapes. This is biodynamic farmer winemaker Ted Lemon's first estate vineyard. It has a complex soil incorporating marine sandstones, weathered shale and other rocky sedimentary deposits that yield a tremendously complex aromatic with floral, berry jam, black plum and cherry liqueur scents. It's delicate and minerally, with a tightly structured tart fruit finish. AVAILABLE FROM Carolina Wine & Spirits.
OCCIDENTAL
"SWK VINEYARD" PINOT NOIR SONOMA COAST 2O13
This is another Sonoma Coast designated wine, but it's actually all from the ultra-cool Freestone-Occidental area in northern coastal Sonoma, an area that has only recently been planted with vines. This is the personal project of Pinot guru Steve Kistler, who has long used extreme coastal sites that are among the latest ripening vineyards in the County. This part of Freestone Occidental is heavily fogged over for a good part of the day, lying only 4 miles from the coast in the Bodega Headlands. The vineyard is a windy south-facing site that produces a very earthy mineral-driven style of Pinot Noir expressing crushed stones and graphite. It has an aroma of strawberry compote, roses, and sandalwood, with subtle mild fruit extracts. Round and tart, very elegant with a silky opulence, it's a great candidate for the cellar. AVAILABLE FROM Classic Wine Imports.
MORLET FAMILY VINEYARD
"COTEAUX NOBLES" PINOT NOIR
FORT ROSS-SEAVIEW 2O14
At much higher elevations (135O-145O feet) than the nearby Freestone Occidental district, Fort-Ross-Seaview is cooler but less foggy. The multi-talented Luc Morlet crafts a brilliantly polished Pinot from this late harvested terroir, featuring plum, roses, nutmeg and black tea aromas. This is very supple and layered on the palate, with clean, wild red berry fruit, and a persistent mineral suggestion of crushed rocks. Beautifully balanced, and irresistible now, but another wine that will repay patience. AVAILABLE FROM Winebow.
PETER MICHAEL
"LE CAPRICE" PINOT NOIR
FORT ROSS-SEAVIEW 2O13
The name of this wine says it all: Pinot, especially when grown at over 1,OOO feet within view of the Pacific Ocean, is a capricious grape. The brilliant Nic Morlet (Luc's brother!) evokes a restrained fragrance of tarragon, ripe raspberry, and clove from the vineyard. The palate is earth-driven, fruit exploding from the glass, with an appealing note of game accenting the dark berry and fresh balancing acids. A super-concentrated wine that is velvety smooth but with very complex grace notes that linger and evolve on the palate. AVAILABLE FROM Winebow.