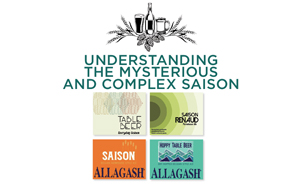 UNDERSTANDING THE MYSTERIOUS AND COMPLEX SAISON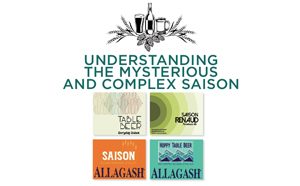 By Andy Crouch
Saison is one of those underrated styles that has the ability to impress everyone who drinks it without leaving a lasting impression on most consumers. It is an enigma wrapped in a sketchy back story with dashes of style confusion mixed in. At its core, saison should never be too much about any one thing. It should not be overly hoppy or exceedingly malty, it should avoid tasting like a bucket of seasonal spices or like a Belgian influenced booze bomb. Even so, plenty of beers labeled as 'saisons' cross each of these definitional lines and many, many more.
If we generally understand what saison should not be, one would think it reasonably easy to define the core characteristics of the style. One would be woefully mistaken. Saison is a tremendously complex style that marries a host of different flavors, from mildly wheaty witbiers to super funky lambics and boozy triples. Alternately referred to as Farmhouse Ales, saisons are usually light golden to deep amber in color, often bright but sometimes hazy with yeast, and possess a dizzying labyrinth of sophisticated aromatics including spicy yeast phenolics, herbal hops, dusty malt notes, light alcohol hints, and occasional tart or acidic traces. The flavors are often correspondingly complex while maintaining a pleasant and surprising balance, offering spicy, peppery and herbal notes blended together with a modest tart or acidic quality, a light bitterness fused with decided citrus fruit qualities, all wrapped around a solid pilsner malt base. Despite a slightly elevated alcohol level, often 5 to 8 percent, saison remains eminently drinkable and even refreshing, all without sacrificing a hint of flavor.
Whether taking their influence from Belgian, French, British, or German brewing heritages, these rustic, lower alcohol styles of beer remain a popular offering from American breweries looking to branch out from standard fare late summer seasonal beers. This month we will focus on four beers from two of New England's top breweries, which also happen to be two of the country's best saison brewers.
TABLE BEER
Mystic Brewery
Chelsea, Massachusetts
MYSTIC-BREWERY.COM
ALCOHOL BY VOLUME 4.3%
Founded in 2OO9 by fermentation scientist, Bryan Greenhagen, Mystic made an early name for itself producing yeast forward beers, including Belgian and British styles. Taking its name from the nearby Mystic River, the brewery opened in an industrial section of hardscrabble Chelsea years before the recent wave of brewery openings was even contemplated. Greenhagen completed a PhD in plant biochemistry and did post-doctoral work at MIT before starting work in industrial fermentation. It was not much of a stretch for him to focus his application of fermentation and yeast studies to the world of beer. Greenhagen focused on brewing traditional and older styles, including saisons, gruits, and wild ales, often cultivating native yeasts.
Mystic Table Beer is one of my favorite saisons and one of my favorite beers made in New England. It is approachable and fun enough to serve to even the most novice of craft beer drinkers while remaining creative and engaging enough to charm hard core beer geeks. It pours with a light straw pale yellow color and a nice drift of white foam. The aroma is very yeast forward, with notes of earthiness and spicy phenols mixed over a pleasant if muted noble hop essence. The flavor shines through with big, lively Belgian yeast notes and a bit of lemony character all over a pleasant pilsner malt base. Some lightly toasty notes and a balancing mix of earthy hops make this well-balanced stunner a subtle charmer. A refreshing break from over the top beer culture, the Mystic Table Beer is a wonderful, sessionable saison, great for pairing with food, and at a terrific price point. AVAILABLE FROM Craft Brewers Guild.
SAISON RENAUD
Mystic Brewery
Chelsea, Massachusetts
MYSTIC-BREWERY.COM
ALCOHOL BY VOLUME 6.5%
For this Saison, Greenhagenhoped to create a bottle-conditioned Farmhouse Ale take on the European classic style, employing a continuously cultured strain of yeast. This saison is a few steps up from the lighter Table Beer, more noticeable in the aromatic and flavor departments and weighing in more than two percent alcohol higher.
Using only a single hop (Saaz) and single malt (pilsner) profile, Saison Renaud is an unfiltered saison and an instant classic. What might seem like a true Bohemian recipe takes a sharp left turn with the addition of the house yeast strain here. Pouring with a hazy pale yellow hue and a moderate level of white foam, the beer is noticeably carbonated, a sign that effervescence and refreshment is ahead. The aroma is filled with baked bread, slightly fruity Belgian yeast, grass, and spicy hops. The flavor follows with a medium body of bready malts, spicy noble hops, and a light bitterness in the finish. With a solid level of carbonation, the Saison Renaud remains pleasingly dry.
While founded on the classic British and Belgian traditions, Mystic's recent spike in popularity stems from its regular releases of hazy, hoppy pale ales and IPAs to satisfy the consumer craze for these beers. But with beers such as Table Beer and Saison Renaud, here is to hoping that Mystic never ventures too far from its earthy saison roots. AVAILABLE FROM Craft Brewers Guild.
SAISON
Allagash Brewing Company
Portland, Maine
ALLAGASH.COM
ALCOHOL BY VOLUME 6.1%
Widely respected as one of America's pre-eminent brewers, Allagash makes a fantastic line of Belgian influenced beers including a well-regarded if under appreciated saison. Brewed with the addition of malted rye, oats, and dark Belgian candi sugar, the Allagash Saison is a highly drinkable and entertaining beer.
Brewed on the darker side of pale here, the saison pours with a moderate level of foam and carbonation. The aroma is mildly spicy with peppery, earthy, and citrus fruit phenols mixed with fresh baked bread and a bit of coriander. The flavor unsurprisingly merges all of these notes to create a pleasant melange of well-balanced flavors. It begins with a wash of toasted biscuit malt, a spicy bite, mild herbal and fruit notes, and a lingering earthy hop and yeast bite through the finish. The carbonation and dryness keep everything in check for this warm weather beauty. AVAILABLE FROM Seaboard Products Company.
HOPPY TABLE BEER
Allagash Brewing Company
Portland, Maine
ALLAGASH.COM
ALCOHOL BY VOLUME 4.8%
Allagash famously does not brew an India Pale Ale. In this day and age, that would spell death for most pioneering breweries. But Allagash and its flagship White continue to blaze trails across the United States. Instead of bowing to the latest trend with the release of some dank, haze bombs, Allagash instead went a very different direction. Inspired by the Belgian tradition of low-alcohol, easily drinkable beers, its Hoppy Table Beer attempts to bring a European take to American hops. Brewed with the addition of Maris Otter malt and oats, Allagash also adds coriander in addition to its classic Belgian house yeast strain. Hoppy Table Beer is hopped with several varieties popular with beer nerds, including classics such as Chinook and Cascade along with Comet and Azacca.
Hoppy Table Beer starts with a light hazy yellow hue, medium level of white foams, and a substantial base of carbonation. The aromas start with hits of coriander and grapefruit and other citrus mixed over a biscuity malt base and a slight funky earthiness. The flavor continues with mild hints of pale, oaty malts, quick hits of spicy, earthy yeast, waves of citrus, including lemon and orange, and finishes with a spicy, lingering bitterness. Hoppy Table Beer is what happens when a classic American brewer tries to thread the needle between the Old World of saison and the new American hop craze. It works for me. AVAILABLE FROM Seaboard Products Company.