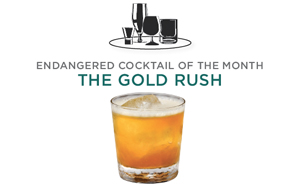 ENDANGERED COCKTAIL OF THE MONTH: THE GOLD RUSH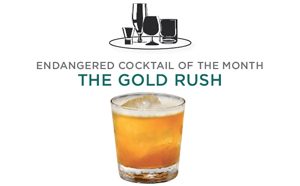 By Pink Lady
In this, the second Golden Age of Cocktails, it seems there's a great drink to be found on every corner – what a time to be alive! Many of us began bartending before fresh juice was even available in most bars, and can trace the evolution of this moment down to individual bars and bartenders who championed it. In New York, one of the modern cocktail's progenitors was a little speakeasy called Milk & Honey.
I remember when LUPEC founder Hanky Panky first told me of this strange, secret bar. Only locatable by calling a secret phone number – was it found in a phone book or through a friend? – you procured a special password that changed nightly to gain admittance. Once inside, the vibe was intimate and sophisticated, with both classic and original cocktails at the ready, mixed as they once were in pre-Prohibition bars with fresh juice, homemade syrups, and special ice. Reservations were required, standing room wasn't allowed, and if you wanted to chat up the pretty gal a few seats away at the bar, you'd ask the bartender to make intros so as not to intrude on her privacy. Raspberry vodkas and Sprite were the usual call at the Boston bars I frequented, so this Milk & Honey sounded unique and fascinating, and very, very special.
One of the simple modern classics created at Milk & Honey is a 3-ingredient gem called the Gold Rush. It's little more than a cold toddy with honey, and is elegant, delicious, and very easy drinking. At a time when most people were drinking vodka-sodas, a whiskey forward sour was sure to intrigue. Created by T.J. Siegel and featured in Robert Simonson's 2O17 Three-Ingredient Cocktails, this is an easy one to make and enjoy at home.
Raise a glass to the recent past as you sip!
---
GOLD RUSH
by T.J.Siegel, Milk & Honey, NYC
2 ounces of bourbon
3/4 ounce of fresh lemon juice
3/4 ounce of rich honey syrup
TOOLS shaker, strainer
GLASS rocks
COMBINE all the ingredients in a shaker filled with ice and shake until chilled, about 15 seconds. STRAIN into a rocks glass over one large cube of ice.
RICH HONEY SYRUP Heat 1 cup of honey and 1/3 cup water in a saucepan over medium heat, stirring occasionally, until the ingredients have integrated. Remove from the heat, let cool, then refrigerate. Stored in a tightly sealed container, the syrup keeps for one week. Cin-cin!