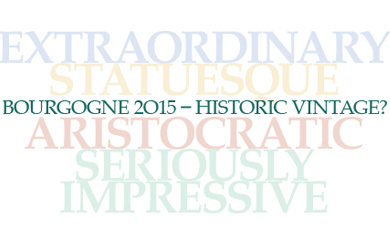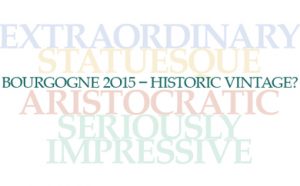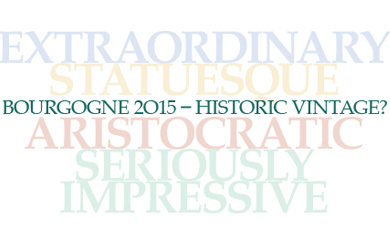 . . . Burgundy in all its sunset glow.
-Lord Byron
by HARVEY FINKEL
HEARING AUSPICIOUS Delphian whispers for more than two years about the 2O15 vintage in Burgundy whetted desire to at last confront the wines, for selecting Burgundies is a contact sport. We had read such words as "extraordinary," "statuesque," and aristocratic," and, more prosaically, "seriously impressive". Favorable comparisons were made to vintages such as 2OO5, 199O, 1929. The survey tasting, therefore, on April 19, sponsored by La Sous-Commanderie du Massachusetts of La Confrérie des Chevaliers du Tastevin, conceived and hosted by éminence grise Frederick Ek, with the expert collaboration of his colleague, Lloyd Foster, was met with enthusiasm at the bistro La Voile in Brookline's Washington Square.
Availability is always an issue, and, of course, price. Either can convert a wine from the existential to the theoretical. These factors, plus affording a representative view of the region, governed the selection. Most were from the Côte d'Or.
Although advances in viticulture and winemaking and changes in climate have made for earlier harvests and fewer poor vintages, excitement becomes palpable when all or most of the facets fall into place during a particular growing season, especially, in this case, once the ravages rendered by frost upon the succeeding 2O16 vintage became known.
Following a mild and moist winter, which helpfully reconstituted the aquifer, flowering came early and well. Then came a little rain in June and, later, a little more in August. July was marked by unremitting heat, but, fortunately, August was cooler. Most vignerons picked in early September. Although there were heavy rains on September 12, most of the harvest was in by then; others paused. The crops, smaller than average, were concentrated, thick-skinned, and uniformly healthy, fresh, though low in malic acid. Rich in ripe tannins and polyphenols, of deep color, yet the grapes were neither overripe, nor underripe. From Chablis through the Côte d'Or into the Côte Chalonnaise, conditions were uniformly favorable. It may have been a little warm in the Mâconnais.
The sound structure, the small berries with thick skins, the high concentration of polyphenols, and the unusual balance of the Pinot Noir crop have imposed restraint upon the winemakers. Chaptalization was not needed. Pressings had to be gentle, and extended macerations avoided. New oak was doled out cautiously.
The red wines are almost unanimously predicted to be great and enduring. They are expected to age slowly and gracefully, evolving to exhibit the characteristics of both their vintage and their terroirs. The usual all-stars are scarce and dear, but this is a vintage in which even the Bourgognes and simple village wines are likely to be special, to be real Burgundy.
The whites of 2O15 do not shine with same uniform luster. They will mature relatively earlier, with ripe, even sometimes tropical fruitiness. Seekers of more classical white Burgundy might look to the 2O14s.
I found the wines at the tasting uniformly attractive and promising. [That happy word – uniformly – keeps popping up.] They are sound, balanced, fragrant, and transparent, and are forthcoming at this stage, though, like others, I'm guessing they'll retreat after a time. Some will gain weight, authority. Let availability, price, and your merchant guide your selections.