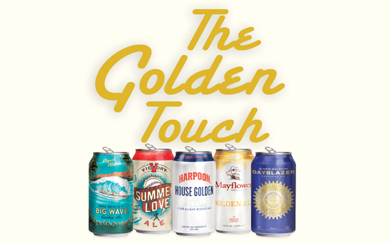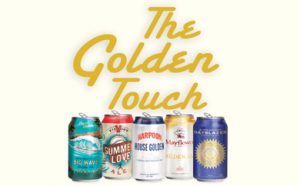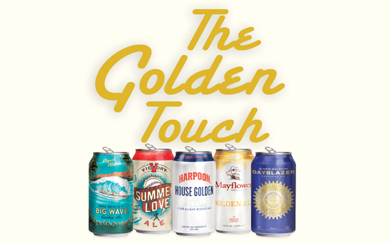 by ANDY CROUCH
Get ready for warm weather with these golden ales.
MANY CRAFT BREWERS have long eschewed catering to entry level or novice beer drinkers.  Focusing on highly hopped beers or chasing style trends, they have preferred to service more developed beer geeks.  This approach has led to some stratification in the craft beer marketplace, with the fast evolution of adventure-seeking beer enthusiasts while others are seemingly left behind.  This dissonance, however, has also led to market opportunities for savvy brewers.  Recognizing the existence of an under-serviced market of consumers, some larger craft brewers have begun to deliver less aggressive and more easy drinking beers to this still interested and substantial class of consumers.
Of these attempts, the Golden or Blonde Ale style has perhaps enjoyed the most success.  One of craft beer's fastest growing styles, with double-digit growth in recent years, Blonde Ales have allowed craft brewers to extend an olive branch to the many beer consumers who do not care to chase hops or limited release offerings but instead just want a step up from macro lager.
As with many styles, the Blonde or Golden Ale style is a twist on another classic style, namely the German Kölsch.  Often very light in color, usually pale gold or straw, the best Golden Ale examples are crisp and dry, well-attenuated, with a mild maltiness for balance.  A popular entry-level take on the prototypical American lager, smart craft brewers use the beer to transition macro drinkers to a more flavorful alternative.  Different versions of this beer may weigh heavier on the bready or toasted malt side or even exhibit some mild bitterness and a light fruitiness.
The classic and popular Kölsch style remains another key tool in the craft beer arsenal, allowing brewers to produce a well-respected style while also providing accessibility to potentially wary drinkers.  Hailing from the great brewing city of Cologne ('Köln' in German), on the Rhine River in Germany's northwest corner, the Kölsch style is the perfect crossover style.  Most American varieties claiming to be of this delicate yet impressive style are usually lighter and less flavorful than those found in its home city.  Possessing a light, radiant golden color and a sizable, well-sustained white head, true Kölsch beers maintain a subtle balance between dryness and sweetness, soft but not cloying malts, and a touch of fruitiness that makes for one of the world's most drinkable and refreshing styles.
BIG WAVE GOLDEN ALE
Kona Brewing Company
Kailua-Kona, Hi
ABV 4.4%
Kona Brewing Company remains a solidly popular brand for the Craft Brew Alliance, the partnership group owned in part by Widmer Brothers, Anheuser-Busch InBev, and others.  Formed following the merger between the Redhook Ale Brewery and Widmer Brothers Brewery, CBA went on to acquire Hawaii based Kona in 2O1O.  While brands like Widmer and Redhook continue to struggle, Kona is a star and its Big Wave Golden Ale helps steer the ship.  Brewed at the Widmer Brothers Brewery in Portland, Oregon, and Redhook's brewery in Portsmouth, New Hampshire, Big Wave pours with a lightly hazy golden hue and a solid dollop of white foam.  The aroma fills with a balance of light biscuity malts and grassy wheat.  The nose is mild but flits with fruit and bits of honey.  The flavor starts lightly bready and transitions into a touch of fruit before settling in unobtrusively on the palate.  A subtle carbonation checks the malt and hops play little role in the flavor.  Easy drinking and a solid entry level choice at a good price point for many consumers.  konabrewingco.com
SUMMER LOVE
Victory Brewing Company
Downingtown, Pa
ABV 5.2%
Many hardened craft beer drinkers reject Blonde and Golden Ale styles for being too gateway or entry level to sustain their interest.  Victory's Summer Love should change their snobbish attitudes.  Summer Love pours with a bright, beautiful golden color and a solid and sustained top of dense white foam.  The aroma is clean, tight, and attractive.  The fragrant nose is full of grassy, earthy notes with light German noble hop hints and a mild American hop fruitiness.  The flavor is correspondingly clean and dry, with bits of cracker, biscuit, and very mild toasted notes and a light bite of hops.  Mild lemon and fruit notes make their presence known throughout.  Summer Love is brewed with 2 row German malts and whole flower Tettnang, Simcoe, and Citra hops.  It is light-bodied but far from thin, with solid carbonation, and ending with a light and dry finish.  victorybeer.com
HOUSE GOLDEN
Harpoon Brewery
Boston, Ma
ABV 4.7%
Harpoon first released this Kölsch style ale as a summer seasonal offering nearly 2O years ago.  Released as 'Harpoon Summer Beer,' the original beer was a bit higher in alcohol.  After taking a brief hiatus, the brewery returned the beer to its lineup and rebranded it as House Golden.  Pouring with a light golden hue and a thin burst of off-white head, the ale offers a mixture of grainy malts, mild wheat, and a touch of grassy earth.  There are hints of lemon and floral notes punctuating the aroma.  The flavor continues with a clean bill of malts followed by rounds of lightly toasted and bready malts with notes of dry yeast and mild but present earthy and lightly fruity hop notes.  On the lighter side of medium-bodied, this clean offering achieves its goal of remaining engaging but also light and not overwhelming on the palate.  Very drinkable and inviting without becoming too much of any one thing.
harpoonbrewery.com
MAYFLOWER GOLDEN ALE
Mayflower Brewing Company
Plymouth, Ma
ABV 4.5%
Pouring with a clear golden hue, Mayflower's Golden offers a solid white head.  The aroma mixes of slightly sweet corn, mild lemon and other fruits, and then a bit of grassy malt character.  The flavor continues with a light grassy quality mixed with a slight biscuit maltiness and a simple, medium-bodied drinkability.  A solid blast of carbonation shapes up the edges and allows the breadiness to continue unabated.  Pleasant from start to finish.  mayflowerbrewing.com
DAYBLAZER
New Belgium Brewing
Fort Collins, Co
ABV 4.8%
A breakout product for the stalwart national craft brand, New Belgium's Dayblazer is designed to target that cross-over consumer who is just dipping their toes into the world of craft beer.  New Belgium is also using the easy drinking product to test out lower price points and to explore volume plays, often selling Dayblazer in 15-can packs.  Dayblazer pours with a mild pale straw color and a simple wisp of white foam.  The aroma starts with some mild corn, cereal, and light grassy hop notes.  The flavors do not wander much from the nose, with hints of wheat, cereal, corn, and mild herbal hops for balance.  The body is light though not thin, with a low level of carbonation, and a simple, dry finish.
newbelgium.com