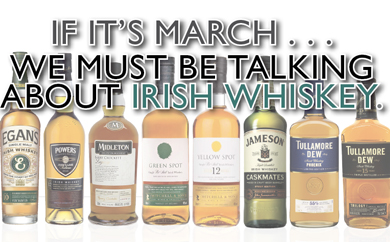 If it's March . . . we must be talking about Irish Whiskey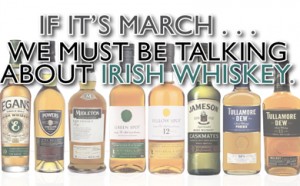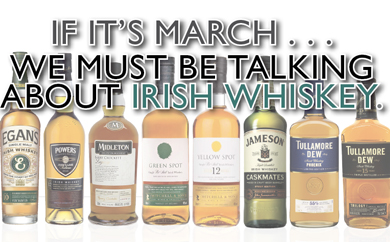 ARTICLE BY LEW BRYSON
Try as it may, Irish whiskey cannot get away from the March Spike brought on by America's obsession with St. Patrick's Day.  Sure, people drink more of it through the rest of the year now – the sales numbers are undeniable.  But to many, the only time they ever get up the gumption to knock back a brimming glass of Hibernian nectar is the week around the Ides of March.
"As we approach March and St. Patrick's Day, it gains its legs again," says Michael Ray, barman at the Outlook Kitchen and Bar in Boston's Envoy Hotel, "and people who have never had an Irish whiskey will shoot it in revelry and in celebration of their distant heritage."
It's true across the state, and maybe that's made the whiskey companies focus on March too much.  "There's a huge spike in March," confirmed Nick Taylor, director of whisky at Gordon's Fine Wines & Spirits in Waltham and Boston.  "And that's when all the new Irish whiskeys come out, and the advertising and promotion comes out.  It's the only time I get calls from the reps: 'Let's do a tasting, let's do an event.'  Meanwhile, the bourbon and Scotch guys are working me every week.  The Möet-Hennessy guy just called me, 'Let's do a Bill Lumsden dinner'.  (Lumsden is the master blender for Glenmorangie and Ardbeg.) My guys will go crazy for that."
Granted, there was a time when an Irish whiskey tasting event would have been like a milk tasting.  'Welcome!  I have regular, and low-fat and skim, and . . . er, chocolate.  Yes, the same as we had last month.  That's all we have; all we'll ever have, really.'  But nothing succeeds like success.  As whiskey sales in general have taken off and Irish whiskey numbers have continued to climb at double-digit rates, there have been additions to the standard lines like Jameson, Powers and Tullamore D.E.W.  (to use the company's newly-preferred nomenclature), and a number of newer brands (or new to America): Glendalough, Egan's, Green and Yellow Spot, Kilbeggan, and the growing line of single pot still bottlings from Midleton, among others.  There's a whole new array of labels on the shelf.
Glendalough, a new Irish microdistillery from County Wicklow (see sidebar), has gotten a lot of attention in the Boston area, thanks to the energetic presence of Dónal O'Gallachóir, the brand manager and co-owner.  "Dónal's a nut," laughs Nick Taylor, "he's running all over the place, and the women love him.  He's such a riot." He brings three poitíns and his Double Barrel whiskey, aged in bourbon barrels and finished in oloroso sherry casks.
Another new brand is Egan's, a 1O-year-old Irish single malt.  "We bottle it at 94 proof," explains John Ralph, CEO of P&H Egan USA.  "We don't want to chill-filter, and if you're below 46% and the whiskey gets cold, you get the dots of stuff floating." (Egan's also has a poitín; see sidebar.)
It's a purist's approach, and that's the kind of market Ralph is looking for.  "We're looking at competing with the Glenlivets and Macallans; a more sophisticated moment in the drinking day.  We're starting at a premium position so we can build it carefully and cautiously.  We'll let the big brands slug it out."
Are the big brands really slugging it out?  If they are, it's not a fair fight, given Jameson's dominant market position with a bit over 68% of the US market for Irish whiskey (numbers from Euromonitor International).  That's not the Jameson "family" of brands, either – just sales of the flagship bottling.  The word "dominant" may not be strong enough; the next largest brands, Bushmills and Tullamore, are each at about 5% of sales.  "Jameson's is the call brand," notes Michael Ray.  "It's the Grey Goose or Tito's of Irish whiskey.  It's the steadfast Ford or Chevy truck."
Jameson isn't letting up, either.  The parent company, Pernod Ricard, is continuing to roll out more of the single pot still whiskeys at the higher end, like the Powers John's Lane and Barry Crockett's Legacy, and the Green Spot and Yellow Spot whiskeys, previously available only in Ireland.
They've also added the new Jameson Caskmates line, at a more affordable price for a whiskey upgrade.  "We partnered with a local craft brewery in Ireland to create a Jameson whiskey finished in stout-seasoned barrels," explains Jameson brand ambassador Greg Slattery.  "The smoothness of Jameson complimented with new hoppy, chocolate and coffee notes from the beer has seen great consumer response to this new release from Jameson." (There's also a cider Caskmates that's only available in Ireland, if you're making a trip to Dublin.) He adds that there will be more releases in the single pot still portfolio this spring, but wouldn't release more details yet.
Tullamore's bringing more new whiskeys as well.  We got the excellent Phoenix limited edition, a blend of pot still, grain, and malt whiskeys finished in oloroso sherry casks and bottled at an unusually high (for Irish) 55%, according to Jane Maher, the Tullamore D.E.W.  brand ambassador USA.  She also has news about the forthcoming Tullamore Trilogy.
"Trilogy is a 15-year-old blend of grain, malt and pot still, finely perfected in triple wood which unearths layers of rich character and a uniquely complex taste," she says.  "The release of Trilogy is part of a wider range expansion for Tullamore D.E.W that will roll out over the next number of years."
There's a ton of buzz about the Teeling whiskeys as well; great whiskey value for the price, and a name that should only get more familiar.  They've built a new distillery in Dublin and are very publicity-savvy.  "People are very jacked-up about the Teeling," says Taylor.  "That's been hot, they ask me about it."
But Taylor's still puzzled by the lack of excitement that the category in general has drawn.  "I get so many people coming in who are bourbon or malt-focused, and they'll come in and buy 3O to 4O single malts at a time," he notes.  "I don't have anyone like that about Irish.  No one says, 'I had the cask strength last week, what should I try next?'"
He wonders if it's the representatives.  "There are such personalities in the Scotch and bourbon industries, who rep the brands, they're known quantities," he says, then notes, "There isn't any of that on the Irish side.  'I'm so excited to meet . . . !'.  Who?  I don't know who it would be.  There's none of that in Irish.  If they're not doing it in the Boston market, where are they doing it?"
Michael Ray has seen the progress in what the consumer wants.  "In my 2O-plus years in this business, Irish whiskey has come a long way," he says.  "When I started, the bar I worked at had Bushmills and Jameson's.  Irish whiskey was something you did with a shot and a beer.  Now it's sipped, poured over a perfect ice sphere.  It screams single malt category treatment."
How do you give it that treatment; how do you hand-sell Irish?  "First thing I ask is their price-point," says Taylor.  "Do you like single malt Scotch?  Yes? There are single malts in the Irish category: Glendalough's 7-year-old, and Egan's – the 1O-year-old is really very interesting.  Redbreast is a good crossover.  If they like bourbon, the higher mark Powers do well."
So be aware.  If you're trying to sell Irish any month but March, even with the great new whiskeys, even with the excitement about whiskey, even with the wind of Jameson in the sails . . . you'll still need a bit of luck.  Just remember: a smart person makes their own luck.
IT AIN'T MOONSHINE, IT'S POITÍN
ALMOST ANY IRISHMAN over the age of 5O has a story that involves midnight money tucked in a certain cranny or crevice in the neighborhood, replaced in a few days with a bottle of clear – mostly clear – liquid to be taken back to your Da.  That was poitín ('pwauh-CHEEN'), the illicit liquor of Ireland, which has made its way onto the backbars and store shelves of Massachusetts.  Don't write it off as just another unaged "white whiskey", either.
"Poitín is the forefather of whiskey," explains Glendalough's Dónal O'Gallachóir.  He traces it back to "584AD in Ireland, the first record of distillation for consumption.  The word 'poitín' comes from a term for pot still – 'poita'.  'Poitín' means what comes from your pot still.
"We use a recipe from the 17OOs," Dónal says.  "A small copper still, and a mash with malted barley and sugar beets.  We even age our poitín in virgin Irish casks.  This is a style unknown in the States.  They taste it and there's a 'What the **** is that!' reaction."
There are three Glendalough poitíns, all of which start at a serious 1O4.8 proof.  The flagship is bottled at 😯 proof.  There's a golden-colored version that's aged for a short time in sherry casks, and the Mountain Strength is bottles at a solid 1OO proof.  "We like round numbers and things that catch fire," Donal laughs.
Another choice is Egan's Mad March Hare.  "We make the spirit in our facility in West Cork," says John Ralph.  "It's a brown spirit in a white jacket.  When you first nose it, it's like a spirit right off the still, but when the air gets at it, you get a malty aroma – and when you drink it, you're astonished.  It's very mixable, offers mixologists something they don't have on hand."
It might be the niche of a niche, but those are, as Dónal put it, the "things that catch fire."