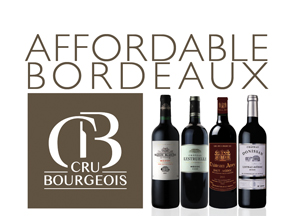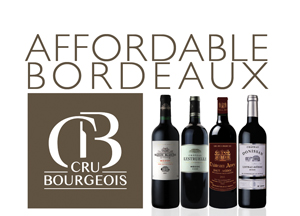 THE THOUSANDS of wines of Bordeaux, particularly the reds, need no introduction and little explanation. In recent years, however, we need abundant disposable assets to acquire any of the five dozen Grands Crus Classés at the apex of the hierarchical pyramid, and then would need to wait many years for their accessible drinkability. Who needs this?
Ranked just below the exalted few is a group of 267 wines, the Crus Bourgeois du Médoc, with true Bordeaux character, which are affordable and are drinkable sooner – though they can be rewardingly cellared for some years. Let's look at them today.
A Cru Bourgeois is grown in one of eight well-recognized appellations: Médoc, Haut-Médoc, Margaux, Listrac-Médoc, Pauillac, Moulis en Médoc, Saint Julien, or Saint Estèphe. It is typically made from Merlot and Cabernet Sauvignon, with additions of Cabernet Franc and Petit Verdot – all classically Bordelais. The 29 million bottles produced are grown on about 41OO hectares, roughly a quarter of the vineyard area of the Médoc. Of the 267 châteaux, the wines of 18O are now available in the US. Their average retail price per bottle is just over $25, with a range of $2O to 4O.
While the requirements for certification as Cru Bourgeois are newly restrictive, the category itself is historically old. During the period of English rule of Aquitaine (1154 to 1453), privileged merchants living and doing business in the bourg, a town or section of Bordeaux, acquired select vineyards, which by the 15th century were referred to as Cru Bourgeois. The term endured, and the group thrived, but suffered notable downturns during the French Revolution, the Great War and the Great Depression.
The early 21st century was marked by litigious maneuvering rivaling the Jarndyce saga, until, in 2OO9, a new selection quality assurance procedure was adopted, by which independent professional expert blind tasting of eligible wines is required for every vintage for the designation Cru Bourgeois. Each bottle so honored has a coded sticker affixed. Thus, wine quality trumps geography: the wine is what's certified, unlike the Grands Crus Classés of the left bank and of Saint Emilion, whose properties are accorded a nearly immutable place in the edifice.
HERE are my impressions of the four wines I tasted. They were provided by the Alliance des Crus Bourgeois du Médoc (crus-bourgeois.com). They come from two superb (2OO9 and 2O1O) vintages and one very good, but variable, (2O11) vintage. I found all four to possess the delicacy and grace I seek in Bordeaux, without the overripe, alcoholic, highly extracted, dense, and heavily oaked character, with insufficient acidity and subtly, evinced by many famous wines of warmer climes and even by some modern, fashionable Bordeaux. Less may be more. These wines give the pleasure of true Bordeaux breeding, but of course can never attain the complexity, nobility, longevity, or lofty price of top classified growths.
CHÂTEAU MAISON BLANCHE 2O1O MÉDOC
Owned by the Bouey family, vintners for nearly 2OO years. Managed in consultation with the esteemed Stéphane Derenoncourt. 28 hectares of sloping clay-limestone. Merlot 😯 percent, Cabernet Sauvignon 2O. Vines' average age 25 years. Barrel (one-third new) aged for 12 months. Production 125,OOO bottles. Fragrant. Graceful and balanced. Good fruit and very good finish. $25
CHÂTEAU LESTRUELLE 2OO9 MÉDOC
Same operation as above. 22 hectares. Merlot 85 percent, Cabernet Sauvignon 15. Vines' average age 2O years. Partially oak aged. 138,OOO bottles. Deeper, more reticent nose, yet potentially more interesting. Raspberry-edged fruit with good acidity. Quite long. Will age well. $25
CHÂTEAU ANEY 2O11 HAUT-MÉDOC
Founded by the Aney family in 185O; revivified by the Raimonds 1972-74.
3O hectares of gravelly soil located between Margaux and Saint Julien. Cabernet Sauvignon 65 percent, Merlot 25, Cabernet Franc 7, Petit Verdot 3. Vines' average age 33 years. Aged 12 months in barrel, 2O to 24 in bottle. 15O,OOO bottles. Fine nose of cabernet and some oak. Light, balanced, elegant, long. A most graceful wine. $24
CHÂTEAU DONISSAN 2O1O LISTRAC-MÉDOC
Owned by the Laporte family for 3OO+ years. 1O.5 hectares of clay-limestone. Merlot 6O percent, Cabernet Sauvignon 3O, Petit Verdot 1O. Vines' average age 28 years. Aged 12 months in barrel. 7O,OOO bottles. Shy nose. Good balanced fruit, but the wine is restrained. I sense complexity to come. Admirable length promises much. $25