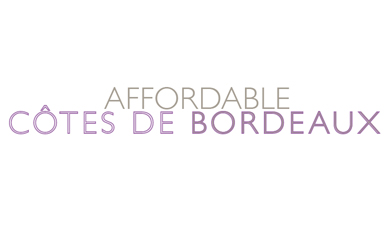 AFFORDABLE CÔTES DE BORDEAUX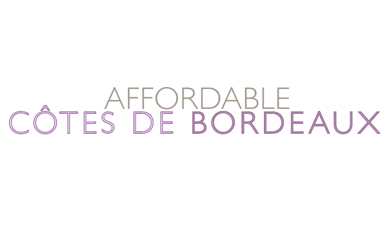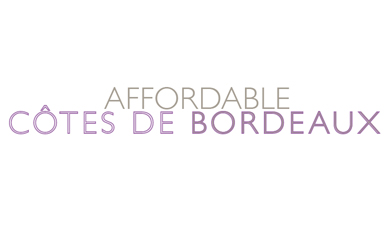 IN KEEPING with the theme of last month's column about the Médoc's Cru Bourgeois, here is a look at another group of affordable Bordeaux wines – the Côtes de Bordeaux. These châteaux produce wines with unmistakable Bordeaux character. In fact, sometimes they might be preferred to their more celebrated, and very expensive, late-maturing cousins from the Haut-Médoc, Pessac-Léognan, Saint-Emilion, and Pomerol, for transparency and approachability, and, of course, price. They now offer a laudable level of consistent quality. The châteaux are, as a rule, owned and managed by resident families, not by large corporate groups.
The Côtes, four in number now, were planted centuries before the Médoc across the rivers. They occupy a very different terroir. Instead of flat, gravelly drained marshland, the Côtes, on the cooler right banks of the Gironde Estuary and Garonne, and Dordogne rivers, are planted on forested hillsides (côtes), generally in clay/limestone soil with southern or southeastern exposure. The informing grape variety of the dominant reds is merlot, abetted by Cabernet Franc, Cabernet Sauvignon, and sometimes, especially in Blaye, a little Malbec.
With more than 6O appellations, Bordeaux is confusing.Small districts are lost sight of, so, in 1985, four of the five Côtes de Bordeaux agreed to merge their interests. These are Blaye, Cadillac, Castillon, and Francs. The fifth, Bourg, declined. (It is said that Bourg's vignerons voted "no" by 51 to 49.) The gradual integration of the four culminated in the official creation of the new appellation in 2OO9. Each of the four may precede its "family name" – Côtes de Bordeaux – by its "first name" – Blaye Côtes de Bordeaux, Cadillac Côtes de Bordeaux, Castillon Côtes de Bordeaux, Francs Côtes de Bordeaux. They will be joined by a fifth member in 2O16 – Sainte-Foy Côtes de Bordeaux, located to the east.
The planted area, 11,OOO hectares, and annual production, 5.5 million cases, of the four Côtes total about ten percent of all of Bordeaux's. Fewer than 1OOO growers cultivate the estates, which usually run 8 to 15 hectares. Blaye, the largest district, located across the Gironde from the Médoc, constitutes half the Côtes' total. Like most of the four districts, it produces 95 percent red wine, 5 percent white from Sauvignon, Sémillon and a bit of Muscadelle. Cadillac (no connection to Detroit) occupies a strip on the Garonne opposite Graves and Barsac/Sauternes. Like Castillon (to follow), its planted area and production are a little less than half of Blaye's. Castillon is continuous with Saint-Emilion's east. Many of Castillon's wines, in fact, resemble those of its more renowned neighbor. The Hundred Years War ended here in 1453, and France repossessed Bordeaux. Francs, only a tenth the size of Blaye, lies farther to the east. Still quite rural, its vineyards are among the highest in the region. Sainte-Foy, to be inducted next year, is even farther east. Only a third the size of Francs, its white wine production is ten percent.
WINE NOTES
I was able recently to taste 17 red wines representing all four Côtes at a tasting dinner organized by the Union des Côtes de Bordeaux and the Teuwen agency. All the wines are available in our market. The superb 2OO9 and 2O1O vintages predominate. Almost all the bottle retail prices fall between $16 and $25. A couple of exceptions will be noted below.
All the wines are pleasing, drinkable already, and worthy of cellaring for a few years. I detected no characteristics that distinguish one district from another. In general, the 2O1Os are the roundest and most complete, the 2OO9s tougher and in need of more time. The most expensive wines are outliers at $75, Château Suau l'Artolie 2OO9 and 2O1O, and Château d'Aiguilhe 2O11, $35. The former is a hand-tended, organically grown section of Château Suau. Just 5OOO bottles of intense and elegant wine are made, mostly in new oak barriques. The latter wine, concentrated, long, and youthful, is the product of well-known and well-respected Stephan von Neipperg of Saint-Emilion. I'd like to pick out one more wine, probably unfairly. I've been drinking Château de Pitray with pleasure and without financial pain for more than 3O years. Owned by the de Boigne family for 6OO years, this estate is going organic. The 2O1O, $2O, is fragrant, complex, balanced, and long. It shows a bit of oak at this stage.
For you who may intend to shop for these wines, I'll close by listing them all, côte by côte. Those printed in black were just a bit more equal than the others, at least for me on the evening of the tasting. You can't go wrong.
BLAYE CÔTES de BORDEAUX
Château Haut Colombier 2012
Château Peybonhomme-Les-Tours 2012
Château Roland La Garde 2010
Château Capron 2009
CADILLAC CÔTES de BORDEAUX
Château l'Avocat 2011
Château Saint-Nicolas 2010
Château Suau 2010
Château Suau l'Artolie 2009 and 2010
CASTILLON CÔTES de BORDEAUX
Château d'Aiguilhe 2011
Château de Pitray 2010
Château Cap de Faugères 2010
Château Robin 2009
Château Côte Montpezat, Cuvée Compostelle 2OO9
FRANCS CÔTES de BORDEAUX
Château Lauriol 2010
Château Puy-Galland 2010
Château Puygueraud 2010