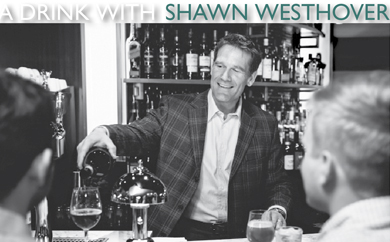 A DRINK WITH SHAWN WESTHOVER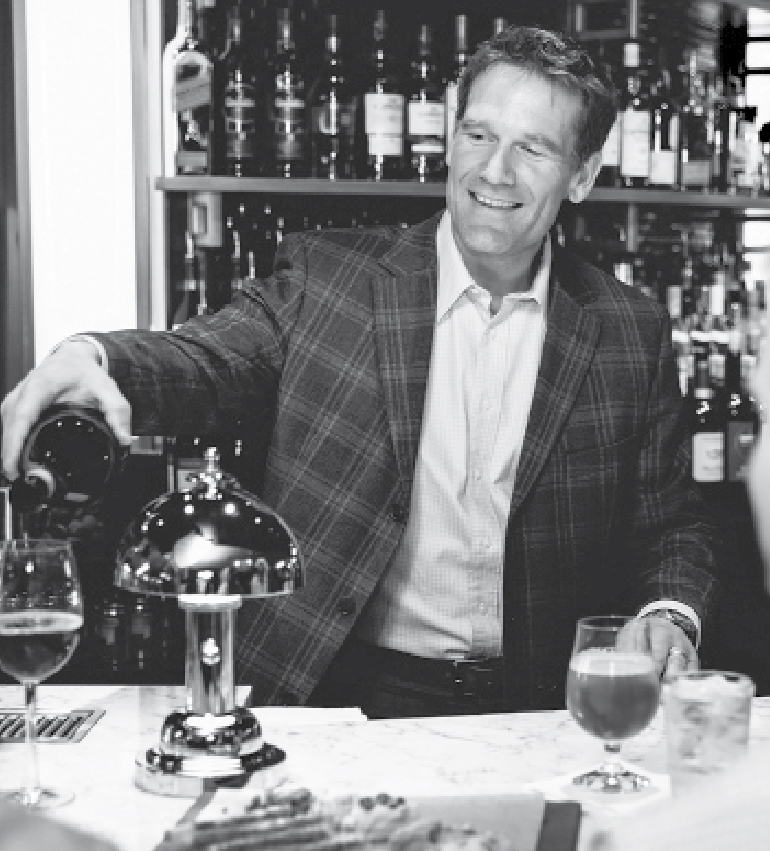 BEVERAGE DIRECTOR • PAPA RAZZI-BURLINGTON + NEWPORT RESTAURANT GROUP
SHAWN WESTHOVEN of Papa Razzi Metro in Burlington is what you'd call a beverage academic. Not only does he study classic Italian brands and cocktails, he teaches his staff and guests how to appreciate them. Rooted in reviving the traditional Italian drinking experience, Westhoven is all about engaging his guests and getting them to try something new (or rather, something old that's new again, like a Negroni). If this means passionately advocating for vermouth or bringing back the after-dinner grappa ritual, Westhoven is more than happy to take on the challenge – he is, after all, a self-described "adrenaline junkie". Get his take on emerging Italian wine trends and a glimpse into his very busy days (which usually end with a glass of bubbly). À votre santé!
BR At Papa Razzi, you focus on Italian classics; why is this important to you and how does it translate to your menu?
SW There is an emphasis on classic cocktails in general. I think it is a push back against the flavored vodka movement of fifteen years ago. I also think that a lot of bartenders are re-learning flavors: sweet, sour, bitter, salty. And when you do that you often come back to the Margarita, the Old Fashioned, the Negroni, and realize that when they are made perfectly they can achieve balance. We listed a few classics like the Negroni and the martini because we want guests to ask "why" so that we can talk about quality vermouth and what was achieved with some of these drinks [they were enjoyable] but has been lost over time. It's sort of like the high-end restaurants that serve chocolate chip cookies. You know you want them, and when they are made perfectly there's no fancy pastry with foam and pulled sugar that is more satisfying. There is a reason the Negroni will outlive the Apple Martini.
BR Once-obscure Italian aperitifs, amaros and digestifs are all being dusted off the shelf and used in cocktails these days but are still relatively new to the average drinker – how do you train your staff to sell these brands to your customers?
What has the reaction been?
SW That's so true and I have to tell you that the only sales technique we find that works is to give guests a taste. The bartenders have been given a lot of freedom to pour freely, and I tell the managers to grab a bottle and walk around the dining room making eye contact with guests. If anyone asks "what do you have there" drop a glass, pour them a taste and explain how it was made – whatever "it" is. We focus on these aperitifs when writing our cocktail list as a way to re-introduce them to guests. People see vermouth and think "nasty" because they have been subjected to old, poorly stored rot-gut vermouth. No wonder it has been virtually eliminated from the Martini! But if you pour someone a straight glass of quality Contratto or Dolin vermouth they will drink it and love it. Then you offer them a classic Martini and watch their eyes light up.
BR What's the one piece of advice you'd give your younger self?
SW Never have the same drink twice – ever.
BR What are your favorite Italian brands to work with right now and why?
SW Lazzaroni (almond), Fratello (hazelnut), Nonino (amaro and grappa), and Meletti (chocolate and amaro). I don't want to bash any of the great brands, or the bigger brands that many bars work with, but I like purity of flavor and less sugar than most big brands use in their liqueurs. The Lazzaroni almond is like Disaronno but is less sweet and has a more true almond character – the same is true of the Fratello versus Frangelico. When we pour them side by side, guests and employees say "it smells more like actual …". Nonino is a brand that just can't screw up. Everything they make is outstanding, clean and pure. Meletti I like for our non-Italian restaurants because they give you extremely high quality and are priced within reach of daily cocktail use.
BR You make your own limoncello and figcello. Why did you decide to go that route.
SW We make as many things from scratch as we (legally) can. Vermouth is next on the list! So as it turns out I am a terrible limoncello maker. Fortunately we have several very proud Italians in the group that have been waiting their entire lives to put their recipe up against everyone else so we had a bit of a competition. There was blood and tears and accusations and there were hands swinging around . . . and we were able to choose what I think is the best I have ever had. (I do sleep with the lights on now – they took it quite seriously.) The figcello went like this: I filled six ball jars with figs: 2 fresh, 2 brown dried and 2 black mission dried. I topped off one of each with vodka 😯 and one of each with grain alcohol. They sat on my desk. After a week I started taking a sip of each every three days. One of those six was clearly the best to me but I brought it to committee and got a consensus.
BR Let's talk Italian wine; what are guests ordering these days and how has that changed over the years?
SW Guests are drinking a lot of Sauvignon Blanc and we have a fantastic one from Colli Orientale. I am also seeing a lot of guests shifting from Pinot Grigio and Sauvignon Blanc to our Gavi. Although Chardonnay and Pinot Grigio are still top selling whites we have seen guests shifting to more Falanghina and as I mentioned earlier – Gavi.
BR What do you anticipate to be your biggest beverage sellers in 2O16 in terms of general trends in spirits, beer and cocktails?
SW Big question. We are absolutely on fire with some Italian micro-brews that we brought in for our Papa Razzi Metro list in Burlington. Baladin and Bira del Borgo produce incredibly high quality (and priced) beers that I wanted to offer to enhance the Italian experience. I expected to sell a few a week since they are twice the price of locally produced craft beer but we have been moving a few cases a week and have the importer and distributor racing to keep up. After beer I would expect to continue to see sales of high end wines by the glass grow. I am impressed with our guests' willingness to pay $18 to $22 a glass to get their hands on a Brunello or Barolo and even $26 for a glass of Tignanello!
BR What's an average day like for you at Pappa Razzi?
SW The honest answer is not very sexy . . . I mostly sneak into a restaurant before it is open, engage the bartender in conversation about what is working and what isn't, and try to participate in pre-shift for 3O seconds to review changes or do a flash presentation of a product. I review the printed menus, bar equipment, cocktail procedures, etc., then go to do the boring stuff: inventory management software updates, budgeting, product mix analysis, print menu formatting. I meet with distributors and suppliers often in the middle of the day to learn about new products and then meet with the restaurant beverage managers to revamp cocktail lists and taste new wines for consideration.
Second Tuesday of every month I do a six hour wine class for all new employees. I'm also on a rotation of in-house training with the six teams that is an hour a week in each restaurant. Papa Razzi has an ongoing management development program with blind tastings and access to classroom work at Johnson & Wales. We also take advantage of producers who are always willing to explain their products in detail to the management and staff – as well as hosting seminars on everything from whiskey to espresso.
BR Can you share a
cocktail recipe from
Papa Razzi?
SW Fiore Bianco
Glass: Chilled Coupe
1 ounce of Bombay Gin
¾ ounce of Elderflower Liqueur
½ ounce house Sauvignon Blanc
½ ounce of lemon juice
Garnish: lemon twist
In a cocktail shaker filled with ice,
add all ingredients and shake vigorously.
Strain into chilled cocktail glass.
Garnish with lemon twist.