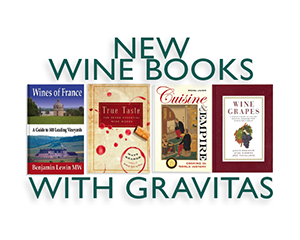 NEW WINE BOOKS WITH GRAVITAS
I'D LIKE TO SHARE with you today my impressions of four new wine books with gravitas, books that can be read, one in small portions at a time, and that you will want to keep for repeated dipping into. Two are expensive, but worth their investments.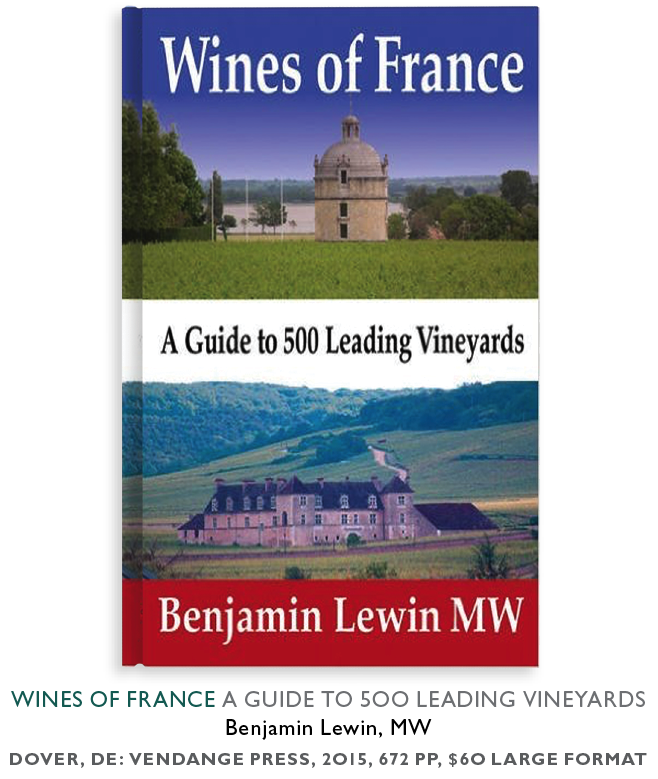 WINES OF FRANCE A GUIDE TO 5OO LEADING VINEYARDS
Like the author's preceding four wine books, this work resembles satisfying wine. Seasoned with clearly presented facts and figures, it entices with its purview and perspective, fulfills with substantive body and complexity, and finishes by leaving the reader with much to consider. It honors what makes French wine great, and exposes the shams.
Benjamin Lewin, MW, an accomplished scientific author, editor and publisher, has transformed himself into an important wine authority. His books, well mounted and generously illustrated, are grounded in the abundant documentation of personal visits, interviews and tastings – this one in all the areas of vinous France that matter and a few more. Characteristically and most valuably, Lewin addresses philosophical controversies, asking provocative questions. Many issues are illuminated, not a few unresolvable: modernists (or New Worlders) vs. traditionalists; the pervasive and likely future effects of global warming; paradoxes real or apparent; industrial or traditional or organic or biodynamic viticulture; and more.
After a clear overview come detailed chapters on the important French wine regions. Each ends with assessment of recent vintages and Lewin's selections of reference wines for various categories. No volume this large and detailed ever escapes a few errors. I noticed three, all geographical, which I'm sure will be corrected in the second edition.* Lewin concludes with an appraisal of vinous France's challenges. Once utterly dominant, now rivaled both as producer and exporter, some of its problems are its own doing. Witness its inexplicably powerful anti-alcohol movement. While France is competent at all levels of quality, it probably can't compete making high-production varietal wines (vins de cépage), and may have to concentrate on high-quality vins d'appellation, i.e., wines of terroir.
Just when the volume seems finished, we are treated to a large bonus: 25O pages of profiles of 5OO "leading vineyards", each astutely characterized. There follow a list of recommended vineyard visits, a bibliography, 18 pages of informative notes, and 22 double-columned pages of index. Readers get a lot for their money.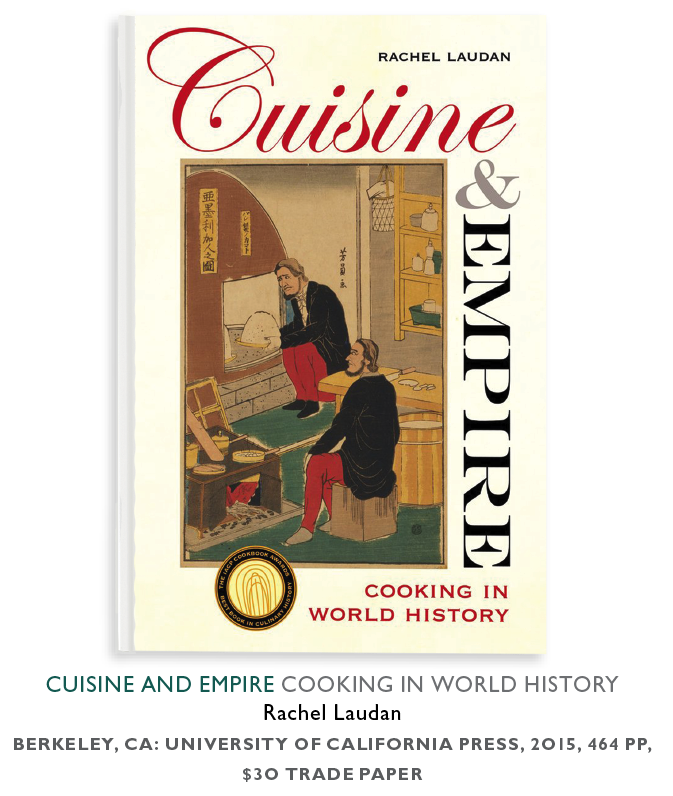 CUISINE AND EMPIRE COOKING IN WORLD HISTORY
This is not a cookbook. It is a remarkably detailed, generously illustrated and professionally written nonjudgmental history of the evolution of the world's cuisines. With starches, chiefly derived from grains and to some extent from roots, as the bases of cuisines, what we have eaten since we learned to process and cook raw food has been determined by climate, migrations, social and political factors, wars, religions, and developing technology. Beverages, including fermented potables, are given due mention. Like a popular brand of paint, Rachel Laudan covers the earth. Global nutrition now rests, for those who can afford it, on either wheat or rice, on less esteemed grains, even roots such as taro, for those who cannot. In her effort at comprehensiveness, Laudan occasionally cites less than reliable sources, but on the whole the book is meticulously documented.
The award-winning author, now 71, grew up on a farm in England. She enlivens the pages with specifics of familiar and unfamiliar foods. A salt meat, called pastirma (the ancestor of pastrami) prepared in the Persian Safavid Empire of the late 16th century was believed to enhanced male fertility. Now-ubiquitous pad thai was invented 75 years ago, when Thailand's prime minister sought to foster nutrition and "Thai-ness", though it requires Chinese noodles and cooking techniques. Britain's national dish, fish and chips, "originated in London's east end in the 186Os, when an unknown entrepreneur offered deep-fried potatoes alongside typical Sephardic Jewish fried fish". Despite dismissal by Chairman Mao as "the opiate of the running dogs of revanched capitalism," Coca-Cola, by 199O, had 23 plants and 6O percent of the soft-drink market in China. The bibliography is extensive, the index excellent.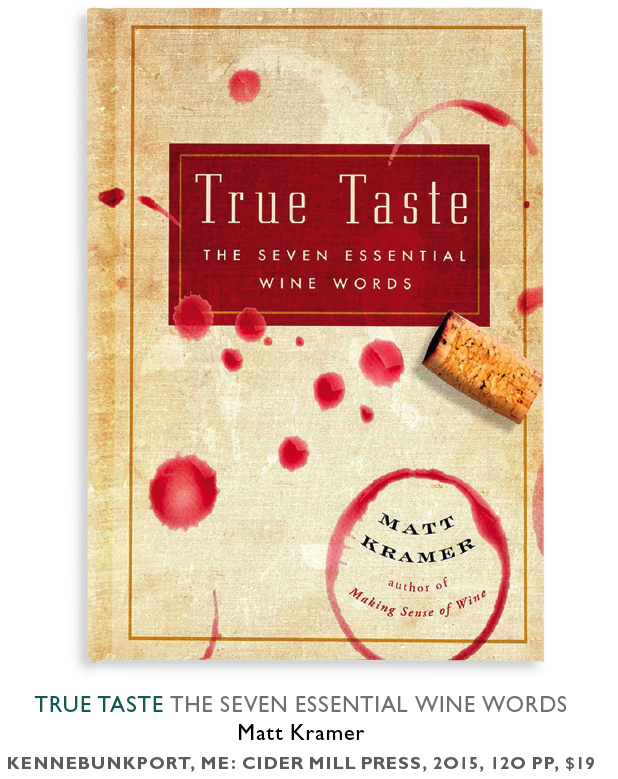 TRUE TASTE THE SEVEN ESSENTIAL WINE WORDS
This is a little book that will reward close reading. I hope that Matt Kramer is not viewing it as a capstone of his wine-writing career preparatory to retirement, for the absence of his incisive, fearless comments on wine and food would leave a void difficult to fill. Some captious critics view this book as pilpul, an exercise in simply moving words around – it must be taken as a thoughtful in-depth dissection of the process of critical wine tasting.
What this book is about is best explained by Kramer himself: . . . not . . . about a mere seven words. Instead it's about those values that involve actual judgment, about the markers that help us navigate toward recognizing and understanding what makes one wine better than another, as well as assessing those writers or tasters who purport to do it for us. Kramer dismisses, derides lists of flavor descriptors, which, he concludes, have nothing to do with judgment. He encapsulates my long-held belief that . . . wine tasting really isn't very difficult. Almost anyone who's willing to pay attention and has just a modicum of experience [and memory] can identify a better-quality wine from a lesser one.
He traces the evolution of the current state of "scientific wine tasting" and wine writing from the second half of the 2Oth century, when the wine professors, especially at UC Davis, and mass producers, especially in California (Gallo and others), began to exert their influence on wine writers. He shows how economic, political and social factors molded the wine trade and its critics, as global shifts toward democratization rendered obsolete the old private club of British wine critics embedded in the trade. He warns against "the inappropriate intrusion of [supposedly] scientific parameters upon fundamentally aesthetic matters." Yet, Kramer maintains it's not all subjective. The object – wine – is objective.
And yes, the seven words. They are: insight, harmony, texture, layers, finesse, surprise, and nuance. (Ordinary mortals might write correlation, balance, mouth feel, complexity, elegance, originality, subtlety.) In Kramer's definitions and discussions, the words find self-fulfillment.
WINE GRAPES A COMPLETE GUIDE TO 1368 VINE VARIETIES, INCLUDING THEIR ORIGINS AND FLAVOURS
A monument of a book. It weighs nearly six pounds, and is well bound and admirably illustrated. It brings us the current understanding – immeasurably aided by modern plant genetics – of the origin, heritage, and viticultural and vinous character of virtually the entire confusion of the universe of Vitis vinifera and a few hybrids. We are even given principal synonyms and commonly mistaken identities. A helpful glossary, an endless bibliography and an excellent 6O-page, triple-columned index cap the volume.
Jancis Robinson has become a brand, identified by given name alone. As master of wine and author or editor of indispensable books and a website, she is owed much. Julia Harding, also an MW, a linguist and editor, is Robinson's assistant. José Vouillamoz is a botanist who has worked in grape genetics.
I have for many years frequently needed to seek the secrets of obscure grape varieties. Until now, I have relied on "Vines, Grapes and Wines", by Jancis Robinson (1986), "Jancis Robinson's Guide to Wine Grapes" (1996), "Oz Clarke's Encyclopedia of Grapes", by Clarke and Margaret Rand (1996), and, online, "The Super Gigantic Y2K Wine Grape Glossary", by Anthony J. Hawkins (2OO7), sometimes exceeding the cumulative capacities of all four without satisfaction. "Wine Grape" is my new go-to reference.
---
*Château la Tour Carnet is misplaced into Margaux on pages 135 and 163. It is in Saint-Laurent, and carries the Haut-Médoc appellation. Page 167, first line of second paragraph: surely the fifth word should be "east", not "west". Page 3O3: the two tiny appellations of Brézème and Saint-Julien-en-Saint-Alban are at the southern tip of the northern, not "southern" Rhône.