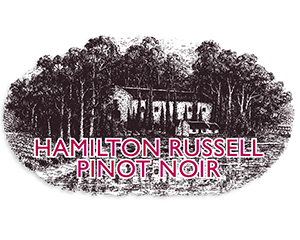 HAMILTON RUSSELL PINOT NOIR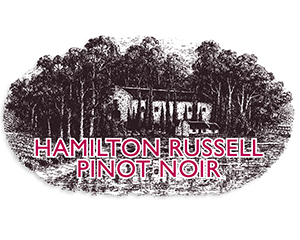 I was on a panel recently the topic of which was "Demystifying Wine". A noble concept, I said, as far as it goes, but Pinot Noir is, in essence, a wine of mystery. Why? There is an "X" factor in a great bottle that resists explanation or reduction to a formula. The world's finest examples of Pinot Noir do not fit a general model or profile of excellence; they are, instead, expressions of particular vineyard sites where this notoriously capricious grape variety is able to thrive. They could only arise from that particular place, or terroir. This, fundamentally, is mysterious.
What about Pinot Noir makes it such a challenge? Thin skins, which subject the grape to rot in humid weather, especially in autumn; early budding during the ripening cycle, which make it vulnerable to spring frosts, particularly in low lying sites; genetic instability; a tendency to taste diluted and vegetal if over-cropped. The list could go on. Soils should ideally be stony and rocky at the surface, and low in fertility, with some clay (which allows the vine a consistent slow access to the water it holds); excessive water will encourage overly vigorous vine growth and result in too heavy of a crop. Despite these constant risks, in the past few decades Pinot Noir has branched out beyond its Burgundy origins and become the darling of vineyard owners in whichever parts of the world enjoy sufficiently dry growing conditions in the spring and cool sunny weather throughout the season to enable it to ripen slowly and evenly. It's been exciting to witness the emergence of new regions in cooler climate parts of Chile, Argentina, New Zealand, and Australia – not to mention Mendocino's Anderson Valley and Santa Barbara's Sta. Rita Hills, all of which show increasing promise with Pinot Noir.
Perhaps the non-European producer that has established the longest running and most consistent track record of Pinot Noir excellence is South Africa's Hamilton Russell Vineyards. When you meet the youthful, energetic and engaging Anthony Hamilton Russell, it doesn't seem possible that he has been making wine for 24 vintages. Might the Fountain of Youth perhaps be located on his estate vineyards in the Hemel-en-Aarde ("heaven and earth") Valley? Located less than a mile from the Atlantic Ocean in the Southern Cape, this ward of the Walker Bay district enjoys quintessential cool climate maritime weather. The Pinot vines are planted on 55 acres that Hamilton Russell owns and average yields are Grand Cru level, usually at between 2 and 2.5 tons per acre. Only one Pinot Noir cuvée of approximately 3 5OO cases is produced and it is exported to almost thirty countries – so there is not much to go around. For these reasons, among others, a recent opportunity to taste eight vintages going back to 2OO5 was particularly welcome.
Average growing season temperatures in the coastal Hemel-en-Aarde ward are actually lower than in Burgundy, explained Hamilton Russell at the vertical tasting of his wines held in Boston in August, 2O15. While his vineyards have an extensive array of stones at the surface, subsoils are composed primarily of clay-rich shale hundreds of million years old. There is no limestone in the region, or elsewhere in South Africa for that matter, but the Pinot Noir crafted here expresses a classic Old World style, emphasizing understated earthy flavors rather than fruit ripeness. Hamilton Russell mentioned that there was a dramatic increase in quality beginning in the 9Os when he began planting Dijon clones in his vineyards. He practices the by-now well-established "hands off" low intervention approach to fermentation and aging, the latter occurring over 1O months in all French oak cooperage, approximately 4O% of which is new each year.
Vintages matter in cool climate regions, and most especially for the highly sensitive and transparent Pinot Noir grape, because each harvest imparts a distinct stylistic imprint. The following eight wines all tasted delicious. Response to any wine, but especially Pinot, is intensely personal, so my rankings should not be considered to represent anything other than a reflection of one taster's palate preferences.
2OO5 Light to medium garnet in color, with a slight herbal, nutmeg and earth aroma, and a pinch of tobacco. 2OO5 presented classic cool growing conditions. Reflecting this, the wine is very delicate and understated in flavor with lovely sweet herb, flowery red berry notes, medium acids, and low to medium elegant tannins.
ranked 7th of 8
2OO6 Somewhat deeper in color than the 2OO5 and much more assertive in aroma and fruit extraction. This wine has a riper feel, with an aroma of beef bouillon, wild mushroom and raspberries. Its tart but succulent fruit flavors, fleshy richness on the palate and layered textures all suggest a warmer than average vintage. With strong acidity, intense fruit expression and medium alcohol levels, but soft tannins, it comes across as a still young wine with many years of glorious development ahead.
ranked 3rd of 8
2OO7 Medium deep garnet in color, this wine has an engaging floral, cinnamon, red fruit personality. It's plush and ripe, with savory, mushroom, umami, soy-like flavors, but also an intriguing subtlety to the fruit. Of all the wines in the line-up this one has the strongest "Burgundian" blood lines to my palate – meaning it's silky, aromatic, extremely well structured with mineral essences, "sous-bois" and length of flavor. ranked 1st of 8
2OO8 This wine is the product of a very cool season where the grapes struggled to fully ripen. It's a bit lighter on its feet than many of the other wines, with lower alcohol and extract levels. It features an herb-scented, meaty, gamey aroma that is very complex and appealing, but does not show prominent fruit notes without vigorous swirling. Tart and acidic with an edgy tea-like finish, its crisp red berry fruit tastes bright and spicy.
ranked 6th of 8
2OO9 Medium red in color, this wine has a cherry-like, slightly smoky earthiness, with notes of cocoa and licorice. The fruit is sharp and angular, yet somehow soft in focus, with mineral and herby undertones. It appears to me that this is in a rather awkward phase at present. The vintage was highly praised but the wine is currently a bit closed.
ranked 8th of 8
2O12 This vintage produced miniscule yields of approximately a ton per acre, so the flavors and textures here are super concentrated. The wine has a cedary, cigar-like aroma, with ripe cherries offset by spice and earthiness. It is juicy and tart with an abundance of acids, fruit extracts and tannins. The finish is juicy and lingering, with coffee notes and a rich layered spiciness that bodes well for future development.
ranked 4th of 8
2O13 A spectacular Pinot with elegance, floral red fruit aromas, and a round lush texture. Soft and delicate but very tart and well structured, with red cherry flavors and an opulent velvety texture, this is a complete wine, its fruit balanced more by acids than alcohol or tannin.
ranked 2nd of 8
2O14 Still very tight but the wine's class is obvious. Among the lighter bodied, more elegant expressions, with cherry blossom aromas and a crisp, strawberry note, but a persistent lingering red fruit finish. This Pinot exudes charm, even if the acids taste somewhat muted.
ranked 5th of 8
The 2O15, which we did not taste a sample of, is apparently a super ripe vintage with much promise, the earliest since 1949, and already showing opulence and richness. Taken as a whole, these are truly New World Pinots with an Old World feel that have an established record of many vintages and a well-deserved reputation for development in the cellar. The great news for collectors: their cost is a fraction of today's price for Premier Cru level Côte de Beaune or Côte de Nuits reds.