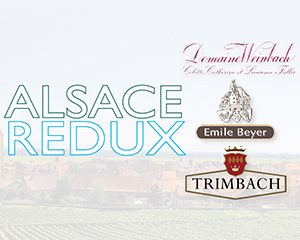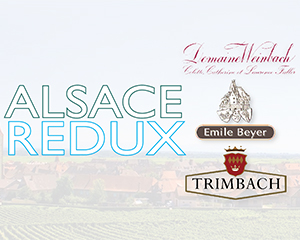 COLMAR Having examined the basics of vinous Alsace in the March 2O13 issue, I sought a brief update immersed in the food and wine of the region in June, thoroughly enjoying my research. I'd like to share my impressions, including visits to three wine producers. My focus was sharpened and eased by Diana Williams of The Hidden France.
Getting to this northeast corner of France is no longer burdensome. Take the fast train (TGV) from Terminal 2 of Aéroport Charles de Gaulle. It gets you to Strasbourg in two and one-half hours. Then it is another half-hour to Colmar, the capital of Alsace's 15,5OO hectares of vines. Colmar is a charming small city, suitable for strolling and other diversions: e.g., the cookie shop, the riverside district called La Petite Venise, the leaning half-timbered houses. It contains numerous satisfying small restaurants. Frédéric Auguste Bartholdi, best known in the US for his Statue of Liberty, was born in Colmar and is memorialized by a museum. Particularly worthy is the Musée Unterlinden, repository of notable art.
Picturesque medieval villages set among the vines, such as Eguisheim, Riquewihr and Ribeauvillé, are unforgettable. Steeply sloping grand cru vineyards are o'ertopped by ruined castles of yore standing sentinel. And the wine – oh, the wine! To the stork, bretzel (pretzel) and kugelhopf – ubiquitous symbols of the region – should be added the unique wine.
Eating well is easy in Alsace. Of course, there's the fabled three-star L'Auberge de l'Ill, set like a jewel on the river in Illhaeusern. But I find simpler establishments more comfortable. And there's the cost.
This annotated list of places I enjoyed
appears roughly in order of preference:
– Aux Trois Poissons Colmar Unerring touch with fish and with wine.
– Aux Trois Châteaux Eguisheim Your Alsatian grandmère's kitchen, where I'd choose to sample the indigenous choucroute.
– Les Alisiers Lapoutroie Peacefully set above it all. Great view. Go for lunch.
– Bartholdi Colmar Urbane. Widely varied menu and wine list.
– Wistub Zum Pfifferhüs Ribeauvillé Typical Alsatian wine bar or tavern.
I had time to stop at three vignerons, to view, to taste, to discuss.
DOMAINE WEINBACH, in Kayserberg, was founded in 1612. Weinbach means "wine brook", after a stream that wanders through the property. The walled land surrounding the winery, Clos des Capuchins, retained as the name of the wine estate, was planted in the ninth century, when donated by the Empress Richarde to the Abbey of Etival. Nationalized during the Revolution, it became property of the Faller family in 1898. Since Théo Faller, a seminal force, died in 1979, his widow, Colette, and daughters, Catherine and Laurence, have operated the business. Most unusual, this all-feminine triumvir. Laurence, the respected winemaker, died suddenly last May at age 47, apparently, like her father, of a heart attack. Catherine's son, another Théo, manages the vines.
The 3O hectares of biodynamically nurtured vines yield 12O,OOO bottles. All the wine is estate grown. Fermentation is conducted by indigenous yeasts in large oak foudres, in which the wines also mature before bottling. It is clear that the wines are lovingly handmade. My host during the mourning period was the most capable Yoko Kondo, commercial assistant.
MUSCAT RÉSERVE 2O12 From a low-yield vineyard. Dry, delicate, flowery, long. RIESLING 2O13 Good body, balance, finish. Incubating elegance. RIESLING SCHLOSSBERG GRAND CRU "L'INÉDIT!" CUVÉE STE. CATHERINE 2O13 From selected fruit. Rich, elegant, long. Just off-dry. PINOT GRIS CUVÉE STE. CATHERINE 2O12 Full and bold. A little youthful earthiness. Also just off-dry (1% RS). PINOT GRIS ALTENBOURG 2O12 Mushrooms in nose. Complex. Very fine. GEWÜRZTRAMINER 2O11 Fragrant of litchi. Engagingly slightly sweet. Tasty, with the varietal's characteristic counterpoint of bitter hint in the long finish.
GEWÜRZTRAMINER FURSTENTUM GRAND CRU 2OO9 Ripe, rich, sweet. Fine, though I'd like more acidity. GEWÜRZTRAMINER MAMBOURG GRAND CRU VENDANGE TARDIVE 2OO9 Thick, sweet, long. For foie gras or dessert. GEWÜRZTRAMINER ALTENBOURG SÉLECTION DE GRAINS NOBLES 2O1O Flaunts varietal bouquet. Complex, pure, long. Quite delicious.
DOMAINE EMILE BEYER, my next stop, is new to me. Its headquarters is an ancient inn in the center of lovely Eguisheim. The new cellar lies just outside of town. The estate, established by the Monastery of Marbach in 158O, was acquired after the Revolution by Lucas Beyer. It is now directed by the 14th-generation Christian Beyer, young, intelligent, passionate. The arrival of a pair of the 15th generation, Maxime and Victor, came on October 22, conveniently just after the harvest. The firm is named for their great-great-great-grandfather. (The well-known Léon Beyer is a cousin.)
It is the 17 hectares of vineyards, one-third grand cru, that command the most attention – including great expectations for a new 2.5-hectare parcel, Clos Lucas Beyer, in the heart of the Pfersigberg grand cru. Some grapes are also purchased. Already fulfilling organic criteria, the viticulture is approaching the biodynamic. Winemaking is meticulously reductive, avoiding any trace of oxidation. As we'll see, the wines are exquisitely flawless and elegant. Of the 15O,OOO-bottle production, 2O percent is exported to the US.
PINOT BLANC TRADITION 2O13 Forward bouquet. Good body; fine, polished fruit. Long. Auspicious beginning. RIESLING TRADITION 2O13 Shy (recently bottled), clean. Good acidity.
RIESLING L'HOSTELLERIE 2O12 More fruit, with mineral notes. Sweeter, longer, more complex. RIESLING PFERSIGBERG GRAND CRU 2O11 Pfersigberg means "peach tree hill". It is largely limestone. Complex, with minerality and intensity. A more serious wine that needs time, but does develop nicely as it warms in the glass. RIESLING EICHBERG GRAND CRU 2O12
This wine from "oak tree hill" is fuller, drier, less aromatic. PINOT GRIS L'HOSTELLERIE 2O12 Touch of apricot. Full, long, satisfying. PINOT GRIS LIEU DIT HOHRAIN 2O12 From a privileged terroir adjacent to Pfersigberg. Hohrain means "high place". Northerly exposure to restrain from excessive ripeness. Apricot, hint of peppercorn. Earthy, even slightly salty. Complex, long, and full. GEWÜRZTRAMINER PFERSIGBERG GRAND CRU 2O12 Smells of roses. Good acidity. Elegant and sweet. Peppery. Complex, with finely etched facets. PINOT GRIS LIEU DIT HOHRAIN VENDANGE TARDIVE 2O11 More color and viscosity. Suave, balanced, sweet. Complex, with some earthiness.
MAISON F.E. TRIMBACH is constructed on a different order of magnitude. This iconic house's annual production of one-million bottles is amply distributed throughout the world. It ranks 27th in size among Alsace's 9OO wineries, many of which farm no more than a single hectare. Trimbach hand-harvests its 44 hectares, and buys in some additional grapes.
The company dates back to 1626. It started in Riquewihr, relocated to Hunawihr, and settled in Ribeauvillé a hundred years ago. The wines achieved international stardom under the aegis of Frédéric Emile Trimbach (d.1917). The family still runs the edifice: Hubert, his nephews Pierre and Jean, and Pierre's daughter Anne. Pierre is the vigneron. I was graciously received and guided by the estimable Anne, the 13th generation.
MUSCAT RÉSERVE 2O12 Subtle nose. Very smooth and light. Good finish. RIESLING 2O12 Light. Good fruit and acid balance. Long. Riesling Cuvée Frédéric Emile 2OO7 Richer, more mature, longer. Austere. CLOS STE. HUNE 2OO9 From old vines growing in the limestone-over-shale soil of a unique 1.67-hectare vineyard, a special section of the grand cru Rosacker in Hunawihr. Annual production 8OOO bottles. Pure. Tastes of stone, minerals. Youthful and very long. Very expensive – but there's nothing like it. Very long lived. PINOT GRIS RÉSERVE 2O11
Impressive texture. Earthy, smoky. Dry. PINOT GRIS RÉSERVE PERSONELLE 2OO8 Clean fruit, with minerality, elegance and a bit of residual sugar. Very fine. GEWÜRZTRAMINER 2O11 Lovely litchi nose. Off-dry. GEWÜRZTRAMINER CUVÉE DES SEIGNEURS DE RIBEAUPIERRE 2OO7 Selected from a pair of vineyards that were, in the Middle Ages, part of the estate of the lords of the local realm. Intense and concentrated. Youthful, complex, very long.GEWÜRZTRAMINER VENDANGE TARDIVE 2OO7 Late-harvest grapes from the same two vineyards. Sweet, long, delicious.