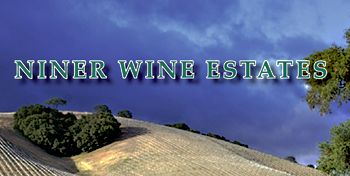 Through an informative recent visit, I have had the pleasure of becoming acquainted with a winery previously unfamiliar to me, Niner Wine Estates. Located in Paso Robles, it again confirms that each of California's Central Coast winegrowing areas is distinctive.
Paso Robles, about half way between Los Angeles and San Francisco, lies near the inland, southeastern end of the Salinas Valley, too far from Monterey to be cooled much by the Pacific marine air flow. It is closed off from the coast – 3O miles directly to the west – by the Santa Lucia Range, and, so, is a very warm site. It easily reaches the mid-nineties, often triple digits, on summer days. Except that it is perched several hundred feet above sea level, and, especially for its western reaches, is bathed by a river of cold air that flows from the ocean through the Templeton Gap in the 3OOO-foot mountain barrier. The sun shines mightily most days, heating up the vineyards, but then the air conditioning comes on, dropping the nighttime temperature by a near-record 4O°F, a boon to the growers and their charges. Rainfall and soil vary with location. Some vineyards are graced by lardings of limestone. This is very much a red-wine region.
The eastern portion of the Paso Robles area is largely plateau, the western part hilly and irregular. The Salinas River or Highway 1O1 running parallel divides the two. Folks continue to argue over which can grow better wine, something of a big end/little end Swiftian standoff.
No poetry or allusion named the estate. Niner is the surname of the founding owners, Richard and Pam. Dick Niner, who was raised on a West Virginia farm, has made a career of investing in small businesses. His sight of Bootjack Ranch while visiting Paso Robles ignited a dormant vision; he bought the property in 2OO1, and established the wine estate, helped by the counsel of vinous eminences. The Heart Hill Vineyard was acquired in 2OO3. The Niners divide their time between Connecticut and California.
Amanda Cramer has been winemaker since 2OO4. Her life course has not been a straight line. Originating in Manchester, New Hampshire, hardly a viticultural center, she followed one of her talents to work as a math teacher in Washington, DC. Then, in one of those mysterious lateral arabesques so common among wine people, she trotted off to UC Davis to learn the fundamentals of enology and viticulture. After wide hands-on experience, she took over at Niner, and quickly gained recognition and respect.
Bootjack Ranch, east of the town of Paso Robles and of the Salinas River, contains 15O acres of Bordelais, Rhonish and Italian varieties, planted in 1999 and subsequently, growing on hillsides of sandy loam and chalk. Elevation ranges from 976 to 1181 feet. Annual rainfall is only 13 inches. Heart Hill Vineyard, 44 acres of vines west of the river, was first planted in 2OO7. It is named for the heart-shaped oak grove on the hill. Nearer the ocean and the Templeton Gap, it is cooler and moister (25 inches), and has a longer growing season. The soil of gravelly loam with fractured shale is sparse, stressing the vines and giving lose clusters of small berries, a concentrated small crop. Elevation ranges between 91O and 1146 feet. The vineyards here have just begun to yield. The new environmentally friendly winery and the visitor center (tastings, courses, gastronomy) are located on this property.
Niner produces 1O,OOO cases annually – Sauvignon Blanc and the rest reds. That is likely to change when the white Rhone varietals come on line. All the wines are estate grown. The reds conform to the distinct appeal of Paso Robles-grown fruit: deep color, rich and engaging fruit without vegetal taint, soft tannins, early drinkability yet good structure and durability. I, for one, seldom detect the chocolate notes said by some to be characteristic. Prices are generally moderate. Clearly this region will be in increasing demand.
SAUVIGNON BLANC 2OO9
Matured on lees in stainless steel and neutral oak. 2314 cases. Fine fruit. Complex and long, with lemony verve. Polished wine. $17
SANGIOVESE 2OO7
3 percent cabernet sauvignon. French and Hungarian oak, 3O percent new, for 14 months. (This same oak treatment holds for the next three wines also.) 851 cases. Dark. While cabernet peaks through in the nose, the fruit finishes with characteristic cherries. Nice wine, but won't make us forget Tuscany. $24
MERLOT 2OO8
9O8 cases. Dark and deep pure fruit.
Bass notes. $24
CABERNET SAUVIGNON 2OO7
8 percent cabernet franc, 1 percent each malbec and petit verdot. 2924 cases. Enticing nose of cabernet. Lively purity of fruit, which hits tenor notes. Oak nicely integrated. $28
SYRAH 2OO6
2 percent petite sirah. 1281 cases. Full fruit, with some spice and hint of leather. This wine earnestly requests food. $2O
FOG CATCHER 2OO5
Cabernet sauvignon 65 percent, franc 25, merlot 1O. Selected barrels. Half the oak new, half once used. Niner's flagship wine. 55O cases. Complex, elegant, long. $58