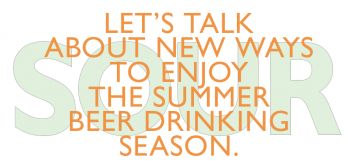 Let's talk about new ways to enjoy the summer beer drinking season. Berliner Weiss
Usually reserved for light lagers and delicate Kolsch and Blonde Ale styles, perhaps no beer style approaches the pure quenchability of Berliner Weiss. A true outlier in the beer world, one that celebrates both sourness and low alcohol levels, Berliner Weiss is a style whose foothold in its home town has all but disappeared. With much of the historic flavor origins lost, these beers as we define them today include painting with tart, sour and acidic strokes. A touch hazy and luminous in appearance, foreboding in the polar opposite manner of an Imperial Stout, with a pale straw color and a simple, quickly evaporating head, this rare style delivers with its tart, sharp aromas and pleasantly sour flavor. Bearing some similarity to the thirst-quenching qualities of lemonade, Berliner Weiss delivers a refreshing blend of tartness derived from a lactic acid bacteria addition. Light bodied and very low in alcohol, often around three-percent alcohol by volume, some brewers offer a lightly sweet raspberry or woodruff syrup that dyes the beers either bright red or green and mellows their acidity. Brewers can also blend batches of various ages to achieve their preferred level of sourness, a practice less often employed in modern recreations of the style.
FESTINA PECHE
Dogfish Head Craft Ales
Lewes, Delaware
alcohol content 4.5% ABV
Dogfish Head's Festina Peche is likely the most widely available version of what the brewery calls the neo-Berliner Weiss style. Brewed to 4.5-percent alcohol, Festina Peche's light interplay of tart and sour notes is achieved in part through the use of peach concentrate and lactic acid cultures. The resulting unfiltered beer is a deep, luminous hazy orange with little to no head. Festina Peche's sharp, piquant and lightly fruity aroma is pleasant, but it is the beer's mouthpuckeringly sour body that helps separate it from tamer summer seasonals. Lightly sour and always tart, Festina Peche is a refreshing and approachable break from the usual.
BERLINER WEISS
The Tap Brewing Company
Haverhill, Massachusetts
alcohol content 3.O% ABV
In Haverhill, Massachusetts, one of our favorite small brewpubs produces a classic Berliner Weiss. With a dull, hazy yellowish orange hue and a light tart aroma, it is mildly effervescent and mixes sour, tart and gentle fruit flavors for a very dry and drinkable beer. Whether augmented with a touch of raspberry or woodruff syrup or left naked, the Tap's Berliner Weiss is the quintessential summer session beer.

HOTTENRROTH BERLINER WEISSE
The Bruery
Orange County, California
alcohol content 3.1% ABV
This sometimes referred to as "the Champagne of the North", in a reference to how Napoleon referred to this tart style. Named after the brewery owner's grandparents, the Bruery of California's Hottenrroth Berliner Weisse fits the historic bill. Using lactobacillus and a touch of brettanomyces to sour its very low alcohol wheat beer, the result is a dull straw colored beer with a mild tartness and an airy lightness of body.
American Wild Ale
In recent years, American Wild Ale is the name applied to a broad range of ales produced at least in part with wild yeast or bacteria. Borrowing a page from the Belgian brewing book, American brewers have embraced the use of particular funky agents that most brewers fight to eradicate from their brewing systems. These pesky little organisms, including Brettanomyces, Lactobacillus and Pediococcus, whether used as part of a spontaneous fermentation or through barrel inoculation, each contribute different and unusual characteristics to beers. With aromas ranging from mildly tart to acidic sour – with some showing light wheat or farmhouse notes and others possessing a pungent and shocking funkiness – this catchall category provides a little quenching punch to summertime drinking. To balance the acidity and sourness, some brewers employ mild fruits, such as apricots, and many blend older and younger beers to achieve the desired mixture of flavors and aromas. The resulting flavors vary from soft tartness and light acidity to mouth-puckering sourness and deep, dank barnyard notes and dry, fruit hints. Many American Wild Ales are barrel aged and derive significant flavor from their hibernation period, depending upon the type of wood used. A rare and unusual style that requires some time to get acquainted, devotees of these funky, wild ales pay top dollar for their favorites.
BRUTE
Ithaca Brewing Company
Ithaca, New York
alcohol content 6.5% ABV
Poured into a Champagne flute with a slightly hazy golden-yellow hue and a solid, effervescent white head, Brute's aroma breathes deeply of soft fruits, with peaches and pears, as well as a slight orange peel character, all before a long, lingering cleanse of tart and puckering sourness. The beer's springy flavor starts with a bolt of mouth puckering tartness that catches you at the jaw line, tart and dry in character, followed by an orange rind fruit quality, a touch of oak, and a light pepper spice, all finishing decidedly sour, tart and refreshing. Ithaca's Brute is an excellent and well stage-managed sour from this talented New York brewery.

CUVEE de CASTLETON
Captain Lawrence Brewing Company
Pleasantville, New York
alcohol content 8.O% ABV
With its light pale yellow-orange color and neatly packaged layer of white foam, this Captain Lawrence offering starts with a neatly sour lactic nose, very toasty at times and sour, but not puckering, mixed with funky, earthy tea and grass characters and a slight nutty quality. A medium body and a tight level of carbonation stand up well to the layers of dry flavor, including a vinous and herbal funk, hints of leather and earth, followed by light dried apricot fruit hints over a woody oak base. Ever so slightly tart at times with far less sourness than many versions of the style, Castleton is an inviting Wild Ale for summer.
INTERLUDE
Allagash Brewing Company
Portland, Maine
alcohol content 9.5% ABV
From the only American brewery to create its own koelschip, a long, shallow, and open fermenter in which fresh wort is exposed to wild yeast and microfauna in the local air through slats in the building's walls. Allagash invites the funk into its operation and the same can certainly be seen in its Interlude, its hazy yet brilliant orange hued wonder with streams of gentle bubbles rising up to a billowy off-white head. Fermented with farmhouse yeast, conditioned with Brettanomyces, and then aged in French Merlot and Sirah barrels, the aroma sings with strong and funky fruit character, woody and earthy at times, with some juicy apricot fruit notes tossed in for good measure. The flavor begins soft, with a slight pale and honey malt character, followed by dull fruit, then spiked by an intense tart and slightly sour element that injects wood, earth and a vinous funk into the mix for a dry finish.
CASCADE KRIEK ALE
Cascade Brewing Company
Portland, Oregon
alcohol content 8.1% ABV
A small brewery with a growing reputation for sour and barrel aged beers, Cascade's Kriek Ale is based upon the storied red ales of the Flanders region of Belgium. We're beginning to see more of these limited release offerings here in Massachusetts, even if they remain a touch expensive for many consumers. A colorful beer, brewed with fruit and taking some sourness from barrels or inoculation with bacteria, the Cascade version of the style pours with murky, hazy brownish amber color and a great deal of carbonation in its auburn-pink head. The room immediately fills with the tart results of nine months lactic fermentation with fresh whole Northwest cherries in French oak. Pungent dried cherries and a woody funk mark the way for a crispness from the beer's acidity, staying dry on the palate but with a distinctly full flavor. The sour and tart qualities play well against the lightly sweet cherry fruit flavor to a fantastic end for warm weather, seasonal drinking.
---
AND SPEAKING ABOUT SOUR
In the midst of preparations for the busy summer sales season, Massachusetts brewers, wholesalers and retailers have also been setting aside time to address several areas of concern presently pending before the Massachusetts legislature. Two main issues have caused some split between these otherwise strong partners, namely an effort to rewrite the distribution laws in the Commonwealth and another to allow both on- and off-premise accounts to sell beer in containers called growlers.
As members of the Massachusetts Brewers Guild told legislators from both legislative bodies during a packed hearing of the Joint Committee on Consumer Protection and Professional Licensure, the existing laws regulating brewers and their distributors are outdated and ill-prepared to address the sustained growth of small brewers. The guild contends that the Massachusetts distribution law has not changed since 1971, when it was designed to protect small, local wholesalers from the volume-based strength of national brewers. According to the guild, Massachusetts passed laws making it difficult for a brewery to switch distributors.
In an age where distributors represented only a small number of beer brands in the marketplace, the potential loss of a brand represented a massive blow to a wholesaler's ability to operate. Transitioning from that era to one in which distributors represent several dozen if not hundreds of brands and breweries, with many constituting only a tiny fraction of the distributor's business, the once protective laws are now being used against smaller brewers in a limited number of cases, guild members told the legislators.
They are asking the Massachusetts legislature to enact a small brewer carve-out that would offer greater protection and brand independence to breweries that produce less than six million barrels of beer. The bill defines small brewers as those producing that number of beer per year, and who account for less than 2O percent of a distributor's business. It would allow small brewers to withdraw or move their brands to another wholesaler without showing the now-statutorily required good cause as long as the wholesaler is compensated fair market value for the loss of the small brewer's account. If the brewer and distributor cannot agree on a fair market price for the distribution rights, the law would mandate a 9O-day binding arbitration process.
"Modernizing the current law to allow for more flexibility for small brewers and more choice for consumers is what today's marketplace needs. This bill will allow small brewers to make their product more widely available, while also giving adequate protections to wholesalers," said the bill's author, Representative Alice Peisch, in a press release issued by the Massachusetts Brewers Guild. "I look forward to working with all interested parties to make this bill a reality."
In advance of the hearing, twelve state senators issued a letter supporting the legislation.
"The proposed new law would continue to provide the protections that wholesalers need, while at the same time providing craft brewers that opportunity to expand distribution, increase job growth and offer greater choices to consumers. Current laws make it virtually impossible for a small, craft brewer to move from an under-performing wholesaler to a different wholesaler that would better assist the brewer in selling his beer," read the letter, signed by Senators Michael Rodrigues, Jennifer Flanagan, Benjamin Downing, Jack Hart, Bruce Tarr, Stanley Rosenberg, Michael Moore, Steven Baddour, Daniel Wolf, Jamie Eldridge, Marc Pacheco, and Richard Ross.
In opposition to the bill, distributors have argued that the existing laws already allow small brewers to switch distributors if they have cause in the relationship, which can involve disparagement of the product, unfair preferment of a competitor's brands, or any other violation of an agreement between the brewer and distributor. In a refrain common in the industry, the distributors also question the definition of a small brewer, which includes brewers producing less than six million barrels per year, roughly three times the present size of the Boston Beer Company.
Beyond issues of distribution, the joint legislative committee also heard from industry members interested in allowing both on- and off-premise retailers to fill beer containers up to 64 ounces for take-away and off-site consumption. The bill, sponsored by Representative William Pignatelli, has caused some division in the industry between retailers and small brewers. "We think it would be a disaster for our business by cannibalizing our bottle sales, our only real income source," says one small Massachusetts brewer. "We for one couldn't thrive in a situation where the profit on bottled beer transfers from brewery to store or bar." For their part, bar and package store owners remain interested in exploring new opportunities to sell craft beer to their customers. The growler proposal is presently under consideration by the same committee handling the distribution bill.