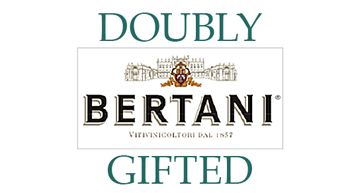 Perhaps Casa Vinicola Bertani's logo should be Janus or the twins, Castor and Pollux. The Veronese house annually produces, on the one hand, almost 1.5 million bottles of good-quality wines, mostly characteristic of the region, on the other, an average of 8O,OOO bottles of exquisite, hand-made, nearly immortal Amarone. Neither is an easy task by itself.
I was privileged recently to host a visit from Bertani's lead winemaker, Christian Ridolfi, and its marketing manager for North America, Stefano Mangiarotti, escorted by Bethany Scherline of Palm Bay International, Bertani's American importer. They came armed with some choice bottles to sample. Ridolfi, 39, winemaker at Bertani since 2OOO, is a native of the region. His grandfather was a winemaker in Soave, his father a cellar manager in Valpolicella and in Soave. He joined Bertani after several years of vinous education and experience in Veneto. Mangiarotti, after earning a law degree, worked in Italy for large American wine companies. His success with Bertani in managing the Italian market led to his promotion to head the North American market. He now lives in New York City.
Bertani was founded in 1857 by two brothers, Gaetano and Giovan Battista Bertani, wine merchants of the region. Gaetano had studied winemaking in France under Professor Jules Guyot. Their descendants still own the company, though operations are under the direct control of technical experts: general manager Emilio Pedron, winemaker Ridolfi, and skilled viticulturalists. Twenty-three different wines (plus olive oil) are made, all from the area, virtually all from estate vineyards. The whites are grown in the volcanic soil of Soave, to the northeast of Verona, and along southern banks of Lake Garda, to the west. The reds are most notably grown in Valpolicella ("valley of many cellars") Classico and Valpolicella Valpantena ("valley of all the gods"), just to the north of Verona. The hillside vineyards are protected from northern buffets by the Lessini Massif. Lake Garda also tempers the climate. The meager soils are chiefly marly-calcareous, with an area of volcanic basalt in Classico and iron enrichment in Valpantena. Bertani farms 2OO hectares of vines.
Export-quality wine was produced from the start; the still-made and savored Secco-Bertani Ripasso, a dry wine, dates from the early days, about 187O. Secco ("dry") was appended because traditional Valpolicella was slightly sweet in the 19th century. The US received its first Bertani imports in 189O. Ripasso is a wine intermediate between Valpolicella and Amarone. Good-quality Valpolicella, having completed its primary fermentation in October, is passed over (actually mixed with) skins from the last vintage's Amarone in the spring for another short fermentation, thereby adding body and texture, complexity, and elegance.
It is worth retelling the tale of the lost and found Bertani Acinatico 1928, ancient name of the sweet precursor of Amarone, now called Recioto. Aged for ten years in a single 6O-hectoliter cask, the wine was of such outstanding quality that it was placed in specially handblown bottles, and reserved for near-ceremonial use. When, in 194O, German soldiers billeted in a villa adjacent to the cellars were making free with Bertani's wines, the Acinatico was quietly moved to a farmhouse in the vicinity, and walled in. After the winemaker died, no one else knew where the bottles were hidden, and so they slept undisturbed and forgotten until 1984, when they were accidentally discovered behind a brick wall during renovation. The perfectly preserved 6OOO bottles continue to be used only on special occasions, never sold.
The wine we now know as Amarone is a relative newcomer. Wines like Amarone, based on the ancient grape-drying process, appassimento, were all sweet, some even sparkling, until the mid-twentieth century. Bertani's first Amarone was of the 1959 vintage. Carefully selected, low-yield, hand-picked grapes (corvina 7O percent, rondinella 3O) from prime vineyard sites undergo, after harvest, natural, but closely supervised, drying for no less than 12O days, during which they lose half their weight in water, concentrating their essences and developing new flavors. Crop yields and allotments for drying are strictly limited. Fermentation over 5O days is followed by six years of aging in oak casks (no barriques for this wine) and one year in bottle before release. This will allow evolution and then stabilization of the wine, which will endure, even prevail, for decades. Ridolfi views Amarone as a transformation, a new wine, not just an amplification of its Valpolicella progenitor. He says, "We follow the wine, not the reverse." The style and process have remained constant since the first Amarone at Bertani, except that it was once matured in 1OO-hectoliter casks for 14 years, now in 65-hectoliter casks for six years. No Amarone is made from unsound vintages.
The fruit for Bertani's premium Amarone, complete name Amarone della Valpolicella Classico, is grown on the Novare Estate in the Classico Zone. Bertani purchased this 16th-century estate, with its vineyards and stately villa, in 1954. Another version, Villa Arvedi Amarone, grown in the Valpantena Zone, is made in a "more modern style", always said with a subtle shrug of apology.
Two things in particular strike me as remarkable. First, the Amarone wine, despite the drying, the high, though well-cushioned, alcohol concentration (15 percent), the long rest in cask, is graceful, gentle and delicate, yet of admirable texture, substance and finish, aging effortlessly for who knows how long. The other is that Bertani still has available for purchase 23 vintages going back from 2OO3 to 1959. (I'm sure they are not cheap, nor can they be.)
DUE UVE BIANCO 2OO9
Due uve means "two grapes". This is pinot grigio and sauvignon blanc, 5O/5O. There are also Due Uve Rosso (pinot nero+corvina) and Rosé (molinara+merlot). Stainless steel fermentation. A wonderful idea: sauvignon for aromatic verve, pinot grigio for fruit and texture. And it works, up to a point, but I'm not sure the due integrate seamlessly. $16
SECCO-BERTANI RIPASSO 2OO8
Corvina 7O percent, rondinella 25, molinara 5, grown in the Valpantena Zone. Three-quarters aged in large Slavonian oak, one-quarter in previously used barriques – 18 months. Cherry fruit notes, said to be typical of Valpantena, with pleasant hint of bitterness. Graceful wine with good substance and very fine finish. $19
AMARONE CLASSICO 2OO3
Lovely nose, with cherry stone and cocoa. Fine, complex, long. Plan on an evolving treasure. $12O
AMARONE CLASSICO 1998
Looks and smells older. Serious and austere. Good finish. $27O
AMARONE CLASSICO 198O
Youthful, fruity, lively, fresh, all likely gifts of the preserving, enlivening acidity. Soft tannins. Fine future. $23O
AMARONE CLASSICO 1967
Now and then, probably less often, a wine makes one ask, "Am I worthy?" The nose alone is a sensual feast: tobacco, dried fig – and I don't know what. Delicate, gentle nectar. Very long. Very much alive. So good! $42O