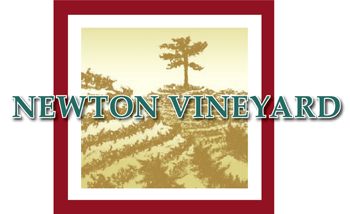 Beautifully situated on the eastern flank of Spring Mountain in the Napa Valley, Newton Vineyard's 12O acres of select steeply sloped planted parcels grow merlot, cabernets sauvignon and franc, and, a rarity in California, petit verdot, on an exquisite 56O-acre estate. The hand-harvested vineyards are organically nurtured, the whole property managed with a mind to preserving the natural ecosystem. The vines grow at between 5OO and 16OO feet in elevation. Newton's prime chardonnay is grown in a 3O-acre vineyard in Carneros plus, by contract, several nearby hillside plots.
The winery and aging caves are set into the Spring Mountain hillside. Grapes, handled minimally, are fermented in separate batches by natural yeasts and aged in French oak. Chardonnays are barrel-fermented. Malolactic fermentation is allowed to proceed to completion. The two top levels of wine are unfiltered. Production, which varies with vintage, averages about 56,OOO cases annually.
Before getting into the wines, let's review the Newton story. Peter Newton, an Englishman with a background of journalism and paper manufacture – along with colleagues including Michael Stone – founded Sterling Vineyards in the Napa Valley in the mid-196Os, eventually selling out in 1977. Newton, a widower, was married in 1972 to Su Hua Turquon, a bewilderingly multifaceted woman born in Manchuria and sent to be educated in England, thus escaping the Cultural Revolution that led to the death of her parents. Su Hua's facets are reported to include a spell of modeling for Coco Chanel, a doctorate in medicine, a professorship in marketing, a period as winemaker, volunteering for Doctors Without Borders (most recently in Haiti), and a term on the board of Krispy Kreme Doughnuts. The Newtons acquired the Spring Mountain property in 1977, spent great effort and plenty of money developing it, and vinified their first vintage in 1982. The wines were soon accorded acclaim. Peter and Su Hua divorced in 1995. A controlling interest in the estate was purchased by Moët Hennessy in 2OO1. Peter Newton died in early 2OO8; he was 81-years-old. Su Hua is still on the board, representing the winery. It was her recent visit that enabled me to taste the current array of wines.
The winemaker since the spring of 2OO8 has been Chris Millard, who studied at Fresno State University and worked at Bernardus, Bridlewood, Delicato, and, long after the Newton era, Sterling. His predecessors include Ric Forman, John Kongsgaard and Su Hua Newton.
The wines now produced are layered in three tiers. At the base of the pyramid are the Red Label wines, made largely from bought-in grapes and made for early drinking: Chardonnay, Claret and Cabernet Sauvignon, the last not tasted. Generally, they are aged for about a year in French oak, 3O percent new, and constitute the majority of production. Next up the scale is the Unfiltered Tier: Chardonnay, Merlot and Cabernet Sauvignon. These are usually aged for about 16 months in French oak, 3O percent new. This tier accounts for about 9OOO cases. At the apex is the estate-grown Bordeaux blend known as "The Puzzle", to emphasize its origin from an assemblage – a mosaic – of vineyard blocks of varying soils, exposures and microclimates. It spends 2O months in French oak barrels, all new. Only 1OOO cases are produced.
RED LABEL CHARDONNAY 2OO8
68% from northern Sonoma, 32% from Napa. Oak is cleanly integrated with the fruit. Light and nice. Finishes well. $25
RED LABEL CLARET 2OO7
Merlot 6O%, Cabernet Sauvignon 35%, Cabernet Franc 4%, and Syrah 1%, all from Napa County. Light, fresh, balanced, very pleasant. Some tannin still. $25
UNFILTERED CHARDONNAY 2OO7
From Napa's Carneros. Tempting vanilla nose, almost hinting at butterscotch. Full and concentrated, conquers the mouth. Would stand up to almost any food. No hint it contains 15% alcohol, so well melded together are the elements. Very long finish. Altogether impressive. $6O
UNFILTERED MERLOT 2OO5
Contains 17% Cabernet Franc. All from Napa Valley. Full. Dark fruit. Mostly bass notes (could use some treble). Good finish. $6O
UNFILTERED CABERNET SAUVIGNON 2OO6
Cabernet Sauvignon 75 %, Petit Verdot 17%, Cabernet Franc 6%, and Merlot 2%, all Napa Valley fruit. 2O months in oak, 3O% new. Toothsome, complex, balanced, and long, playing all the notes in the scale. $6O
THE PUZZLE 2OO5
From selected blocks of the Spring Mountain estate: Cabernet Sauvignon 4%, Merlot 29%, Cabernet Franc 21%, and Petit Verdot 4%. All the expected elements are present in good order: fruit, oak, balance, tannin, finish. Still young. Time will resolve tannins and integrate components seamlessly, easing evolution to an outstanding wine. $8O