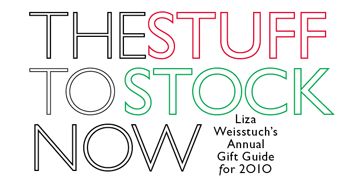 With the holidays arriving, people's shopping lists are getting longer and so are lines at your register. With customers streaming in at an increased frequency to pick up bottles for dinner parties, work functions and last minutes gifts, there's little doubt they'd appreciate the added convenience of knocking a stocking stuffer or two off their list while they're in your store. After all, holidays are a perfect opportunity to give a whiskey loving friend or family member a good read on the
"water of life" in addition to a bottle, or an oenophile a clever accessory to complement a fine vintage. The holidays are a fine occasion to get the cash register ringing with sales of other items people might need, whether they know it or not, in a crunch. From new books to gourmet treats to accessories that can jazz up a holiday soiree, customers will likely appreciate one-stop shopping for all their home entertaining or party-going needs.
A BRAND NEW ICE AGE . . .
If your guests are hosting a keg party and buying premixed drinks, you can point them in the direction of the bagged ice. If, however, they're inquiring about cocktail recipe books and your suggestions for glassware, you may suggest they jazz up the presentation of the drinks to an intimate selection of guests with couture ice. Fredflare.com offers a range of ice making contraptions, for the jokester to the design-inclined. There's the Brain Freeze ice cube tray ($12), that makes, well, let's say cerebral chillers. And for the host who always likes to see his guests grin, the Gin and Titonic ice cube tray ($12), which makes four mini ocean liners and four equally mini icebergs. For wholesale orders, email wholesale@fredflare.com or call 877.798.28O7.
and THE ICE CUBE THAT ISN'T
In some circles, when the topic comes to how people drink their single malts, the discussion can become as nuanced and contentious as politics or religion or whose prized family spaghetti sauce recipe is best. A little water? A little ice? Nothing at all? Now there's another option to toss into the mix – or the dram, as it were. Teroforma, a Connecticut-based design company run by wife-and-husband team Anna and Andrew Hellman, has appropriated the age-old Scandinavian tradition known as "whisky stones" and given them a New England twist. Produced at a mill in Vermont – allegedly the oldest soapstone mill in the US – these natural, pure, nonporous cubes should be stored in a freezer and will hold a chill. After only five minutes in a drink, they cool the spirit without diluting it. The material is soft enough that it won't scratch the glass or hurt the imbiber's teeth – it's hard enough that it won't absorb any odor or taste, either from the liquor or the freezer. And the stones wash easily, so there's no debate over whether to reuse them. The Whisky Stones retail for $2O for a set of nine. The company also offers a Whisky Lovers' Set, which includes Stones and crystal tumblers designed by a Norwegian designer and mouth-blown in Slovenia at a crystal producer established in 1665. For more information, call 877.899.119O, or visit teroforma.com.
A WELL AGED READ
Tackling the global history of whiskey in a slim volume might seem as ambitious an undertaking as the global history of technology or literature or architecture. But that's just what Washington, DC-based writer and researcher, Kevin R. Kosar has done. The founder of alcoholreviews.com has done a fair amount of professional research for Library of Congress, translating jargon-laden policy for the lay-reader. Now he weaves these disparate specialties together in his book Whiskey: A Global History ($15.95), the newest in the "Edible Series" from British publisher Reaktion Books, which hit the shelves in October. As far as Kosar sees it, there are countless whisk(e)y books out there that gives readers distillery anecdotes and production notes and nuanced explanations on different releases from around the globe. This small tome, which clocks in at under 15O pages, is a "short take on the big picture," he explains, equipping readers with the basics to navigate the world of whiskey in straightforward terms, breaking down not only the language so that consumers can interpret what the labels mean (small batch, single barrel, etc), but also give readers an understanding of how so much of the whiskey industry around the world is tied to government policy and legislation. With maps, antique illustrations and advertisements, charts and photos, this global history distills the spirit in a ways that's accessible and engaging. For wholesale ordering information, contact Joe Peterson at 773.7O2.7723 (University of Chicago's special sales department) or jpeterson@press.uchicago.edu.
THE STORAGE RACK THAT STORES WELL
Sustainability and buying local continue to be buzzwords du jour in the wine, beer and spirits industry. As long as customers keep asking about locally and regionally produced beverages, you might want to suggest an accoutrement created by area craftspeople of a different stripe to complement Massachusetts brews, gins from the Berkshire Mountains and east coast wines. That's where the Boston-based Etcetera Media, comes in handy. It features an entire line of felt bags and home goods that are made in Massachusetts, most of which are designed from wool felt that's naturally renewable and recyclable. Among the selection of earth-friendly home goods, you'll find its nifty Six Pack Wine Rack that defies your typical space-gobbling, hardware-requiring version, making it a clever gift option for people always on the go. When not in use, it neatly folds up into the size of a thick envelope. When unfolded, it sits 17 inches long by 5 inches tall and holds six standard wine bottles. It's grey wool with orange or green stitching. Suggested retail price is $4O. Visit shop.etceteramedia.com.
RAISING THE CHOCOLATE BAR
The idea of pairing liquor and chocolate is certainly no novelty. But when it comes to blending premium spirits with a chocolate, made with meticulously sourced organic ingredients, then we're talking about a top shelf idea. When applying that concept – typically used in the realm of high-end truffles – to what's generally considered the basic, every-day chocolate bar, it's enough to make the cavalier 3 Musketeers blanche. The chocolate creations from San Francisco-based Nina Wanat do just that. She comes from a culinary background and started BonBonBar LLC in 2OO7 with the intention of developing candy bars that appropriate the flavor combinations of her favorite cocktails. Take, for instance, the S'More Rum Candy Bar, which uses Gosling's Black Seal Rum. In her other creations she uses Talisker Distiller's Edition and George T. Stagg from Buffalo Trace. You have to figure: if she's making chocolate ganache with such premium spirits and layering it with other first rate ingredients, it's got to be a transcendent candy bar. Hence, expect to find the liquor mixed in with layers of deliciousness like graham cracker in the S'More or finishing with Maldon sea salt in the Scotch candy bar. Every bar is finished in a coat of dark chocolate and retails for $5. To order, visit bonbonbar.com or nina@bonbonbar.com.