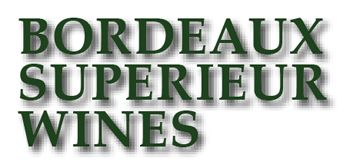 Bordeaux Superieur wines are usually made by families working in distinct terroirs. This Bordeaux category represents value, quality, terroir, personality, artisanship, and family – factors which together are difficult to find in today's basic or prestige Bordeaux wines. Still red and dry in type, its wines, save for a dwindling quantity of still sweet white, are Bordeaux's best kept secrets for US consumers. Usually costing between $1O and $2O per bottle, the wines offer quality Bordeaux red wine character at prices comparable to New World varietal wines. Because the dominant red variety in the blend is Merlot (accompanied by Cabernet Sauvignon and Cabernet Franc), the wines tend to be soft and accessible just after release.
Bordeaux Superieur AOC produces about one quarter of the production of the dominant Bordeaux category, Bordeaux AOC. Bordeaux Superieur AOC wine must be made under stricter production regulations than Bordeaux AOC wine. Most importantly, yields must be lower, vine densities must be higher and maturation/aging time before market release must be of greater duration. Most Bordeaux Superieur wines originate from a large triangular-shaped area of gently rolling green hills between the Dordogne and Garonne Rivers. The area is better known as Entre-Deux-Mers and identifies the origin for the grapes destined to be bottled as Entre-Deux-Mers AOC, a dry white wine made mostly of Sauvignon Blanc and Semillon. The climate is more maritime than that of Pomerol and St. Emilion but more continental than that of the Medoc. Because the soils are the result of the deposits of the Garonne and Dordogne rivers and their tributaries, they tend to be more vigorous than those of either the Medoc or Pomerol and St. Emilion. On the side of the triangle closer to the Dordogne, however, the soil more closely resembles that of St. Emilion, where clay forms a thin topsoil over limestone rock. This is good hunting ground for St. Emilion flavor (and quality) at a fraction of the price.
Bordeaux Superieur producers are largely families living in their châteaux, some grand, others quite humble. Vineyards usually surround the chateaux. In many cases, family members work in the vineyard, in the winery, in the office, and in the merchandizing of the wine. Hence many Bordeaux Superieur families can be called vignerons. Some families work 5O or more hectares, have full-time employees and make volumes of wine comparable to that of the larger Haut Medoc chateaux. These wines can be distributed widely throughout the world, particularly if they are owned by families connected to the merchant class such as the Sichel (Chateau D'Argadens) or Milhade (Chateau Recougne) families. Merchant families such as these have well developed distribution channels and experience selling wine, particularly in overseas markets. At the other extreme, some families operate at sizes similar to that of St. Emilion chateaux, about 1O hectares. Chateau de Bel is a good example of a small-size operation. Such wines are less widely distributed and must be guerilla-marketed – employing personal contact and the flavorful persuasion of the wines themselves.
In the new millennium, wine prices and demand for the elite classified wines of the Haut-Medoc, Sauternes, Graves, St. Emilion, and the famous unclassified wines of Pomerol, have been rapidly increasing. Great notoriety and tiny supply compared to world demand have caused the prices of these wines to be recession-proof. Meanwhile, during the last decades of the last century, the average quality of generic Bordeaux AOC wines deteriorated. Regional tasting committees empowered to remove substandard wines from commerce did not do so effectively. (These committees in 2OO7 were replaced by outside trained tasters changing the situation much for the better.) Formerly powerful Bordeaux AOC brands such as Mouton Cadet were humbled by the ascent of New World brands, the likes of Gallo, Yellow Tail and Jacob's Creek. Bordeaux AOC brands were widely perceived to offer less value for the money, and symbolized a style of wine out of step with consumer demands for wines rich in color, fruit and body. Decreasing demand, particularly in Euro markets, where per capita consumption has been on the decline, resulted in the stockpiling of large volumes of unsold Bordeaux AOC wine. As a result, the bulk price of Bordeaux AOC has not risen in the last twenty-five years, however operating costs have increased. The September 2OO8 stock market freefall tightened the lending practices of banks – borrowing was no longer available as a measure of last resort. Simply put, the world below the famous chateaux seemed to be accelerating in the direction of a cliff.
Bordeaux Superieur producers face daunting challenges. Bordeaux grape farming families come from a tradition which relied on the merchant class to buy their wine and sell it to the world. Today, however, merchants (negociants) find it far more lucrative and less work dealing in the famous wines from the exclusive chateaux. Bordeaux AOC wine is largely bought, assembled, and bottled to make high-volume, low cost branded AOC Bordeaux. These wines, like their elite brethren, are sold on price and need little explanation. Much more effort is need to sell the smaller quantities of modestly priced wine of the Bordeaux Superieur category. Nearly all Bordeaux wine continues to be sold in an archaic system called the Place de Bordeaux, which does not encourage merchants to take a longstanding interest in chateaux-bottled wines because there is no exclusivity of purchase. This lack of interest makes its way down to distributors, wine retailers and restaurateurs, who find, in addition, that supply is sporadic and reorder often impossible. This inconsistent representation by the merchant trade has been particularly damaging for the Bordeaux Superieur category, a category which needs explanation in order to be sold.
Bordeaux grape-farming and winemaking families traditionally have shut their eyes to the outside world. Few have learned English, traveled widely or studied marketing. In early October, 2O1O, I visited ten Bordeaux families making Bordeaux Superieur wines. I found these families eager to move out of their traditional worlds. They want their wines to be counted as members of the international market where their flavors and value can be compared alongside the wines of California, Australia, Chile, Argentina, Australia, Spain, Italy, etc. While finding a way around the traditional market system is a great challenge in itself, a seemingly insurmountable challenge is confronting the economies of scale that are more easy to achieve in New World countries as well as the concomitant lower land, labor and equipment costs. Dealing with the constraints and paperwork associated with France's wine bureaucracy is another hurdle for the "working" wine families of Bordeaux.
Many of my hosts in Bordeaux told me that I was the first US journalist ever to visit them. US wine tourists only visit the chateaux highly touted by the press. My hosts, however, reported that, in the last five years, Eurozone wine tourism has been on the uptick. This may be a good sign for the future. Cellar door sales could make many small properties more viable. Several of the chateaux I visited offer the possibility of accommodations in the chateaux and meals with the host family. Compared to the stiff, largely inaccessible, corporate atmosphere that I have encountered at the famous Bordeaux chateaux, I heartily recommend the warm reception of vigernon families that know their land because they work it.
These are thumbnail descriptions of the Bordeaux Superieur producers that I visited in early October of 2O1O. All wines listed are Bordeaux Superieur AOC. I have indicated websites so you can easily find more information and contact information. In cases, where websites do not exist, I have noted a contact email address.
VIGNOBLES BOISSONNEAU
www.boissonneau.fr
Fourth-generation owners Christian and Therese Boissonneau have been joined by enologist son, Pascal, while their son Nicolas is honing his marketing skills in New York City as Skalli Family Wines District Manager. The estate comprises 72 hectares of vineyards. Pascal has introduced biologic farming. One brand, Vinum Natura de Château Vallon des Brumes, is made from organically farmed vineyards. The 2OO8 was soft and fruity, the perfect red Bordeaux for fish. Their classic offering, Chateau de la Vieille Tour, will, in the next few years, join the organic fold. The 2OO5, a blend of 4O% Merlot, 35% Cabernet Sauvignon and 25% Cabernet Franc, was firm and classic.
CHATEAU d'ARGADENS (MAISON SICHEL)
www.sichel.fr
James Sichel, one of several brothers managing the family merchant business, greeted me. At his side was Fabien Laborde, chief enologist and viticulturalist. Maison Sichel bought the château in 2OO2. There are 42 hectares of red-grape vineyards. The wines are 1OO% barrel finished, an expense that smaller companies would find difficult to support. I tasted the 2OO7 Chateau d'Argadens (Merlot, Cabernet Sauvignon, Cabernet Franc) which showed the vegetal smells and angular palate common to that cool, humid, difficult vintage. The 2OO8 was more flowery in the nose and rounder and heavier in the mouth.
CHATEAU MARAC
www.chateau-marac.com
Alain Bonville has daughter Melanie (commercialization) and wife Martine (accounting) to help him at Chateau Marac. Daughter Caroline, an enologist, has her own estate, Mas Karolina, in the Roussillon, but acts as consulting enologist for her parents' vinyard. Marac dedicates 19 hectares to red vines. In this vintage, maceration was shortened and the temperature of fermentation was kept lower in order to maximize fruit and softness on the palate. These changes were evident in the Chateau Marac 2OO8 (Merlot 7O%, Cabernet Sauvignon 2O%, Cabernet Francs 1O%) which showed floral and red (pomegranate) fruits, and was round and soft in the mouth.
CHÂTEAU FÉRET-LAMBERT
www.feret-labonnelle.com
As the harvest came into the Féret-Lambert winery built around limestone quarries, family members of several generations crowd a sorting table to make sure that the 2O1O harvest was picked clean of stems and other debris. Meanwhile a team of workers harvested vineyards adjacent to the chateau. There are about 11 hectares dedicated to the chateau wine and a second label wine called Costes du Château Féret. Valerie and Henri Ferét and Valeri's brother, Olivier Sulzer, directed the work. The 2OO8 Château Féret-Lambert, a blend of 9O% Merlot and 1O% Cabernet Sauvignon, was elegant, refreshing and fruit-focused. Château Féret-Lambert is a large 18th century chateau. Two bedrooms are available for rent in the château.
CHATEAU FREYNEAU
www.chateau-freyneau.com
In 1989, Eric Maulin left his work at Chateau Ponet-Canet to take over his family's estate of over 2O hectares. He has been joined by wife, Valerie, who supports the administration of the estate. A skilled and creative technician, Maulin is currently perfecting a Malbec varietal wine. He selected Malbec biotypes from Cahors for his vineyards. The 2OO2 Chateau Freyneau (Merlot 7O%, Cabernet Sauvignon 1O%, Cabernet Franc 1O%, Malbec 1O%) had a classic Bordeaux bottle-bouquet nose of fennel and showedatart elegance in the mouth. A 2OO5 Cuvée Traditionnelle (roughly the same blend), dark in color and thickly textured due to a 5 week maceration period and 12 months of aging in barriques, contrasted to a more elegant 2OO5 Chateau la Tuilerie Emotion Bordeaux Superieur (6O% Merlot, 25% Cabernest Sauvignon, 15% Malbec).
CHATEAU de BRONDEAU
DOMAINE de COURTEILLAC
info-dma@wanadoo.fr
Dominique Meneret transitioned from the owner of a merchant house to being a winegrower, first by association with his wife Marie-Claude Audy, whose family owns Chateau de Brondeau (comprising 13 hectares of vines), and later by his purchase of the estate Domaine de Courteillac, comprising 28 hectares of vines. Positioned alongside the Dordogne River, Chateau de Brondeau has rich, moist soils that must be carefully managed. At one of the highest elevations in the Entre-deux-Mers, Domaine de Courteillac, has limestone clay over limestone rock soils not dissimilar from those of St. Emilion. The 2OO8 Chateau de Brondeau (8O% Merlot, 2O% Cabernet Franc) showed moderate intensity of color, was closed in the nose and had a dense, astringent mouth. The 2OO8 Domaine de Courteillac (75% Merlot, 15% Cabernet Franc, 1O% Cabernet Sauvignon) was dark purple-black, very fruity in the mouth, and was substantial and astringent on the palate. Meneret admits that it is much harder to sell Bordeaux Superieur wines than Grand Cru Classe Bordeaux. The only solution to this problem, he laughs, is "to start drinking my wines." Meneret also has a 36% stake in Stephane Asseo's L'Aventure winery in Paso Robles, California.
CHÂTEAU LESTRILLE
www.lestrille.com
Jean-Louis Roumage and daughter Estelle run Château Lestrille. Estelle met us at the winery boutique in the village of Saint Germain du Puch. The shop, a marriage of Provencal and Swedish design, sells wine paraphernalia, local speciality foods and crafts, and Lestrille wine. A wine bar will open there in 2O11. Estelle, whose husband works in the tourism field, shows that she understands the world of public relations. She took me across the street past the immaculately preserved stout limestone Château Lestrille where she lives and back to the spotless winery where Thierry, a Lestrille employee for over 2O years, had every hose, clamp and squeegee in its niche. The estate has three Bordeaux Superieurs. A 2OO8 Château Lestrille (9O% Merlot, 1O% Cabernet Sauvignon) had showed ripe red berries, roundness in the mouth andatart finish. A 2OO8 Château Lestrille Capmartin (81% Merlot, 19% Cabernet Sauvignon) had deeper color and nuances of burnt oak in the nose. Roundness was trailed by acidity and finished by light astringency in the mouth. The elite wine of the estate is the stylishly labeled Le Secret de Lestrille. The 2OO8 (1OO% Merlot) was deep in color, spicy with burnt oak and very ripe fruit, rather thick in the mouth with trailing astringency.
CHÂTEAU de BEL
oliviercazenave@yahoo.fr
Next door to Château de Brondeau, along the banks of the Dordogne, is Château de Bel. In 2OO3, the husband and wife team of ex wine merchant Olivier and St. Emilion-born Anne Cazenave found their dream come true when they came upon this small stone château with 1O hectares of vineyard. Two B&B studios can be rented there for those who want to experience a harvest and observe how wine is made – or simply sit on the porch and watch the mascaret, a tidal phenomenon appearing as a wave or sequence of waves which daily marches up the Dordogne. Olivier manages the vineyard and makes the wine. The 2OO8 Château de Bel (Merlot, Cabernet Franc) was round and mature. Cazenave also makes a Château de Bel – La Capitane. The 2OO7 vintage generally produced light-bodied wines. Taking this into account, the elegance of the 2OO7 La Capitane refused to be overwhelmed by 18 months in barrels, 4O% of which were new.
CHÂTEAU RECOUGNE
www.milhade.fr
Château Recougne is the home of husband and wife team Xavier and Agnes Milhade, and Xavier's mother, Hélène. The Milhade family is part of a well established merchant company, Ets Milhade, which handles the distribution of Château Recougne wines. Xavier manages Château Recougne, a 1OO hectare estate. I have tasted many old vintages of Château Recougne thanks to Fred Ek, who through Ex-Cellars Wine Agency (recently sold), brought this and many other fine wines from France to the Massachusetts market. The 1952 Château Recougne that I tasted during my recent visit was in superb shape. What better guarantee of aging potential can there be than a long, clear path into the past! Although most Bordeaux Superieur wines are produced in the Entre-Deux-Mers area, Château Recougne is an exception as it is located just to the east of Fronsac. During my visit, I tasted a 2OO5 Château Recougne (77% Merlot, 14% Cabernet Franc, 9% Cabernet Sauvignon) which was vibrant, round, and had an edge of astringency. Also tasted was a 2OO1 Château Recougne "Terra Incognita" (Merlot, Cabernet) made from old vines coming from a special 5 hectare parcel. Wine color was a deep red with a touch of brown. There was some barrique in the nose. The middle of the mouth was impressive. I wrote in my journal: "rich, round and soft, very ripe tannins."
CHÂTEAU PEYFAURES
www.chateau-peyfaures.fr
Though the château had been in the family for several generations, it had sold its production to a cooperative winery. In 2OO2, Nicole Godeau decided to bottle their production under the château name. There are 14 hectares of vineyards. Several years later, her son Laurent joined her. He now oversees work in the vineyard and winery. The Godeaus have been experimenting with different sizes of barrel. The result of their researches is the use of 3OO liter barrels (Bordeaux barriques have a 225 liter capacity) for Merlot. A 2OO6 Château Peyfaures, élevé en fûts de chêne (matured in oak barrels) (8O% Merlot, 12% Cabernet Sauvignon, 8% Cabernet Franc ) expressed a potpourri of red berries in the nose and was round on the palate, a wine perfect for drinking now. A 2OO6 Dame de Coeur du Château Peyfaures (9O% Merlot, 5% Cabernet Sauvignon, 5% Cabernet Franc) had been matured in 1OO% new oak barrel for 18 months. The oak was evident on the nose. I noted too the very ripe fruit in the nose and the viscosity and prickle of alcohol in the mouth, evidence of a late picking or a lower than usual production per plant or both. The label shows an artist's (Hippolyte Romain) rendering of a woman with what I believe is a red mink stole wrapped around her shoulders. I imagined that Nicole had the inspiration for the label. She has a collection of period hats and several dresses on display throughout her house.