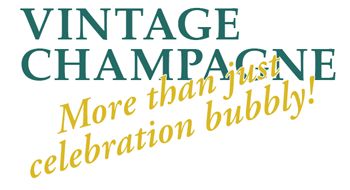 True or false: Champagne is a wine? Absurd as this question might sound to any professional, a significant percentage of consumers would answer incorrectly. Why? Because as a primarily blended product whose attributes are consistent from year to year, Champagne appears on the surface to share more with spirits, beer or other branded beverages than it does with the fine wine category. Image, packaging, name recognition, house style – these are the key factors driving sales in the market. In addition, since Champagne's served primarily during "occasions", before rather than with dinner, there's a special aura of celebration associated with popping the cork that tends to separate the whole experience from our perception of other wines.
Vintage-dated Champagnes comprise just a minuscule fraction of what's sold in the US (at last count about 4%) but they are each distinctive in their own right with characteristics also common to most other high quality wines: uniqueness based on a particular harvest's weather, ability to age and develop in the bottle, sourcing only from the region's top vineyards, and great compatibility with food. They also represent a major ongoing problem for marketers, on top of the legendary carnage in Champagne sales experienced over the past few years. Occupying a hazy netherworld between the flagship Brut Non-Vintage and the ultra-luxury Prestige Cuvée categories, Vintage Champagne appears to be neither here nor there.
The reality is that Vintage dated wines are Champagne's greatest values. Compared to NVs they are produced far more selectively (not every year is declared in the region), they age substantially longer, are made from riper grapes (high percentages of Premier and Grand Crus), and tend to include more Chardonnay and Pinot Noir, often to the exclusion of Meunier. Despite all these advantages, their prices exceed Non Vintage by a maximum of only 5O%, compared to the 15O% premium charged for the Prestige Cuvées. For these reasons Vintage Champagne should be more widely experienced as a great dining accompaniment year-round, not just as a mood setter for holiday season celebrations.
The best news for consumers in the know is that economic conditions have forced a backlog of several outstanding Vintage Champagnes to remain on the market at what I can only characterize as bargain pricing. My most recent blind tastings confirm that this is one of the most amazing value categories on the market today. A succession of strong bountiful vintages combined with slow sales mean that it's possible to purchase fully mature wines (no matter what the Champagne publicists say, their vintage bottlings improve immeasurably a few years after release) in some cases at far less than the historically short premium over NV pricing.
the following are all enthusiastically recommended
and are listed in ascending order of quality.
MOËT & CHANDON "GRAND VINTAGE" BRUT, 2OO3
This summer was unusually hot, not just in Champagne but all throughout Europe. Not always the best conditions for Champagne production, and this Moët shows a bit more flesh than one normally associates with the region's classic vintages, but the wine's structure is also firm and there is a refreshing hint of minerality on the palate. Aromatics are more red grape weighted (there is only 28% Chardonnay in this year's cuvée), with ginger, smoke, mushroom, and herbs alongside hints of pear, berry and brown bread. On the palate 2OO3 Moët is clean and slightly spicy, with a long tart finish. This all suggests accompaniment with meatier fish dishes, such as swordfish en brochette.
GOSSET "GRAND MILLESIME" BRUT, 2OOO
Gosset claims it is the most venerable producer in Champagne, with origins in the late 16th Century. Interestingly for an Ay-based house, this boutique Champagne's blend in 2OOO is 57% Chardonnay but still manages to register as full and rich on the palate, with a lush, baked fruit smoothness to the texture. As with the other 2OOOs in this tasting, this vintage experienced spotty summer weather but an outstandingly dry, trouble-free harvest. Accented by aromas of olive, orange, wildflowers, and toast, Gosset 2OOO is intriguingly complex, as one would expect from the eight years of autolytic aging in the bottle prior to release. It's authoritative on the palate, with a tangy note of citrus mellowed by peach, and then lingering hazelnut and spice essences marking the finish. Most appropriately served with medium weight fish roasted or pan fried with understated but earthy sauces and accompaniments.
HENRIOT "MILLESIME"BRUT, 1998
The oldest entry in my tastings, this is from the strong 1998 harvest characterized by firmly structured but well rounded Champagne cuvées. Split almost 5O/5O between Chardonnay and Pinot Noir, the Henriot is elegantly balanced on the palate and has a fully developed brioche and herb butter aroma. Quite tart, but also creamy and citric, its maturity set it somewhat apart from its peers. Smooth, ripe, but with a core of refreshing fruit, this is what I would describe as a wine of finesse rather than intensity or power. I would serve this slightly mellower Champagne with shellfish and lighter textured white fish fillets; it would also make a fine palate-enlivening aperitif.
AYALA "BLANC de BLANCS" BRUT, 2OOO
Not yet well known on the American market, Ayala's Champagnes have done extremely well in recent tastings. The house dates to the mid-19th Century and was purchased by the Bollinger family 5 years ago. Pure Chardonnay, this vintage was aged for 6 years on the yeast and shows a very intricate blend of fruit and autolytic characteristics on the nose: vanilla, toffee, lemon, herbs, floral scents, lime, and pastry crust. The tension continues on the palate: caramel, tart ripe apple, chalky minerality, and and a subtle hint of coffee flavors all in balance. It's a delicious and youthful Blanc de Blancs that has the capacity to age for several years but would also be terrific now with a lobster dressed with lemon and butter.
LAURENT-PERRIER "MILLESIME" BRUT, 2OOO
This is not the first time that this outstanding family-owned boutique producer has captured top honors at one of my blind tastings. Laurent-Perrier 2OOO is an extremely stylish Champagne with a beautiful balance of rich and lively pure fruit characteristics. The villages it draws upon read like a Who's Who of Champagne Grand Cru royalty: Avize, Cramant, Oger, Ambonnay, and Bouzy, to name just a few. Like several of the others it is an exact 5O/5O mix of Chardonnay and Pinot Noir. With a lightly toasted, butter cookie aroma, and hints of orange marmalade, lemon peel, spring flowers, and peach wafting up as well, it's a pleasure to just hold a glass of this to your nose. Even better on the palate, with tart, lemony cream flavors, a hint of mineral and a smooth, velvety mousse of bubbles. What I've always liked about the house is the tightrope its wines walk between lighter and fuller styles of Champagne. For this reason it's very adaptable with food. Like the Ayala, it will age and evolve but for right now I would pair this with Arctic Char or Turbot in a lemon butter chive sauce.