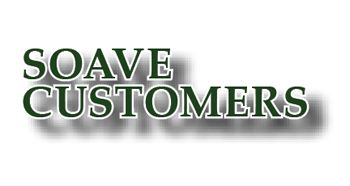 Mention wines of the Veneto, and people think red: fly-weight Bardolino, middle-weight Valpolicella and hefty, smooth Amarone. Who pays attention to Veneto white? Except, of course, for the now ubiquitous, oceanic, and often over-cropped Pinot Grigio? Who cares to pronounce, much less talk about, Gargánega? Who'd think a wine made from a grape with a gargly name might be smooth, light, delightful? Yet that's exactly what Soave represents: white flowers, summer sunlight, hilltop breezes, unpretentious dining. And that's what it was all across America – along with those other Italian charmers, Frascati and Orvieto – until a few years back.
Victor Hazan said of Soave, in one of his singularly apropos remarks, "Its role is to soothe, not to arouse." It's suited to "deliciously inconsequential" summer afternoons by pool or ocean. "I like it best when I have to think about it least."
Hugh Johnson – back in 1985 – wrote: "Soave . . . is a plain, dry, pale white wine. It is hard to characterize it in any more exciting way. And yet it has something – it may be a particularly soft texture – that singles it out and always makes it enjoyable. Its plainness also makes it very versatile. (The thing to remember is to drink it young: even three-year-old Soave is no longer so fresh as it should be.)"
Soave today – as ever – can be either an insipid flatlander jug wine or a nervy, exciting aperitif, aromatic summer sipper, a subtle, low-key but complementary accompaniment to a wide variety of lighter dishes.
The best Soave tastes as its name suggests. For, in the main, better Soaves hail from upland vineyards, where the grapes draw the coveted minerality and floral subtleties from long roots in volcanic soil.
Soave takes its name from the most prettily named of the twelve regional villages. It's light, dry, pale straw to gold, often with greenish highlights. Low in alcohol (usually 11% to 12%), it's best consumed within 6 to 18 months. The new Soave Superiore DOC law says it must be in bottle for a year; superiore wines may exceed 12%, are often from single vineyards and may age easily another year.
Within the DOC, grapes are dictated: Gargánega 7O to 9O%, with some Trebbiano di Soave or Trebbiano Toscano 1O to 3O%. As the unblended grape may show a little bitter edge and finish, Trebbiano rounds (or dilutes) it. "Winemakers are taking more trouble with Soave," says Jim Turcotte of Masciarelli Imports. "They're using less Trebbiano, often none, which gives the wine more focus and nerve, more longevity in the bottle. More aromatics. Soave oxidizes quickly with Trebbiano, which was added more quantity than for quality."
Today some producers use small amounts of Chardonnay and/or Pinot Bianco instead. Some do, many don't. Is blending in Chardonnay a fudge for needless internationalizing? Maybe, but quality is unquestionably on the rise.
Recioto di Soave – a dessert wine from rack-dried Gargánega in a manner not unlike Recioto de Valpolicella, Veneto's red – is made in small quantities, usually half bottles. Some sparkling is made; it's alcohol is usually 14°, though a liquoroso can reach 16%. This dessert wine is outside the scope of this survey.
Most Soave vineyards are under private ownership, but Cantina di Soave's 22OO member farmers tend 86OO acres under vine, 7O% of which are in DOC and DOCG zones. Their Rocca Sveva Estate's latest offering, the tasty Duca del Frassino wine (3 liter box), is debuting in the US market. Established in 1898, this premier cooperative was founded when vine growers and wine producers joined forces to improve production quality and standards. Cantina di Soave's six wineries implement stringent vineyard management, winemaking, marketing, and sales standards to ensure optimal results.
Nick Martinelle of The Spirited Gourmet in Belmont says, "We carry the Cà Rugate 'O8 Soave Classico Monte Fiorentine and the Cà Rugate 'O7 Recioto di Soave (both Gambero Rosso Tre Bicchieri winners). The Monte Fiorentine is built for aging, but that doesn't mean that you have to wait. Its purity and minerality are evident with a lean and luscious flavor profile. We also carry Stefano Inama's Soave Classico 'O8. I've been working with Inama's wines for years and they are delicious. The Inama is a Perfect Patio Pounder – 'The Triple P' as we like to call it."
Good Soave for some retailers are handsells. Martinelle continues: "Soave is not as recognizable as it once was, compared to Pinot Grigio. Many people still view Soave as it was in the '8Os – overproduced jugs. Soave does still produce a lot of wine for that market (eg, Bolla 1.5 liters), but there's always been high-quality producers, too.
"As far as demographics, I find that our younger crowd are more open to Soave because they may not have heard of the region before – and they like new things. The older crowd asks for 'safe' items like Pinot Grigio, Orvieto and Frascati."
Roger Ormon of Brookline Liquor Mart remarks: "As with many neutral grapes, such as Muscadet, Gascon Colombard, the Gargánega growers are enjoying a series of vintages ('O7, 'O8 and 'O9) which show the great strides they've made in viticulture and winemaking over the last decade. Today's Soaves are now showing the improvements, dramatic adjustments to the previous decade's improved farming [vertical trellising, canopy management] and vatting methods [more lees exposure], much as New Zealanders have done with Sauvignon Blanc."
Some of these improvements had their source, directly or indirectly, with the raised bar set by innovative Veneto winemakers. Prominent among them were Roberto Anselmi and Walter Allegrini, who, in the '8Os, actually withdrew from their respective DOCs (Soave, Valpolicella) in negative response to what they considered lax legislation that opened the doors to inferior lowland vineyards and substandard winemaking.
The wines showed themselves in the main to be pleasant sippers, attractive in green-gold hue, moderate in alcohol, and admirably adaptable to complementing a wide range of warm weather fare. Opened bottles showed relatively good nerve over time, with little fading to flab or washout.
Good Soaves can still be relatively inexpensive: several that retail around $1O (La Cappucina, Sí, Salvalai, Tenuta Sant'Antonio Scaia) scored well in the survey. None of the wines 'blew away' the ad hoc tasters – but that's part of the gentle and unassuming charm of Soave, is it not?
SOAVE TASTING
tasting controls All wines are dry Soaves selected from current vintages available in Massachusetts. No wines were tasted blind. Nearly all wines were tasted in flights of 2 to 4, by 2 to 3 tasters, usually before (and in tandem with) appropriate foods. Some wines were retasted the day after; while few improved after being open 24 hours, those few that really held their own without fading are noted with (h). Listing of all wines is in alphabetical order by producer. Prices are omitted, but the retail range is from about $9 to $2O.
key Producer, wine name and year, designation, [Massachusetts Distributor]. Characteristics: color; body; nose; flavors; finish. Rating: 1 to 2O. Accompanying foods.
note As this survey was conducted in June, well before current wines were widely released, we show only three 2OO9s. It's been widely observed that Northern Italy's 2OO9 vintage was exceptionally attractive, favorable to long-lived wines.
A.A. La Cappucina
La Cappucina, Soave 2OO9 [Classic]
Light clear gold; medium weight; silky texture; light pear/citrus; finishes tart to pleasingly bitter, slightly hot. 16.5. Salted cashews and green olives.
Allegrini
Soave 2OO8 [Boston Wine, United]
Pale greenish gold; fresh peach nose; chewy, savory texture; oaky tang from 2O% Chardonnay; pushy but personable. 17.5. Baked flounder with curry mayo and panko.
Anselmi
Capitel Foscarino 2OO6 [Ruby]
Bright gold; rich flavors, long finish; green apples and spicy minerality. A group favorite. (h) 18.5. Grilled wings with lime, green chili, and cilantro.
Anselmi
San Vincenzo 2OO9, Veneto IGT [Ruby]
Medium-bright gold; light body; cool citric aromas; rich satisfying mouthfeel; balanced golden (mirabel) plum and snappy herbaceous edge; well-made. (h) 18.5. Fried calamari; lemon pound cake.
Albino Armani
Incontro 2OO7, Soave [Ruby]
Mild greenish, grey/gold; slightly leggy; brightly acidic clean nose, dry pear and walnut; lush finish distracted by alcohol heat. 16.5. (h) Salmon burgers with sweet/hot salsa.
Cà Rugate
Monte Fiorentino 2OO7 [Ideal]
Pale gold; lean, crisp; mineral trumps fruit; focused flavors. 17. Steamed asparagus with scallions, pepper, lemon zest. Stuffed portabello with di Pasquale fennel sausage, panko, parsley.
Cà Rugate
Monte Fiorentino 2OO8 [Ideal]
Medium gold, medium texture, fruit trumps minerals, more comely and forward than 'O7. 17.5. As above.
Cà Rugate
San Michele, Soave Classico 2OO8 [Ideal]
Pale gold; medium body; bright forward open nose; appealing fruit over faint minerality; tart and dry finish. 17. Rich English cheddar.
Cielo
Soave 2OO8 [Bay State]
Very pale green straw; lean; light pear; pear, slate, bergamot, citrus; crisp, dry, acidic. 16. Soft cow cheese.
Inama
Soave Classico 2OO8 [Ruby]
Pale green gold; tangelo, citrus, camomile flower; ripe fruit; open and round; slightly bitter snap. 18. Calamari fritti.
Inama
Soave Foscarino 2OO6 [Ruby]
Bright gold; dry lemon peel and anise; ripe citric fruit, honey, smoky notes; hefty mouthfeel; bold finish, balances its 13.5% well. (h) 18.5. Seared scallops with greens.
Inama
Vigneto du Lot 2OO5 [Ruby]
Gold; sappy/savory nose; pine resin and fruit; big mouthful; lengthy finish. 17.5. As above.
Masari
Agnobianco 2OO8 [Ideal]
Garganega 6O%, Durello 4O%. Pale gold (greenish highlights); complex sweet/tart apple aroma; hint of spritzy acidity; intriguing richness. 18. (h) Salmon burgers with sweet/hot salsa.
Monte Tondo
Mito 2OO8, Garganega 1OO% [Arborway]
Pale gold green; slight viscosity; green apple, eventual floral notes; woodruff, ripe Bartlett pear; round mouthfeel. 17. Grilled chicken wings with lime, green chili, cilantro.
Pieropan
Soave Classico 2OO8 [Martignetti]
Light goldish green; citrus, minerals; dry pear, mineral, almond-skin tannins; arch if elegant mouthfeel; restrained, steely; medium length. 18. Gorgonzola risotto.
Pieropan
Calvarino, Soave Classico 2OO7 [Martignetti]
Pale green gold; light body; sweetly mellow, herbaceous; firm fruit character; good length and neutral finish. (h) 17.5. Piemontese cow's cheese and gala apple.
Quintarelli
Secco Cà del Merlo 2OO6 [MS Walker]
Light gold; medium body; cream cheese and bergamot nose; fine, lean dry pear fruit flavor; fine balance and finish. 17.5. Pear/gorgonzola risotto.
CANTINA DI SOAVE, ROCCA SVEVA
Soave Classico 2OO8. [MS Walker]
Clear light gold; clean fruit nose; delicate fruit, long round finish. 17.5. Spaghetti carbonara with pancetta and peas.
CANTINA DI SOAVE, DUCA DEL FRASSINO
Soave Classico. [MS Walker] This is one of several producers that releases Veneto blends in 3-liter boxes. Duca del Frassino (Garganega 6O%/Pinot Grigio 4O%) – the only box wine sampled in my review – proved crisp, refreshingly minerally and versatile. 17.O Barbecue and salads at an outdoor wedding. .
Salvalai
Soave 2OO6 [Classic]
Pale gold; light body; smooth texture; rounded floral notes, resembling lilac and baked apple; earthy tang; modest finish. 16.5. Salmon and fennel fritters.
Santi
Monteforte, Soave Classico 2OO7 [MS Walker]
Delicious! (Notes misplaced.) 17.5. Rich English cheddar.
Sí
Soave 2OO8 [MS Walker]
Cool grey, green gold; light body; citric nose; tart fruit, minerals to the fore; creamy notes emerge towards finish. Striking sinuous bottle; lone screw-cap entry. 16. Salmon and fennel fritters.
Suavia
Soave Classico Superiore DOCG 2OO8 [MS Walker]
Clear gold with greenish highlights; medium body, good weight and texture; nose bursting with citrus fruit; grapefruit, nuts and white cheese, if lacking nuanced aromatics; exceptionally well balanced; lengthy finish. (h) 18. Mussels steamed in shallot and soave.
Tenuta Sant' Antonio
Soave 2OO8 [Martignetti]
Clear gold; medium weight, silky texture; tangy, open fruit, lime, herbs; through brisk acidity, a hearty mouthful. 17.5. Mussels steamed in shallot and soave.
Tenuta Sant' Antonio
Scaia, Veneto IGT 2OO7 [Martignetti]
(Garganega 5O%, Trebbiano 3O%, Chardonnay 2O%) Lone glass-cork entry. Bright gold; medium legs; florid (acacia?) nose; brisk, clean pear/apricot fruit; generous mouthfeel; expressively tangy; prickly woody, finish, suggestions of alcohol heat. A group favorite. (h) 18.5. Pear/gorgonzola risotto.
Villa Erbice
Soave Superiore DOCG 2OO8 [Masciarelli]
Pale gold; neutral clea pear nose; round mouthfeel; touch of heft, and heat; attractive moderate finish. 17.5. Penne with garlic, tomoato, basil and mint.