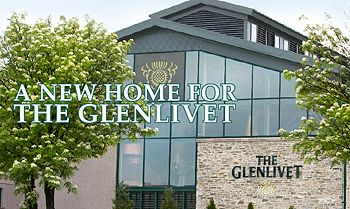 Long before there were brand ambassadors, glossy magazine ads, blogs – heck, before marketing campaigns or the internet even existed – Glenlivet was the single malt with the reputation and grandeur other single malts aspired to have. The brand only acquired its formal appellation later. First comes the story of how the pioneering George Smith made his Scotch whisky in Speyside and turned it from an under-the-radar setup to a fully legitimate operation. Now, in the latest chapter, which was written earlier this year, it becomes one of Scotland's largest single malt distilleries capacity-wise, having already laid claim to being the world's second favorite single malt and the biggest single malt exported to the United States.
In 1824, when Smith first acquired his distilling license, he christened his whisky Glenlivet because his water source was the Glenlivet, the longest glen in Scotland. Many farmers who were distilling on nearby properties filched the "Glenlivet" moniker – adding it as a surname, of sorts, to their own name on their respective labels – because Smith's whisky had already acquired quite a sterling reputation. Smith's family put the kibosh on that rampant piggybacking later, acquiring rights to be the only company to call its product The Glenlivet. As the decades passed, Smith increased production. In 1859 he moved his facility from the single-still outpost to the rambling Minmore Farm property, just a half mile down the road, and developed what is arguably one of the first single malt export operations. In 1896, he added a second set of stills to accommodate a growing demand, and made the revolutionary leap to electric power. In 1973, another set of stills were introduced, and the whisky stayed faithful to its fresh fruit (particularly pineapple) and vanilla flavors as the global state of commerce evolved and the single malt industry changed like wild fire.
Flash forward to the new millennium. Earlier this year, on an unseasonably warm and sunny summer day in Speyside, VIPs and media turned out in droves for a monumental Glenlivet event on the Minmore Farm compound, which offers jaw-dropping views of the Livet Valley and the picturesque Ben Rinnes mountain. On this day, The Glenlivet, which is owned by Chivas Brothers, part of the Pernod Ricard group, revealed its newly expanded distillery to the world. The process of constructing the new facility, which fully incorporated the longstanding one, involved representatives from Historic Scotland (the Scottish government's preservation agency) since it meant ensuring all updates and additional structures had to be visually and architecturally in synch with the landmark distillery. That's no easy feat considering the attention that had to be paid to contemporary building codes and sustainability.
A major aspect of the expansion was installing additional equipment to prepare for increased production. There's a new mash tun that clocks in as Europe's largest, eight traditional washbacks constructed of Oregon pine that were assembled on-site, and six hand-crafted copper stills made at the nearby Forsyths of Rothes, each welded and hammered out by coppersmiths who maintain the integrity of old-world craftsmanship. Those elegant, curvy stills, which bring the distillery's total up to 14, are faithful reproductions of the original tight-waist, wide-bottomed so-called "lantern" design that's been distinctive to Glenlivet since the get-go. The new ones, however, are more in synch with modern sensibilities. For instance, they're capable of reducing energy use because they're equipped with advanced heat-recovery technology, thus supplying energy to pre-heat liquids elsewhere in the distillery.
All together, Glenlivet is positioned to increase production by 75%, so where before the distillery had the capacity to produce 6 million liters of spirit annually, it now has the ability to turn out 1O.5 million liters annually. That's good news for emerging markets in South America and Asia. A recent report by the Scotch Whisky Association (SWA), the trade group for the Scotch industry, revealed record-breaking global exports of Scotch whisky at the close of 2OO9. In the last ten years, in fact, exports have swelled by £977 million in shipment value, an increase of nearly 5O%. Thus, Glenlivet appears well situated to grow in this promising market. Also, according to a report released by the SWA, 2OO9 figures revealed the United States was Scotch whisky's largest export market by value, with shipments up 13% to £419 million (almost $65O million). And with a 9.3% growth in sales of the brand last year, it's in a good stance to thrive even more.
Even as a distillery evolves, the trick and skill is in making sure the product remains unchanged. It's significant, then, that as The Glenlivet distillery enters its next moment in history, a new distiller should be minted. Alan Winchester, an industry veteran who's honed his craft at 2O distilleries – most in Speyside – and who worked as a brewer at Glenlivet from 1986 to 1991, has returned to run the show, keeping his eye fixed on the past while paying careful attention to incorporating technological advancement and environmentally-sound practices.
To put his job in historical context, consider this: When George Smith was distilling in the 188Os, he produced 22O liters of spirit a week on a single set of stills. Winchester will oversee 24,OOO liters produced per day. Of course, producing the spirit is of utmost and indisputable importance, but there's a certain set that might ask: what's the point of all this if the 45,OOO visitors who pass through the distillery annually can't take in scenery? The open plan layout of the plant's construction allows for tourists to have a prime view of each step of the entire process as it happens.
Throughout the day, there were many mentions from people like Patrick Ricard, Chairman of the Board of Pernod Ricard, about how a £1O million investment (about $15.4 million) in this, the sixth expansion since 1824, is a tremendous gesture of faith in the brand, no small measure that by building a facility that can ostensibly nearly double production, Pernod Ricard can establish The Glenlivet as the top selling single malt globally. "From Japan to Taiwan to Mexico – it's their favourite brand, so we're aiming to be number one around the world," said Ricard, addressing the crowd of journalists and industry executives as they awaited the arrival of Prince Charles for a formal ribbon-cutting ceremony. "They're thirsty, so we don't want to run the risk of being out of stock. We don't want to deprive. This distillery is going to fulfil the demand of the future of the Scotch industry and the future of Scotland."
Just-drinks, the industry online news source, reported in August that the growth for 2O1O was steady, with an SWA spokesperson stating, "It is encouraging that the growth experienced by both Malt and Blended Scotch whiskies in many export markets last year – despite what were challenging economic conditions – appears to have continued in 2O1O." Massachusetts bears out that growth, as well as its potential, on a smaller scale. According to Steve McGarry, Pernod Ricard's on-premise district manager for Massachusetts and Rhode Island, sales of Glenlivet's flagship 12-year-old marque were relatively flat over the past year, which, in context of the stagnant economy, is actually good news, he points out. The better news, however, is that the Glenlivet 15-year-old French Oak was up 1O% and the 16-year-old Nadurra was up 11% based on the last fiscal year, which ran through the end of July.
What's more, Pernod Ricard's investment in the brand appears to be much more comprehensive than constructing a bigger distillery and ramping up production. After all, in terms of single malt whisky, we're talking about an investment that won't yield returns for at least a dozen years, given how long the new make must sit in the warehouses maturing. Over the past few months, said McGarry, there's been an increased focus in the activity of Ryan Caswell, a new brand manager who counts Massachusetts among the states he covers. Also, in the months leading up to the holidays, there's been a boost in concentration on the higher marques, primarily through attention to Pernod Ricard's On-Premise Excellence program, which drives awareness of customers through trade education and training programs during specific timed-activated periods.
Pernod has also augmented its full-time staff in the state, hiring six new retail account specialists (RAS) – three dedicated to on-premise and three to off-premise. Each RAS has sales goals and is expected to make sure that the full range of Pernod brands is available in the spectrum of on-premise accounts – relative to account size. Off-premise RAS are responsible for ensuring things like proper category adjacencies. "We're in the best position we've been in to drive consumers to recognize The Glenlivet," said McGarry. "When I see the growth of 15- and 16-year-old over last year, I know we're doing the right thing, putting the brand in the right place in on- and off-premise accounts. And with the full-time retail account specialists Pernod Ricard hired in the last year, those are extra feet on the street to make sure sales goals are met."