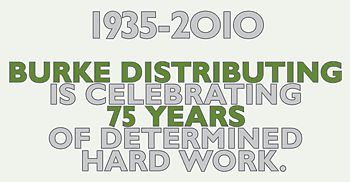 They've been through the same trials almost every other wholesaler has
– loss of franchise rights, tough labor negotiations, market shifts,
and the additional struggles of keeping a family interested in the family business –
but they've fought their way back from blows that should have sunk them.
Today Burke is big: they got their Miller business back – and got Coors, too
– they have the metro Boston market for Samuel Adams, they have Guinness,
they're riding the Pabst revival for all it's worth, and continue to push Mike's Hard brands to success.
They've also parlayed a smart early entry into the Red Bull market into a huge sales story.
The keys to their success, then and now, are simple: adapt to the market, maintain focus on building brands rather than volume sales, treat people fairly and honestly, and work smarter and harder. Of course, if it really was that simple, everyone would do it.
It's never been an easy road for Burke Distributing. Folks in the business today probably remember when Burke lost their Miller distribution business in 1994 – more about that later – but that's hardly the first time this family-owned-and-run business has had rough patches. Founder Walter Burke (grandfather of current company president, Bill G. Burke, 'Bill Jr.') got into the Miller business forty years earlier, and that wasn't easy.
"In 195O, he became a Miller distributor," recalls Walter's son, Bill H. Burke, 'Bill Sr.', now enjoying retirement. "Then they had a 9O day strike at the brewery in Milwaukee and that burned my father's capital." That's when he got the above letter from Dudley H. Dorr, founding partner at the famed Boston law firm Hale & Dorr. Walter responded – as the Burkes had before, and would again – by buckling down and working harder; taking on even more strain with an eye to a greater future reward, to put it in Mr. Dorr's terms. It did pay off – Burke would become the biggest single-location distributor in Miller's network – and the Burkes have proudly framed the letter and have it hanging in their Randolph lobby.
STARTING OUT
The company story has been about hard work and building brands since the beginning. "My father Walter started the business in 1935," said Bill Sr. "His father died when [Walter] was 16, so he had to leave school and run the family's corner grocery store for the next ten to twelve years. He was 28 when he decided that he was tired of the O'Tooles and the O'Neills: he wanted out of the grocery business. His brothers took over the store, and he started Burke Distributing in Clinton, Massachusetts. It was a milltown of about 12,OOO, home to the Bigelow Carpet mills." Burke's grocery store origins compare well to other industry histories: Johnnie Walker Scotch whisky started in the Walker's family grocery store in Scotland; Heaven Hill bourbon started as an investment by the Shapira brothers, who owned a local department store.
The first beer Burke sold was Flanagan-Nay ("A real glass of beer") out of New York City. He was selling beer in the area around Clinton, but was looking for opportunity – another Burke hallmark – and found it.
"He got Fitzgerald's, a small brewery in Troy, New York, that wanted to go into Boston," Bill Sr. recalled. "So he went into Boston in 1939. Then he couldn't get any beer, or gas to deliver it, during World War II! He did have a building, though, so he warehoused cotton for the government. He got involved with the California Wine Association and became a local bottler for them. Then their business changed and local bottlers became a thing of the past, so that was eliminated."
When the wine business fell through, Walter Burke focused on beer, and took another risk, acquiring the Miller distribution rights for the greater Boston area. After the company made it through the difficulties mentioned above, the brand and Burke grew together. "We sold a lot of beer, almost 1O million cases one year," Bill Sr. proudly noted. "That hasn't been done before or since in Massachusetts, out of one location. Almost all of that was Miller."
Bill Sr. was a gambler himself. When Miller launched Lite in the mid-197Os, he jumped on it. "We introduced Lite to Boston," he said, "and we did a million cases within three years. Miller didn't want to come into New England with Lite. They thought it was a staid, traditional marketplace. Obviously we didn't think that way."
That pales in comparison to the roll of the dice he made in 1976. There were rumors that the Teamsters were going to strike against Anheuser-Busch. "Before the strike, my dad actually placed an order [from Miller] – he knew it was going to be big for us," said Tim Burke, who's now General Manager for Red Bull sales. "He ordered a year's worth of beer, in one sitting. He had railcars all the way from Randolph backed up to Albany. As fast as they could bring them in, we were unloading them and putting it on trucks. We had people pulling up in their cars, loading up station wagons for their on-premise account, because we couldn't get the beer out fast enough. Remember, that was all before computers. I don't how they did it.
"The brewery actually called him and asked, 'Is this order correct?'" Tim said, and laughed. "Yes, it is, we're doing it. We became the biggest Miller wholesaler in the country, and that's what broke it – he rolled the dice."
Burke got so big with Miller, according to comptroller Charlie Balkam, that they had their own tractor-trailers to haul beer from the Miller brewery in Fulton, New York. "We had a terminal in eastern New York to break up the tandems," he said. The company has a taproom in the second floor corner of their Randolph offices. There are trophies there, there are beer signs, and of course, there's beer. But they're very proud of the Miller trophies that came after Bill Sr.'s roll of the dice, and that 1O million case year.
Things were different then, of course. The market was much less fragmented. "When we were flying, back in those days," Bill Sr. said, "all you needed was Bud, Miller or Heineken. That was 8O% of the market – more than 8O%."
Imports would become bigger, and that's what started the fragmentation. Burke got into imports early. "We had Lowenbrau, which in the 195Os and '6Os outsold Heineken," Bill Sr. said. "I think we may have introduced Lowenbrau in Boston. Then, in the middle 198Os we began to get into imports in a bigger way. We started buying brands from distributors in the area.
"There was more brand trading in the old days," he said. "It's more up front these days, they're purchased, flat-out. Years ago, the brewers, the suppliers, controlled the industry: they controlled the brands, period, no buy-out agreements. Sometimes you lived day-to-day."
THE DAY THE EARTH STOOD STILL
Day-to-day came home in 1994, when Burke Distributing's everyday business took a huge change. They were having some labor problems with their union drivers. It wasn't so much about wages. "There were a lot of different reasons," Bill Jr. said. "Ultimately it was a bout with our Teamsters about management rights. We brought in a perceived union-busting negotiator; it was not our intent to bust the union. We just wanted our company back. The union had hiring rights, they had firing rights, they had everything. They threw a boycott on us.
"We went to Miller for support, and they couldn't support us," he continued. "They have Teamster-organized breweries. So we said, if you can't support us, we're for sale."
"We only sold the Miller rights," said Bill Jr., "we kept everything else. We lost over 8O% of our business, and then the decision had to be made whether we were just going to sell Miller, or sell it all, the whole family business. The third generation, it was all we really knew, so we said, 'Hey, give us a shot,' and my father and uncle did.
"We did almost 1O million cases of Miller in 1982," said Bill Jr. "When we sold Miller, in 1994, we were down to 3.5 to 4 million boxes. It had declined over 6O%. I believe there was a perception about us with Miller that we weren't the operators they thought we were; how could we be when this happened? It's our fault; it's got nothing to do with them! We would have been throwing more money against it, but the brand would have continued to decline. It would have really hurt us. But instead, we got out, and we sold it. When we bought it back, six years later, it was at 1.8 million cases.
It was Miller who would eventually make overtures to Burke – a rare return of a major brand to a wholesaler; these deals usually include a lot of burnt bridges – but first, Burke would go through the fire. The first thing to go was the building in Randolph. The family had a separate business, Redemco, in Avon, that handled bottle bill redemptions, and that's where things consolidated.
Robin Sweeney, Burke's credit manager, talked about that day in 1994. "We knew what was going on, but they didn't make a big announcement about it," she said. "When it actually happened, it was devastating. It was an honor to be asked to stay, but I walked out of here with a pencil and an adding machine. We moved to the building in Avon, and we had no desks, there was no room. I sat on the floor with a phone! We worked hard, 15 hour days most times, and it didn't get better right away."
The third generation pulled together. Austin Burke, Vice-President of Operations, remembers it as "an exciting time, it was fun. There was hard work and commitment from everyone; we were going to prove the doubters wrong. It was a great time to be in a great industry. They were lean years; we just had to put service first."
"The family business was the last thing I was interested in," Tim Burke recalled. "I was 22, my brother Michael called me, 'Hey, lookit, we need help for the nightshift, we need a pair of [family] eyes there. Can you work the nightshift for a couple hours? For a couple of months? 'Til we can get through this and transition to the "new" company.'
"I said, 'Sure,'" Tim remembered. "I had prospered off the company, and now I had to do my bit. That was November 1993, and I haven't left since. I've threatened to leave a couple times! I walked in on Billy one time when we were still in Avon. I was 25, doing the nightshift, and all my friends had the nights and weekends off, and I was always on an opposite schedule. I told him, 'I'm going back to school.' He told me if I could hold off a week or two, he could put me in sales. And I stayed. That was one the best jobs I've had here, being a route salesman."
PEOPLE PASSION COMMITMENT TIMING
Tim's boss in sales at the time was Joe Walsh, who's still with the company as a sales and strategy consultant, and when I talked to him, enthusiasm and joy in meeting the day's work simply radiated off the man, even in semi-retirement. Walsh was running sales at the time of the Miller sale.
"Each generation faces challenges," he said philosophically. "This was unique. You need to have people – needless to say! – passion, commitment, and timing. You need the right people at the right time, and you need passion, because in my mind, that can exceed natural ability. You need the commitment to keep with it when you make mistakes, and we made plenty: we were in the cigar business, we sold Country Time lemonade, we tried everything we could to stay in the hunt. Bill believed we would make it, and the whole organization believed it."
Charging ahead was the aim of the game. "We saw this as an opportunity to grow the business; we tried a lot of things," Walsh continued, noting that the company had some non-alcoholic businesses fail on them, but kept trying. "They had New York Seltzer back in the 198Os, but that didn't work, and we could have easily quit on the NA business, which would have meant we weren't in the Red Bull business! If our brands don't connect with the consumer, we get out of that business, but we can't stop trying."
One thing Walsh figured they had in their favor was that things change in any marketplace. "Nothing is forever," he said, "nothing. When I started in the business, everybody smoked, and everybody drove a Chevy. Now you can find no one in my sales force smoking and very few Chevies in the parking lot. Nothing is guaranteed to last forever."
Burke had passion for their brands, for a wide array of them. "You have to believe in the brand, you have to work it," Walsh said. "You support The Retailer, who is going to push it to the consumer. You do that through POS, promotions, your being there when you're needed, and there's no set timeframe. We believed there would be more opportunities, but whatever was in front of us, that was the job we had to do: cigars, for instance, didn't work, but we went out and sold them. People make opportunity happen. That was instilled by Bill Sr. and the ownership, but it wasn't only him, it was down through the rest of the organization."
Walsh built a whole new sales force, promoting merchandisers and making new hires. (The previous sales force, selling mostly Miller, was union, and they left with the move to Avon.) "Our new sales force was all young," he said, and chuckled. "That probably made it easier to motivate them to see a greater opportunity for themselves in the future. Craft beers were just beginning to really build and become a long-term situation. That was a key for us."
Craft would not be what got Burke through at first, though. "We only had four brands that were exclusive to us at the time," Walsh said. "One was Corona, which in 1994 was not anywhere near as strong as it is today. One was St. Ides malt liquor, believe it or not. The other was Grolsch, and the fourth was CiderJack. Those were our four horses that we went to market with. We thought because we were younger that our work ethic and our passion would open some doors. We had some loyalty to Burke [from the retailers], especially in the beginning, and that got us in; our passion carried us the rest of the way."
Craft became a factor in the later half of the '9Os. That's when Burke got Samuel Adams for metro Boston. "We had it for the South Shore and North Shore," Walsh said. "We and Jim Koch had the responsibility for distributing on a dual basis in Boston. They saw an opportunity with us, and we saw an opportunity with them to solidify our territory and get them out of the distributing business. That helped; that was probably number one in the comeback."
It wasn't all long-term brands. "A couple years later, some guys came out with Three Stooges Beer," Walsh said. "We did phenomenally well with it. It was a novelty, and I think it would have got lost in a lot of other distributors. It didn't here, because of who we were. We sold 1O,OOO cases one month, which was amazing for a novelty beer.
"The next success was one I claim: Mike's Hard Lemonade," Walsh said. "There were a thousand lemon brews on the market already, we'd sold some of them. Then this one comes in that says "lemonade". I found it in Canada. We were one of the first four markets to launch in the country. Again, I think they saw that they might have got lost somewhere else. I went after it aggressively, and it helped put us on the map: it was the right product at the right time, and it shot off like a rocket. Here's Burke again with a hot product; last year it's Three Stooges, now they got this thing, and Sam's coming along . . . "
Money was tight, but the Burkes spent it smart where they could. "We were one of the first to go with small trailers in the city," Tim pointed out. That happened in 1995, when everyone was still using straight trucks.
"The trailers were safer," Balkam explained. "Using liftgates and palletjacks make it safer, because you can't control conditions at the establishments where you're delivering. Two guys can unload a truck, and still be ready to go at the end of the day. We bought vans, we experimented. It's not easy delivering beer! You've got minor accidents and tickets to deal with, there are always cops yelling at you to move."
BOOMERANG
Charlie Balkam also remembered something Bill Sr. had said, back in those days after the Miller loss. "Bill always said, 'If you can keep it going, you'll get Miller back.' So we persisted. It was six years of operating by the seat of our pants, everyone doing what had to be done, everyone was working together."
The current Vice-President of Sales, Scott Adams, was working at Boston Beer in the 199Os (after starting as a merchandiser at Burke). He remembers watching Burke operate. "Burke, in the 199Os, was in complete survival mode," he said. "Day to day, hand to mouth, whatever metaphor you want. It leads you to a completely tactical method. 'Do we have enough boxes in the truck to run tomorrow?' They went into everything just to maintain scale and efficiencies."
Eventually, it paid off, just like Bill Sr. said it would. "I was sitting at my desk, late in 2OOO," Joe Walsh said, with a big grin on his face. "Tim's working in the sales department. I see an old friend of mine from Miller walk through the door, and I turned to Tim and said, 'Finally we're doing pretty decent, we're making some money, we're doing all right . . . and my God, your world's about to change.' It was a homerun when we reacquired Miller at that time. Then in 2OO4 we won the biggest award Miller has for wholesalers, and that was just a tremendous feeling. We were back."
Things weren't back 1OO%, of course: Miller had changed, and the market had changed. "But what it said about Burke and where we were," said Walsh, "was that we were a competitor again. That allowed us to add more people, get more diversified. We did things differently. I was able to create on-premise and off-premise sales departments. I think they're two different entities, and require different skill sets.
"If I'm going into a package store across the street and selling 15O cases, and walking into your bar and selling five," he explained, "the reality is that I'm going to be spending more time [at the package store]. That's not good for the relationship. If I can be an asset to both types of account, that gives Burke an edge. The reality is that brands are built on-premise, and the volume comes off-premise. If you're giving the guy more money on volume, he's spending more time off-premise, and he's not developing a brand, he's not building a brand. Trends develop on-premise."
Burke has been good at spotting trends because of their weekly marketing reports, something every salesperson has to submit. "We developed a 'thing' for our salespeople that they filled out every week," Walsh said, "that was based on what the competition is doing, your greatest accomplishment, and problems you're seeing. In their own words. You put that together from the six people we had then, or the 5O or 6O people we have now, and you get a great picture of what's going on. We knew a guy was subwaying Red Bull into the marketplace in Southie; that's where it started."
GIVING BURKE WINGS
"The weekly marketing report gets our salespeople to articulate, by category, how the retailer and consumer is behaving," said Scott Adams. "If a particular brand is pushing 5-case stacks from Woburn to Scituate We'll be aware of it within 3 to 5 business days. Each salesperson has a laptop, and that provides the yes/no intelligence on the market. But the marketing report really gets the pulse and the feel. They challenge us, too: 'Why am I pushing this? What are we doing?' They've provided direction for years. The route salesmen see what's really going on, every week in our market."
"The marketing reports are great," said Tim. "We read them religiously, all of them; you have to. You can customize it, focus it: add a question to everyone's sheet that week, or tell them you want to hear about a particular competitor's brand. That's where Red Bull kept coming up. 'We need this,' Bill said. So he put Joe Walsh on it."
The product was coming in through New York City; at that time there were no legal Red Bull markets in the US. "My first phone call with the guys, they encouraged me to bootleg it in," Walsh said, "and based on what I was hearing from Bill, I was ready to do that! I got hold of a guy on his way to Belfast on his cellphone. I had made the commitment, but I wasn't sure we could afford it."
If that sounds a bit risky, well, Walsh is maybe playing the story a bit. As with the initial Miller purchase, and the 1976 roll of the dice ("Bill Sr. had to have heard something [about the strike,]" Walsh said, "he had to have talked to someone."), the management at Burke had done their homework. They knew that getting Red Bull would have synergies for their Guinness sales, opening doors for them in the Irish bars in South Boston where they were still dualed. They knew the kind of profit margins and small footprint Red Bull offered to the store owner. Maybe it seems unbelievable now, but at that time it was an advantage that they knew what Red Bull was!
Persistence helped, too. "They finally said, 'Look, Joe, don't push this right now. Red Bull just opened North America, they're starting in California. Call this guy," said Walsh. "I called him every week for a year. He never answered, but I'd leave a message, and when he put the brand out, he made a point of saying, 'There's a guy in this room who called me every single week.' The next thing we knew we were back in the NA business."
It was familiar territory for Walsh and Burke. "We were selling a tiny can of NA for more than Sam Adams," he said, and then makes the point: "But if I go back and look at Sam Adams in 1985, [Jim Koch] was selling his beer for more money than we were selling Miller. So I rolled the little can across the table at the sales meeting, and I said, 'Gentleman, we are going to sell this brand, and it's going to be one of the biggest brands in the company. It's non-alcoholic, it can be sold by anybody at any time. It's 32 bucks a case, and there's no discount.' And they all looked at me like I had rocks in my head.
"It was the same story Jim Koch had!" Walsh said. "This beer is better than other beers, domestic or imported, you're getting twice as much as you get for Miller Lite, and you're going to sell it. And you know? Both were absolutely right on. We created a new category; history repeated itself."
Jim Devaney, the Director of Specialty Markets/Red Bull at Burke, remembers the first time he encountered the energy drink in 1999. He'd been selling non-alcohol drinks and beer for Burke since 1982. "Then one day Billy walks up to me this little can of Red Bull, and says, 'Here, I want you to try this,'" and smiled. "I tasted it, and said 'That's godawful stuff.' 'Good,' he said, 'I'm glad you like it, because you're going to build a division on it.' Hey, I didn't try it cold, it was at room temperature!"
Scott Kacherian is the Director of Sales for Red Bull, he's been at Burke for four years, coming in from 24 years at Coca-Cola. He talked about how different selling Red Bull is than selling beer. "We have controllables," he said. "The chains – CVS, Shaw's, Stop 'n Shop – RedBull controls them. The neighborhood markets and liquor markets – off-premise – we control that. It's a minimal line, compared to what a liquor or beer guy has. I only have one brand: 23 SKUs, but only one brand. We're trying to tie it in as a four-pack for take-home with a rum or vodka or even cognac."
"It's a great market," he continued. "Boston is the metro piece, and it's huge. It's primarily 18- to 3O-year-olds, though it's getting younger and younger. The influx of college kids in the school year, that's where you get your volume. Things kick in, in September. They have sugar-free now, and that's catching on huge with older customers this year."
Jim Devaney gives a nod to how big Red Bull has become for Burke, and in the marketplace in general. "Red Bull kept growing, 45% in some years," he said. "It's in so many channels, every channel, really. We split the sales into on- and off-premise, and that was very successful."
FILLING THE TRUCK
With Miller back in the house and Red Bull opening new doors all over the eastern half of the state, things were rolling for Burke at the turn of the millennium. They moved back into their original facility in Randolph; they had to, in order to accommodate the 2.5 million cases they were moving in 2OOO. "It was great moving back," Robin Sweeney recalled with a happy smile. "We picked out new carpet, new colors for the offices."
Bill Burke Jr. wasn't done filling up the new building, though. In September of 2OO3, Burke purchased exclusive rights to Coors, Molson and Diageo (Guinness); they sold the rights to Heineken and Corona. By the end of 2OO4, the company would be selling over 6 million cases.
I asked Tim Burke about how you sell both Miller Lite and Coors Light out of the same house. "It's all about making sure the sales team is focusing on the right brands, at the right time," he said, "and in the right account. Those two brands arte our staples, along with Sam Adams, Guinness and Red Bull. Each brand has its consumer, and the consumer deamands variety. We believe all those brands belong everywhere."
They're not overlooking anything. Pabst continues to grow. "When we bought it," Bill said, "we were in the 125th to 175th distributor range for the brand. Now we're top ten." Local sells as well; Burke will do 75,OOO cases of Narragansett this year.
They're still open to new brands. "We have a committee that looks at new brands," said Steve Shaughnessy, the Director of Marketing. "We're looking for quality brands; high-end brands that generate some profit for the company; and products that might open a door that we haven't been able to open yet. We sit at the table, and they present to us: line extensions or whole new brands. We discuss whether it can catch up and beat competition, is it like something we already have and might slow down, and what kind of marketing does it bring?
"We look for crafts, even though imports are still very important for us, because those brands are hot right now," Shaughnessy continued. "We maybe need some from the Midwest, maybe from Colorado. We can take on more, because we have our staples: Miller/Coors, Sam Adams, Guinness, Smirnoff Ice, Mike's Hard Lemonade, Long Trail, Blue Moon, Shipyard, Paulaner, Peroni, Red Bull, and so on. We can give time and ideas back to the suppliers, because of how our sales are structured. We can be more targeted; we know where the competition is strong, and we can focus our efforts on that. I wish I could tell you it was that easy! But we're on the right track."
Filling the truck metaphorically is one thing. Filling actual trucks is something else, and that's the job of Austin Burke, the Vice-President of Operations. "I cover inventory, warehousing, delivery, and maintenance of the trucks," he said. "I grew up in it. My father was on the operations side, and I'd come in with him. It's different every day. Beer's difficult to deliver. It's heavy, you have to be careful how you handle it. Kegs especially beat up the equipment; it's a lot different than potato chips!"
It's not the same business it used to be in the warehouse, any more than it is in the office or the accounts. "SKUs went from maybe 4OO to 8OO to 9OO," Austin said. "There are new packages: 12-packs, 18, 24, 3O, 36, and every one has a different SKU. It's a challenge to order, to deliver. Picking is a real challenge. The business used to be a lot of full pallets: in on one truck, out on another, but there's not much of that today. It's a lot of small amounts, and that makes you realize that there's a lot of great beer out there.
"The technology to handle that is through the roof," he said, grinning. "It's the way the business is heading, for more accurate picking technology. But at some point, it's still moving a lot of boxes of beer."
METHODS OF SPEED
I talked to Chip DiFolco, the Director of Information Technology at Burke, and learned that the company's technology is rapidly evolving. DiFolco's busy getting up to speed; he's only been at Burke for little more than one year, after years of experience in non-beverage distribution.
"We use a software package called VIP, Vermont Information Processing," DiFolco told me. "It's constantly upgraded, handles everything in the business – financials, orders, routing, and purchasing – and was designed and built for the beverage industry: beer, wine, liquor, NA, everything. The ultimate goal is to use the information contained to produce relevant reports to drive decisions. The purchasing department needs to be able to see trends and to prepare for holidays and other events so they can buy enough . . . but not too much!"
DiFolco said that the sales reps were using handheld MC7O devices, but that the screen was too small to see important information. They have just transitioned over to Panasonic ToughBooks." The reps absolutely love them. They are able to visit their accounts to (1) take orders, (2) utilize BlueTooth connected barcode scanners to assist them in taking inventory in off premise accounts and (3) conduct company surveys. With a couple of clicks, all the information is uploaded to the office in little to no time.
"At the end of the day, when all of the next day's orders are in, someone in operations uses the system to build loads (create routes based on where the orders are to be delivered). It even allows the operator to cut and paste product onto each individual pallet on the truck," DiFolco said. "It then produces a visual map of each pallet – it's really incredible." The system runs on a recently upgraded IBM AS/4OO. The increased speed and capacity has made everyone quite happy."
That's good news, according to what Bill Sr. said about Operations. "Delivery and warehousing is still the same," he told me. "From a payroll point of view, it's the meat and potatoes of the company. Running warehouse and delivery is the difference between making a buck and going under." Efficiencies like the ones Chip DiFolco talked about should mean quite a few bucks.
Scott Adams is seeing the benefits of the spend on IT in the sales department. "It has changed immensely over the course of the past two years," he said. "We're getting caught up quickly, and we have strong leadership there. Because we are a bit behind we are benefitting from the challenges other wholesalers have been having with the software. This has allowed us to see the potholes before we drive into them." Some of the other wholesalers hit some real bumps being early; we've had an easier path. You need a strong leader to acknowledge that weakness and be willing to change it."
Adams knows that succeeding in today's market needs fast access to solid information. "The more retail data we can pull, the more we'll stay on target," he said, and with DeFalco's IT infrastructure, his sales force is supplying it. "They're doing a survey every time they walk into their accounts. All that intelligence gets dropped into workable management reports and gives us the confidence to stay the course or make the appropriate adjustments needed to reach our goals. Because customers change their minds so quickly, that's huge. You're talking about a customer these days who's bipolar: he'll buy a $1O.99 3O-pack one week and a $9.99 sixpack the next. It's the market today, you gotta be nimble."
DeFalco is also the "lean" champion at Burke, implementing the system of management developed at Toyota to drive down costs and increase value and profit. When I was visiting Burke, the situation under study was warehouse breakage. The idea is to involve management and front-line workers (and usually someone from outside that particular work area) to define the problem and look for low/no-cost changes that can create real differences. Everyone I talked to about the 'kaizen', as these short-term working groups are called, was very enthusiastic about it.
"The kaizen really works," Austin said. "You can see the excitement and the questions; it gets people to think about their job, their work, and they're thrilled. We were always the last division to get attention, and the first kaizens were about how we can make Operations more efficient."
FAMILY AND FUTURE
Efficiency is one thing, and IT has led to a lot of digital advances, but paper is still part of the beer business. "We'll never get rid of paper," said Alina Burke, and laughed. She runs accounts payable and payroll for Burke, and, like Bill, Tim and Austin, is also one of the owners. She's been working in the family business since 1993.
"I grew up around this building," she said. She workedata little bit of everything – as everyone at Burke did during the 199Os – and settled on orders and then added payroll. "Payroll tends to gravitate to a family member."
"Checks have transitioned to EFT [Electronic Funds Transfer]," she said, "but we still have paper records." The Burkes get together for meetings when they need to. "We're always looking for new brands, and we've had success with some of them. We have to see what opportunities there are. You can't wait. We learned to work with what we had, and we learned how to re-focus. 'This is where we are; how do we get over there?'"
"Focus" is a word you hear a lot at Burke, and one that has come to have a different meaning over the past twenty years. In 199O, it meant keeping your eye on Miller sales. In 1996, it meant learning about new products and rushing out to market with them. In 2OOO, it meant re-learning the non-alcohol business in a hurry . . . and picking up the Miller ball again. When the Coors package came in-house, in 2OO3, they started thinking about how things had changed, and how they needed a different focus.
"We were very tactical in the 199Os," Bill Jr. said. With the small, fast-growing brands like Mike's and Samuel Adams, they had to be; as Scott Adams had noted, it was hand-to-mouth time. "Then we got Coors and the other brands, and we were in discussions with Diageo during this time. We were talking to the Diageo President, Dave Eickholt, and he said, 'What are you guys doing? Stop rushing around surviving; you have to be more strategic now.' He was right. It's not about surviving anymore; we had survived. Now we have to grow."
What does "grow" mean for Burke Distributing? Is it organic growth, is it geographic growth? "We'll entertain anything that will help us grow, here or outside this area," Bill said, then expanded on that. "It doesn't have to be beer, it doesn't have to be a contiguous area. We're still in the growth mode."
Forward-looking, but Bill and the other family management have a firm grip on the company's past, too. "We've become more corporate," Bill said, "but we're still a family business, it's still about the people. It's not just a paycheck to these people, it's their company. They helped us get through 1994, and some great customers did, as well. They stayed loyal when we were dual-distributing. They could have gone to the other guy, but they didn't."
Over and over you'll hear that kind of loyalty flowing back to Bill and the company. Dottie Olson, his executive assistant, talked about his character. "I've never seen his temper," she said. "He's a true gentleman, with a good sense of humor." She laughed herself. "He expects his employees to do their job, so he gives them the tools and lets them do it."
Kerry Walsh, the HR manager, has only been at Burke for three years, but she is passionate about the company. "This is a company where you are not just a number! When I was here six months, my dad was diagnosed with cancer," she said. "At the end, I was at the hospital, and I called Bill. I said, 'I don't know what to do.' Bill said, 'We'll call you when we need you. You do what you need to do; that's what family does.' And they didn't call. He makes us ALL feel like we're family, and he treats us that way."
A family business, with a history of big-brand success, small-brand scrappiness, technical and organizational innovation, making do with less, showing and inspiring loyalty, and brand-building expertise. Over the past 75 years, Burke Distributing saw success come and go . . . and come back again, strong as ever.
"The future is solid," Bill Jr. said. "We have great customers, great suppliers, and great employees." With solid family relations – and according to Tim, plenty of fourth generation family coming up – Burke is likely to be around for a long time to come.