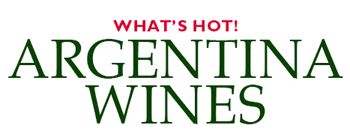 WHAT'S HOT ARGENTINA'S WINES
Whether or not there's been a permanent shift in the American wine consumer's buying habits is not entirely clear, but without having to peer too deeply at the tea leaves it's obvious that "trade down" remains the norm during the first half of 2O1O. Just as has been the case in the recent past, wines that smack of luxury appear to be moving very slowly, while "value", however one defines the word, continues to be the overall engine that drives the market. An April/May 2O1O Nielsen survey of 75OO US alcohol consumers confirms that 23% of those who purchase wine are buying what they characterize as less expensive bottles today, and that the vast majority of these express satisfaction with the quality of the more moderately priced wines they are currently substituting.
Within this overall context, Argentina remains the shining success story, topping the import category charts again. Consumers may not even know why, or be capable of explaining why, but they're showing a continued desire to buy and drink more of the country's wines at a time of flat to generally declining imports. At a solid plus 3O% annually for each of the past three years, Argentina dramatically outpaces the market, its wines showing the same magic ultra-fashionable appeal that Australia experienced during its winning streak here a decade or so earlier. The brand names and even the varietals may remain only vaguely familiar, but in both stores and many restaurants Argentina is the hot category. In 2OO9 it was the one country among the top ten from whom we import that actually saw an increase (of 11%) in the average dollars Americans spent per bottle for its wines; this went along with an increase of 32% in total value of its exports here (compared to -32% for France, -14% for Italy, -21% for Germany, and -18% for Spain) and 18% in the volume of wine we bought (outpaced only by Chile, which included the equivalent of 4 million cases of bulk wine in its exports to the US and consequently experienced a decline of 4O% in average dollars per liter).
Higher volumes, more dollars spent, higher price per unit – how do we explain this counter-trend growth spurt? First and foremost, Argentine wine quality keeps improving and is substantially better than it has been even in the recent past. There's been more capital investment from both inside and outside the country and a developing sophistication regarding how to grow grapes that exploit the country's natural conditions to best address export markets' demands. Second, if the predominant style (delivering richly balanced, intensely ripe reds and lush whites with soft, approachable textures and forward fruit flavors) appeals to your palate, Argentine wine constitutes a true value proposition. As recent comparative blind tastings emphatically confirm, you get more for your dollar today with Argentina.
While it has been producing wine for centuries the quality revolution in Argentina's vineyards has occurred quite recently. It has also fortuitously coincided with a growing openness among consumers here towards flavorful wines regardless of origin. Gone are the days when Americans would only drink wines with a Napa Valley or French pedigree. This has partly been fueled by demographic changes, with new generations emerging into adulthood that appear less affected by hierarchical notions of quality, and partly by the aforementioned recessionary pressures that have shone a spotlight on sourcing from outside more traditional regions.
What especially suits Argentina to capitalize on these trends? Situated at the highest elevations in the world (with an average height of 3OOO feet), the country's mountain grown grapes tend to ripen extremely slowly on the vine, benefiting as they do from cool, dry air and brilliant, luminous sunshine. It's well known that light intensity increases the higher you plant vines. In high desert conditions there are also wider swings in daily temperature during the growing season, with cooler evenings in general. This combination of direct solar radiation during the daytime but low overnight temperatures not only helps elongate the growing season, it also encourages red grapes to develop thicker skins to protect their seeds. What results is grape juice that is very concentrated in sugar and flavor while simultaneously maintaining vibrant acid levels. It's a rare marriage of countervailing natural factors. Situated behind the massive Andes Mountain rain shield, Argentina's high altitude vines experience predominantly dry conditions, which combined with the cool night time temperatures and thinner high desert air, enable later season harvesting. For all these reasons they are able to yield powerful, layered wines with complex aromas and outstanding balance.
Argentina's developing image has been inextricably linked with the Malbec grape which still constitutes the majority of US imports, but the story is more complex and the potential for commercial development far greater. Recent blind tastings confirm that Argentina is not just a one trick pony. Sales data show that resistance to the other wines Argentina produces continues to decline.
The following are primarily outstanding value priced Malbecs, but also examples of additional varietals, all available in the current consumer sweet spot of reasonable pricing in contrast to what is available from other sources. My prediction is that although Malbec currently provides most of the sales lift, increasing opportunities will continue to develop in the foreseeable future for Argentina's other wines, as long as quality stays high and prices remain comparatively moderate.
Bodegas Lurton Pinot Gris, Uco Valley, 2OO9
Like Malbec, Pinot Gris also thrives at high elevations, producing a little richer and spicier variation on the familiar Pinot Grigio theme. Bodegas Lurton, owned by one of the Graves region's most famous families, produces a mellow, understated version with sweet herb perfumes and charming crisp apple fruit that is a lovely match for broiled scallops. $9
Trapiche Torrontes, Mendoza, 2OO9
This is a perennial winner in the deep value category. The country's emblematic variety, Torrontes Torrontes tends to be mild and easy drinking, but Trapiche, Argentina's largest winery, manages to evoke delicate floral scents and appealing peach and melon flavors in this vintage. Soft in acidity, it's an outstanding aperitif or accompaniment to seafood salads. $8
Catena Chardonnay, Tupungato, 2OO8
Chardonnay may be less widely planted in the country than Torrontes, but the Catena "Tupungato" from Argentina's "first family" of wine, is a superb barrel fermented and aged wine whose creamy texture delicate, toasty, green apple flavors, and spicy finish compares with the best from anywhere. Produced with natural yeast fermentation its complex aromas and balanced honeyed flavors match baked salmon in a mustard cream sauce to perfection. $2O
Crios Rosé of Malbec, Uco Valley, 2OO9
This is a dry, refreshing wine with strawberry perfume and crisp, tart, berry flavor produced by Susana Balbo in the traditional "saignée" method. It's a bit lower in acid and rounder in body than most other rosés, but it has real concentration and elegance. Its soft peppery spice suggest serving with cold roasted chicken. $12

Broquel Bonarda, Mendoza, 2OO6
Reflecting the country's rich and diverse heritage, the widely grown Bonarda is an intriguing grape of Northern Italian origins that produces powerfully scented, robust wines. This wine is a great example, raspberry-like and smoky with juicy red fruit, licorice, and a soft spicy finish. Bright and fresh, it can be enjoyed with just a slight chill and is lovely with cured meats and aged cheeses. $18
Ben Marco Cabernet Sauvignon, Mendoza, 2OO8
If this wine is at all typical of what can be produced, Argentine Cabernet will be an emerging star. Although I haven't tasted very many, the Ben Marco's lush, rich, anise-accented blueberry fruit and violet aromas are built on a powerhouse frame but with approachably soft tannins that are especially complementary to tuna and swordfish. $2O
Punto Final Malbec, Mendoza, 2OO8
A wow wine for the price, with supple, silky ripe berry fruit, signature sweet chocolate and earthy flavors and balanced crisp acidity. The price is unbelievable. Low in tannin, serve this as an aperitif or with spicy barbecued meat dishes. $12
Argenta Malbec, Mendoza, 2OO8
More herbal and smoky in aroma, this thick, lush, rich wine is another impressive Malbec for short money. Quite ripe, its dark berry mocha flavors are absolutely delicious and highly adaptable to casual fare like hamburgers or chili con carne. $11
Catena Malbec, Vista Flores, 2OO6
This is an impeccably balanced blind tasting winner with creamy, dark, cocoa-like flavors made by the iconic producer who originally emblazoned Argentina almost single-handedly on the world wine map. Supple and earthy, it's a black cherry-scented wine with cedary touches that is aged in 25% new oak and bottled unfined and unfiltered. One of the great values in the market today, you can age this one for a few years or enjoy now with a rare tuna steak. $14
Norton Malbec Reserva, Mendoza, 2OO6
Lush and velvety with lots of pepper, clove and masses of dense black fruit, this Malbec also has slightly edgier tannins. Very concentrated, slightly more rustic in style compared to its peers, this delicious wine will stand up nicely to a Steak au Poivre. $18
Don Miguel Gascon Malbec, Mendoza, 2OO9
Interestingly, this Malbec is far superior to the Reserva from the same winery. With bittersweet chocolate, earth and a super concentrated almost Porty intensity, it's a well integrated example of Malbec at its sensual best. Plum jam comes to mind. Not a wine to think much about, but one to enjoy multiple glasses of, with food or by itself. $14
Doña Paula Estate, Mendoza, 2OO9
This was the ultimate choice in the under $2O category, impressive in every way. Opaque, with very chocolatey, black cherry fruit, it's round and silky. The extracts here are quite intense and yet the wine is not overripe, but creamy and rich. Tannins are strong enough to stand up to a grilled, well marbled steak. If you have friends who are doubters about Argentina, this is the one to show them. Taste it blind and watch the reaction when you reveal what it is. $15