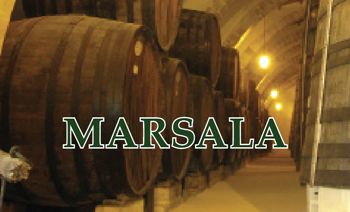 In my fortified wine classes at Boston University, Marsala rarely gets more than a mention or a sip. Hardly any can be found in retail shops beyond the inexpensive Marsala Fine category usually purchased for cooking rather than drinking.
Marsala wine was born in the port of Marsala on Sicily's western coast, when, in 1773, a fierce storm forced a ship carrying Liverpool merchant John Woodhouse to seek shelter there. During his stay, Woodhouse enjoyed the local wine which at the time was made from a blend of native white and red grapes. He developed a plan to export a fortified version to England. The plan became a successful business. His success lured other Englishmen such as Benjamin Ingham. Italian Vincenzo Florio entered the Marsala trade in 1833. Other Italian entrepreneurs followed him. Marsala became Italy's most famous wine, rivaled only by Chianti. By the 196Os, there were over 2OO Marsala producers. During the 197Os and 198Os, producers stretched the profile of the category to include versions flavored with various foods such as fruits and eggs. Due mostly to changing patterns of consumption and a worsening image, total production of Marsala dropped by two thirds. In an effort to help stop the decline and to save its historical identity, new regulations were passed in 1984. The new laws restricted the territory of production and bottling to the province of Trapani which contains the port of Marsala. They also prohibited mixing Marsala wine with non-wine-derived flavorings such as spices and milk products and put more controls on the workhorse category, known as "fine" Marsala. These controls limited the use of cooked must, which gives a distinctive flavor and darkens Marsala, and required a minimum maturation in wood for a period of one year.
At present, such laws allow label nomenclature to define such parameters as wine color (Oro, Ambra and Rubino mean gold, amber and ruby respectively), sweetness (Secco, Semi Secco and Dolce mean dry, semi-dry and sweet respectively) and maturation levels (Fine, Superiore and Superiore Riserva denote pre-bottling maturation in wooden barrels for a minimum of 1 year, 2 years and 4 years respectively). In addition, there is a category called Vergine (Virgin) which represents the purest and most delicate form of Marsala, the legal version that comes closest to the style that Woodhouse first conceived. This version limits grape selection only to specified white grapes (Catarratto, Grillo, Inzolia, Damaschino), mandates a minimum alcohol percentage of 18% attained by the addition of alcohol or grape spirit, forbids additions of cooked, muted and concentrated musts as well as the other additives excluded by the 1984 laws. Marsala Vergine must be matured for at least 5 years in wood barrels; Marsala Vergine Stravecchio or Riserva for at least 1O. Marsala Vergine may be vintage-dated. Producers may use the word Soleras in conjunction with the word Vergine such as Vergine Soleras and Vergine Soleras Stravecchio or Vergine Soleras Riserva if the Marsala Vergine has been aged using a solera system.
My wish would be to completely eradicate all the sweet Marsala categories i.e., effectively all but the Vergine. I love Vergines' delicate amber color, the toasted hazelnut nose, the soft delicate mouth, and the infinite nutty finish. The Vergine category, however, accounts for a miniscule part of the Marsala market. Because the it represents the purest version of Woodhouse's Marsala, producers should push to have this category classified as a DOCG, the highest quality control level in Italian wine law. This would set it apart from other wines labeled Marsala. It would isolate and define a reference point for producers and consumers alike. The only DOCG in Sicily is Cerasuolo di Vittoria. Why not Marsala Vergine?
In June of 2O1O, I was selected to be one of five judges at the Marsala World Tasting in Marsala, Sicily. It gave me the opportunity to do something that I had never done before: taste nine Marsala Vergine blind. I have listed them in my order of preference, beginning with my favorite.
Martinez "Exito", Marsala Vergine Riserva 1982
A delicate orange-gold liquid delivers strong but delicate smells of dried fruits. The mouth is viscous, sweet, complex.
Pellegrino "Riserva del Centenario", Marsala Vergine 198O
Wine color is a rich amber-red. The strong nose is of dried fruits, nuts, and cedar. The mouth is delicious and very complex.
Martinez Vergine Reserve 1995
A medium density yellow-gold harbors strong smells of nuts and dried fruits, particularly orange rind. On the palate, the wine is round and fine with a persistent, delicate finish.
MIRABELLA Vergine Riserva, 2O-year-old
A green-yellow meniscus circles a medium-intensity amber core. The nose is very aromatic, even volatile, with a complex mix of toasted hazelnuts, dates and leather. The palate is rich, complex and unctuous.
Intorcia Vergine Soleras
This Marsala has a medium orange-red-gold color. The exotic nose shows orange, lemon and dried fruits. Bitterness and acidity characterize the structure.
Baglio Florio Vergine 1997
Amber-red-gold with yellow-straw rim describes the wine's appearance. Butter, caramel and toasted hazelnut dominate the nose. A leather nuance lurks behind. The mouth is round with threshold sweetness and a long, nutty, bitter-tart finish.
Florio Terre Arse, Vergine 1999
Wine color is medium amber-gold. Toasted hazelnut is supported in the nose by leather accents. Viscosity and bitterness have the strongest impacts in the mouth. The nutty finish is delicate but persistent.
Casano Vergine Riserva 1999
Wine color, both core and rim, is amber. The nose is rustic showing smoke, peat and leather. Bitterness, viscosity and salinity dominate the palate. The finish is long, smelling of nuts and raisins.
Pellegrino Vergine Soleras
Pale yellow-straw rings an amber-brown core. The rustic nose shows peat, leather and oxidized apple-core. The mouth begins with bitterness and sourness and ends with a long nutty finish.