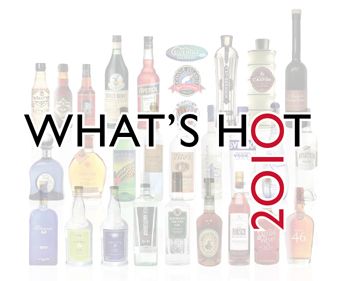 It's easy for veteran retailers or bar managers
to be blindsided by the Next Hot Thing. To wit: it'd have been impossible to foretell that an elderflower liqueur would take the market by storm, let alone stay on consumers' radars years after it launched; meantime, brands that spiked in sales when a celebrity stepped to the fore as a spokesperson slip into the distance when the media blitz simmers down. The past year has seen a boost in popularity of the inky Fernet Branca, New England beers come to the fore in a big way, and a boost in the interest of gins made in the US. While stalwart brands will always be an indomitable presence in the market, a growing segment of consumers are getting restless and curious, seeking out boutique and craft products that have inched into their purviews. And that goes for all categories. This annual trends report holds several surprises about how consumers are becoming more interested in – and conscious of – what's going into their glass.
GETTING SWEET ON BITTERS
With the surge in popularity of pre-Prohibition-era cocktails, bitters, the spirit that historically defined a "cocktail", is not just a staple on the bar, it's a category experiencing a fast-paced evolution. Fee Brothers, The Bitter Truth and Regan's Orange Bitters are just a few of the labels raising eyebrows these days. "If people are willing and open to trying something where they don't know every ingredient, we can get into a story about what bitters are. They are opening up to it more," said Mary Edes, bartender and Wine Director at Clio in the Eliot Hotel. "We use bitters a lot. I like Fee Brothers Whiskey Barrel Aged bitters. It adds a spicier note to things, and it's great with brown liquor-based drinks. And for brightening things up, we use the lemon from Fee Brothers. Regan's Orange is a go-to staple. We recently started carrying Bitter Truth's line." At Middlesex, a lounge in Cambridge, General Manager JB Bernstein said the bartenders regularly use Angostura Orange instead of the standard variety when they get calls for Manhattans and Old Fashioneds. He also carries a number of Fee Brothers flavors, like grapefruit, cherry and rhubarb. The rhubarb is a favorite for him in an Old Fashioned.
Adam Lantheaume, proprietor of The Boston Shaker, has arguably the sharpest perspective on the category, given that he stocks quite a number of brands in his cocktail paraphernalia shop in Somerville. Adam said there's still a lot of education to be done, as the majority of people coming in don't fully understand what bitters are, let alone the great variety that's available. Another segment of customers, however, come in search of something a little unusual, often because they read about a product. "The classics are always going to be asked for, and Angostura and Peychaud's are something people come to me to buy," he said. Otherwise, it depends on what people need it for, he explained. Lantheaume gets a decent number of shoppers seeking grapefruit or orange flavors, but very few are looking for more avant-garde varieties like lavender bitters. There is a growing interest around celery bitters (Fee Brothers just released one). Lantheaume also carries a celery flavor from Bitter Truth and Scrappy's. "Most people gravitate to Fee Brothers because it's the broadest line and most recognizable, and it's been around for a long time. Their mint came out in the 194Os, and now they're coming out with new flavors, like rhubarb and Aztec chocolate," said Lantheaume. "But these days there are more and more brands, like Urban Moonshine and Scrappy's. The market is going to get saturated fast. People are making bitters out of everything. Those may be unique and fun, but it's not necessarily something that can be adapted to many drinks. There are a lot of bitters that'll hit the market for a while, and those that are going to stick around will rise to the top. Some will become useful and some will be for collectors and enthusiasts." Looking forward, he foresees no slow-down in the momentum of new product releases, especially where esoteric flavors are concerned. "There will be an influx of cool, complex, interesting bitters, some will stand the test of time, some will be interesting play things. This will trickle into a number of other cocktail-related ingredients, like boutique garnishes and syrups."
One brand that has already started expanding its reach is Bittermens, which was developed by Janet and Avery Glasser, a husband and wife team presently based in Boston. They're producing their first two flavors in collaboration with the Bitter Truth, who have licensed the formulas and are producing and marketing the Bittermens Xocolatl Mole and Bittermens Grapefruit as part of their product line. "We are also working with Taza on a chocolate extract for baking, cooking and also cocktails, to be released later this year," Avery wrote in an email while overseas, referring to the artisanal chocolate company based in Somerville. Also on the horizon is a small batch line of hand-made bitters that they plan to unveil later this year and bring to market independently.
But cocktail bitters are just one part of a much broader category that includes potable bitters, the classic European digestifs. Those are growing by orders of magnitude, thanks largely to the explosive trendiness of Fernet Branca, the inky, menthol-y Italian amaro that's become the shot du jour around town. According to Derik Malone, area manager for Infinium Spirits, which imports Fernet, the brand "is on fire". Sales in the Bay State have almost doubled in the two years. (There were 39O cases sold in 2OO7 and 731 in 2OO9.) But Fernet is only one style, and a rather strong one, at that. Those curious about it but looking for something a tad mellower have plenty to choose from. Kevin Cassidy, the Manager and Beverage Director at Wild Duck in the North End, stocks a wide range of amaros. He said Santa Maria Al Monte does pretty well, as do the Luxardo and Moetti brands. "Moetti is one of the sweetest and Luxardo right in the middle, but another one that does really well here is Aperol. There's a younger crowd that loves the Aperol, which is something you have to be introduced to by someone from Italy. That's what the young Italians here drink.

BITTER PILLS
FEE BROTHERS
BITTER TRUTH
REGAN'S ORANGE BITTERS
FERNET BRANCA
APEROL
CRAFT BEER'S MOMENTUM STAYS STRONG
If there's any category that requires a stock broker-caliber energy to keep tabs on, it's beer. "I can wake up one day and there are five new craft beers. Go to bed that night, and one goes away," said Steve Wilkinson, owner of the three Supreme Liquors stores (in Cambridge's Central Square, Dorchester's Fields Corner and Quincy). "It's the hottest thing going now. And it's profitable. Bud is great, but you don't make money on it." He said Goose Island, brewed in Chicago, already looks to be one brand that's doing so well that it'll be on people's radars for a while. Chris Pedersen, owner of Charles Street Liquors, which carries up to 11OO beer SKUs, concurred that Goose Island is among the more popular, newly available brands. So is Opa-Opa from Southampton and the various styles from Canton's Blue Hills Brewery. But as far as he sees it, the season is still the strongest barometer of what sells. "People come in for seasonal beers. Porters are big when it's cooler and the summer stuff is always popular, no matter what the summer stuff is. I wish they made Sam Summer all year," he said, noting that it outsells all other Sam Adams beers throughout the year. Cisco Brewers' Whale's Tale has picked up in pace since it became available in a 12-pack of cans. Perhaps consumers are subconsciously drawn to it because of the ever prevalent Pabst Blue Ribbon, which is a "huge seller", he declared.
"With so many beers pumped out every single week, craft beer is one of the few segments that's consistently at the top of the growth chart. They're all creative and people are excited to try them," said Cassidy at Wild Duck, which is under the same ownership as Bottles down the road on Commercial Street. In a strategic gesture that accommodates people's willingness to try new products, customers can create their own six-packs at Bottles. "People should experiment with new beers in a proper way. Boston is a big beer-drinking city, so they love all these new crazy things." Among those new things? Alcohol content continues to amp up and so do bottle sizes. At Bin Ends in Braintree, co-owner Cara Hafferty has observed a particular interest in IPAs and Hefeweizens. Also, local breweries are fast to garner attention. "People love Blue Hills Brewery in Canton. We carry a lot of their products, like the Imperial Red IPA, and we're looking forward to selling their Hefeweizen this summer."
"IPA is king," said Sherri Sadowski, General Manager and co-owner at Armsby Abbey in Worcester, which opened in July 2OO8 and has 22 taps and a diverse selection of Belgian ales and European imports. "Customers are always open to trying new ones. We definitely try to introduce guests to new beer. Lighter beers are still popular, but people come to taste things they can't try or buy anywhere else. Belgian IPAs are big. It's cool to see those. They do an IPA in the Netherlands, too. And west coast IPAs have big, bold profiles, like Mikkeller." But even with the increasing availability of exotic or extreme beers from Europe, Sadowski always supports local brewers. "There are so many amazing breweries in New England and along the east coast. We do a big push for local breweries, like Allagash out of Portland. Allagash White is a mainstay. Mayflower out of Plymouth does an amazing job, and Wormtown Brewing Company is here in Worcester, so people look for that."
Mike Munnelly, a partner in Four Pints, the company that orchestrates four annual Beer Summit events (5O tables) in Boston, confirmed that the trend is no-holds-barred experimentation. "Everyone is thinking of ways to triple hop and dry hop and infuse. There's more creativity than ever and the beer world is continuing to evolve," he said. He insists that the average drinker is more interested in branching out, which ends up being feasible to craft brewers from a business perspective. "If people make something and sell it, they're not losing money fulfilling their passion. I see much wider variety at stores, and that tells me people are asking for things. I see a lot of breweries expanding their footprint."
But all the expansion in the region won't put a damper on the popularity of inexpensive lagers, especially ones in the still-trendy cans. And with that, it's important to mention that long iconic Narragansett Beer has made a big comeback since Mark Hellendrung, a Rhode Island native and former President of Nantucket Nectars bought the brand five years ago. It had about 65% of the market share in the late 196Os, when it was the official beer of the Red Sox. But it fell off the map when a mid-western company bought the brand and moved production from Rhode Island to Indiana in the 198Os. But with a strong viral marketing campaign, it's back in 1134 bars in New England (Vermont excluded) and it's presently the fastest growing beer by volume in Massachusetts. It's being brewed at the Genesee Brewery in Rochester, NY. According to Hellendrung, Narragansett is the 17th biggest supplier in the state, up from around the 26th spot a year earlier. "We're doing well in Worcester and Amherst – centers of indie thinkers. And we do well on the Cape, where tourists ask what the locals drink," he said. Massachusetts doubled sales in just one year from April 2OO9 to April 2O1O. Stores carrying the brew increased 6O%. They're also offering limited release seasonals: a bock in the spring, a porter in winter and a German-style Marsen in the fall. "It's doing really well," said Bob Page, the bar manager at the Middle East Restaurant and Nightclub in Cambridge. "People ask for Narragansett all the time. I remember drinking that a long time ago – I remember it being my grandfather's beer. Narragansett is hitting the cheaper beer market. PBR made a big comeback a few years ago and it's still strong, but now Narragansett is cutting into PBR more than any other beer. With the economy, people want cheaper beer, and the younger people are coming here for the shows want the cans. Last week I ordered 5O cases of Narragansett. When we started selling it, I was ordering 1O or 2O cases."
AT THE HEART OF CRAFT
BLUE HILLS BREWERY
GOOSE ISLAND
WORMTOWN BREWING COMPANY
CORDIALLY YOURS
The fact that St. Germain, the popular elderflower liqueur from Cooper Spirits, is an opening order item for restaurants and bars around the state is "the biggest feather in our cap," said Kate Palmer, New England sales representative for Cooper Spirits. The brand's on- and off-premise growth in Massachusetts has been equal and substantial, enough so that the liqueur has been offered on sale in many retail outlets, and is rarely out of stock in stores. "At first a lot of people were doing basic recipes from our book, but I'm seeing more and more people are finding different ways to use the product and stepping up to the plate to come up with interesting cocktails," she said. At West Side Lounge in Cambridge, for instance, it's been offered in a tequila cocktail with house rhubarb syrup, while down the street at Craigie on Main, it's offered with Yellow Chartreuse, fresh lemon juice and bubbles. The company's success with St. Germain is something countless other brands can only hope to achieve. It's helped fuel anticipation of the arrival of Crème Yvette, a vintage-styled violet spirit that Cooper Spirits has developed. A very limited number of cases arrived in the Bay State early in June, and at the time of publication, there was no word on when the next batch would get here.
Wilkinson of Supreme Liquors declares that Massachusetts has always been a huge state for cordials of all types, at least according to sales at his stores in Cambridge and Dorchester. "Whether it's something like Domain de Canton, which was hot for a year or two, then people jump onto something else like Ty Ku," he said. "It may change in a month, but something new always pops out. And if it's in a video, or a song, it'll immediately sell. Nuvo was in a video, so they had a stand-up display with a video in the machine."
Pedersen sells a fair amount of Pimms and Domain de Canton at Charles Street Liquors. The latter is the most popular cordial at Bin Ends in Braintree, according to Hafferty. "We have a bottle open in the store, so people can try it and they tend to buy it. And we love it, so that enthusiasm is passed on to the customer," she said. She often recommends it to customers as a digestif because of the ginger. Haus Alpenz's St. Elizabeth Allspice Dram is another top pick at Bin Ends, though Hafferty said it sells far better in the winter months. It's a popular choice among the industry folk who frequent the store, and anyone who isn't sure how to use it, it's simple: pour it over vanilla ice cream.
TO SWEETEN THINGS UP
ST. GERMAIN
DOMAIN DE CANTON
HAUS ALPENZ'S ST. ELIZABETH ALLSPICE DRAM
TEQUILA GETS ITS PREMIUM DUE
Katie Krock, owner of KJ Baaron's in Worcester, said tequila is still overshadowed by rum and vodka, but nevertheless, she's seen an uptick in customers lingering in the tequila aisle. Sales definitely increase in the summer, but she's observed tequila become less of a seasonal beverage than in past years, as she's moved more tequila this past winter than the prior. Patron Silver remains the top seller, and she's taken that as a cue to bring in additional pricier marques. Perhaps that has something to do with what's going on nearby at Armsby Abbey, which draws a beer-centric crowd for its variety of microbrews. Sadowski has been bringing a variety of brands to the fore at her bar, like Don Julio, Don Eduardo, Tezon, El Tesoro, and Conquistador. None of it, she insists, is sold as a shot. "We feature lesser known products, and in doing that, it opens doors for people," she said. Reposados sell best, and they had a hibiscus margarita on the cocktail list in the spring.
At the Fields Corner Supreme Liquors, Wilkinson went from offering eight tequilas to 28 when he remodeled the store. Cazadores, Milagro, Tezon, Cabo Wabo, Herradura and Partida are just a few of the higher end brands he has on sale, despite that location being what he claims is "five years behind the time". But Wilkinson may be underestimating. Pederson at Charles Street said the category is dominated by two brands – Patron and Sauza. But even with the poor economy and people's penny-pinching hitting the tequila category harder than others, he insists on keeping the shelves stocked with a healthy selection of high-end tequilas such as Milagro and Oro Azul.
Slowly but surely, a few tequilas are arriving that are USDA-certified organic. Malone of Infinium Spirits noted the already strong performance of Casa Noble Tequila, a new addition to the distributor's premium tequila collection. There are five styles available, including Crystal, reposado, a two-year-old añejo and a single barrel añejo, which retails between $8O to $89. He said that they just received state approval for bigger accounts to hand-select a single barrel reposado for personalized bottling, a trend that's already taken off in the bourbon industry.
But that's not the only company offering a barrel selection program. Greg Neises, lead bartender at Masa, a Mexican outpost in Boston's South End, said that the restaurant teamed up with Bacardi's tequila brands to finish a tequila in a barrel in-house. He projected it would be very popular with his clientele, who have showed no signs of losing interest in tequila. "People are looking to trade up and go to more quality spirits or something with a different edge to offer, something with more complexity." When it comes to mixing tequila, chili peppers are an ingredient that's on fire. "People have been into pepper infused drinks," he said, noting that the Habanero-infused watermelon margarita was popular throughout the cold season, and the Anaheim margarita, with muddled peppers, lemon and lime, is a favorite in the warmer months. "It's got layers of flavor, but it's light and crisp. It isn't overly spicey, but has more of a green tone, so it's more about the flavor than heat."
At Drink, the cocktail bar in Fort Point, the tequila wave is still swelling, said John Gertsen, General Manager. As more guests develop an understanding that its uses go far beyond a shot or margarita, they get curious about it as a legitimate cocktail ingredient. "It's not just about using it as a base ingredient,"
he said. "We're looking at it as an ingredient layered with
other spirits. You can do a double base with tequila and
cognac or tequila or mezcal. A lot of bartenders are starting
to get a more comfortable grasp as far as what to do with it,"
he said. And with the growth of interest comes an awareness
of smaller, more boutique, single vintages and new zones.
"The public is more educated and they're starting to ask good
questions, like 'I know Jalisco, but what's up with other zones?'
'Why is Chinaco so earthy and weird?'" he said. "I think we're going to see a continued interest in the more fine points of production, like aging. Wood is starting to be more important and people are taking a more Scotch-like approach."
No discussion about tequila can be had without giving mezcal its proper due. More brands of the agave-based spirit have become available in Massachusetts. The Del Maguey line that started it all recently launched Vida, a more wallet-friendly marque made by some of the same farmers that Ron Cooper (the founder of the Del Maguey brand) has worked with in the past to produce the more expensive labels. The lower price point is due, in part, to the less fancy packaging. (Vida does not come in a hand-woven sleeve.) In the past few months, Massachusetts also saw the introduction of Ilegal Mezcal, which comes as a Joven and Reposado. "Mezcal is white hot, and it's not cooling off anytime soon," proclaimed Gertsen. "We were fortunate to get an early jump on the Del Maguey line, and now Vida has already been a great success."
"The next big thing is mezcal," avowed Mary Edes at Clio. They just added the two marques of Ilegal Mezcal to their shelf. "I've been playing around with it in cocktails. I used the añejo to make a Sazerac, with yellow chartreuse instead of absinthe." At Middlesex, Bernstein said he's gravitating away from some of the trendy tequilas in favor of brands like El Tesoro. He also picked up Ilegal, which he serves straight as a shot or as a floater in a high-end margarita. Hafferty at Bin Ends says the Del Maguay has been hard to keep on the shelf.
THE AGAVE ALLURE
CASA NOBLE TEQUILA
PARTIDA TEQUILA
DEL MAGUEY
ILEGAL MEZCAL
VODKA, CLEARLY
As the vodka category gets ever more gigantic, it's the little stuff that muscles its way into the spotlight. After years of the titan brands dominating, more consumers are branching out and trying vodkas made by smaller distillers, cueing into buzzwords like "organic" and "local".
Sadowski at Armsby said cocktail sales are up every month – not bad for a craft beer bar. A big focus, she said, is "farm-to-glass" cocktails, which lends itself to boutique products. "We've only been open a short time, but we've educated people on how good spirits are and how good a cocktail can be when it's crafted well. Of all the spirits we have, vodka is definitely the number one seller." Nevertheless, she only stocks craft brands. Tito's Handmade Vodka, which is pot-distilled in Texas, is in the well. "For the price and the product, it's amazing," she contends. Square One Botanical is another vodka that the staff makes an effort to use in developing drinks. "People are excited about Tito's," said Gertsen. "It entered the market with aggressive pricing. One thing that's helpful at Drink is that it's become more about what kind of drink a person likes, then we can figure out the best brand. Cold River is made from potatoes, so it's earthy, which is good for a dirty martini." David Sardella, the Massachusetts market manager for the Sazerac Company, has seen a big upturn in Rain Cucumber Lime Vodka. It's made high-profile appearances on featured drinks at Boston restaurants like Tremont 647, Aquitaine and Franklin Café.
On the other hand, however, some people are leaning away from the titan brands in favor of value. Malone of Infinium Spirits said Seagram's vodkas are undergoing a renaissance off-premise. "There's a big resurgence because of where we're pricing it, and we have a good focus in terms of distribution. It's a way to combat some of the imports because it's in that medium price range," he said, noting that it's usually found from $14.99 to $17.99 for a 1.75 liter. The flavors are doing well, especially now that the brand has narrowed the portfolio to focus on grape, apple and Seagram's Sweet Tea, which arrived in the middle of last summer, and Peach Tea, which launched in June.
Vodka is the top selling spirit at Wild Duck, and brands on the value end move out the door quickest, said Cassidy. Svedka outpaces Smirnoff slightly, and Mr. Boston is making a comeback. On the higher end, Absolut Boston took off as soon as it hit the shelves. Cassidy chalks that up to the good job Pernod Ricard did with its marketing. "It's still story-worthy for me in terms of its big demand," he said. Local is a big sell with his patrons, as there's a solid awareness of Triple Eight from Nantucket and Ice Glen from Berkshire Mountain Distillers.
Keith Mills, who owns Esprit du Vin with his wife Linda, said value dictates most people's vodka purchases in his Milton store, but customers are very open to local and organic brands, like Triple Eight and Beauport Vodka from Ryan & Wood Distilleries in Gloucester when he hand sells them. Pedersen said his two top liquor SKUs at Charles Street Liquors are Ketel One handles and 75Os. Grey Goose sells, and Sobieski and Svedka are doing remarkably well because many are trading down. And people are preferring regular vodka to flavors about eight to one.

PURE PICKS
TITO'S HANDCRAFTED VODKA
RYAN & WOOD'S BEAUPORT
SVEDKA
RAIN
GIN'S BEGUILING BOTANICALS
In a 18O degree turn around from the long-standing trend of gin drinkers being faithful to their brands, the explosion of craft distilling has, for the most part, given rise to the adventurous gin drinker, one who is as curious to try different gins as the craft beer drinker is to trying various brews of various places and styles. "Local gins are garnering interest – especially when we talk about them," said Cassidy at Wild Duck. "I like having the gins from Berkshire Mountain Distillers (BMD). It gives us something more to talk about." He called out Aviation Gin as having a healthy following and Hayman's Old Tom gaining more attention. "Anybody who hasn't seen or tried Hayman's deserves to," he added.
But like most other categories, a good price is as dependable a selling point as an engaging story. He attributes New Amsterdam's success to its price point. And the classic cocktail's leap to the mainstream has only helped the category. "With the emphasis that continues to come about on classics, people are open to trying different gins," Cassidy said. Pederson acknowledges that in Beacon Hill, there's still more brand loyalty to time-tested gins among his customers than any other category. Nevertheless, he's had good luck with the Ethereal and Greylock gins from BMD. He also sees that specialty gins, like Blue Coat, Old Raj, Bulldog, 2O9, and Bols Genever, tend to land with a splash – but only for a little while. "People try them, then tend to go back to what they like, which is often Tanqueray and Bombay and Hendrick's. Gin drinkers around here are specific to what they like."
But if you build the inventory, apparently people will come to try other products. At Armsby, the gin selection, which includes about twelve brands, none of which are global leaders, "forces you to be adventurous," said Sadowski. Hendrick's is the most high-profile brand in stock. "When people come here, they have to be open-minded and put their trust in the bartender. A lot more people are looking for gin. We have a range that includes lighter ones like Blue Coat, which we sell a lot of. One like that gets them to ask what else they can try. Tru has bolder spices on top of juniper. Right, which was developed by bartenders, has a black pepper note to it. And then there's Hendrick's, which can go in so many different directions."
"American gin is starting to capture the imagination of more bartenders – and producers. They can't wait to get new gins out," said Gertsen, adding that staying on the lookout for new boutique gins is a lot more interesting and engaging than waiting for the inevitable introduction of the next fruit-flavored vodka. "For a long time, gin has been seen as a classic and reliable product. But in the last few years, Hendrick's broke ground for things like Aviation, Cap Rock and other American artisanal gins. People are more adventurous." The house gin at the tony Menton, Barbara Lynch's new French restaurant upstairs from Drink, is Citadelle, made at the Pierre Ferrand distillery in France. While Gertsen is enthusiastic about these new products, he said that the overall approach remains to look at a category like gin and have a representative of classics. When comes time to create cocktail, he'll often grab Beefeater, Plymouth or thanks to its return to the market, Old Tom.
GINS TO GET IN
AVIATION
BLUE COAT AMERICAN DRY GIN
BMD'S ETHEREAL AND GREYLOCK
NEW AMSTERDAM
HAYMAN'S OLD TOM
WHISKEY MADE IN THE USA
"I cannot get enough rye to satisfy the demand in this market," said Dave Sardella, field market manager for the Sazerac Company. "The demand is unbelievable. If I had thousands of cases of Sazerac Rye, it wouldn't be enough." And that pretty much sums up the American whiskey market these days. While bourbon is still moving rapidly off the shelves – particularly small batch brands – rye has captivated people's attention and it's not letting go.
"In the past year, rye has really gotten super-popular," said Clio's Mary Edes. "Before it was just something cocktail geeks were interested in. Now it's made an insurgence in the rest of the population." There are four on offer at her bar: Old Overholt, Rittenhouse, Michter's, and Pikesville. "A stirred rye Manhattan is no longer called for, it's just what people expect," said Gertsen. "For the group I work for, the level of knowledge guests bring is amazing. They're not just asking, 'Where did the tuna on the plate come from?' There's a similar acceptance of what a drink is and where its ingredients are from." At Drink, Gertsen primarily carries Heaven Hill and Sazerac products.
Sadowski at Armsby Abbey said her staff is still on the cusp of breaking customers into bourbon, and A.H. Hirsch bourbons are a popular pick. Elijah Craig 12-year-old and Evan Williams Single Barrel are a few of the others that are leading people into the category. She chalks that up to the younger clientele, which regularly picks up on the buzz around smaller brands. "A lot of people who come in looking for Beam or Jack Daniel's and Coke are guests in their 5Os and 6Os who found their way into it years back. But people in their 2Os go for what they read about in magazines." When it comes to a Manhattan, however, her bartenders use Michter's Rye, the only rye they carry. Indeed, Steven Zeigler of Michter's American Whiskey Company stated, "One of the most telling signs of rye's resurgence is that you can now find Michter's Rye in the hottest, trendiest bars and restaurants around Boston."
"If only I could keep rye in the store," said Cassidy of Wild Duck, noting that Rittenhouse has "been gone forever. We can't get our hands on it. Little by little, we get our hands on six-pack of Sazerac, but it's gone as soon as it comes in. If you can afford Hirsh 22, more power to you," he quipped, solidifying his rank among the crestfallen rye lovers. But even with rye's rise, the demand for bourbon will never diminish. Beam's Knob Creek and Basil Hayden's and Brown-Forman's Woodford Reserve are strong sellers. Jim Beam, a perennial good value, "flies out the door," he said. But his strategy is to keep the selection as diversified as he can. "We have to have things people don't see everywhere and we have to be able to talk about them. It's instrumental in retail." Pedersen at Charles Street hasn't seen anyone's belt tightening affect their whiskey budget. He's actively seeking out more ryes to satisfy customers' demand for brands that are short on availability. Meantime, pricier bourbons are holding their own ground, perhaps because people default to that until rye arrives. He called out Hirsch and Black Maple Hill as big sellers alongside the ever-popular Bulleit. Krock at KJ Baaron's said people are asking for ryes and brands from American micro-distillers, like McCarthy's, a single malt American Whisky produced at Clear Creek Distillery in Portland, Oregon. But a majority of sales still come from Jack Daniel's Tennessee Whiskey, Jim Beam and Maker's Mark. "People
are interested in artisan whiskeys, but they still have a long way to go," she said.
Perhaps the biggest news in the American whiskey realm comes from one of those titan brands: Maker's Mark unveiled Maker's 46, a breakthrough for the brand, as it's the first time it ever introduced something beyond the flagship bourbon. "Maker's 46 is going to be too hot," said Matt Shakespeare, the area's Maker's Mark Distillery diplomat. "It'll be on allocation all year. There's going to be just over 4OO cases in Massachusetts for the year." It's made, he explained, in the traditional Maker's fashion, but when it's finished aging, seared oak staves are inserted into the barrels of the resting whiskey, and they're sealed for another two months. The initial shipment arrived in early July and more is expected in September. It's only being sold in one-liter bottles and the focus is on-premise, he said. As far as the original Maker's goes, he said the interest in bourbon cocktails is holding strong, especially when it comes to drinks with floral elements, bubbles or both. Flash's Cocktails in Back Bay featured a drink with hibiscus flowers while Kenmore Square's Eastern Standard made one using edible flower and sparkling wine.
WHISKEY GALORE
MICHTER'S RYE
A.H. HIRSCH RESERVE STRAIGHT BOURBON WHISKEY
SAZERAC RYE
MAKER'S 46
While marketing teams go to great lengths to isolate their
target audience and market researchers arrive at conclusions around preferred tastes among demographics, the basic truth is that a formula for predicting the Next Big Thing is as easy to find as, well, a few cases of Rittenhouse Rye. People want to see classic cocktail ingredients resurrected, but they also want to try out what's new and inventive. Imbibers want to try the newest, buzzed about micro-brew, but they also appreciate the unapologetic nostalgia quotient a macro-brew like Narragansett Beer affords. Taste may be subjective, but measurements of quality are more concrete. And if a customer gets a personal recommendation on a brand you can vouch for and explain, and she or he tells a few friends, it just may jumpstart a craze that's waiting to happen.