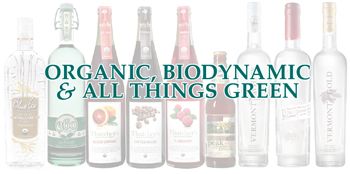 ORGANIC, BIODYNAMIC & ALL THINGS GREEN
Organic spirits and those made using green production practices continue their transition into the mainstream as consumers put a higher value not only on taste but on the increasingly important issue of sustainability and environmental impact. Conversations with local retailers, regional and national brands all speak to raising the bar of awareness while also extolling the virtues of a better tasting product.
BLUE ICE ORGANIC WHEAT VODKA
We'll begin in Rigby, Idaho, at Distilled Resources, Inc. Last year Blue Ice Organic Wheat Vodka was launched and it marked the brand's first line extension since they broke into the vodka market in 2OO1. The brand's founder is Jim Myerson and the Master Distiller is Bill Scott who employs a proprietary certified organic fermentation process that uses no chemical additives whatsoever. An interview with Kevin Egan, Vice-President of Sales & Marketing for 21st Century Spirits looks at consumer response, marketing, cocktails, and future plans for the brand. "The response has been better than we could have expected. Consumers, now more than ever, have really embraced the organic movement and the foundational reasons for why it is better not only for our bodies, but the earth as well," says Egan. He goes on to say that the Blue Ice line already has plans in place to build on the success of the Organic Wheat Vodka and hopes to launch more organic products. "By the end of the year we will be importing certified organic tequila under our Oro Azul label." With an eye on marketing, Egan says two approaches are taken: "Blue Ice Organic Wheat Vodka is marketed as an organic addition to our highly-rated Potato Vodka. On its own, Blue Ice Organic Wheat Vodka is marketed as a pure, natural, organic spirit that we take great pains with to ensure quality and flavor that is a great base for pure and/or natural cocktails and in organic cocktails using mixers, garnishes, etc., that are also organic." Brand awareness techniques combine on-premise marketing such as recipe-driven promotions along with trade and consumer media coverage. Egan also points to participation in national consumer and trade tasting events and production donation/sponsorships at high-profile events in the brands top five major markets. He zeroes right in on who they're targeting. "The typical consumers are male and female Millennials and Gen X-ers who are willing to spend slightly more to ensure they are getting an environmentally friendly, clean, well-made, smooth, delicious product." He also says that the same consumer places high importance on socially responsible methods of farming and production and will buy organic items in a market to ensure either better quality, environmental responsibility and/or lack of residues they feel could be harmful. I asked Egan what he attributes the rise in demand to. "Natural, fresh, organic, sustainable products are certainly gaining in popularity. Consumer awareness and consumer demand for eco-friendly products are directly related and consumer awareness about this topic is at an all-time high in America right now," he responded, adding that this awareness translates to a more informed customer. "Today's consumers are realizing the real benefits of practicing better methods of production and consuming cleaner products, and they also understand and are willing to pay a slightly higher amount to get it. I think the future in the beverage alcohol business lies in cleaner, natural organic, pure, sustainable, environmentally friendly products.
36O ORGANIC VODKA
The next stop is Weston, Missouri, home of the Earth Friendly Distilling Company where 36O Organic Vodka is made. The brand enjoyed a very successful launch in 2OO7 and continues on that track with the recent launch of 36O Double Chocolate and 36O Cola, and they've got five more flavors in the pipeline for this summer. They also have kept their sustainability vow. "36O Vodka is an award winning, superior tasting vodka, that is priced right, with a commitment to the environment that is unsurpassed in every aspect of distilling, packaging, shipping, and marketing," says Vic Morrison, Vice President of Marketing at the McCormick Distilling Company (of which Earth Friendly is a division). As a result, the brand's sales have doubled consecutively each year. "And as the green movement continues to grow, so does the demand for eco-friendly products," he adds. When I last spoke with Morrison in 2OO8 he told me that the target demographic for 36O Organic Vodka is the evolved, ecologically-minded high-end drinker. Two years later, has that changed? "Consumers overall are becoming more and more environmentally aware – we've priced our vodka so that everyone, including all eco-minded vodka drinkers, can enjoy our vodkas," he explains. As to whether other spirits companies will adopt a 36O type of business model, Morrison is optimistic. "I hope it will be the norm. When we began producing 36O Vodka, finding the basic materials to be sustainable was very challenging; in fact some vendors laughed and said it wasn't possible. Now, the majority of vendors offer green options, so the easier it becomes to access eco-friendly materials, the more the industry should get on board."
THATCHER'S ORGANIC ARTISAN LIQUEURS
From Idaho we head due east to the ironically named Temperance, Michigan, home to Thatcher's Distillery where Thatcher's Organics Artisan Liqueurs are made by hand in small batches. Founder Dave Racicot started the company in March of 2OO8 and he spent the next 13 months, as he puts it, "figuring out how to do it." Apparently he managed just fine because the first batch of flavors launched in May of 2OO9 and today there are a total of eleven in the collection. Along with globe-trotting excursions to source ingredients, Racicot explains some of the other facets of starting an organic spirits company: "Each farm has to be certified, each inbound ingredient has a real depth to it in terms of various certifications and the USDA process." He continues: "There's a lot; there's the certification of the distillery, there's all sorts of protocols and rules – positive rules that really maintain the integrity of the organic process that I love but I didn't know going into it so the first year was really figuring out how to do it." The initial flavors were Elderflower, Cucumber, Pomegranate, Dark Chocolate, Blueberry, and Tres Chiles. Racicot says his goal was to answer the call for quality mixers. "What I saw in the market was bartenders and mixologists and people at home really wanting to work with the best ingredients possible because you can have an amazing vodka and then to have it paired with something that's low end or cheap or not as high a quality as what goes into the base spirit really felt like a crime to me." After seeing a number of bartenders creating their own syrups, bitters or infusions, Racicot's wheels got turning. "I realized I could probably provide a better solution with the integrity of the finest ingredients possible through our being able to acquire USDA certification. That was the jump off point and then each expression has multiple cocktails as part of it."
With an eye on demographics, Racicot says that consumers are into quality and into ensuring what they're getting while also not breaking the bank are drawn to the Thatcher's line. "It's not like you're spending $45 on a bottle, you can get a Thatcher's Blood Orange for $19 to $2O." But Racicot says that Thatcher's also delivery in terms of quality using the finest ingredients with strict adherence to the integrity of the organic certification process to ensure that farmlands are protected for a long period of time. We also spoke about green business practices, something of keen importance to Racicot. "I've done everything in my power and ability to ensure that the business we're creating maintains the highest level of integrity possible because the lands and the farms and the things like that, that the next generation are inheriting, have to produce a lot more for a lot more people," he explains. "I look at how organic clothes are growing, hybrid cars are growing – there are just a lot of other tailwinds around. Beverage alcohol is about creating the best product to provide the best cocktail possible, I just happen to believe that the best ingredients come from an organic farming process. Those that have reviewed our stuff or been a part of tasting it and support us tend to agree."
PEAK ORGANIC BREWING COMPANY
Jon Cadoux is the Founder and President of Peak Organic Brewing Company. Peak Organic is brewed at the Shipyard Brewery in Portland, Maine. The brand has increased its offerings significantly over the last couple of years and now has 9 types of beer and ales on the market. So first and foremost, I asked Cadoux to bring me up to speed. "We've gotten maybe a little carried away. We're home brewers still so we're always fooling around with small 5 gallon recipes. Our policy is when we love a beer we release it; we've been making some really good ones, we think, and have been releasing them." Cadoux says sourcing ingredients has gotten easier. "There's been a really nice availability of some new organic raw materials, organic ingredients that are available so it's become more exciting to experiment with different hop varieties and different types of grains and things like that." The latest additions to the Peak Organic line include the King Crimson, a Simcoe hop imperial red ale, and the Summer Session beer that's brewed with all organic Maine wheat and is dry hopped with Amarillo hops. Peak's Organic IPA features the Simcoe hop and organic Maine wheat which is brewed with a little touch of organic pomegranate juice and organic acai juice and is spiced up with coriander.
Cadoux, like other like-minded brewers, wine makers and spirits producers, is steadfast in his quest for lessening the brand's carbon footprint and using local ingredients whenever possible. "We're always taking steps and we'll always have a long way to go, there's no doubt about it. But one thing on our side that we're most proud of now is sourcing more and more local ingredients and cutting down on raw material food miles. This has been a really huge push of ours lately and so we've been just delighted by the amount of organic hops and organic grain that have come on the market that are grown right here in Maine or in other parts of Northern New England." Cadoux says he's not stopping there. "We're also working on a local malting facility so that the grains can be shipped there and then right to our brewery which would be a pretty amazing thing if that comes to fruition." Ideally it will be open within a year. As for the ever-growing popularity of organic beer, Cadoux says: "I think it's because, people kind of realized that an organic beer that's done well should be as good, if not better, than other beers out there because really all organic means when it comes to beer is the ingredients come from smaller artisinal family farms that don't use any chemical pesticides or fertilizers. People are starting to really understand that an organic beer should actually taste better and I really think that's why the category has really taken off the way it has."
VERMONT SPIRITS COMPANY
Moving into New England brings us to St. Johnsbury, Vermont, for a dialogue with Steve Johnson, President of Vermont Spirits. Vermont Spirits was established in 1998 and all their vodkas are hand-crafted. Vermont Gold Vodka, released in 2OO3, is handmade in small batches from, you guessed it, the sugar of maple sap. The Vermont White Vodka, released in 2OO4 is made from pure milk, sugar and local spring water, and the Limited Release Vodka from 2OO5 is produced entirely from early run maple sap, which are literally the first few flows of sap in the state's annual "sugaring" season. Every stage of their production process is engineered in-house and hand-built. Johnson further explains. "We only use power for select steps in the manufacturing process; we use gravity as much as possible instead of pumps to transfer liquid through the various tanks and stills. And we intend to add solar power this fall to power all of our operations, other than what is required to run the fermenting tanks." Clearly, this is a company that cares about sustainability and the dialogue with Johnson goes further. He starts with one of the fundamental elements: water. "One of key the key ingredients in our vodkas is spring water, which comes from a well just a few hundred feet from the distillery. We do very little filtering as a result and I think that this really shows up in the quality of our vodkas, in that we do not need to remove any chemicals or additives which we would have to do if we used municipal water." The source of power is also shaded in green. "Initially, we used wood to power our boiler. This required a lot of labor (occasionally spending the night in the distillery to keep the heat up during a fermentation). We now use a very efficient boiler which runs on bio-fuel. Our fuel costs have dropped markedly." Johnson also explained that as their production volume has grown, so has the volume of stillage produced. Stillage is the non-sewage waste water resulting from the fermenting and distilling processes; it is high in nitrogen and great for fertilizing fields. "We are now seeing demand from local farmers to use this stillage to spread on their fields as a natural fertilizer. We are planning to more actively promote the availability of this by-product as a way to help out the local agriculture industry." The green-mindedness attitude from the green mountain state Vermont Spirits Company is explained by Johnson this way: "We are a socially conscious company and respect our environment. From the tree-tapping to the by-products of our distillation, we keep conservation in mind.
THE WINE BOTTEGA
Kerri Pratt is the owner of The Wine Bottega in Boston's North End, a shop that was recently given props in food & wine as one of the top natural wine stores in the country. Pratt was more than happy to help me wrap my head around what it means for a wine to be biodynamic and why it's so important to her. She was introduced to biodynamic wine by way of a lecture from French winemaker Nicolas Joly, a guest speaker at the 2OO7 Boston Wine Expo. From there she was off and running. Pratt says that the more she started trying biodynamic wines, the more she realized there was something special about them. "The wines seem to have more soul." One of Pratt's goals at The Wine Bottega is to afford her clients a means of globe trotting that doesn't require a passport. "The kinds of wines that I look for in the store are wines that you take a sip and whoosh, you're in another place, they just have that ability to transport you – they really do taste of the terroir." Biodynamic wines more than fit this bill and Pratt is all about it. "That's why I think wine is interesting, it tells you a story." She says that the best way that someone explained biodynamic to her is that it's like taking organic to an energy level. "It can sound a little crazy but the proof is out there, the proof is in the palate as well. These wines are really special when you taste them," says Pratt. "You can describe it as just really working in harmony with nature. Organic is very much about what you can't do and biodynamic is more about things that you do do. It's all about working in harmony and I think the attention to detail in the amount that these people are working in their vineyards, that's going to create something more special as well." Pratt goes onto say that a lot of the small wine producers she works with can't afford the actual Demeter certification (see sidebar) required to be legally deemed biodynamic, however the efforts of these vineyards is not lost on her. "We make sure that we know the people, we've been to their vineyards and we've seen them. Some of it to us is not just about the rules and regulations but also real people, real wines, real stories."
NEW ENGLAND WINE & SPIRITS
New England Wine & Spirits in Newburyport has a sizeable collection of organic beer, wine and spirits. Spirits Manager Paul Souza talked me through consumer response to organics and also schooled me on box wines. The store has a 12-foot section exclusively devoted to organic beer, wine and spirits, and Souza says the path to it is well worn as consumer demand rises. "We take consumers back to that section frequently." He does however point to a specific demographic. "I think it's still more of a gender thing. There are some men who come in and ask for organic. It's not common and more often than not they've been sent by their wife." When asked about biodynamic, Souza says although his store does carry a few biodynamic wines, there's still some confusion. "The perception right now is that it's more of a buzzword. There aren't a lot of people who really understand what biodynamic, sustainable agriculture and that whole process is." Time, he says, may hold the keys."We're getting there. It's going to be a long process before we get to demanding that type of agriculture from our producers."
One area that continues to make headway into reducing carbon footprints is box wines. "In almost all of their publications and shelf-talkers, they (box wine producers) spend a lot of time mentioning the fact that they're carbon footprint is much lower," he explains. Souza singled out Boho Box wines in particular as their boxes are made from recycled cardboard and then it's recycled again. He also says that the category is growing exponentially and his store now has 36 feet dedicated to box wine. "Every day there's another new box wine coming out." The quality, however, hasn't always been so hot. "The stuff that came out twenty years ago, I still think those are trash," opines Souza. But he said that all changed about 5 or 6 years ago when New England Wine & Spirits brought in a line of box wines, which held particular appeal to members of Newburyport's boating community who are always on a search for glass alternatives. From there, box wines really took off and Souza attributes it to the fact that box wines hold up for 2 to 3 weeks because they never hit air and they also cost significantly less. Souza does the math: "So you're selling a larger container at anywhere from $2O to $25 a box. There's 3 liters inside that container and that's four bottles of wine now that breaks down to five dollars a bottle." As for particular brands, Souza mentioned Blackstone Winery out of California and the South American Yellow+Blue Wines. I did a little research on the latter and came up with a compelling factoid from the Yellow+Blue website: "A case of wine in glass weighs 4O pounds and holds 9 liters of wine – close to 5O% wine and 5O% packaging. A case of Yellow+Blue weighs 26 pounds and holds 12 liters of certified organic wine. That's 93% wine and 7% packaging."
THE HEART OF THE MATTER
The trajectory for organic, biodynamic and eco-friendly products and production methods is a far-reaching one. The number of breweries, distilleries and vineyards that have gotten wise to the benefits of producing organic products is growing every day. Growing too is the number of both organic and non-organic companies that are making products using local ingredients and employing business practices designed to protect the planet while still delivering high-quality deliverables. Being concerned about carbon footprints isn't trendy and it isn't a "cause of the day". It's reality, now more than ever, and the winds of change are blowing strong in this direction.
AND AS FOR ON-PREMISE . . .
Corey Bunnewith is the proprietor and Managing Partner of Beverage Influential, a liquid consulting and catering firm out of Boston. I asked him if he's noticed an increase in on-premise consumer demand for organic spirits and he said he absolutely has. "The demand for organic spirits is very much cohesive with the market's want for organic food. This seems to be fueled a little bit more by companies marketing techniques and ability to gain brand recognition, but I feel when customers see and taste organic spirits off-premise, or see print or web media in regards to these brands, it reflects in what is wanted on-premise." Bunnewith says that brands like Tito's, Square One, Prairie, and Tru Organic have built great reputation for organic vodkas. "As usual, starting with a very in-demand category like vodka makes it easier to branch out into other spirit genres. Tru Organics is working this method with excellent products like Crusoe Rum and their Tru Gin," he adds. "I think when it comes down to it, it is a philosophical matter. We are indeed finally concerned with what we consume and the ability to see the base distillate and botanicals and flavorings and knowing where they come from matters." Bunnewith believes that the trend is something that will continue to grow. "Even if it only starts to affect certain aspects, whether is recyclable corks or greener transportation, we're moving in a better direction for all of us.
BIODYNAMIC WINE 1O1
Excerpts from www.demeter-usa.org.
Demeter USA is the non-profit American chapter of Demeter International, the world's only certifier of Biodynamic farms and products. Biodynamic goes beyond organic, envisioning the farm as a self-contained organism. In an effort to keep the farm, the farmer, the consumer, and the earth healthy, farmers avoid chemical pesticides and fertilizers, utilize compost and cover crops, and set aside a minimum of 1O% of their total acreage for biodiversity. The entire farm, versus a particular crop, must be certified, and farms are inspected annually. In order for a product to bear the Demeter logo it must be made with certified Biodynamic ingredients and meet strict processing standards to ensure the purest possible product.
HOW DO BIODYNAMIC WINES DIFFER
FROM CONVENTIONAL WINES?
Biodynamic wines are intimately connected to the estate. The primary distinction between Biodynamic and conventionally grown wines is that Biodynamic grape growing develops the vineyard's greatest potential – allowing the vineyard to be the best it can be – and then captures that distinctiveness in the bottle. You will often hear Biodynamic winemakers say that their goal is to make the best wine by making the most authentic wine.
WHAT MAKES A WINERY OR VINEYARD BIODYNAMIC?
In order for a winery of vineyard to refer to itself as Biodynamic, it must have achieved certification through Demeter by adhering to the Demeter Farm Standard for a minimum of three years if conventionally farmed or a minimum of one year if organically farmed. The entire farm, or vineyard, must be certified, not just a portion of land within the farm. Farms are inspected annually to ensure that the Standard is being met. The Farm Standard reflects the Biodynamic principle of the farm as a living organism: self-contained, self-sustaining, following the cycles of nature. It is a regenerative organic farming system that focuses on soil health, the integration of plants and animals, and biodiversity. It demands close observation and participation of the farmer.