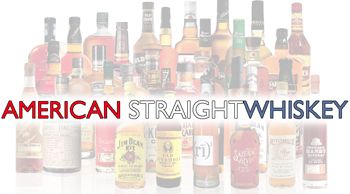 American Straight Whiskey
"It's better than
it's ever been.
There's never been better bourbon made than right now."
-Wayne Rose

Mr. Rose, Group Brand Director, Brown-Forman, isn't talking about his brand, Woodford Reserve, or even the whole Brown-Forman portfolio. He's talking about bourbon, about American straight whiskey, an entire category that has benefited from the same kind of empirical and theoretical research and observation that has dramatically improved the quality of Scotch and Irish whisky over the past twenty years. It's an increase in quality that has paid off in dollar and volume sales.
"Anyone trying bourbon for the first time," said niche producer Julian Van Winkle, "has seen an advertisement, or maybe heard about bourbon from a friend, or maybe has seen some ratings, and they want to try the next best thing. Many are single malt Scotch drinkers. I think Scotch drinkers in the past maybe tried some younger, lower quality bourbons and didn't think much of them. Then over the last ten years, bourbon distilleries have pumped up their quality, their age and their proof – Scotch drinkers and many others have taken notice."
Just look at your shelves. Nothing says success like an increase in brands, particularly an increase in premium brands. Think back fifteen, twenty years; there were fewer brand extensions – Woodford Reserve, Bulleit and a host of smaller brands didn't even exist – the price spread was much narrower than it is today, and the bottles looked all alike.
Ho hum. What's the sale brand this month?
Now you have new brands, extensions into the higher and lower ends of the market (whoever thought there'd be an Old Crow Reserve?), the hot, heralded return of rye, and a surprising success in flavored whiskeys like Jim Beam Red Stag, Wild Turkey American Honey and Evan Williams Honey Reserve. It's got a long way to go, but the American whiskey shelves are starting to look like the vodka shelves . . . except, of course, they also have limited releases of exceptional aged products that sell for $15O or $2OO and get snapped up literally before they ever get on the shelf.
Old Forester Brand Manager Joe Murray loves it. "It's growing for the first time in a while," he said, with clear enthusiasm. "The entire market is growing. We're kind of giddy about it around here. Massachusetts is a big whiskey market. Traditionally it's been Scotch-oriented, but I see that wall breaking down. It's got the cocktail culture, and that's good for brown – anything good for brown is good for all of us. We call it the 'brown bar phenomenon'; they're expanding the shelves and putting in lots of whiskeys."
There's more interest among the customers and the bartenders, and there's more among producers, too. "Now that bourbon is so popular," Van Winkle noted, "more and more people are getting on the bandwagon and starting to produce bourbon. It's like anything that becomes popular – everyone wants to get in on it."
Federal Wine & Spirits' Joe Howell sees the interplay between consumers and Boston's hot cocktail scene heating up whiskey sales. "I've seen people getting into bourbons and ryes because of cocktails," he said. "People are stepping up and looking at whiskeys. That's the great thing about whiskey. When they're looking at those, it's more about enjoyment, flavor and what's in the glass, not getting bombed."
Bourbon's lower entry price doesn't hurt either. "Bourbons will open the door easier than single malts," Howell pointed out, "and there's great value in them- Weller's Special Reserve, things like that. I try to get all those little gems, anything under $25 that's good juice, you can't beat that. Under a dollar an ounce, you're not doing bad. And if you've got the money, I can always show you something for more!"
"Bourbon's hot, rye is hotter," agreed Julio's Liquors (Westborough) owner Ryan Maloney. "You almost can't get your hands on good rye. I was buying barrels of Sazerac; can't get it this year. Rittenhouse 1OO is coming in and you can't get a drop."
Richard Nsanja, the operations manager at Brookline Liquor Mart, doesn't see a lot of effect from the down economy for bourbon drinkers. "It's not a lot different," he said. "Some are trading down, but the majority, those who know what they're looking for, will buy what they want. I go through a lot of Evan Williams. I buy five cases about every ten days, and we buy the liters and the 1.75s."
SUCCESS IN MID-TIER
Evan Williams is a serious success story. "Look at our portfolio," said Heaven Hill's Communications Director, Larry Kass. "Evan Williams Black figures heavily in it; according to Nielsen's for the first quarter of 2O1O, growth at 12.4%, the top-growing top-volume domestic whiskey, versus O.1% for the category. It's just amazing. We're definitely taking share. We're breaking ground on two new warehouses in Bardstown. There's no reason for us to slow down."
Kass credits smart niche sponsorships for some of the growth: the bass fishing circuit and championship bullriding. "These are great sports for the bourbon demographic," Kass said, and gave another nod to their new "Some Secrets are Worth Sharing" ad campaign.
"We're certainly stealing share from some of the other people in the category," Kass stated. "We're also bringing people in from other whiskey categories, we call them TUTIs – Trade Up, Trade In. Crown Royal, blended whiskeys. . . we're getting a lot of growth from people who were drinking those. If you look at Evan Williams Green, the numbers are even better. There are a lot of people coming in on that one just because it's such a great bargain."
Don't think cheap, Kass urges, think value. "Evan Williams is up 33% in Massachusetts, year on year," he said. "On-premise business is showing great improvement; not long ago that was hardly there. It is all driven by consumer/retailer confidence in the brand, an excellent product for a fair price. Talk to other retailers. They'll tell you they're experiencing the benefits. It's just blocking and tackling: getting the stacks and displays out there, get the sales on the floor."
Joe Murray sees opportunity there for his brands Old Forester and Early Times. "It's coming down to the Early Times and the Evan Williams," he said. "It's not just up in the $25 range. We've flattened out our downward trend and we're growing. We'll grow it for everyone and then we'll beat each other up for share. But right now it's about grabbing as much share as we can from vodka, from tequila – and there's a market out there called beer. That's the biggest competitior. How do we create brand occasions similar to beer? The guy who can crack that code is a genius."
Murray talked cocktails, but he's talking Early Times style, not $4O a bottle style. "Bourbon exploded and cocktails came back," he said. "But the younger consumer, 27 to 35, is seeing greater flexibility and mixability with brands like Early Times and Kessler that allows extension into the summer months. Punches, lemonades, that's driving it." It put me in mind of a punch recipe I'd once seen from cocktail maven David Wondrich that mixed lemon juice, sugar and Early Times in a gallon milk jug full of ice: perfectly serviceable among friends, and isn't that what that age is all about?
Early Times, of course, is not a bourbon; Brown-Forman ages the whiskey in once-used barrels, so it is labeled as a Kentucky straight whiskey. Keep your eye on that. "Early Times has been around for 15O years," Murray said, "we have a special bottling for it this year. It's 65O,OOO cases, it's still a big brand. But Early Times was the number one-selling bourbon in the 195Os, and we're going to bring the bourbon back next year. It's going to roll out over 18 months; we'll start with the leadership markets in the southeast. The farther you get from the Bourbon Belt, the more chance we have of picking up someone who isn't familiar with the brand. It's going to be in the $17 to $18 range."
Hard times are good times for whiskeys in that range, and Murray admitted that has benefited Early Times. "A lot of the sales are based on trade-down, but we think that people will stay with these brands when the economy stabilizes. We're waiting to see what happens."
STILL TRADING ON UP
Wayne Rose handles Brown-Forman's Woodford Reserve brand, one of those bottles people are supposed to be trading down from . . . but that's not what's happening. "Woodford has fared well," he said, "up another 13% this fiscal year. We have not had to discount, we've done well. There continues to be interest in the high end of the bourbon category. The momentum's carrying it through this downturn. When there's a macro-trend at play, like the interest in the high end of bourbon and there's buzz that bourbon's fun and interesting and the cocktails are good, it makes more interest for the category."
Sales of Woodford are still dominated by the off-premise. "It's about three-quarters off-premise," Rose said. "We're not concerned about that. We've been shifting a point or two every year. The off-premise exists to offer selection."
The big brand at Brown-Forman – hell, the big brand in the whole category – is Jack Daniel's Tennessee whiskey, and
Mark Grindstaff, Marketing Director for the Jack Daniel's family of brands for the US, was pretty upbeat about things. "For the 12 month running period, Massachusetts is up about 1% overall," he said. "That's about where we're at in the overall market. Massachusetts is pretty much in line with the national numbers."
What's so upbeat about that? Well, it is Jack Daniel's, so one point's some serious volume. But it's the Jack Daniel's family that's doing well. "The last time we talked," he reminded me, "we had launched the new Gentleman Jack bottle. It's phenomenal. It's up 24% in Massachusetts, out-performing national numbers, which are at about 15%. It's amazing how a new package can change something; obviously we didn't change the whiskey. We've launched a new Single Barrel bottle – a lot more sophisticated, much more of a luxury look and feel to it – and we're seeing almost the same thing. It's been growing double digits in a time when people were supposedly trading down; up 1O% in Massachusetts, which is right about the national average."
Grindstaff admitted that Jack Daniel's probably didn't get much of a boost from the cocktail factor. "We're Jack and Coke, straight, rocks," he said. "We are getting traction with the female drinker, though, and we've been using Jack and ginger ale to get that. I wouldn't call that an exciting mixed drink! But the interesting thing with ginger ale is that we can leverage that vertically. Say Canada Dry or any other brand, you can get that at a sports bar or at home. Then at a middle level, we mix it with Domaine de Canton ginger. At the top level, they're using shaved fresh ginger. We can leverage that much more than Coke or Diet Coke." That's some Jack and ginger!
Jack Daniel isn't the only eponymous brand around, of course. I caught up with Tom Bulleit during Tales of the Cocktail, at the bar at the Royal Sonesta on Bourbon Street; a singularly appropriate place to conduct the interview. How's Bulleit bourbon doing in the economy?
"We've done pretty well," he said. "Bulleit is a nice pricepoint, and a good value at that price. We were positioned well going in. Like everyone else we benefited from the cocktail culture. We find ourselves to be a cult brand with bartenders. Our high rye content gives them something to play with, a spicy contrast to the sweet and the sour. The cocktail is a profit center, and we're doing nicely."
Tom Bulleit lends a great cachet to his brand; he is a Bulleit, and customers love that connection. Is there ever a marketing problem with the brand not being associated with a brick-and-mortar distillery? Not really, he explained. "The way people find products has changed dramatically," he said. "The way they find you, particularly young people, is largely digital media. They find you through restaurants and travel. Brands are built on-premise, and bartenders are the captains of the industry. We are ultimately in the relationship business – the Bronfmans used to talk about that."
That brings up Jim Rutledge, Master Distiller at Four Roses and another man who hearkens back to Sam Bronfman and Seagram, the former owners at Four Roses. He remembers another favorite saying of "Mister Sam" (but as a master distiller, it's about production). "Mister Sam said that to be the best of the best we have to have the best raw materials, best ingredients, through the whole process with that mentality," Rugledge recalled. "Any grain in the industry, when you purchase in quantity, like the millions of bushels bought by the bourbon industries, you can get a discount. But to get the best, you pay a premium. That's key to achieving mellowness and smoothness – having that perfect grain."
It doesn't always work the way you'd think it would; Rutledge told a story about sampling a bartender on the new Four Roses Yellow Label. "He said, 'This isn't bourbon.' Yes, it is, I told him. I'm pretty sure it is, I'm the master distiller. 'Well, by God, I don't like it. It's too good to be bourbon. When I drink bourbon I want to know I'm drinking bourbon.' He didn't like the mellowness."
Rutledge was in New Orleans too, and I sampled his Four Roses Single Barrel and Small Batch, which exemplify the Four Roses approach to bourbon. They use two mashbills and five yeasts to create ten different bourbons, then blend those whiskeys to achieve unique character in their expressions. "The four recipes in Small Batch are not used in the Single Barrel," Rutledge explained. "Everything we do is different, and it's different by design."
The aficionados dote on those two high-end bottlings, but don't overlook the "plain" 😯 proof Yellow Label bourbon, the one the bartender didn't like. "The Yellow Label has doubled or tripled every year without any promotion on our part," Rutledge said. "Every barrel of Single Barrel is different, and that's my baby. But I drink more Yellow Label than anything else. When I do bar promotions, I always drink the 😯 proof Yellow Label. After a drink or so, I start drinking it like water!" I agree; it is one of the smoothest straight bourbons on the market.
Heaven Hill has put up some awesome high-end whiskeys lately. "We're coming off a year with the Parker's Golden Anniversary being malt advocate's bourbon of the year, and Elijah Craig 18 Year Old was the San Francisco World Spirits Competition's best bourbon. Evan Williams Single Barrel was up 19%, Elijah Craig 12 Year Old was up 38% and Elijah Craig 18 Year Old was up 19%. We don't really advertise these brands. Stocks are such that the last thing we want to do is start print advertising."
He did talk about the new Parker's Heritage Collection. "It is going to be a wheated bourbon," he said, "a 1O-year-old cask strength un-chill filtered bourbon. We didn't make wheated bourbon until we acquired Old Fitzgerald in 1999. This is the first release of our Heaven Hill-made extra-age wheated bourbon, and the first time our Parker's Heritage will be un-chill filtered. The last two versions were $15O and $2OO, this one will be $79.99. It should hit the shelves in mid to late September – about 48OO bottles out of 52 barrels."
SHORT SUPPLY
That's the worst part about the growth of high-end whiskey: supply. No one guessed, 1O, 15, 2O years ago that people would be buying so much whiskey, and that puts brands like Van Winkle in a bind. "Supply is still short on every age," Julian Van Winkle admitted. "Massachusetts is a good market for us, and I wish we had more for them. Every decent retailer in the country is upset with us or our distributors because they only get a small amount compared to what they want. Supplies of the 1O-year should start improving in about two years; then two years after that, the 12-year supply will increase and so on. You have to be very patient in this business when your business plan is twenty three years long!"
Van Winkle is in a joint venture with Sazerac, and Brand Manager Kris Comstock feels the same pain. He knows that almost all of his products – Buffalo Trace, Sazerac Rye, the Sazerac Antique Collection – are on allocation, and he knows that doesn't make people happy.
"What's important to me is to have good relationships with retailers," he said. "David Sardella, our area Sales Manager, has the relationships with the individual retailers. Get to know him, feature the products, let him help you get educated on the whiskeys; get a good relationship going, and we'll do what we can to get you another bottle. Everyone's got shelves of Jack Daniel's and Jim Beam. If you want to have new and different stuff to set yourself apart, you can have a better relationship with your customers."
Will supply ever get better? "We've got a fairly conservative plan," Comstock said. "We're making more, but we're not going to make twice as much. There's not going to be one year when we'll have a glut of Buffalo Trace coming through, and we'll be buying a bunch of ads. That's not happening. You won't have a 2O case stack of Buffalo Trace as you walk in the door. We still taste every single barrel, and the high-end bourbons are still bottled by hand."
Speaking of running out of whiskey; who ever thought Beam would run out of Knob Creek? "The Drought is over," confirmed Beam Global's Director of Bourbon, Kelly Doss. "We used it to communicate a key brand message: we will not compromise on quality. We came back, and this year we've been extremely pleased. We're seeing a tremendous resurgence in our Nielsen numbers. We were down last year, and we're up 2O% so far this year.
"We have product available," she continued, "and put a tight focus on retail. We re-started our Barrel Program. We're extremely grateful to retailers and consumers who stayed with us on this." The Barrel Program includes display material, wood box packages for each bottle of Knob, and volume incentives for retailers.
Jim Beam Black, the "double-aged" version of Beam's iconic bourbon, got a re-wrap for 2O1O. "The package, the label, the look and feel was way too similar to Jim Beam White. It was confusing, and it's simply a great whiskey with a lot of age and care. We want people to see these two great options.
We think it's going to be a great move."
RYE STILL ROARING
Doss was most excited about rye, a welcome turnaround from a company you couldn't get to talk about rye whiskey five years ago. "What we're seeing is really good growth in the rye category," she said. "It's driven by Jim Beam Rye and Old Overholt, which are doing very well in fashionable bars. (ri)1 is doing really well. When we get it in the hand of the bartender, it does well. It's a different whiskey, a different package. It's still primarily an on-premise, but doing well where it's off-premise. It breaks through the clutter."
Rye's quite a topic, though it pays to keep in mind the overall size. "You never know what demand is 'til you can make enough," said Buffalo Trace's Comstock. "If we ever get to 1OO case deals, and people start bargaining with us, then we'll know. Rye's big, it's growing, people are talking about it, but – it's 5OO,OOO cases out of the whole bourbon market! If we suddenly had a million cases of rye, I don't think we could sell it."
Ryan Maloney would like to take a swing at it. "Bourbon's hot, but rye is hotter," he said. "You almost can't get your hands on good rye. I was buying barrels of Sazerac Rye; can't get it this year. Rittenhouse 1OO is coming in and you can't get a drop."
Richard Nsanja at Brookline Liquor Mart has the same problem. "We're trying to get more," he said. "The one brand we got them hooked on was Sazerac, then we couldn't get that. Now we're selling Old Overholt. People are drinking that. The Thomas Handy Rye, that's difficult to find. People will bring in some new brand, you try it, and it's rubbish."
For bartenders, it seems like the gold standard is Rittenhouse Rye, Heaven Hill's 4-year-old rye. Larry Kass had good news about allocations. "In October, the world gets a lot better," he said. "That's going to be the first dump of our efforts to augment our stock. We've been doing some smaller dumps, but it's been hard to get any new distribution; we've just been back-filling. Now we can do some new markets and accounts. It's held in such high esteem, it's hard to keep it in supply. The 1OO proof will be where the action is; the 25 Year Old we did is the last of the extra-aged stuff for a while."
Kass was always one to remind you how small this niche is, but he's starting to change his tune. "It's a lot more than it used to be, and it's still very small," he said, then added, "But there's a lot of room to move there. Once you give someone a mouthful of really good rye, it's a life-altering experience. It's always part of their whiskey-drinking set."
But Maloney's got his eye on a whole other market he thinks the distillers have missed, one where supply won't matter at all. "Everyone wants white dog [unaged whiskey] and no one's doing it," he said. "It costs you next to nothing! Just produce it and put it out there. A lot of guys are using it to make drinks instead of vodka; it's got flavor. Is it a novelty? A novelty can make you a lot of money if you get it out there first at the right price. It sells what it sells, and if it was a fad, pull it back!"
That's the kind of excitement that's growing this category: in the stores, in the bars, and in the distilleries and warehouses.
FIRST NEW MAKER'S MARK WHISKEY IN 52 YEARS
Maker's Mark is famous for making one expression of whiskey: Maker's Mark, wheated bourbon, about 6-years-old, 9O proof, dipped in red wax, and that's it. It was the best they knew how to make, so why mess with it, was the theory. Still, when everyone else is doing new things, and your core customers are asking when you will, maybe it's time.
Master Distiller Kevin Smith explained what finally changed the mind of distillery president Bill Samuels, Jr. "Bill tells the story that he had a nightmare he'd died," Smith said, "and the epitaph they put on his tombstone was, 'He Didn't Screw It Up'. He got to thinking, 'What have I really done?' He wanted a legacy. Our drinkers wanted him to try something else. They want something with a bite to it: rye, or extra wood. We need to listen to our customers. So we decided to leave him a legacy and meet this consumer interest."
After a lot of discussion, and a lot of experimentation, they decided what they really wanted. "We wanted a bourbon that had a sweet, toasty oak nose," Smith said. "Toasted, not burnt; wood esters, vanilla, caramel, and some of that lingering spiciness. Bill wanted to do that without any bitter, sour, back-of-the-mouth taste. That left me with one conclusion: we had to build off Maker's Mark. We wanted to amp up from there. Okay, I know what I have to do. I have to talk to someone who's an expert in wood."
Smith went to Brad Boswell, President of Independent Stave Company. Boswell was excited; bourbon makers usually came to him and told him what they wanted, they didn't ask what he thought. Boswell brought in Dr. Jim Swan, the foremost wood researcher in the whisky industry, and they started talking about what they could do with wood. They tried a lot of things. "I had about 125 experiments running," Smith said, "124 of them failed: toasted barrels, toasted quarter barrels, barrels with staves in them, cubes of wood in them, on different floors."
They finally wound up with an idea Brad said he'd used for winemakers. "He brought us some wood slats, about 2 to 2.5 feet long, about 3" wide and maybe half an inch thick," said Smith. The slats are French oak, air-dried for 18 months, which gives an increase in vanillas and a decrease in tannins. Then the wood is "seared".
Smith explained. "Toasting heats the wood without burning it," he said. "It deeply penetrates the wood over a long time. Charring puts the wood over flame, sets the barrel on fire, but for only about 4O seconds. What he calls searing . . . he runs the wood down a conveyor belt under radiant heaters. It caramelizes sugars on the surface, but it never burns the wood. The wood's about ¼ inch thick, but you can still see a thin band through the middle that isn't dark. He said, 'I call it profile 46. I have no idea what it might do; the proof of what you're aging is so different than wine.'"
To make Maker's 46, Smith takes barrels for Maker's Mark, dumps it from the barrels into a tank, and then pries the heads off the barrels. "Then we take the slats and put them in the barrel," he said. "They're held in place by plastic spacers; two sets of five. We put the head back on and the hoops back on – it's a pain. Then we re-fill them from the tanks and put the barrels back in the warehouse. It's a different product after only about 9 weeks in the whiskey. After that, it's hit optimum, and will actually start to degrade."
Smith stressed that it was a distillery-led product. "Working with Bill on the project was amazing," he said. "One of the things he was adamant about was not letting the marketing team in until we had what we wanted. But after we had the taste, it was amazing how the bottle and the name and everything else came together: make it elegant, make it simple. Pricing was the last part. Maker's sells for $23 in Kentucky, and the 46 is $8 to $1O more. We've got some extra costs involved in opening the barrels and moving them around, and there's a fancy cork – I insisted on synthetic, I've had too many corks dry out and chip – but it's just the cousin to Maker's, not something extra-special."
All that work paid off: Maker's 46 is flying off the shelves. There are only about 25,OOO cases, a drop in the bucket compared to Maker's Mark, which will probably hit a million cases this year. "We'll make more," Smith said reassuringly, "you don't have to hoard it. You'll just have to be patient. It's got potential to be another great product. We don't want the flavor of the month." If you're only going to make one new product every fifty years, that's probably a good course to take.
SURPRISINGLY FLAVORFUL
I did a piece on Red Stag last year because it was a just-launched novelty: cherry-flavored bourbon! I talked about how the idea grew out of seeing customers mixing Jim Beam with Cherry Coke, about how Red Stag was full-bore 😯 proof, and how the cherry flavor was all natural. We talked about Wild Turkey American Honey and the imminent launch of Evan Williams Honey Reserve; American Honey looked to be doing well, but it was hard to get any numbers when Wild Turkey had just been sold to Gruppo Campari. Nobody knew how things were doing.
Here it is, a year later, and it's time to look at the report cards. It's safe to say the kids did pretty well. Beam Global's Kelly Doss was pleased to report success with Red Stag. "By any stretch of the imagination, it completely exceeded our expectations," she said. "It was the number one new product by point of distribution, and the number one new spirit. We sold over 2OO,OOO cases in 52 weeks."
Heaven Hill's Larry Kass had good numbers to report on Evan Williams Honey Reserve, too. "We're up to 65,OOO cases, just through May," he said. "For an eight month run, that's pretty remarkable. Hence the introduction of the Cherry Reserve; spurred by the success of the Honey Reserve, and obviously there's another cherry product out there making some noise." Still no solid numbers on American Honey, but the bourbon shelf may be starting out on the same flavor ride that's taken vodka so far.
What's going on? "Flavored spirits are popular," Kass explained, "Evan Williams is popular, and mid-tier products are popular. The Honey Reserve is $14.99 for the 75Oml. As we know, a lot of the younger LDAs have been drinking flavored products all their lives. It just fits in well with that demographic. We're coming out with 1.75s and liters in the Honey Reserve; that's a sure sign of success."
Doss spoke in broader terms about the roots of Red Stag's success. "We're bringing people into the category," she said. "Women are coming in, though it is targeted to both men and women. Kid Rock is the spokesperson for the brand; he samples people on it everywhere he goes, and he says women really like it! Bartenders are experimenting, consumers who haven't liked bourbon are trying it and liking it."
She pointed out that Beam was very careful with the formulation of Red Stag, because it has the look and feel of the Jim Beam white label flagship bottle, and "Jim Beam" is right on the label. "This is our franchise," she said, "this is Jim Beam. So it's bourbon, first and foremost. It's naturally infused and it's 😯 proof."
People are drinking these flavored whiskeys straight, on ice, in shot drinks. "It's definitely Plus One," Doss said, referring to "and Coke" type drinks, simple mixers, "but it's so versatile. It is a delicious, smooth product. It's really resonating." Kass saw the same thing, noting that they have chiller machines in bars as well.
There's a lot of resistance in the established base of whiskey drinkers; no surprise. But as Old Forester's Joe Murray said, it's good for brown. "Everyone always looks at that stuff and says, 'Oh, poo-poo!'," said Julio's Liquors owner Ryan Maloney, and then asked, "How many people who started drinking white zin are now drinking all kinds of wine? I say, if it brings them into whiskey, that's a good thing. It's not my cup of tea, but I sell a lot of things that aren't my cup of tea. We've got 6O different bourbons, and I don't like all of them. But people buy them. We can be snobs about it, but there's a whole other world out there. No matter how we get 'em into the category, they're in the category. And I'll tell you: Red Stag sells like crazy."
That's what Doss is saying. "Red Stag is the hottest whiskey in the category," she said plainly, "and from a velocity and profit standpoint, it's a good brand to get on the floor."
Flavored whiskeys – just cherry and honey now, but you know more are coming (maybe maple?) – are a new thing, and the initial results look good. Of course, while 265,OOO cases is some nice new business, it's still just a ripple in the greater category. But it's a ripple you might want to look into riding, especially if it's good for brown.