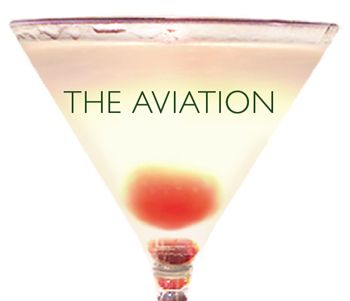 ENDANGERED COCKTAIL OF THE MONTH: THE AVIATION
The Aviation is a tremendous cocktail that has been gloriously resurrected in recent times by classic cocktail cognoscenti. The recipe was first published in How to Mix Drinks by Hugo Ensslin, the German-born head bartender at the Wallick House Hotel in Times Square. His was the last cocktail manual to hit bookshelves before Prohibition begat the great drought in America, and many consider this drink one of the last great cocktails to be invented before the Noble Experiment.
The drink has certainly made a comeback and graces the cocktail list of many a fine drinking establishment from coast to coast in 2O1O, albeit in a slightly different form than the original. You'll typically find this drink made following the 193O recipe that Harry Craddock ran in his tome, The Savoy Cocktail Book.
Ensslin's recipe circa 1916 contained not one but two liqueurs to sweeten this concotion: Maraschino and Crème de Violette. The latter has been unavailable in the states until very recently, making this classic potation's name a mystery. Add a hint of the violet-hued Crème de Violette, or the new-old Crème Yvette recently released from Cooper Spirits, and the drink takes on a sky blue hue. Aviation was still very new back in 1916 and a hot topic, thus a perfect candidate for immortalization in a cocktail.
We suggest you try the original recipe, just because you can.
AVIATION
¾ ounce lemon juice
1½ ounces dry gin
2 dashes Maraschino
2 dashes Crème Yvette
shake with ice in a cocktail shaker.
strain into your favorite vintage cocktail glass.
garnish with a Maraschino cherry.
Cin Cin!