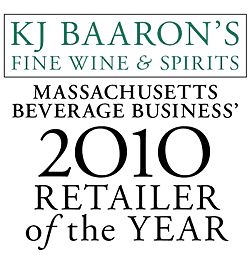 KJ BAARON'S – Retailer of the Year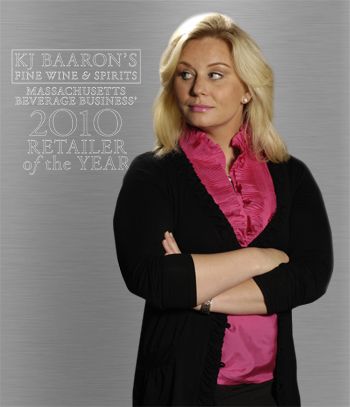 Space, as they say, is the final frontier. But for Kathryn Krock, finding an expansive space in Worcester's Washington Square, with only the buzzing rotary between it and the city's stately Union Station, was just the beginning of an expedition that, in retrospect, took off at the speed of light. After opening KJ Baaron's in its current location in October of 2OO7, she hired a talented staff that's grown as a cohesive team, thoughtfully expanded her inventory, developed an ever-evolving program of events that ranges from in-store classes and tastings to dinners at area restaurants – aggressively fostering the store's connection with the community. Krock's involvement with Worcester's growing restaurant scene and her ability to transform the Summer Street space (in its various incarnations it was once a consumer auto parts store as well as home to a string of short-term leasers) into a nexus for the curious and connoisseurs, has earned KJ Baaron's the Massachusetts Beverage Business 2O1O Retailer of the Year award.
Upon entering KJ Baaron's, guests are greeted with a bold flash of the shop's signature orange motif. The vast array of wine begins on the left-hand side of the store. It's separated by regions, indicated by signs hanging from the raw ceiling. The bottles are organized by varietal. The double racks are set up to expose two facings and laid out for a cascading waterfall effect, thus eschewing any sense of clutter or congestion. Broadly speaking, higher-end spirits are nestled in amid the shelves that snake along the periphery of the store. The beer sits on shelves that are set a bit further back toward the right when you walk in, with refrigerators stretching across the back expanse of that part of the room. Follow those refrigerators around the corner back toward the front of the store and you pass a wall of spirits, which is where you'll find most of the bigger sized bottles and value brands. Then you round a bend into an alcove stocked with a cornucopia of cocktail accoutrements, like an array of bitters that run the gamut from the commonplace to the boutique, to syrups and artisanal tonics to olives and pickles, not to mention an eye catching selection of barware and books. Wend your way around the front to the registers, and an open-air fridge with a varied selection of gourmet cheeses begs you to loiter. Many of them are made in New England.
"We used every angle we could at this location," said Crock, walking me through the store and into the tasting room, which is set directly off to the left of the entrance and overlooks the rotary and Union Station just beyond the whirl of vehicles. The room, with its orange and wood motif, is designed as an eye-catching mash-up of gothic-pop, vintage maritime and industrial-chic that manages to be both sleek and cozy at the same time. It serves as a space for classes and tastings, but can also be rented out for events.
"It's a destination store," said Krock. "Liquor is a convenience, so if the store isn't convenient – since it's not downtown – maybe this location will be thought of as more convenient if it's a one-stop shop where people can get wine, cheese, liquor, cigars, and gift items. We really took a chance on it. For us to bring this to the city, I'm glad to have the opportunity to enjoy something I created. I want people to come in for tastings, which we hold every Friday and Saturday. Of course, I like to get people in to educate them, but also just so they can enjoy something they may not have had the chance to even try before." Indeed, with focused, educational tastings with Jessica "The Whiskey Witch" Lofgren, Dominic "The Wine Guy" McCurio and Corey Bunnewith, the store's resident mixologist and an acclaimed young bartender from Worcester who's well-known on the Boston and Cambridge bar scene, not only are Worcester residents returning to stock their bars, but she's drawing customers in from outlying areas, like Auburn, Shrewsbury, Sturbridge, Northborough, and Holden.
THE LITTLE LOCATION THAT COULD. AND DID.
To chronicle KJ Baaron's fast rise to success is to tell the story of a visionary who applied the forward-looking perspective she honed in another industry, fashion, to the liquor industry. And when you take a careful look at the basic infrastructure, liquor can be a rather fashionable commodity in its own right. After all, there will always be timeless classics – products that will never go out of style – while the rest of the time, much of the business is about keeping up with (if not ahead of) the trends. Krock, who grew up in Worcester, returned to the city after graduating from a five-year program at Drexel University in Philadelphia with a fashion degree. During that time, she lived in Manhattan and did an internship at a women's sportswear company, but soon after finishing college, she realized the fashion industry wasn't quite what she imagined it was.
Krock's parents own and operate Commerce Associates Real Estate Management, a property management group in Worcester, and when she returned to the Bay State after college, she joined the family business. As property manager for five commercial office buildings in downtown Worcester, a ground-level space in one of the properties she oversaw caught her eye. It struck her as an ideal location for an upscale, cosmopolitan wine shop, the kind commonly found in cities like Manhattan, Philadelphia or Boston. Worcester, she thought, was lacking the sort of store where you could conveniently get a bottle of wine in a pleasant, cordial environment on your way home from the office. After about six months of prepping the space and ordering inventory, she opened the 8OO-square foot store in the Commerce Building, which she still manages, and called it KJ Baaron's. But logistical stumbling blocks quickly emerged: parking was an issue, and there was no street access, just an entrance through a courtyard. More over, there wasn't enough space to buy competitively, so she went in pursuit of a bigger location.
When she found the Summer Street location, it took a year to complete the build-out, but the Commerce Building shop closed only six months before the new store opened. The current location was then abandoned – it was the windows in what's now the tasting room that clinched the deal for her. "I had it in my head that I wanted to have a tasting room, which I never had the space for in the first location. I saw this room and knew this is where it would be," said Krock. "It's such a natural fit – you look out at Union Station, which is all lit up at night. Once we knew the tasting room would be on this side, we worked backwards from that. To break it off, we put the walls up to create different alcoves for the 'regions' and then it all evolved. Nothing was kept here. It was totally gutted. We redid everything."
There were, of course, elements of the building's infrastructure that couldn't be tinkered with, like the steel columns that support the ceiling, and a number of the ceiling's elements themselves, but that all ended up fitting in perfectly with Krock's objective. Hence, the store's overall industrial-chic appearance. To wit: the exposed duct work and open ceiling. Krock, whose general demeanor is animated and exuberant, captures it best when she gazes out at the vast floor display, pauses, points to the raw ceiling, sighs and says matter-of-factly, "It's a nice juxtaposition to the elegant wine bottles."
"We set out to provide an entire shopping experience," she explained. "People end up coming to the store for something and leaving with something other than that particular product. There's a sense of discovery." Indeed, there are little touches to be found everywhere as people browse, be it high up on a shelf or tucked away in alcoves – and that's not just with regard to items on sale. Turn a corner in the European wine section and you'll spot the custom-designed decoupage wall-hanging rife with wine bottle imagery.
Around the time she considered moving the store to a larger space, Central Distributing was going out of business and its wine inventory was going on the auction block. Krock ended up buying the inventory at a public auction with Yankee Spirits and took home 57,OOO bottles of wine and a few bottles of sake thrown in for good measure. Most of the bounty included French wines and there were heavy Italian and Australian quotients, and a decent number of organic labels. Today, Krock is able to look back and laugh at the whole process, but stocking the store with that inventory was a bit of a challenge, to say the least. The floor is 5OOO-square feet. The distributor's warehouse was 2O,OOO-square feet. "We had to get tractor-trailer trucks to get it all over here!" Krock recalls. The process of sorting the bottles was made all the more complicated by the fact that some bottles had, inevitably, turned. And then, of course, there was the sheer volume of it all. With the computer programming expertise of her then-boyfriend, who's now her fiancé, she had a computerized scanner system set up in the store's sprawling basement that catalogued an expansive bin system and the exact location of each and every bottle of the inventory.
As soon as the registers were up and running, Krock hit the streets of Worcester, so to speak, and started forming alliances with restaurants around town. From the outset, partnering and networking was integral for growing her client base. She went to restaurants and if there was a label she liked or something that was popular on a menu, she'd immediately try to get it in stock so that diners could come to her store and pick up something that they knew they enjoyed with dinner. That led to planning wine dinners. Among the first were 111 Chop House and the restaurant at the Beechwood Hotel. "It's a great partnership," Krock said, quite simply. That has evolved into cigar dinners, where they team up with a restaurant and give out a pack of three cigars for guests to smoke on the patio after dining.
Advertising happens in a diverse range of area media, from traditional print telegram & gazette, worcester magazine to lifestyle magazine the pulse to local radio station WTAG. The weekly email blast goes out to thousands to broadcast events and sale items, and the store's Facebook page is regularly updated with event information and fun tidbits about new products.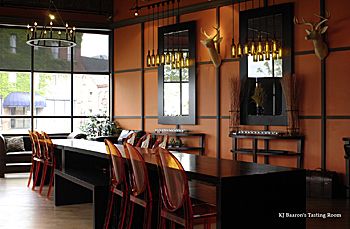 A ROOM WITH A VIEW –
AND PLENTY TO SEE ON THE OUTSIDE, TOO
The Tasting Room that Krock had her sights set on from the get-go has indeed proven to be the store's crown jewel. With long wooden tables and a marble bar, it has capacity for up to 4O people seated. That's just enough room for a class situation where guests don't have to crane their neck or muscle their way up to the front of a crowded room to learn how to make an artful cocktail. (Without furniture, it can accommodate up to 6O people.) It's equipped with a high-definition television, AV equipment, surround sound, and wireless internet, making it a fine space for professional organizations to rent for a variety of purposes. It's been used for meetings, client presentations and press conferences. Plenty of non-professional clients have taken advantage of the space, as well, renting it for baby and bridal showers. The store is not outfitted with a kitchen, but regardless of how many people or how formal, when KJ Baaron's hosts events, they offer clients the option to work through them with area caterers, like Sodexho Catering, Peppers in Northborough or Struck in Worcester.
"The tasting room has been a gathering spot for all kinds of groups – from the social to the social networking to the professional to the political. It's been the site of press conferences and political campaign kick-offs," said Michael Lanava, Business Resource Manager for the Worcester Regional Chamber of Commerce. Lanava has played a large role in helping Krock get the retail undertaking more involved in the community and he's been involved with a number of the store's various programs, such as events at the tasting room. He noted that the radio station WTAG had "The View" star Joy Behar appear there after her show at a local performance hall.
Elaine Evans, the store's Sales and Events Coordinator, has been a driving force of the success in and beyond the tasting room. Evans came from two backgrounds that dovetailed perfectly to land her in her role at KJ Baaron's. She worked in cosmetics retail for several years and then did fundraising for Preservation of Worcester. Once she started at the store, she took classes to become a certified wine specialist through Boston University's Gastronomy program.
A large part of her current position is developing KJ Baaron's calendar of events. In any given season, that involves reprising successful happenings from the prior season as well as devising and marketing new attention-grabbing experiences with the cumulative underlying goal of bringing people into the store. A recent example of a creative way that people got hooked on the store happened in May, when Evans organized a Connecticut Wine Trail tour. The group left from and returned to the store. "I recognize that being in the store is an experience for people," she said. "Part of what I do is open the store up to people who may not have been here yet. My job is to be in places. I go to places." Indeed, Evans can be found pounding the pavement in Worcester encouraging people to sign up for email blasts and talking up the gift baskets to corporate clients (and potential clients). She's also the one who's tasked with gathering contact information for a raffle every time KJ Baaron's does an event, like a bridal expo or a VIP hour before a show at a local theater. (The contact info is kept private, of course.) She's also on the frontlines promoting every grand tasting, which typically happens at the store four times a year, the cheese tastings that happen on Saturday afternoons, and the dancing lessons, like the semi-regular Tango sessions, which obviously tie back to wine education (in this case South American varietals). A tasting room as dance floor – in Worcester. Who knew?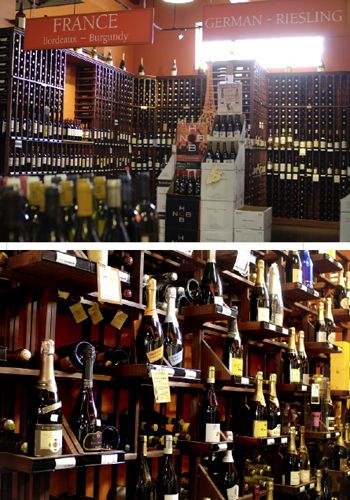 WHAT'S IN STORE
Matt Yantz started in the summer of 2OO9 and presently serves as Beer and Spirits Manager. He brings both a bartending background, having worked at the nearby Victory Cigar Bar, and a long experience in operations at an injection molding factory, to the management team. His focus these days, he says straightforwardly, is to grow the spirits collection at a rate and to the level of esoteric grandeur that the beer selection has achieved. "There isn't anywhere around here that has all of what Armsby Abbey carries," he said, referring to the nearby well-regarded beer-centric bar owned by husband and wife team Sherri Sadowski and Alec G. Lopez. Yantz has made a concerted effort to develop a strong relationship with the owners so that customers who go there have an understanding that whatever they try and like there – regardless of how obscure it may seem – can be purchased KJ Baaron's to drink at home. As far as he sees it, it's a new generation that's developed an interest in the craft beers. "I see it grow every week," he says. In the same way, he's always seeking new ideas from customers where spirits are concerned.
Aside from Armsby's selection driving a lot of his decision-making, a good deal of his inventory choices are made based on reviews he reads in publications like beer advocate and by customer recommendations. "Craft beer is huge!" said Krock. "I mean, we started with nothing. Alec's influence is huge in this area. And the of-age college kids are interested and educated on beer – and wine. I've had to go into the reserve cabinet. People aren't afraid to spend $2O and $3O on a bottle of wine. They're not afraid to buy the good stuff."
And the more customers try – at places like Armsby and from the store's inventory – the more likely they are to want to try more. Krock said a great way they've found to get people actively interested in craft beer without too much financial commitment is their "Mix-a-Six" option, which allows a consumer to mix and match bottles of microbrews. "It's a great way to try all different stuff and get people into something else. We've converted a lot of traditional beer drinkers," she said.
In keeping with her theory that creating a store people can associate with more than just beer, wine and spirits will garner a crowd that seeks these other products, Krock notes that the cheese component of the store has grown exponentially. In fact, it's grown to the point where people aren't just asking her for more variety, they're asking her to bring in specific items.
GIFTED
While many retailers do gift baskets around the holidays, KJ Baaron's gift basket business booms year-round. Krock said they offered a few options at the first space, but since moving, it's become a major focus. Danielle Harootian, a florist by trade, oversees the operation, and during the holidays, the downstairs office is turned into a production center and the old space in Commerce Building is used for overflow. "We pump out scores of them daily," said Krock." That growth has spurred evolution and streamlining of the ordering process. There's a form on the website that offers customers 1O standard options to choose from and the opportunity to select the wines to be included. An iPhone application is in the works. Also, during the holiday season, there are "Grab & Go" options for the less fussy customers. Krock says they went through scores a day last year. In addition to Valentine's Day and Halloween, which are also big times of year, summertime gives Harootian an opportunity to get creative with the vessels, offering customers gift packages in beach pails and straw bags. "We did baskets when we were at the small store. The idea I had when we moved to Washington Square was to make that a bigger part of the business," said Krock. "Luckily, it's grown and become that. Holiday are the biggest times, of course, but we're seeing more and more people using us on a regular basis, or using us instead of going to get flowers, so that's been exciting."
A PILLAR OF THE COMMUNITY
While Krock had been involved on some level with restaurants while she was in her first location, that has only grown by orders of magnitude and expanded into many charitable realms since moving into the Washington Square location. But her biggest, lasting impact on the city, when one looks back ten years from now, will arguably be turning an eyesore of a building into a booming business.
"Katie wanted to expand and this building was available and it was not an easy fix," said Lanava of the Worcester Regional Chamber of Commerce. "The building was a blight and Katie was up to the task. It was expensive to fix, but it would create jobs. You were getting out of the train station and looking at an abandoned building. Now you see wine bottles carved into the iron fence around the windows. She really stepped up. She does a lot with the community." He also noted that KJ Baaron's is the lead sponsor of Worcester Restaurant Week and Krock is the chairperson of the culinary event. The store stays very busy during that week, as there are wine tastings each night from 5 to 6pm, so people can stop by before heading out for their dinner and try wines they may not be able to try in the restaurants.
In 2OO9, Krock sponsored and provided wine for Worcester's Best Chef as well as co-chaired the Festival of Lights, a holiday fair on Main Street, an event that KJ Baaron's also supported. At the gala for March of Dimes: Chefs for Healthy Babies, KJ Baaron's supplied the wines for the tasting. Krock also sits on the Worcester Regional Chamber of Commerce's Business After Hours committee. The committee partners with local museums, like the Higgins, for events like wine tastings, which are devised to attract an offbeat crowd to the venue. She's also a member of MassPack, Cigar Retail Association and the Quarter Nine Chamber of Commerce.
"Katie is a city-conscious business owner who's improved the area," Lanava said. "When the city wanted to pass a sign ordinance, she donated her time and resources. She's involved in this community and proactive in government affairs in issues that affect community. She gives donations. She's a promoter of Worcester."
"The city has to succeed for us to succeed," said Krock. "I want to see the area and city flourish so that we all do well."
"A mogul at 31," Lanava said with a laugh, indicating he was kidding. But he wasn't.
---
FROM the EDITORS
Massachusetts Beverage Business would like to thank the many impressive retail stores that entered this year's Retailer of the Year contest. A special commendation goes out to the Top 5 finalists: Groton Market in Groton, The Vineyard in North Andover, Table & Vine in Springfield, V. Cirace & Son, Inc. in Boston, and Austin Liquors in Shrewsbury.
Excellent work!
We're looking forward to next year's competition.
The Retailer of the Year award was introduced in 2OO9 to acknowledge a Massachusetts liquor store owner who goes above and beyond when it comes to devising and implementing strategies for converting the casual visitor into a loyal client, who drives business, especially in trying economic times, and who ensures a store is an engaging experience for anyone who visits. These days there are seemingly endless ways to reach both existing and potential customers. All of the finalists demonstrated an ability to leverage the many channels of communication and connect with people in their respective community and beyond. In considering finalists, sales performance, retail innovation, store layout, staff training, customer loyalty programs, and community involvement were all considered. But perhaps the most significant determining factor – the element that differentiates a good store from a great store – is the one that cannot be quantified or neatly defined: passion.