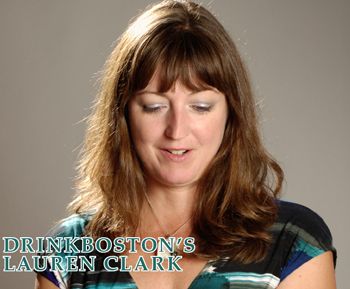 DRINKBOSTON'S LAUREN CLARK
Some people in the food and drink world gain recognition for being proficient at detecting a trend long before it's identified in the mainstream, and keeping it fresh and relevant with style and artistry. Others establish an identity by creating a niche for themselves where there's long been a gaping hole. Lauren Clark has turned herself into a respected brand by doing both simultaneously. On her website, drinkboston.com, Clark eschews the self-indulgent, highly opinionated ramblings that have become de rigueur among the active voices of the cocktail blogosphere in favor of finely crafted, thoughtful, well-informed, and instructive posts. Collectively, her site delivers a vivid snapshot of the bar scene in Boston, Cambridge and Somerville, set against the backdrop of Boston's rich history – drinks-wise and otherwise. It's further enhanced thanks to an informative perspective on the entire liquor industry – from retail to brand news – that supports the hospitality realm. Plus there are entries about imbibing in other cities she visits tossed in for good measure.
"Operation 1919" is a series of posts that explore and explain unusual ingredients. The series is also serviceable to readers who are committed to staying ahead of the zeitgeist – those curious about what people in Boston are getting interested in and what's available.
Clark aims for a tone that's egalitarian and democratic. The information she proffers isn't too obscure or geeky that the curious newcomer to the cocktail world wouldn't be able to access it, yet not too layperson that the esoteric bartender can't find it useful. "It's not usa today, but it's explanatory," she said. "I've had people thank me for not talking too insider-y. It appeals to the more curious, hungry, not too much of the inside dope to alienate anyone." Drinkboston.com has also become a vehicle that not only helps spread the word about drink events happening in the area, as occasionally Clark plans events that get promoted in mainstream Boston media outlets. From tiki to hillbilly to "Mad Men"-era tipples, the theme parties that take place in popular bars often serve as an occasion for bartenders to receive the kind of attention regularly lavished upon their counterparts in the kitchen.
I met with Clark in May at an Irish pub in South Boston, where we chatted over bottled beer. (It's almost as if Clark has an allergy to the snobbishness that has begun to permeate the craft cocktail scene.) Merely days earlier, we had seen each other at Painkiller, a brand new tiki bar on the Lower East Side in New York. We were there for a session that took place as part of the Manhattan Cocktail Classic, which she promptly wrote about. When asked what gave her the initial idea for her blog, she breezily replied "I just like to drink cocktails." When pressed about what got her interested in thinking about cocktails from a cultural and historical perspective, she laughed and credits David Kamp's United States of Arugula as a major influence. The book looked at how the rise in interest in food spurred the rise of interest in wines. "That book led me to ask: 'Why drink crappy cocktails?'" she said with a laugh. "Some light bulb went off when I tasted craft cocktails, the same way it went off when I first tasted craft beer. There was this thought of, 'Whoa, there's a whole new version of this thing I thought I knew.'"
These days people know – and trust – what she's studied and transmitted since her site launched in 2OO6. Traffic, she said, is up to between 14,OOO and 16,OOO unique users each month. She won the boston phoenix Readers' Poll for Best Blog this year, as well as a nod from the editors in their separate picks for best in the city. She's been profiled in the boston globe and asked to deliver content for condé nast traveler's blog in 2OO8. It caught the attention of an editor at nightclub & bar magazine, who contacted her with an assignment to write a cover story about the Boston bar scene. Other writing assignments have spun out of her blog, too, including a gig as one of the contributors to the weekly dig's "Five Drink Minimum", a popular annual feature. Last year she was invited to be a contributor to The Tales of the Cocktail blog (talesblog.com), a group blog that chronicled the annual liquor-soaked event in New Orleans, which is packed with seminars, competitions, tastings, and parties. She was also a founding member of the Boston chapter of Ladies United for the Preservation of Endangered Cocktails (LUPEC).
But Clark, who works as a communications officer at Massachusetts Institute of Technology, arrived as a cocktail authority via another avenue: beer. She entered the bar world, not surprisingly, behind the stick in New Hampshire. She took time off from her studies at University of New Hampshire to bartend at Patrick's Pub, an unassuming spot in Gilford, her hometown. When she went back to UNH, she tended bar and booked shows at the Stone Church before graduating in 1991. A few years later in the winter of 1996/1997, she did an internship at Commonwealth Brewing Company, the now shuttered brewpub near the Boston Garden that was the first of its kind east of the Mississippi when it opened in 1986. After her internship, she was hired as assistant brewer at Cambridge Brewing Company.
Brewing, however, was an interlude. She had been working in writing, editing and publishing before that and didn't see brewing as a long-term career, since she professes that she had little interest in working her way up or opening a brewery. But she never seemed to distance herself too far from the taproom. From 2OO5 to 2OO6, she freelanced for the boston herald, writing a column that alternated between spirits and cocktails and beer. Clark also wrote for ale street news under the pen name "Ms. Mug", a column she maintained for five years. She clocked ten years of writing about beer for yankee brew news and all about beer. It was during that run that the cocktail renaissance was born and started to thrive in and around Boston.
"The trajectory of the cocktail trend was similar to what I saw in the beer world, they both followed the same continuum," she said. "Boston has come a long way cocktail-wise, but it still has a way to go. From the late 198Os to the mid-199Os, craft beer had its first wave. At the end, people think it reached its height, in that people know about it and were drinking it. Then there was the PBR blip and then breweries closed, and all the people who'd grown in a Petri dish went to start the new base of craft beer." Her interest in cocktails started to crest toward the end of 2OO4, and she credits that largely to the now closed B-Side lounge in Cambridge. That bar was one of the area's earliest practitioners and advocates of the craft cocktail movement that's become fashionable today, from the use of fresh juices to measuring pours in jiggers to staying faithful to vintage recipes.
Clark tracked down industry kingpins like authors and founders of the Museum of the American Cocktail as sources for her herald columns. She got in touch with California-based Ted "Doctor Cocktail" Haigh when she wrote about Bloody Marys and New York City's godfather of mixed drinks, Dale "King Cocktail" DeGroff, for a piece about oversized martini glasses. But whenever she sought out online resources for Boston bars, she had a hard time finding them. "I was noticing that lots of new stuff was happening, and I looked and looked and looked for coverage of that. It didn't exist," Clark said. "I wanted to start a site of my own that filled an unfulfilled need. I wanted to write about the best bars and bartenders in Boston and the people would want to read about. I didn't want to just feature a bartender who's cute and says hi. I wanted to show what they're doing." As such, major features of the site include bartender profiles and bar reviews ("It's not about trashing bars that suck," she maintains.) including a sizable segment this spring to some of the more unsung essential personalities of any bar: the barback.
"There was my wanting to be a cultivator of the cocktail scene and people who make it happen – bartenders and bar owners," she said. From the get-go, Clark was determined to create a legitimate resource and well-written chronicle and in November 2OO6, it launched with a party at Green Street in Cambridge, just as former B-Side bartender Dylan Black took ownership of the venue. "I definitely knew it was legit if I had a launch party," she recalled. That party, in fact, gave rise to an entire arm of drinkboston.com that Clark had not foreseen at the outset: events. She estimates that there have been about a dozen events she's arranged. In May, for instance, it was a retro-styled Highballs! Bash (her exclamation point) at Trina's Starlight Lounge, a hipster hangout in Cambridge. For parties like that, Clark charges a fixed price for guests to sample various specially prepared drinks. She also often informally teams up with venues arranging events to help publicize what's coming up, in which case drinkboston.com is credited as a "host".
Bartenders around town are among her biggest appreciators, not just because the site has become integral in encouraging local bar patrons to be curious and engaged, but because Clark offers the industry's players a way to know what's going on at bars they may not have the chance to visit, not to mention opportunities to network. "People come in and want to order cocktails they read about on the site," said Evan Harrison, Bar Manager at Deep Ellum in Allston, who has also tended bar at The Independent in Somerville. He was one of the featured bartenders at "Bartenders on the Rise", an event held in March that featured drinks formulated by some of Boston's finest bartenders who could easily be big players on the national circuit. "She contributes a lot to the bartending community. At events, I can see what other people are doing with different ingredients in bars that I might not be able to visit in the typical night's round. I really appreciate having a conduit between different places. It sort of helps keep up the culture when people bounce ideas off each other."
"I love the site and always suggest to people that they visit it," said Andy McNees, a bartender at Toro who has also worked at Eastern Standard and Green Street. "Her articles are insightful, funny and informative, much like the woman herself. I'm a history buff. A lot of times she'll have something on there that ties in with the history of drinking in Boston or New England, which is always entertaining." McNees knew Clark long before the launching of her site when she was a regular at Bukowski's Tavern in Inman Square, where he worked. While everyone dependably drank beer, he recalls, Clark was curious about Negronis and other "stuff you didn't make," he said. McNees credits drinkboston.com for helping Boston's mixology scene grow in the past few years. "It's a good sign of where Boston is headed when it comes to the drinking culture – it's not always going to be all Stoli Raz and soda. The site is informative without being preachy or condescending."
And as far as Clark sees it, they're the exact people that have the future of Boston's drinking reputation in their hands. And they handle it with grace. "There are a few people who really got the movement going, they get others excited and move on. Then more people learn from them," she said. "We've come an amazingly long way in the last five years, but we're just getting going. Restaurant people think of their work as jobs. It's not looked at as something that's a detour, it's a career. Five years ago, a 23-year-old wasn't looking at the kitchen as a career. It's astonishing."
7 QUICK QUESTIONS for LAUREN CLARK
Q What was the most notable discovery you made through your drinkboston.com work?
A After I wrote a couple of posts about where to find "lost" cocktail ingredients like orange bitters, Punt E Mes and falernum, readers came out of the woodwork with new suggestions. They cited Liquor Land in Boston, Atlas Liquors in Medford and Liquor World in Cambridge repeatedly. A few people also turned me on to Cirace & Son in the North End as a treasure trove of aperitivos, amaros and digestivos.
Q In your opinion, what's the best recent cocktail development in Boston?
A More young bartenders are being trained in mixology – tasting spirits, knowing how to balance them, measuring their drinks – than ever before. Also, more customers understand what a good cocktail is. Boston's bar culture has always been exceptional, but all these trends add an element of real quality.
Q What's been the most rewarding outcome of your blog?
A It is simply awesome when I go to a bar and someone tells me he/she regularly reads DrinkBoston. It's rewarding to have played a role in nurturing Boston's bar and cocktail culture over the past four years. I have encountered people and had experiences, both around Boston and nationwide, that I never would have before. Flying across the country, for instance, and having bar folk and fellow bloggers welcome me in places where I've never been before is a real treat.
Q What was the most popular post since you launched in 2OO6?
A One of the most commented-upon posts is also one of my favorites, "Guilty pleasures & gateway drinks" [drinkboston.com/2OO9/O5/28/guilty-pleasures-gateway-drinks] where everyone, including me, admits there was a time before they were drinking craft cocktails – and that they may still sneak in a Southern Comfort & Ginger or a Woo Woo on occasion.
Q Going out to bars frequently, you must have a few list-toppers. What are your top three favorite drinks and where to get them?
A Oh, this isn't fair. Can we make it 3O? OK, let's see . . . any cocktail consisting entirely of spirits and bitters over a giant chunk of ice in a heavy rocks glass at Drink. An Old Cuban at Eastern Standard. A bucket of High Life ponies and a shot of Fernet at Trina's Starlite Lounge.
Q What is your most memorable drinking experience?
A Developing a taste for Sazeracs, thanks to John Gertsen (Bar Manager at Drink). I didn't used to like this classic drink, because I didn't have much tolerance for the licoricey flavor of the absinthe used to rinse the glass. But, one night, John made Sazeracs as a guest bartender at a drinkboston event. I took one sip and got it. It was beautifully balanced and chilled, and my focus turned away from the absinthe and on the drink as a whole. Since then, I have developedataste for cocktails with absinthe and similar spirits – which I'm thankful for, because there are so many good ones.
Q What are three products every bar should have?
A Rye whiskey, orange bitters and jiggers.