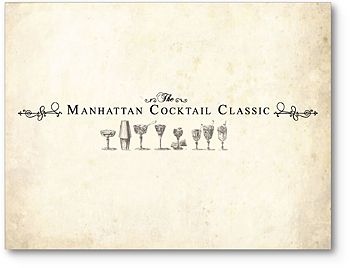 Manhattan Cocktail Classic
There is going to be a whole lotta shaking going on this May in Manhattan – and plenty of stirring and chilling and ice cutting, too. And most likely quite a bit of garnishing.
The Manhattan Cocktail Classic (MCC) will hold its inaugural five-day event from May 14 through May 18. The event, billed as "Part festival, part fête, part conference, part cocktail party", will be an intersection of spirits authorities, mixologists and enthusiasts, who can convene at a variety of events held throughout the city. Events, which were yet to be finalized when I spoke to founder and organizer Lesley Townsend, include seminars, parties and sessions. Additionally, there will be plenty of opportunities for casual mingling as some of the country's finest bartenders brandish their skills at the bar at the event's headquarters, the Astor Center – the sleek wine and culinary event and education annex of the West Village stalwart retail outpost, Astor Wines and Spirits. A squad of thirteen industry leaders who, collectively, comprise a Who's Who of the modern cocktail world, make up the advisory board that's worked on the project. They include, but are not limited to: Pegu Club owner and gin expert Audrey Saunders; tasting authority Paul Pacult; pioneer of the classic cocktail revival Dale "King Cocktail" DeGroff; cocktail historian and esquire drinks columnist David Wondrich; and writer and spirits maestro Gary Regan (also of the eponymous orange bitters). Some will present seminars and be featured in panel discussions. But lest you start thinking this is just another bar show, minus the convention center, rest assured, it's all about experience.
As the founding director of the Astor Center since its opening in January 2OO8, Townsend was developing connections to countless influencers, tastemakers and celebrities that make up the New York City cocktail and culinary scenes while she planned the Center's opening party. In the process, she began to wonder why, in a city perpetually booked with festivals and events, there had never been one devoted to cocktails – one that highlights New York's deep-rooted drinking legends and lore, and looks forward to where that legacy is heading. She mentioned it to a few of the kingpins who picked up the conversation, and next thing she knew, with the Astor Center's schedule of events taking on a momentum of its own, she left her position – at the height of the recession, to boot – and started working on the MCC full time. "Everyone was so adamant about having it happen," she said.
The MCC was devised to embrace a variety of realms – arts and culture, food, fashion, Manhattan's unparalleled political, literary and architectural history – and deliver a dense immersion experience that's as rich in heritage as it is in flavor. "This is aimed to be a consumer event," said Townsend. "I think it's very important that we start to market – as the spirits industry – outside of cocktail enthusiast circles. We're on the verge of oversaturation in the circles already. My goal is to keep the big focus, not on trying to build a cocktail event, but on trying to build a cultural event. I want to target other consumer markets, like arts, fashion, music, history. We need to get at people who probably wouldn't spend $5O to go to a cocktail event, but would to see an art exhibit on modern cocktail photography."
The wide range of brands that have been signing on as sponsors have been encouraged to team up with various lifestyle brands and venues. "We want the brands that are involved to think beyond tasting products at a bar." In other words, it says: Cocktails are here and it's time the general populace understands not only how well-crafted drinks fit into their own sensibilities and notions of style, but the historic events and the stories behind the many brands that led up to it being this way. To see this kind of mass diffusion in action is useful to industry people from all over. Not only does it offer retailers and bar staff suggestions of trends on the horizon, it can also provide insight on how to position relevant products for better sales or, better yet, how to equip consumers with knowledge that could spark curiosity to try new things.
A two-day preview event was held in October to offer the industry a taste of what's to come. Activities ran the gamut from a gin presentation, which turned into a lively debate between Audrey Saunders and Gary Regan, to the famously inconspicuous Sasha Petraske (proprietor of New York's Milk and Honey and other cocktail bars) leading "Cocktails for Your Home Cocktail Party", as well as a range of other educational seminars. There was also a variety of events held on-premise in legendary bars, giving ticket holders a chance to interact with people who know the venues best on their own turf, so to speak. It all capped off with a no holds barred gala at the New York Public Library, with notable bartenders helming more than a dozen bar stations, each offering drink choices made with the respective sponsor's product. While those kinds of events will likely carry over to the May event – the gala, in fact, will kick off the five-day spree this time around – the events will be more comprehensive in terms of targeting various circles of interest, and, as one would infer, demographics.
Allen Katz, Director of Mixology and Spirits Education for Southern Wine & Spirits of New York, is part of the advisory board. He also hosts the weekly program, The Cocktail Hour, which airs on Martha Stewart's Sirius Satellite Radio. "I think the group that Lesley put together, is not only made up of experts in the industry, but, from a local New York standpoint, as well, is positioned to help galvanize both professional and consumer aficionados," he said. "That a new event of this depth can take place in New York creates an opportunity to coalesce around educational and cultural opportunities. This spring's first official MCC will have classroom settings, but it also gives people the opportunity to be in the physical bars – not only the trend-setters but mainstay bars from other eras of New York City history and lore."
Sounds like another chapter of that history is about to be written.
For ticket information and to make purchases, log onto manhattancocktailclassic.com.