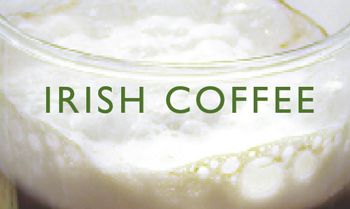 COCKTALE As far as Irish whiskey cocktails are concerned, few spring to mind so easily as the Irish Coffee. It's a delicious and warming treat when prepared correctly, but one that can go horribly awry in the wrong hands.
For whatever reason, modern bartenders are often woefully uneducated about how to make an Irish Coffee. Here is a list of ingredients we have seen employed that a good Irish Coffee does not contain: Crème de Menthe, Bailey's Irish Cream, Any other Irish-sounding liqueur from the back bar, Anything green or Any sweet, fluffy, chemical-laden substance drawn from an aerosol can labeled "Whipped Cream".
Chef Joe Sheridan of Foynes "Flying Boat Terminal" in Shannon, Ireland, invented the original Irish Coffee. From 1939 to 1945, this tiny hub acted as the port of the first commercial passenger flight on a direct route from the USA to Europe, Pan Am's luxury Flying Boat, the "Yankee Clipper". For those six years, Foynes was "the center of the aviation world"; now it's the site of Shannon International Airport. Joe originally conceived of Irish Coffee as a way to soothe a group of travel weary passengers unfortunate enough to disembark on a miserable winter night in Western Ireland.
Travel writer Stanton Delaplane imported the Irish Coffee to San Francisco's Buena Vista bar in 1952, when he was challenged by owner Jack Koeppler to replicate his beloved drink stateside. Much experimentation and even a trip to see Joe Sheridan were required to get the formula right, but eventually the Yankees nailed it. Delaplane wrote frequently of Irish Coffee in his column, which was widely read from coast to coast, and the drink became a hit. Ah, the power of the press.
IRISH COFFEE
1½ ounces of Irish whiskey
4 ounces of freshly brewed coffee
1 ounce of brown sugar syrup
Unsweetened heavy cream, lightly whipped by hand until bubbles no longer collect on the surface combine whiskey, coffee and syrup in an Irish Coffee glass or a small white wine glass, and stir. gently ladle an inch of whipped cream on top.
Cin cin!