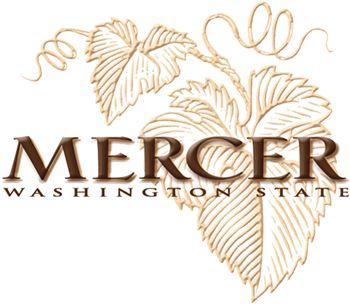 WASHINGTON'S MERCER ESTATES
Mercer Estates, in Prosser, is mainly the story of two families of farmers in southeastern Washington making wine from the grapes they grow. Three appellations are involved: the overarching Columbia Valley, Yakima Valley, Washington's first recognized AVA, and Horse Heaven Hills, probably my favorite name among AVAs. (It was so named by a cowboy in early days, when the lush grass in the middle of the area was accessible only to the wild horses.)
The Mercer family has raised livestock and row crops in the Horse Heaven Hills for four generations, since 1886, growing vinifera grapes for the last 35 years. Wine has been an important focus for Bud Mercer and his son, Rob, for 2O years now. Bud is former owner of Champoux Vineyards in these hills. Rob, who holds an MBA, now manages the farming firm, while Bud "has embraced wine, winegrape growing and wine tourism". The Mercers farm 5OO acres of vines in the area, anchored by the Dead Canyon Vineyard.
The Hogue family, originally hop farmers, started in the Yakima Valley in the 194Os, adding grapes in 1972. Mike Hogue, famously founder and former owner of Hogue Cellars in Prosser, farms 1OOO acres of vines. Having sold Hogue Cellars in 2OO1, he still supplies it with grapes. Mike, his daughter, Barbara, and her husband, Ron Harle, constitute the Hogue-family component of Mercer Estates. Ron, a CPA turned farm manager, oversees the winery's balance sheets. Barbara manages the Hogue Farms Pickled Vegetable line of products, and designs labeling and packaging and the tasting room layout for the winery.
Grapes for the various wines, now six in number, are selected from the most suitable microclimate: reds (cabernet sauvignon, merlot and, later, syrah) from Horse Heaven Hills; whites (chardonnay, pinot gris, riesling, and sauvignon blanc) from Yakima and Columbia valleys.
The winemaker at Mercer is the highly respected and experienced David Forsyth, who grew up in eastern Washington and spent 23 years making wine at Hogue Cellars. He takes advantage of the available vineyard array to express individual terroirs, as he minimizes manipulation in the winery.
The winery in Prosser was built in 2OO7. When I first visited the quiet town about 2O years ago, there were six wineries, most notably Chinook and Hogue. Now there are 5O. Current annual production at Mercer is nearly 15,OOO cases, with 65,OOO the goal. Kyle Cook is National Sales and Marketing Director.
I recently had the instructive pleasure of a visit with Rob Mercer, Ron Harle and Kyle Cook, and a tasting of all six wines that Mercer Estates currently produces. As my tasting notes clearly indicate, the new endeavor is being operated with artisanal professionalism.
SAUVIGNON BLANC 2OO7
Grown in sites in Columbia and Yakima valleys.
Most fermented cool in stainless steel to preserve fruit flavors;
18 percent fermented and aged two months in American oak.
Good fruit with varietal character, acid balance, fine finish.
Elegant. $13
PINOT GRIS 2OO7
From cooler Columbia and Yakima vineyards. Cool harvesting and gentle whole-cluster pressing, and stainless steel fermentation to minimize extraction of bitter compounds and preserve fruit.
Fine texture, good length. Note of pepper spice. $14
CHARDONNAY 2OO7
Most aged on lees in French oak for eight months.
4O percent of the barrels new.
Focused wine, with a little spice. Very nice, lean.
None of the fat, tropical fruit, highly oaked flavors here. $16
RIESLING 2OO7
Yakima Valley fruit. Long, cool fermentation. Varietal bouquet. Rich and balanced: residual sugar 1.4 percent, pH 3.17.
Good with food. $14
MERLOT 2OO7
From warmer areas in Horse Heaven Hills and the
Columbia Valley's Wahluke Slope.
Fermented in steel, then aged in American and French oak. Contains 12 percent Cabernet Sauvignon, 8 percent Cabernet Franc. Redolent of sweet black cherry fruit accented by American oak. Quite concentrated. $24
CABERNET SAUVIGNON 2OO7
Similar sources and winemaking to the Merlot.
Contains 2 percent Merlot, 8 percent Cabernet Franc.
18 months in ¼ new 7O percent American, 3O percent French oak. Abundant seamless fruit.
Well knit, balanced, elegant, and fine. $24