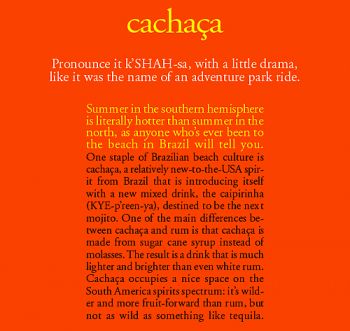 The
caipirinha actually represents the second wave of zippy,
fruity, sexy drinks like the mojito. There are a hundred
variations – lemon caipirinha, grapefruit, blood orange,
pomelo, any fruit that will give you juice and zesty oil
from the skin – since it uses the same classic South
American technique used to make a mojito: muddling.The
caipirinha is composed mostly of lime juice with a little
sugar, and this is a perfect enriching match with the
lemon-lime character of cachaça.
"People are
coming to me with cachaça," said Bubba Kassal, CEO of
Crown Wine & Spirits, a huge retail chain in south
Florida. "It's cachaça, cachaça,
cachaça, coming out of the woodworks!" Cachaça
came ashore in the US, so to speak, in southern Florida, and
much of the Brazilian beach vibe translates comfortably to
Florida's beach culture. The premium cachaça brand
Leblon especially staged an energetic launch all over the
state. The caipirinha's proliferation in Florida gives us a
hint of what we'll see in the northeast, if not this summer
then next. Kassal thinks the expansion of cachaça in
the US is based on better marketing, not more
cachaça. "Cachaça has been around forever," he
said, "and now we're seeing brands like Cuca Fresca and
others that have mastered the American marketing." The
market for cachaça is maturing quickly, he said, and
today there are specialty cachaça labels that are
already going mainstream with their marketing and
advertising. "Cachaça is appearing in other drinks
now," Kassal said. "When it's in a strawberry daiquiri, it
becomes a cachaça strawberry daiquiri. That's a sign
of where the trend is going."
Cuca Fresca (an
idiomatic expression that means "cool head", as in a relaxed
person) is a brand that was created for the US market and
launched last year, first in Florida, and now in the
northeast. "The producer, Aguardente Caribena, has been
making cachaça for five generations now," said
Phoenix Kelly-Rappa, partner in Cuca Fresca. "They use all
artisanal methods with no mass production. The sugar cane is
grown organically, though it's not certified organic, and
the cachaça is processed there on the farm, double
distilled and triple filtered." They believe the
distillation in traditional copper pots accounts for the
purity of the product. "We believe in using the highest
quality sugar cane. It's never burned, as some sugar cane
is. That's one of the things that makes Cuca Fresca
extremely smooth. It has a fresher, spicier taste to it,
much lighter than rums from the Caribbean that are made from
molasses."
Although
cachaça is new to the US market, it is a drink that
in Brazil goes back centuries. "Cachaça was
originally made on plantations by slaves," said Kelly-Rappa,
"and it has always been the people's drink. It's something
that's relatively easy to make from something the people had
a lot of: sugar cane. Making cachaça became very
widespread, and today it's the national spirit." Amazingly,
cachaça is the number three distilled spirit on the
planet behind vodka and the vodka – like soju from Korea.
Cachaça is ahead of gin, rum, scotch, and other
spirits on the world market. Somehow, we're only hearing
about this phenomenon now. "Some of the products that have
been in the US in the past have not been quality
cachaça. They were very harsh and not of good quality
and that hurt cachaça and put people off,"
Kelly-Rappa said. "Today there are premium cachaças
available, and it's getting a good introduction by the
caipirinha. Premium cachaça comes from production
methods, from single batch production, blending techniques
and barrel aging."
This same
respect for traditional production is expressed in a
partnership Cuca Fresca recently signed with the Rainforest
Foundation. "We're going to be donating a portion of all our
proceeds to them and the projects they're doing in Brazil,"
Kelly-Rappa said. "We wanted to give something back to the
country, and we're very thrilled about that. This is the
first time they've partnered with an alcohol beverage
company, but they were very impressed with the authenticity
of our product and decided to do it." Spirits sales are up
in the US more than 2O percent, according to Kelly-Rappa,
and "interest is really high in drinks with fresh, intense,
interesting fruit flavors like the caipirinha. It's a very
lively, young drink that people love."
In
Massachusetts, Cuca Fresca is distributed by L. Knife and
Son in Kingston, and Roman Dombrowski, vice president, sees
a great future in cachaça. "It's been a long time
since a whole new product was introduced in America," he
said. "Last time was tequila, sometime in the '6Os. People
like Cuca Fresca have the marketing right, and it will be
successful." Right now, at the very beginning of the
cachaça launch, most of Dombrowski's sales are to
Brazilian restaurants and markets that carry a richness of
South American products. "Brazilian communities are very
strong around Boston, and they want their traditional
national drink. It's natural," he said. Dombrowski sees
cachaça breaking in to mainstream bar menus. "There
are lots of exotic drinks that are made with
cachaça," he said. "When you see the classics being
made with cachaça that's a larger market."
Leblon is
another premium cachaça that stands by a defiant
motto: "Live, love, Leblon!" The web site liveloveleblon.com
is a 24-hour party zone, and you get the feeling the real
world of Leblon is not far behind that. "I'm a wine guy,"
said Gerard Schweitzer, partner in Leblon. "I've always been
closer to wine culture than anything else. Cachaça is
much more akin to wine. The fresh cane juice that's
fermented is called 'le vin,' or the wine. From here, the
process is very similar to cognac production." So similar in
fact that the Leblon goes into French cognac casks for 9O
days of barrel aging. Some cachaça is aged in barrels
made from exotic native trees like balsam, almond,
brazilwood, and many more. "Some cachaça is aged in
barrel for six years, ten years, even more," Schweitzer
said. "The character of the wood becomes very strong at that
point and you start to get intense anise aromas." Schweitzer
and his partners got into the cachaça business
unexpectedly when one of them returned from a vacation to
Brazil with a brainstorm, a brainstorm that may have come
after drinking vast quantities of cachaça. "We saw
that cachaça was still really a peasant drink, like
tequila was and vodka was 3O years ago," he continued.
"There was an opportunity to create a super-premium
cachaça that no one had considered."
Based on their
research, all the biggest white spirits – gin, vodka,
tequila – have gone through a recent period of iconic
super-premium brands, all except rum. "Nothing in rum has
really grabbed the sophisticated palates of what we call
'cocktail nation', until cachaça. We asked ourselves
what we could do with our cachaça to help." One of
the Leblon partners is Brazilian, and the plan was hatched
on the beach in Rio. "He had great contacts in the
cachaça world," Schweitzer said, "and we decided
right then to make a premium cachaça for all the
world to see, so they could experience how great it can be."
Schweitzer said the world is looking anew at Brazil: music,
fashion, leisure, and food. He is determined to have
cachaça out front when people re-discover Brazil.
"Cachaça is a category that's raised itself above the
other newcomers," said Schweitzer. "People are taking
cachaça to the next level, infusing Leblon with
various fruits. Pineapple seems to be a favorite, but you
can use cherries, peaches, anything."
Meia Lua (my
moon, or idiomatically, my dream), di Salinas, and Beleza
(beauty) de Minas are three cachaças distributed in
Massachusetts by Rio's Wine and Liquors. Debbie Adler, vice
president, says they're feeling the demand for this drink.
"There's definitely been a surge," she said. "If you go to
Conti Liquors in Framingham, I'd guess there are
4O-something cachaças on the shelf." What makes
cachaça different, Adler said, is that it is
flexible. "You can have it straight or mixed. Some people
compare it to rum like that, but it's unique," she said.
"Sweeter and smoother than rum, and a fresher flavor." Adler
said the city of Salinas in south-central Brazil is "the
Napa Valley of cachaça", and the source of the three
cachaças they sell. "Other great cachaça comes
from Salinas, not just ours," she added. "But this is the
area where the farms are, where the sugar cane is grown and
everything is made. There are industrial cachaça
producers, but not here." As to the future of cachaça
in the northeast and North America in general, Adler said,
"Cachaça needs to be discovered by America. People
ask if it's the next big thing, and in some ways, it's the
big thing already worldwide, we just need to discover it
here."
I'm not much of
a mixed drink fan, or a distilled spirits guy. I'll have the
occasional scotch or a glass of sourmash while I'm reading
Faulkner. But I have completely fallen in love with the
caipirinha ever since I had my first sip last fall in
Argentina.
CAIPIRINHA
2 oz. cachaça
1 lime, quartered
2 tbsp. superfine sugar
Place the quartered lime in a 1O-ounce rocks glass
and add the sugar.
Muddle lime and sugar together in the bottom of the
glass.
Fill the glass with ice.
Add cachaça and stir.
BRAZILIAN
MOJITO
When your parents know about something hot and new,
that pretty much means it's not hot and new
anymore. Everybody knows the mojito, but a big dose
of cachaça makes last year's breakthrough
drink new again.
2 oz. cachaça
1 lime, quartered
2 tsp. superfine sugar
3 fresh mint leaves
Club soda
Place lime, mint leaves, and sugar in a highball
glass
and muddle together in the bottom of the glass.
Add crushed ice and cachaça.
Fill the rest of the glass with club soda and
stir.
Garnish with a slice of lime.
POMEGRANATE
CAIPIRINHA
Pomegranate is the rising star of the food world
right now – note the ubiquitous pomegranate glazed
everything on menus these days. Cachaça and
pomegranate make a great match, going up the ladder
of success arm in arm.
2 oz. cachaça
1 1/2 oz. pomegranate juice
1 lime, quartered
2 tbsp. superfine sugar
Place the quartered lime in a 1O-ounce rocks glass
and add sugar.
Muddle lime and sugar together in the bottom of the
glass.
Fill the glass with ice.
Add cachaça and pomegranate juice and
stir.
Garnish with lime.
CACHAÇA
COLA
My daughter calls me "5Os Dad" when I drink this
modernized version of "rum 'n' coke" while wearing
Bermuda shorts. The citrusy lift of the
cachaça really improves this classic.
2 oz. cachaça
Cola
1 lime, quartered
Pour cachaça into a highball glass filled
with ice.
Top with cola and squeeze in lime quarters to
taste.
Garnish with a lime slice.
After
coming home and making elaborate caipirinhas, some
in labor intensive sugar rimmed glasses, I am
finding myself drawn to the simplest recipe today.
Gold cachaça is so smooth and approachable,
I sometimes have it on the rocks with a big squeeze
of lime whenever I'm too lazy to break out the
muddler and make a proper one. Here's
the
secret
technique for great caipirinha:
before
you
cut the limes, roll them around
vigorously
on
the table top, pressing down and
softening
them
up to release some of the juice
while
it's
still inside the fruit.