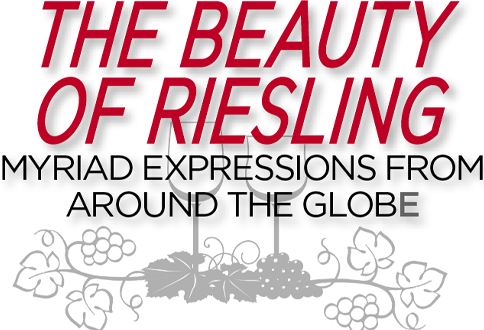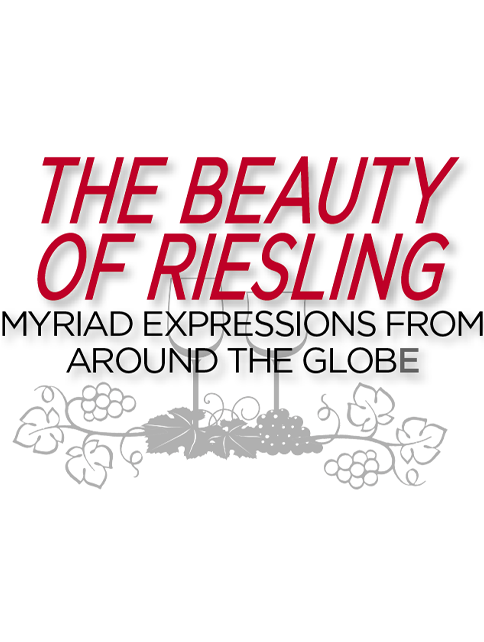 by SEEMA TIKARE
As the heady days of spring appear everywhere, so does my desire to be outside – to smell the fresh grass and sit under a cherry tree as the blossoms rain down on me in a gentle breeze. To gather with friends, to have picnics and cookouts, and to drink cool, light, tangy wines. While the colors of rosé wines are undoubtedly seductive, I would prefer to extoll the virtues of Riesling in all its myriad expressions, from the vertiginous slopes of the Mosel all the way around the globe to the gorges of Washington State to the Finger Lakes of New York.
Having worked and studied in the wine industry for almost a decade now, and of course, drunk wine since I was a seventeen-year-old exchange student in Germany, I can definitively say Riesling is the most underappreciated grape I have come across. Because often people have tried off-dry versions, many believe all Rieslings have residual sugar, which is not true. But to back up a step, what is wrong with a sweeter wine when the occasion calls for it? The preconception, "I don't like sweet wine," can be a knee-jerk reaction, especially given the plonk we drank in the 198Os and 199Os. I dread to recall the "Reunite on ice, that's nice" era. The pernicious effects of syrupy white Zinfandel and cloying Blue Nun have a lot to answer for, especially because Blue Nun is not even a Riesling wine. Rather, it is made with Müller-Thurgau, a Riesling crossing that has much less structure and interest.
Riesling is that rare white grape that has immense personality built around a solid structure of acid, rich aromas, and a lovely viscosity. Chardonnay for example, is a chameleon – so neutral that it can adjust to any style depending on the climate, fermentation process, and aging process. Riesling, by contrast, has recognizable aromatics and an acid structure, even when it is expressing its terroir, whether that be blue slate, red slate, limestone, or clay. The key to appreciating Riesling is to spend a minute savoring it. The aromas are like a warm summer afternoon filled with fruit blossoms and jasmine, lemons and peaches, and if you're lucky, a hint of petrichor. The flavors are both sharp and soft – the underlying linear power of the acid forms a core for the opulent fruity and floral flavors that fill your entire palate. On the finish, it leaves a gorgeous tanginess that both makes your mouth water and satisfies your taste buds. This is true whether you have a bone-dry wine that is dominated by the citrus flavors or an off-dry version that balances fruit and flowers with that sharp acidity. And charmingly, it is often lower in alcohol than other whites. A slightly off-dry version could very well have 9 – 1O% alcohol by volume, allowing one to enjoy more of it without regrets the next morning.
A further beauty of Riesling is that it matches with so many foods because it has such a strong presence. It can go with cheeses, dips, and charcuterie, as well as with spicy Indian, Thai, and Vietnamese foods, and even delicate cuisines like Japanese and French summer recipes. I would certainly suggest it with a sweet-hot barbeque sauce over ribs.
Riesling is one of those grapes that both has a specific varietal character, but also reflects the terroir in which it is grown. Therefore, I will describe wines from several areas of the world to showcase their beauty.
GERMANY
The Mosel is the most famous of Germany's Riesling wine regions. The winding slopes of the Mosel River are famed for the steep hills covered mostly in blue slate that imparts a mineral edge to the wine, with sections of red slate that adds a certain spiciness. However, the other wine areas of Germany make equally great wine and are sometimes less expensive, like Rheinhessen, Rheingau and the warmest area, Pfalz. Most of the wine families all over Germany have been in the wine business for generations, if not centuries, so the traditions, quality and know-how are unmatched.
The first several bottles here are "Qualitätsweins," which means the wines may be the product of blends from several vineyards, but which are nonetheless, very good. Some have an eagle symbol with 6 circles on its chest with the letters VDP, indicating a wine consortium dedicated to high-quality wine. These wines are usually their brand's signature house-style wine.
2O21 "IM PFARRGARTEN," RIESLING, A.J. ADAM, MOSEL, GERMANY
The grapes for this wine come from 3O- to 5O-year-old vines planted on the lower, flatter slopes of the vineyard. It has a citrus zing that is balanced by a light sweetness. At 1O% alcohol, it has a beautiful freshness that cries out for asparagus wrapped in prosciutto. Available from Boston Wine Company.
2O21 "H" RIESLING, DR. HERMANN, MOSEL, GERMANY
Coming from a wine-making tradition 4OO years old, the family behind Dr. Hermann has some fantastic sites in the Mosel. At only 9.5% alcohol, this bottle has a richer mouthfeel, with stone fruit aromas blended with herbal notes and a flinty minerality. It makes me crave a salty hard cheese like Tomme de Savoie on cranberry almond toast. Available from Ruby Wines.
2O2O RÜDESHEIM ESTATE RIESLING, GEORG BREUER, RHEINGAU, GERMANY
Rheingau, south of the Mosel, is almost entirely dedicated to Riesling, with 8O% of its wines being made with this variety. Rheingau winemakers were early proponents of drier styles of Riesling, as one can tell from this example. While it retains its beautiful nose of apricots and peaches, lemons and blossoms, it pulls back on the residual sugars and lets the mouthwatering acidity shine. It has 11.5% alcohol. Available from Boston Wine Company.
2O21 "SHINE" RIESLING, HEINZ EIFFEL, RHEINHESSEN, GERMANY
Rheinhessen falls a bit south of the Rheingau and as one of Germany's larger wine-growing areas, is a hub for wine trade. "Shine" is again a bit off-dry, with 1O.5% alcohol and all the ripe summer fruit and bright flavors of summer. Conveniently, on the back label, there is a sweetness scale to clarify where it falls. Available from Ruby Wines.
2O21 RIESLING TROCKEN, A. CHRISTMANN, PFALZ, GERMANY
Crucially, "trocken" means dry in German. Pfalz is the warmest of Germany's main wine areas and the wines reflect this, tasting fuller-bodied and less acidic, though no less aromatic. But this wine has been fermented dry so that the softness without the sweetness is welcome. This wine would pair well with meaty sausages or poultry. Available from MS Walker.
The final German wine is a "Kabinett," which specifies a lightly off-dry style but also a higher
level of "quality" in the Germany classification system.
2O18 WEHLENER SONNENUHR RIESLING KABINETT, DR. PAULY BERGWEILER, MOSEL, GERMANY
This wine is from a prime location in a renowned village and vineyard, and the result is quite stunning. You get a rush of tangerine, peaches, honeysuckle and fresh herbs on the palate, with a lime zip on the finish. The low 9.5% alcohol level means that all the sugars have not been fermented away. The richness of this wine calls for spicy flavors or rich shellfish. Available from Ruby Wines.
OTHER WINE REGIONS
2O21 TERRASSEN RIESLING, HUBER, AUSTRIA
In its 1Oth generation, the Huber family makes a lighter, dry Riesling with lots of yellow apple, white peach and citrus flavors. At 12.5%, it is crisp and refreshing, pairing better with less strong flavors, such as a summer salad or perhaps fried clams. Available from Ruby Wines.
2O18 RR DRY RIESLING, RIDGECREST VINEYARDS, RIBBON RIDGE, OREGON, USA
Made from 4O-year-old vines, this wine shows a lovely concentration that highlights its "lemon-curd" tart creaminess with barely-there stone fruit and just a tiny hint of residual sugar. It is a lovely wine made by a father-daughter team to exacting standards. Spicy seafood and creamy cheese are definitely called for. Available from Ruby Wines.
2O21 RIESLING, KATE ARNOLD, COLUMBIA VALLEY, WASHINGTON, USA
This wine is delicious. With classical notes of lemon, white peach, honeysuckle and sweet pear, it is crisp, light and dry, without losing any of the volatile beauty of Riesling aromas and flavors. Kate Arnold Winery is a local winery with a commitment to its community. They source their fruit from small growers, often with fewer than 25 acres under vine and intervene very little in the winemaking. At 12.9% alcohol, one can tell 2O21 was a hot vintage. Available from Ruby Wines.
2O19 DRY RIESLING, RAVINES, FINGER LAKES, NEW YORK, USA
Perched above Seneca Lake on soils of limestone and shale, this Riesling displays all the tension of its terroir — cool climate delicacy and bright acidity with the added complexity of a distinct minerality. The crisp finish would be perfect with spicy olives and artichoke hearts. Available from Boston Wine Company.