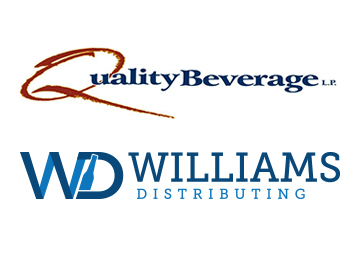 Quality Beverage Buys Williams Distributing
Quality Beverage of Taunton is buying 69-year-old Williams Distributing, the Budweiser and Yuengling distributor in Western Massachusetts. The deal, which needs the approval of Williams Distributing's suppliers, will make Quality Beverage the state's leading supplier of Anheuser-Busch InBev brand products. The transaction is expected to close in October, according to a statement issued Monday.
Founded in 1987, Quality Beverage will, with the acquisition of Williams, service more than 130 cities and towns in Bristol, Hamden, Hampshire, Norfolk, Middlesex, and Worcester counties delivering to over 3,400 retail licensed accounts.
"Quality Beverage's corporate strategy remains focused on increasing operational efficiencies, maintaining market share and aligning with trusted partners who share our work ethic within contiguous territories," said Conrad Wetterau, president and CEO of Quality Beverage. "We are very excited about this acquisition and growing our business in Western Massachusetts and look forward to building on the strong foundation of service created by Williams Distributing and the Sadowsky family."
"I think the industry is always evolving," Scott Sadowsky, president of Williams Distributing, said. "This happened to be the right opportunity for us at the right time." He added, "We are extremely proud of the business we have built and the customer and community relationships that we have developed over the past three generations. This was a difficult decision, but one we think is best as the beverage distribution business continues to evolve and change. We have known and respected Quality Beverage and the Wetterau family for years. They run an excellent operation with a similar culture to our business, and will serve our suppliers, retailers, and employees well moving forward."
The plan calls for Anthony Frasco, Williams' vice president of sales and marketing, to take over as general manager at the Chicopee distribution center.
Williams has a 90,000-square-foot distribution center at 80 Burnett Road in Chicopee and 85 full-time employees' year-around. The workforce expands to more than 100 in the summer months. No layoffs are expected to result from the transaction.