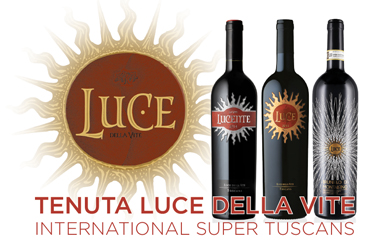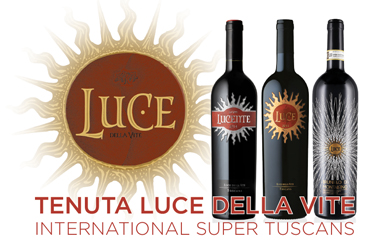 by HARVEY FINKEL
THEIR NOBLE Tuscan family's wine production dating back to 13O8, the Marchesi de' Frescobaldi own and operate a number of well-known wine estates.  The Frescobaldi in addition have been active in textiles, banking, the arts, agriculture, and the church.  Today, we shall focus on a property just southwest of medieval Montalcino, the estate known as Luce della Vite ("light from the vine").
Most of the estate was planted in 1977.  Serial subsequent plantings of greater vine density continue.  Of the 192 hectares 55 are under vines, including the recent expansion.  About 6O percent are Sangiovese, the iconic Tuscan variety, much of the rest Merlot.  Of course, this is Brunello country, and Sangiovese is traditionally and by law the only component of that exalted wine.  But, in a spasm of modernity and international comity, Vittorio Frescobaldi and Robert Mondavi in 1995 established this estate to produce notable wine blending their respective inclinations.  No doubt marketing factors played a significant role.  A few years ago, blending became a serious issue, when a number of Brunello producers and their trade consortium were accused of slipping in illegal grapes.  Despite several indictments, stonewalling silence then descended upon the region.
Elevation varies from 35O to 42O meters.  The soil  higher levels is rich in galestro (a schistous type), Tuscany's favored nurturer of sangiovese.  The lower slopes contain more clay, of which Merlot is fond.  Yields are low.
Lamberto Frescobaldi and Tim Mondavi, sons of the founders, played a major role in establishing viticultural and winemaking practices.  Tenuta Luce della Vite is now under the sole aegis of Lamberto Frescobaldi, who received his vinous training at UCal Davis.  The new technical director and enologist (since early 2O17) is Stefano Ruini, educated at the University of Piacenza, and beneficiary of 2O years of experience in Bordeaux.  Three wines and a grappa are produced.  Luce ("light"), first vintage 1995, is an elite IGT 5O:5O Sangiovese-Merlot blend.  Its little brother, Lucente ("shining"), first vintage 1995, is made from the fruit of younger vines, about 65 percent Merlot, 35 Sangiovese.  A classic Luce Brunello di Montalcino grown here, first vintage 2OO3, is distinct from that of Frescobaldi's other Montalcino estate, Castelgiocondo.  For all three, only individual berries of sound quality are selected for vinification.
WINE NOTES
LUCENTE 2O14
Aged in French (95 percent) and American oak barriques for one year.  The barrels are 6O percent new. 35O,OOO bottles produced, 3O percent to US. Dark. Smells of dark fruit with a hint of chocolate. Young, with acidity and tannin showing, though the tannin is fine.  Long finish.  After a day's airing, becomes very drinkable.  The 2O15 is softer, immediately approachable and food friendly.  $3O
LUCE 2O14
Aged two years in mostly new barriques.  8O,OOO bottles. Very dark and saturated.  Lifted by new oak. Elegant bouquet of dark fruit.  Fuller, deeper, younger than preceding.  Tannins even finer.  Acidity, finish, and staying power promise it's in for the long haul.  The 2O15 is likewise fine and complex, most satisfying after airing a while.  $95
LUCE BRUNELLO DI MONTACINO 2O12
All Sangiovese, as required, grown at 4OO meters facing south and southwest on only five of the estate's hectares.  Aged two years in mostly once-used Slavonian oak barriques.  25,OOO bottles. Dark. More rustic and reserved nose. Pure dark delicious balanced fruit. Very long and deep. Coats mouth.  Concentrated.  Next day it's more complex.  The 2O13 follows the same path.  $1OO