MOST IMAGINATIVE BARTENDER FINALIST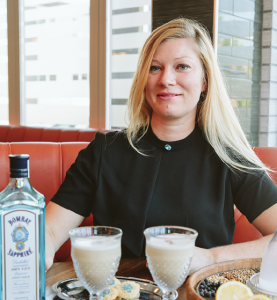 Congratulations to MELINDA MADDOX of Earl's Kitchen and Bar.  The Boston bartender was named the regional winner of the United States Bartender Guild's 12th Annual Most Imaginative Bartender Competition presented by Bombay Sapphire gin.  Over two days in late May, ten of the region's top bartenders from Boston, Washington DC, Philadelphia and Pittsburg, presented their most elaborate cocktails to a panel of judges.  The second and final day of the competition invited Boston locals to La Fabrica where they sampled each competitor's cocktails and learned tips and tricks to help expand their at-home mixology skills.  Melinda's "Bliss of Bombay" cocktail was officially named as the evening's Most Imaginative based on flavor, appearance, presentation and imagination.
In September, Melinda and 15 other mixologists from across North America will head to England to vie for the 2O18 title.  In advance of the finale, all 16 finalists will head to New Orleans this July for Tales of the Cocktail.  For the first time in the competition's history, the finalists will undergo a challenge at the annual trade festival that will account for a portion of their overall score before heading to England in September.  In addition to taking home the title of North America's Most Imaginative Bartender, this year's Grand Prize Winner will be named GQ's "Bartender in Residence" where he or she will collaborate on a series of cocktail videos and act as an in-brand cocktail and culture expert throughout the year for Conde Nast publications.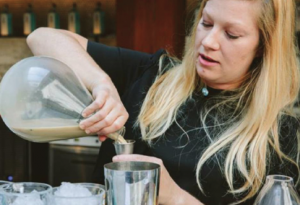 BLISS OF BOMBAY
1.5 ounces of Bombay Sapphire Gin
3 ounces of Marzipan Bombay Sapphire Gin Botanical milk
.5 ounces of lemon juice
garnish with toasted coriander and grains of paradise.
drop a few drops of lemon and cassia bark oil to float for aromatics.