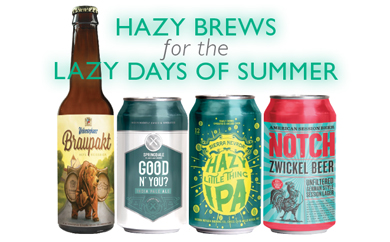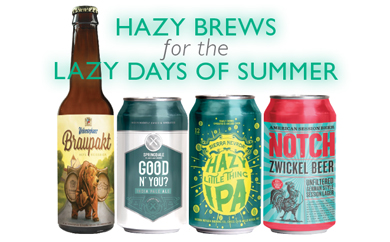 by ANDY CROUCH
HAZE IS THE LATEST CRAZE to conquer the world of flavorful beer. From dank, juicy pale ales to milkshake hued India pale ales to double India pale ales that resemble glasses of concentrated orange juice, clarity is out of favor with many beer drinkers today. A cloudy appearance is nothing new in beer. Historically speaking – always very dangerous territory for a beer writer – beer has long lacked much if any clarity, regardless of where it was brewed. With the advancement of modern kilning, brewing, and conditioning processes, a beer that consumers can see through came to dominate the global drinking scene. Pockets of haze, however, continued to exist in the form of classic styles, including hefeweizens, witbiers, and kellerbiers, among many other examples.
The latest craft beer phenomenon has taken the form of soft palated ales, boasting aromatically enticing rounds of juicy fruits, and little in terms of residual bitterness or balance. Their complexions can range from luminous and radiant in their opacity to muddy and downright unattractive in their antithesis to transparency. Regardless of their visage, consumers remain entranced by their evocative aromas and their rejection of prior proper beer customs.
The biggest limitation with respect to hazy beers often comes in their inaccessibility. As if almost by design, it is rarely easy to find the most popular hazy single and double India pale ales. Entire Instagram accounts revolve around the culture of rarity surrounding these specialty releases, which often require consumers to stand in lengthy lines directly at the breweries releasing them. Consumers gladly fork over serious cash for many of these offerings, which routinely exceed twenty bucks for a four pack.
Here we take a look at a few hazy offerings, both modern and decidedly throwback, that may suit your thirsty and opaque beer seeking consumers.
BRAUPAKT
bayerische staatsbrauerei weihenstephan
freising, germany
ABV 6.O%
And now for something completely different. When it comes to hazy beers, German hefeweizens have long hogged all the attention. The noble, classic style, often served in slender, shapely glasses filled with a sun-kissed melange of off-yellow hues, is a real head turner. When light hits a weiss glass, it refracts beauty and more sales of hefeweizen. The Bavarian State Brewery Weihenstephan dates back to 1O4O and is the world's oldest brewery. Long a proponent of weiss beer, Weihenstephan's classic example of the style still continues to charm. Filled with notes of banana, bubble gum, and spicy clove, that flavor has a wonderful balance of playful malts, fruits, and wheat, leaving it a great thirst quencher.
Weihenstephan recently teamed up with one of America's oldest breweries, Sierra Nevada, to create a New World version of the classic hefeweizen style. Called Braupakt (translated as The Brewers' Pact), the resulting beer is a fruity, hoppy wheat beer that balances the noble Halltertauer hop and American aroma hops Amarillo and Chinook. Unsurprisingly, Braupakt pours with a beautiful cloudy golden hue, with flecks of orange at the extremes, topped by a substantial wash of off white foam. The aroma is a German and American beer fan's dream. Filled with hints of the usual hefeweizen esters, including freshly baked bread, clove, and banana, there is also a few new lurking additions, including a light fruitiness suggesting the American touch. The flavor is where this limited edition beer truly shines, with a characterful boost of soft, sweet, and bready malt flavors, pleasant citrus and tropical fruit notes, all rounded out by a light spicy bitterness through to the finish. There is an elusive sweetness in the beer, a truly playful malt bill almost reminiscent of honey, but complex and drawing you back for another sip, bottle, or pint. Through their collaboration, Weihenstephan and Sierra Nevada have seamlessly blended their two great histories, resulting in an absolute stunner of a beer. Get it while you can and hope that the pair agree to bring the beer back for more than a limited run. weihenstephaner.com
GOOD N' YOU? IPA
springdale by jack's abby brewing company
framingham, massachusetts
ABV 6.5%
Launched in 2O16, the Springdale brand is an off-shoot of Jack's Abby focusing on experimentation, barrel-aging, hops, and generally anything other than lager. The separate brand has allowed Jack's Abby to branch out from its line of already envelope and flavor horizon pushing lager based brands to include some new, fun, and decidedly modern offerings. The Good N' You? IPA is one of the new brand's entrants in the hazy IPA category. Offered in the now typical sixteen-ounce can, the beer pours with a very striking hazy light orange juice hue, luminous and hazy but not muddy. It pours with a strong dollop of white foam and looks like pure concentrated orange juice. The aroma expresses strongly of fresh citrus fruit, pitted fruit, a slight bitterness, mixed with fresh orange juice. The flavor is on the lighter side of medium bodied, starting with a touch of chalk and bits of creaminess. Good N' You? is very clean, offering a pretty substantial bitterness for the style, along with all of the expected fruit and juice flavors from the Citra and Galaxy hop infusions. The 6.5 percent alcohol level is well-masked and the beer is not cloying or sweet, and remains actually well balanced throughout. It's easily one of my favorites in the burgeoning New England IPA style. A fantastic beer at a reasonable price and you don't have to stand in line to buy it. springdalebeer.com
HAZY LITTLE THING IPA
sierra nevada brewing company
chico, california
ABV 6.7%
A longtime leader in producing hop forward beers, pioneer Sierra Nevada has spent recent years watching its flagship Pale Ale struggle in an environment rich with hundreds and thousands of new, local competitors. Sierra Nevada has responded by continuing to evolve and innovate, reducing a range of new, hoppy beers, including Torpedo, Hop Hunter, and others. One of the latest entries is the Hazy Little Thing IPA, a nationally available India pale ale that approaches the New England IPA style. Pouring with a deep orange and indeed hazy character, the aroma fills with notes of orange, tangerines, and pine along with some mild bready malt notes. The flavor follows with a relatively easy dose of fruit flavor over mild, soft malt notes, all in a medium and at times creamy body. A reliable hazy IPA if a bit muted compared to many others in the style, the Hazy Little Thing is a solid go to offering for those seeking a foot in the door of the haze craze but without all the work and expense. sierranevada.com
ZWICKEL
notch brewing company
salem, massachusetts
ABV 4.5%
Notch Brewing has long been a leader in the growing American movement towards session beers. Once a concept that required extensive explaining, now session is a concept that even bigger brewers are trying to co-opt. Among a lineup of great, lower alcohol beers, Notch's Zwickel stands out. The can artwork is striking, featuring a confident rooster and Notch's signature contrasting color schemes and design. It serves as bold notice for the great beer contained within the can. While Notch runs a fantastic brewery tap room in Salem, it brews this lager in Vermont at Von Trapp Brewing. Pouring a light golden in color with touches of unfiltered haze throughout, the head is strong and lacing. Subtle and nuanced instead of in your face, the aroma balances bread dough, spicy yeast, mild malt sweetness, and hints of noble hops. The flavor is where this beer shines. Understated yet complex, each sip invites another, offering round after round of easy drinking splendor. A quick hit of wheat follows a dash of sweeter, corn-like malts followed by a slight kick of mild hop bitterness followed by a lengthy finish of all the elements in unison. Smooth, clean, and inviting, the Notch Zwickel is a true summer drinking charmer. notchbrewing.com