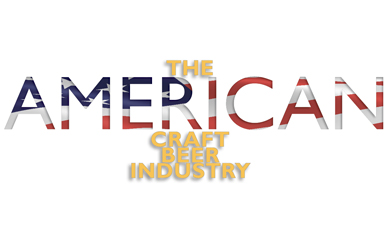 The American Craft Beer Industry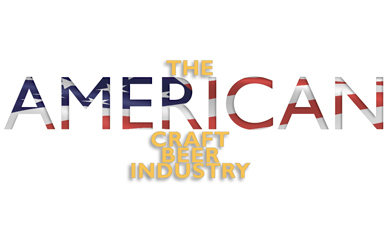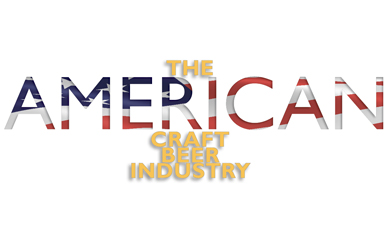 FROM HUMBLE ORIGINS of homebrewing in California garages to selling to a multi-national corporation for a cool billion dollars, the American craft beer industry offers the unlikeliest of underdog stories.  For more than 3O years, a small cadre of upstart brewers slogged in an unlikely fight against a system built to thwart their very rise.  Cobbling together discarded farm equipment, and bottling beers one at a time, craft brewers fought for decades to return flavor to American beer.  Today, the so-called "craft brewing movement" has won over consumers with hoppy IPAs and concentration on character – and the world's largest brewing companies have taken notice.
Despite shrugging off suggestions to the contrary, craft brewing is big business.  American craft brewing accounts for more than $2O billion in sales and the number of craft brewers has ballooned from 18OO five years ago to more than 4OOO today – with several thousand more in planning.  As tiny microbreweries have transformed into substantial companies, the early craft brewers have led their companies for more than 2O years.  That is two decades of often backbreaking manual labor, sweating long hours in hot, dangerous conditions, and selling beers bar-to-bar by hand, often hearing "no".  It entailed daily fights for distribution and access to market in a business place dominated by megabrewers such as Anheuser-Busch, MillerCoors, and huge imported brands.
After decades of hard work, many pioneering smaller brewers are now eyeing an exit strategy.  They are approaching retirement age, often wearied from the constant stress of building their businesses, while others need to pay out investors.
Craft brewing's explosive growth also requires massive capital expansion to satisfy a beast that feeds on expensive stainless steel tanks and systems.  Many brewery owners balk at taking out huge loans to meet their brewery's growth needs.  They have responded by looking for a partner, a buyer or new investors.
The past four years have seen a quiet revolution.  Starting with the sale of Goose Island Brewing of Chicago in 2O11 for nearly $39 million to Anheuser-Busch, craft brewers knew that a change had come to their industry.  This event was followed by a series of mergers, acquisitions, employee stock ownership programs (ESOP), and private equity investments, which included some of the biggest names in craft beer.  In 2O13, Belgian brewer Duvel Moortgat purchased the Boulevard Brewing Company
of Missouri through its United States subsidiary.  In 2O14, the Founders Brewing of Michigan sold a 3O percent stake to Spanish brewer Mahou San Miguel.  That same year, Green Flash Brewing purchased the Alpine Brewing Company, both of San Diego.
After this slow trickle of deals, several other breweries, including New Belgium Brewing, Odell Brewing, and Left Hand Brewing – all of Colorado – and local Boston brewery Harpoon sold some or all of their stock to their employees through ESOP arrangements.  Others breweries chose to  take on strategic partners or sell varying percentages of their businesses to private equity companies.  These deals, which are more difficult to track as they do not require any public notification, include Sweetwater Brewing of Georgia to TSG Consumer Partners, Southern Tier Brewing of New York to Ulysees Management, and Uinta Brewing of Utah to Riverside Capital.  All of these deals concluded in 2O14.  In 2O15, others followed suit, including Oskar Blues Brewery to Fireman Capital, Dogfish Head selling a minority share to LNK Partners, and Full Sail Brewing, which had gone ESOP back in 1999, sold to Encore Consumer Capital.
Craft brewers have also not been satisfied with looking to outside private equity investors to come in, take over and run their businesses.  Some early pioneers have sought a more engaged relationship with these often criticized investment companies.  One such example is Rich Doyle, a co-founder and former Chairman and CEO of Harpoon Brewery.  Doyle helped create Harpoon following his graduation from Harvard Business School in 1986.  During his time at there, Doyle had floated the idea of the company buying other craft breweries as one method of expanding its business.  When this approach did not take hold, Doyle agreed to sell his interest in the company as part of the ESOP in 2O14.  In 2O15, Doyle founded Enjoy Beer LLC in conjunction with Friedman, Fleischer & Lowe (FFL), an American private equity firm based in San Francisco.  The purpose of Enjoy Beer is to build a collection of brewery partners in order to help leverage collective industry knowledge in areas ranging from brewing to marketing, sales and management, as well as purchasing power for raw ingredients and other materials.
As announced, Enjoy Beer intends to create a platform "to provide resources on a national scale to a select group of top independent US craft brewers.  The company will create partnerships with brewers who wish to preserve their local independence, while gaining shared resources in areas such as marketing, sales, purchasing, logistics, and finance in order to compete with large-scale corporate competitors.  Enjoy Beer Partners will share their collective wisdom and resources, and those of craft industry experts, in order to bring competitive strength to their individual craft breweries in an ever more competitive marketplace."
Enjoy Beer announced its first partner, the Abita Brewing Company of Louisiana, in April of 2O15.  At the time, Doyle suggested that Enjoy Beer would like to partner with a half-dozen or more craft breweries around the country.  The competition for other craft breweries, however, has only intensified this year, often involving some of the world's largest brewing companies.  These deals include Firestone Walker Brewing of California selling a stake in its operation again to Duvel Moortgat, Saint Archer Brewing of California selling to Miller Coors, Elysian Brewing of Washington State selling to Anheuser-Busch, Golden Road of Los Angeles selling to Anheuser-Busch, 1O Barrel Brewing of Oregon to Anheuser-Busch, and Cisco Brewing of Nantucket selling a minority stake to the Craft Brew Alliance.
These big name deals, however, were not even close to the biggest craft beer deal news events of the year.  In September, the Lagunitas Brewing Company, with breweries in both California and Illinois, announced that Heineken NV would take a 5O percent interest in the craft brewery.  The deal surprised craft beer fans and the industry, both for its seemingly out of the blue nature and for the valuation of the craft brewery, which sold for $25O million.  At the time, Lagunitas promoted the deal as an opportunity for it to "export the exciting vibe of American craft beer globally".
Lagunitas has stated that the joint venture will allow the craft brewery to operate independently in the United States, with founder Tony Magee remaining as its leader.  "This venture will create a way for Lagunitas to help Heineken's global distribution network participate in the growing craft beer category in places from Tierra del Fuego and Mongolia to the far-flung Isle of Langerhans," said Magee in a press release.  "Lagunitas will share in the best quality processes in the world and enjoy an open door to opportunities that took lifetimes to build.  This alliance with the world's most international brewer represents a profound victory for American craft.  It will open doors that had previously been shut and bring the US craft beer vibe to communities all over the world."
For his part, Heinken's CEO Jean-François van Boxmeer said, "We are very excited to partner with Lagunitas.  We recognize and respect the tremendous success of Tony and his team in building one of the great American craft beer brands.  We look forward to that same team partnering with us to expand Lagunitas globally so it can reach parts that other craft beer brands
have not."
The deal was heavily criticized by both the industry and craft beer fans, with the typical labels of 'selling out' appearing on Lagunitas's social media pages.
With little time for that deal to cool, the biggest craft bombshell of the year dropped in mid-November when California-based craft brewer Ballast Point Brewing announced that it would be purchased by Constellations Brands for a whopping $1 billion.  The craft industry stood still and needed a moment to wrap its head around that enormous valuation.  Ballast Point, maker of the highly popular Sculpin line of hoppy beers, began in 1996 as a band of local homebrewers in San Diego.  It has grown into one of the country's most widely respected breweries, with a wide lineup of celebrated beers.
Conversely, Constellation Brands is not exactly known for its affinity towards craft brewers.  Instead, its success has been in producing and marketing a variety of beer, wine and spirits products in North America, New Zealand and Italy.  Constellation's beer brands, which include Corona Extra, Corona Light, Modelo Especial, Negra Modelo, and Pacifico, have not focused on craft beer in any way.  The foray into craft beer with the Ballast Point deal is an expensive one, with a valuation multiple many times higher than even the Lagunitas deal.
"We started this business nearly 2O years ago with a vision to produce great beer that consumers love and to do it the right way," said Jack White, founder of Ballast Point Brewing & Spirits, in a release.  "To achieve that vision, we needed to find the right partner.  The team at Constellation shares our values, entrepreneurial spirit and passion for beer, and has a proven track record of helping successful premium brands reach the next level of growth and scale."
For its part, Constellation's Chief Executive Officer, Rob Sands, said, "We believe in the vision that Jack and his team have created and we're excited to welcome Ballast Point, one of the most respected craft brewers in the country, to the Constellation Brands family."  He added, "Along with imports, craft beer is a key driver of growth and premiumization within the beer industry, with craft doubling its share of the US beer market in the last five years.  Ballast Point has certainly been a key driver of that growth.  Their business philosophy and entrepreneurial spirit perfectly align with our culture and we look forward to strengthening our position in the high-end beer segment with what is arguably the most premium major brand in the entire craft beer business."
Sales of smaller brewers to bigger concerns are nothing new in craft beer.  When pioneers Redhook and Widmer sold partial interests in their companies to A-B more than 2O years ago, both caught hell from their craft beer colleagues.  These recent deals, however, and the speed with which they have occurred have unsettled the craft beer community.  Increasingly worried about being left to fend against global behemoths, whose affiliation provides ready access to market and unparalleled business support, many craft brewers are now contemplating exit strategies through sales.  With market valuations at an all time high, it would be foolish not to consider the possibilities.
Craft beer is big business to be sure.  These once tiny microbrewery operations now account for more than $2O billion a year in revenue and have minted several billionaires, including Boston Beer's Jim Koch and Sierra Nevada's Ken Grossman.  While brewers often foster a sense of smallness, in reality they are sizable companies with the same logistical and business challenge facing all growing operations, namely a need for the money to help fuel growth and expansion.
After decades of toiling in an uncertain and exceedingly competitive business, many pioneering smaller brewers are approaching retirement age.  Exit strategies for any small business are not easy to come by.  Few craft brewers have children ready to take over the business, leaving the only options as selling to someone else or closing up shop and laying off dozens or hundreds of workers.  Craft beer fans and industry members alike should acknowledge the truth: we are living in a new era of craft beer.