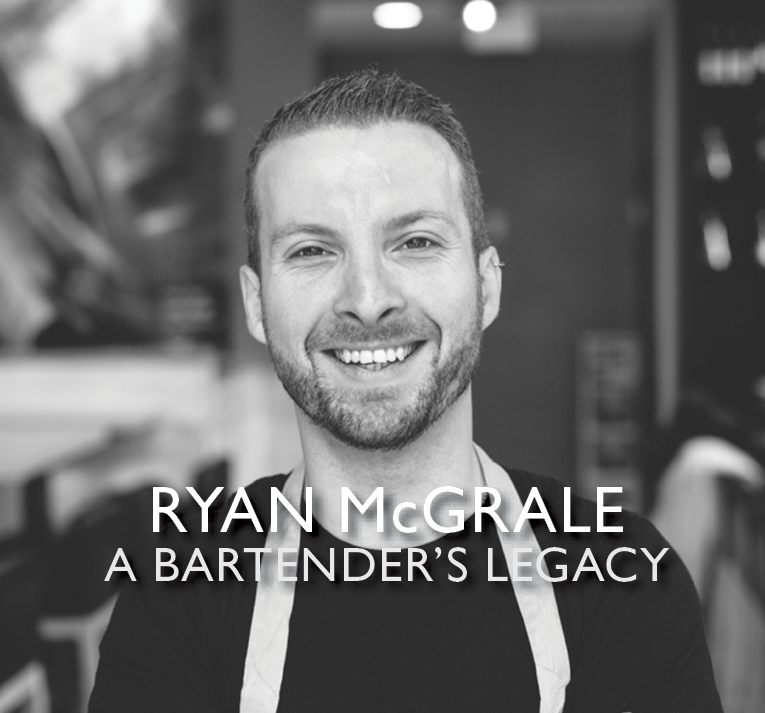 RYAN McGRALE – A BARTENDER'S LEGACY
RYAN McGRALE – A BARTENDER'S LEGACY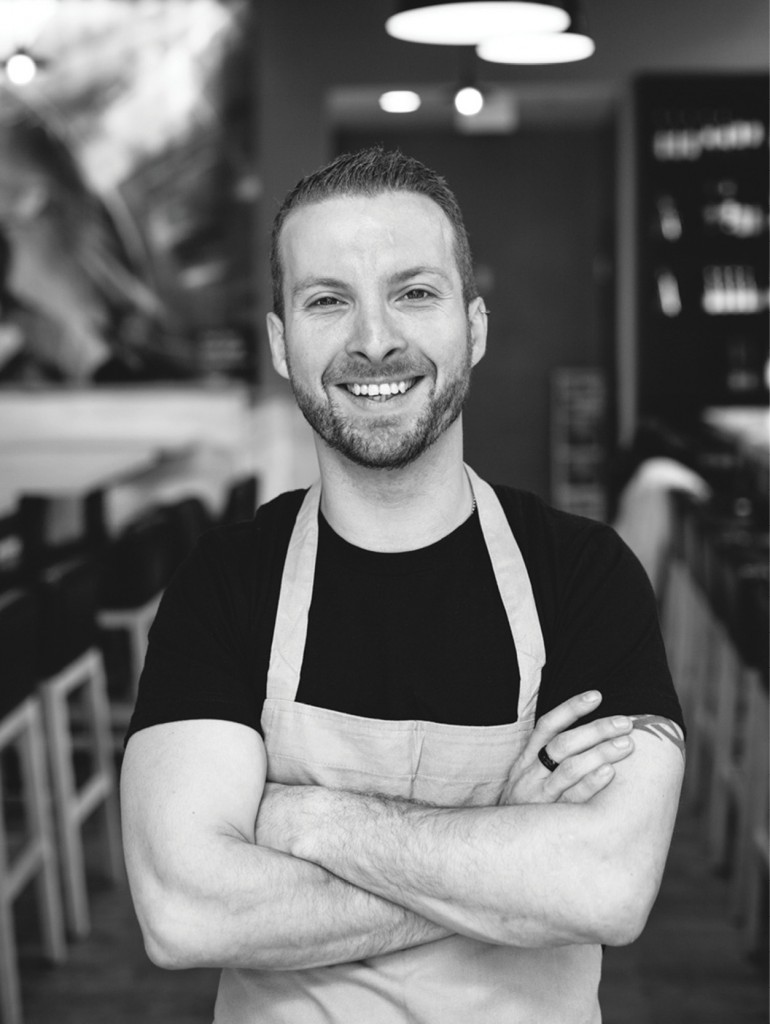 THE BOSTON MIXOLOGY COMMUNITY lost one of its brightest stars last fall with the sudden and untimely passing of bartender Ryan McGrale on November 14, 2O15.
Ryan cut his teeth at No.9 Park when Boston's cocktail culture was in its relative infancy, where he recreated classic cocktails with precision. "No.9 Park was an amazing environment in that period," remembers Bill Codman, one of Ryan's closest friends and longtime colleagues.  "The bar was classy but fun.  I'd walk into work and think 'who's on the bar?  Oh, it's Ryan, thank God.  It's gonna be a good shift.'"
Ryan's knack for the kind of effortless, natural hospitality that can't be taught made him a perfect fit for the flagship of the Barbara Lynch Gruppo.  "If you think about it," says Codman, "that was one of the most expensive bars in the city at the time but we had a ton of bar regulars.  We had guests coming for cocktails once or twice a week, always asking 'what night is Ryan working'."
Kevin Montouri was a frequent guest at Ryan's bar during his stint at No.9 Park.  "I don't think there was ever a time when I'd walk into No.9 when Ryan would stop what he was doing to say hi.  He'd finish up whatever had his attention, and maybe scan the bar to be sure everyone was all set, and then he'd step out from behind the bar to offer up a hug.  I've always appreciated that he waited until his greeting could be warm, genuine, unrushed."
McGrale left No.9 to move to the Big Apple, where he spent several years helming the bar at Julie Reiner's renowned Flatiron Lounge. Flatiron Lounge is touted as "New York City's original high-volume classic cocktail lounge" known for turning out complex libations with speed, consistency and unflaggingly gracious hospitality.
"I first sat at Ryan McGrale's bar in his days at No.9 Park, where he and I introduced my new bride to the wonders of craft cocktails," remembers local Boston cocktail writer MC Slim JB.  "Work took me frequently to New York City, so I was surprised one weeknight to run into him at one of my favorite Manhattan bars, the Flatiron Lounge.  Despite an always packed house, he instantly recognized me and somehow squeezed in some time to catch up."
When Ryan returned to Boston he stepped behind the stick at Storyville and Minibar, again alongside Bill Codman. "Ryan LOVED Storyville," says Codman.  "After years of making serious cocktails he was working in a club.  He had no responsibility, no one was ordering complex drinks.  He thought it was so easy and so fun; he thoroughly enjoyed it."  Ryan was a versatile bartender and unphased by the change of pace: "He was at home in a bar or a nightclub," says Codman.  "He was good at both."
In 2O12 McGrale joined close friend chef Louis DiBaccari and his brother Michael DiBaccari to open Tavern Road.  "It was a trip opening Tavern Road with him," says John Henderson, one of the bartenders Ryan hired for the new project.  "He was super, super excited about everything and extremely detail oriented.  He was very particular about the path of production behind the bar, making the bar staffs' lives easier – it was amazing to watch, there has been so much effort put into that tiny little bar.  The build-out is his personality, methodical, organized, efficient."
"I was gratified by his return to Boston to open Tavern Road and featured him in my 2O14 cover story for the improper bostonian on standout local bartenders," says MC Slim.  "He was the complete package: serious technical chops, a fine palate and eye for creating new drinks, and a gift for making customers feel loved and cared for – all undergirded by a sly, impish wit.  He was a force of nature, a mensch, an original.  Glad I got to bask in his light and heat for a little while."
"Ryan had a way of building an incredible team, which is not an easy thing to do," says Henderson.  "There were only 4 or 5 people on staff including Ryan, which left little room for error.  He treated us like a family which led to a great quality of life.  It was very supportive."
The familial vibe translated across the bar at Tavern Road.   "Ryan was able to make everybody sitting at the bar feel like a family.  Before long everyone at the bar would be talking to each other.  He really knew how to run a room," says Henderson, "and was seemingly unphasable. He could do that and socialize and work the busy service bar – all while being gripped with the flu."
The news of McGrale's sudden and tragic passing spread rapidly through social media networks; though he plied his trade in Boston and New York, his reach was felt in far flung corners of the globe. Outpourings of grief and condolences continue to appear on social media channels, from the US, Europe and Japan, a testimony to the quality of his relationships and to the interconnectedness of a mixology community that is at once vast and surprisingly small.
McGrale's wake drew upwards of 6OO people on November 18, with a line that stretched around the block outside the O'Brien Funeral Home in South Boston for the duration of the viewing.  "He was a rockstar mixologist, who was an innovator for his industry as well as a teacher, brother and friend to anyone who walked through his doors," read the boston globe obituary.  Attendees waited upwards of two hours on the clear and chilly evening to cross his threshold once more, with offers of condolence for the McGrale family.
Members of the Boston-area restaurant industry stepped up to support the team at Tavern Road for the remainder of the weekend, with bar stars from Boston and San Francisco stepping in to work a shift. "The whole premise was to give the staff the extra time they needed in the days immediately following the funeral," says friend and colleague Troy Clarke of United Liquors.  Clarke organized the impromptu "shift coverage" and worked a shift himself, along with bartenders Nicole Lebedevitch of Lincoln, Jared Sadoian of The Hawthorne, and Daren Swisher of Hojoko. Kevin Mabry from Lincoln and Ezra Star from Drink stepped in on Friday, and San Francisco transplant John Gertsen, who worked alongside Ryan for many years at No.9 Park, bartended on Saturday. (Todd Maul of Cafe ArtScience was also slated to work on Saturday, but was called off because the Tavern Road team was eager to get back behind the stick.)  All visiting bartenders donated their tips to the Wounded Warrior Project in Ryan's name, raising almost $13OO for the charity.  "Ryan always said to me 'I wonder what it would be like to sit at your bar, Troy', says Clarke, who stopped bartending to work on the distributor side in 2O12.  "It seemed like the best reason to get behind the bar."
"Ryan had a great business sense," says Clarke.  "He always made you feel welcome, like you were friends and doing business at the same time.  He was very loyal; he talked about integrity a lot. He was great at managing people and leading people.  He could party with the best of them but he could also be serious and hold you accountable."
"I loved that little guy," says local barman Michael Ray.  "A friendship based on mutual admiration, respect and a desire to see our industry in our town move beyond the technical and remember that hospitality is the base not the base spirit.  He was as funny as he was knowledgeable and took himself seriously only when it meant putting his bar, name or reputation on something," Ray remembers.  "I think of him every time I step behind the bar."
In a beverage industry community that is small but vibrant and intricately connected, Ryan's loss has been deeply felt.  "I think Ryan's death is particularly hard for us all because he gave everyone the sense that life is long and you'd best enjoy it all," says Montouri, "even these little moments."
In those moments of genuine hospitality and connection shared over a cocktail, Ryan McGrale's legacy lives on.
Photos: Adam Detour Photography (Black+White) and Natasha Moustache Photography (Color)